Premiere: Thousand Years x Drop The Gun - "Tricks"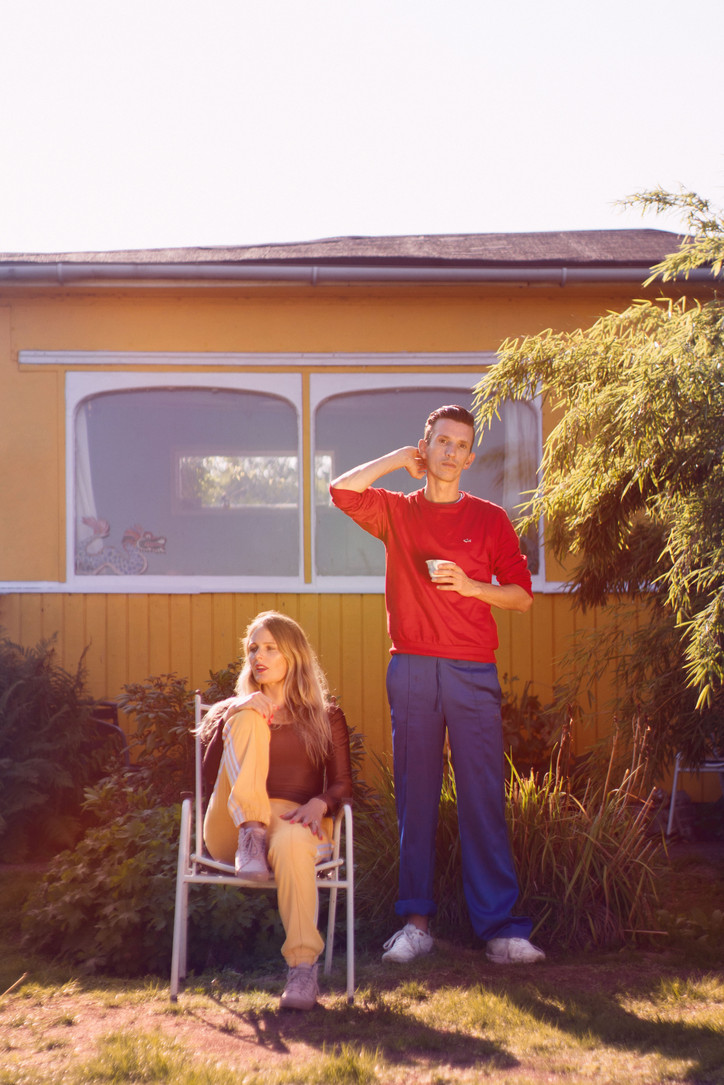 The song, and its visual, are drunk and dizzying—the perfect thing to help you get lost on this rainy day.

office caught up with our new favorite electronic duo to talk about their collaboration and what's next for Thousand Years x Drop The Gun. Watch "Tricks" and read our interview, below.
How long have you been making music?

Anders: Since I was 15—I started a punk band with my mates.

Sara: I've been making music since I was little. I had a four track recorder which got me into recording and writing own material. I was really into playing piano, too, and especially singing.

What would you say your style is?

Anders: Electronic, atmospheric, wavy and eclectic.

Sara: There's definitely references to '80s and some '90s pop, mixed with experimental electronic music and more alternative R&B.  

What do you listen to when you're writing?

Anders: Right now, mainly techno, and DJ sets from Nina Kraviz and Amelie Lens. Also, a lot of old stuff from the '70s and '80s—old bangers, ambient, noise, vaporwave and occasionally Mahler.

Sara: I listen to a lot of different styles. Anything from old soul, to more contemporary music. This week I've been listening to Yemi Alade, Shlomo, Travis Scott, Wu-Tang and Teyana Taylor.
How did you two initially connect? Was it fate or coincidence?

Anders: We've known each other for many years, but never worked together. I heard some of her stuff and emailed her a very simple beat.

Sara: We've been keeping track of each other's music for a while, so it was pretty natural how we just started connecting musically and sharing ideas.

How did the "Tricks" collab come about?

Sara: Anders sent me this idea he had been working on and asked me if I wanted to try out some things. So, we just started exchanging ideas back and forth, which was cool.

Anders: Yeah, it just came about after I emailed her the beat, and we both kind of wanted to go in the same direction sound-wise.

What was the actual creative process like?

Anders: We've actually never been in the studio together—everything was by email. I would send Sara a beat, she would send me some vocals, and I would produce and build on that, then send it back again. Our musical reference was always kind of the same, so we were heading in the same direction from the beginning.

Sara: Yeah, we just seemed to understand each other pretty well musically, and have a lot of mutual respect for each other and our individual sounds.
Let's talk about the lyrics. What's the story behind them?

Sara: Anders first sent me a sketch with the title "Tricks," and that sparked off some ideas. So, I thought about how we act when we wanna hook up with someone—that feeling of wanting someone so badly, it's almost like an addiction. Just that physical attraction and the feeling like you can go anywhere when you are with that person.

What about the video? Where did that idea come from?

Anders: I know it sounds corny, but music is always very visual to me. To make it short, me and Jan have been been ping ponging around vaporwave aesthetics, and wanted to create something of our own. So, Jan ended up making this awesome video for us.

The song definitely has an '80s pop influence. What draws you to that style?

Anders: I think the grandiose sound of the '80s—the organic synth scapes and great hooks. Also, it's all kind of wet and airy, if that makes sense.

Sara: I'm just a sucker for good melodies and catchy songs. But I also love dynamic songwriting. To me, the '80s represents solid songwriting mixed with much more open song structures and playful arrangements. The kind of grandiose soundscapes and use of dynamics, always centered around catchy melody lines.

What do you want people to take away from your work?

Anders: Hopefully to move people and draw them into a universe—give them the feeling of giving them something that they didn't even know that they wanted before. Or sometimes, to just make people bob their head and move their feet.

Sara: It's always a great feeling to be able to inspire people. So, if it inspires some people and they feel moved by our sound, then I think we did what music's all about.

If you could collaborate with anyone—alive or dead—next, who would it be?

Anders: Maybe Diana Ross, or Curtis Mayfield—he always gets me. I love him. Also, Daft Punk, Harry Nilson, Lady Gaga, Dr. Dre, The Stranglers, Underworld, Four Tet, Phase… the list goes on.

Sara: These days, I'd love to collaborate with Deem Spencer. I think he's a really dope rapper/artist.

Whats next for you guys as a duo?

Anders: We're going to put out another track before the end of the year. And then next year, some more.
Photo by Tobias Wilner; courtesy of Thousand Years and Drop The Gun.