Prince of Darkness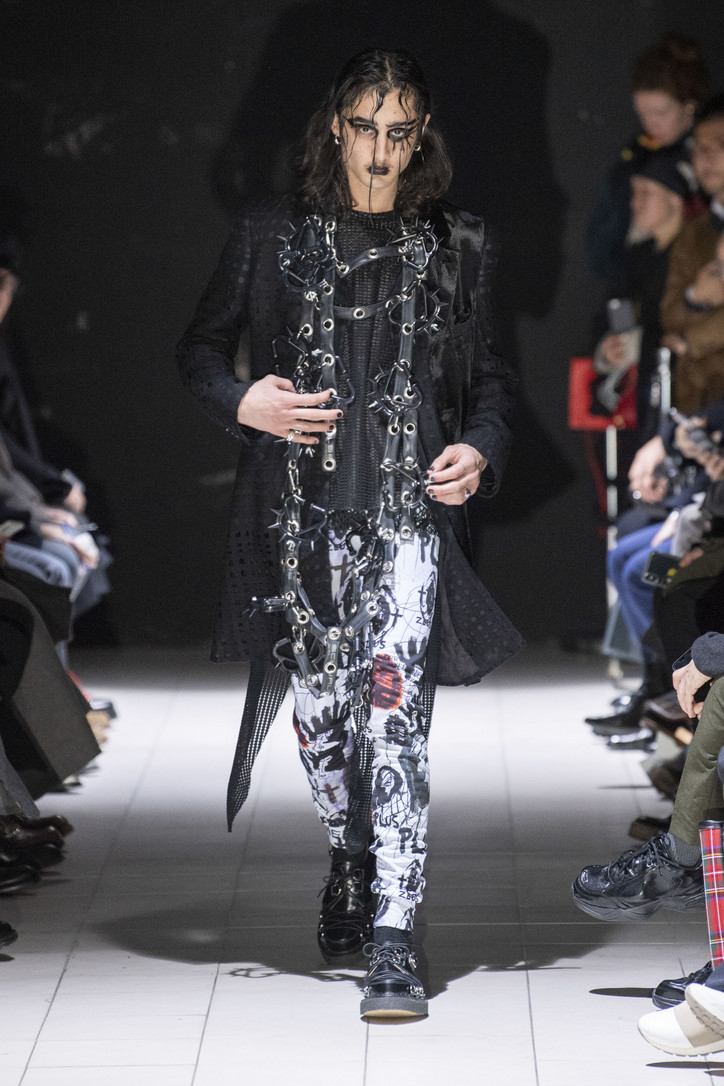 Goth has made its way to the runway many times over the last few years, from the black leather and lace at Alexander McQueen F/W '15 to Marc Jacobs F/W '16, to the hot topic mall goth vibes at Vetements last season. But with any subculture that's so heavily focused on being an outsider, and even more so, on authenticity, by the time it makes it to the catwalk, it can often look dishonest—better fit for a poser than any true goth, or punk, or rebel.
Kawakubo never has that problem, though. No matter what she channels—whether its her own identity as a woman, like at Comme des Garçons S/S '19, or goth, like this season at Comme des Garçons Homme Plus—it's always radically honest and unapologetic in its references. The CDG take on goth, however, is more than just black, and studs, and creepers—Kawakubo captures the romanticism in the movement; her version is far more Edgar Allen Poe and Dracula than The Cure and fishnets.
But the collection wasn't without it's modern moments. Kawakubo debuted a brand new Comme des Garçons x Air Jordan 1 collaboration, a sleek high-top with a BDSM collar around the top in both black and white. Her mix of fabrics was also innovative, showing velvet, mesh, knit, silk and jacquard trenches, blazers, dresses and skirts together, or underneath giant harnesses.
Overall, it was a more subtle collection for a designer who leans more towards the avant-garde than the wearable. But we like dark Comme des Garçons Homme Plus. In darkness, there's beauty.
View some of our favorite looks, below.
Photos courtesy of the brand.