RÜFÜS DU SOL and The Setting Sun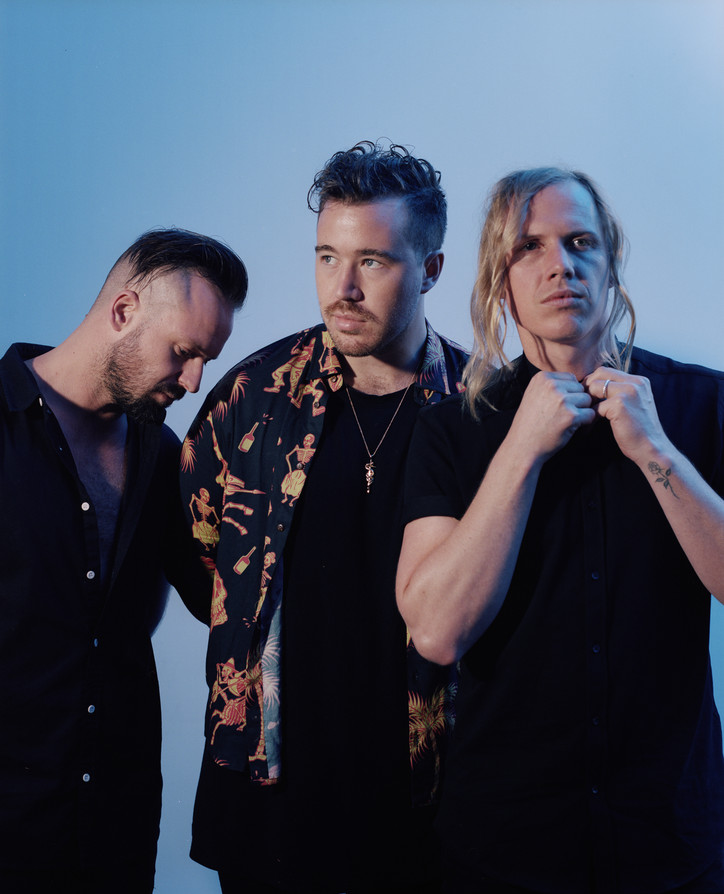 office caught up with RÜFÜS DU SOL members Jon George, James Hunt and Tyrone Lindqvist on their break after tour.
So you guys just finished your tour. How was it?
Jon George - So good. We had the best time. We've been playing some of the most amazing venues we've only ever dreamt of playing, starting with The Greek Theatre in San Francisco. We played two nights there, and it was so incredible—the natural amphitheater they have there with everyone looking down on you to thousands of people in America just welcoming us with open arms. So it's just really been a dream run, and we're looking forward to the next few shows. We're pinching ourselves all the way.
Did you have any favorite moments or highlights on tour?
James Hunt - It's pretty hard to pick. Every night was a pretty mind-blowing and memorable show. Finishing at the Brooklyn Mirage was a really special way to cap off all the shows. Specifically, I think putting SOLACE out and putting out some more heartfelt shades of music, seeing people's reactions to that at our shows and even the entire last year have been really intense. It was really cathartic—people crying and knowing the words so well, because it means something to them. That seems to be happening at all the shows, so it's hard to wrap our heads around how awesome it all is. 
We got to play during sunsets for the first time on this new record. That's our favorite time slot to play at festivals, and that's definitely my favorite thing that we've gotten to experience, because it changes the sounds of the song and the context. Playing sets of SOLACE and our older stuff, you could feel the energy of the crowd was different than what we're used to.
How long does it take you to create to song from ideation to launch?
JG - On average, it changes so so much that it's hard to say, but that's the beauty of it. Sometimes, we can come up and create a song within a day, the foundation of a song, and then we like to take our sweet ass time producing from there. "Innerbloom" was written within a two-day period, and we just took our time really finessing it into laying down the vocals. Other tracks like "Like an Animal" can take a year.
Is there a different audience vibe amongst various countries that you visit and perform in?
JH - In the US, there's consistently a really loyal fan base that turns up to all the shows—it's a really good vibe. When we play Europe or Australia, we can feel a difference.  We played some shows in Southeast Asia around five years ago. They were much more polite and withheld. As soon as we finished a song, they would clap very enthusiastically. Different places we play, there's a different kind of interaction. In Europe, sometimes they'll be a little more standoffish or too cool. 
Tyrone Lindqvist - It does depends on the of venue a lot. So if it's an outdoor venue, you get a different atmosphere. Like the Brooklyn Mirage, everyone was really smiling and feeling good from wherever they were. Just the atmosphere of being outside and listening to live music is really special. If you're in a club in a smaller space, it can be such an intimate show. There's a different shade; people kind of lose themselves a little more.
Describe your songwriting process as a team. Does anybody have final say or the power of veto?
[The three men laugh.]
JG - No, it's very collaborative, which is really nice. Even in terms of who contributes what, it's a very open table, a very open creative space. No idea is shut down before we try it, and anyone can contribute anything. Once we get the momentum going, if anybody has an idea, we try that idea. 
JH - When we play on stage, like our show at the Mirage, we have fun after writing the song working out who is going to play what live. But essentially we're three songwriter-producers, and we can play any of the parts to begin with, which is a lot of fun for us. 
You've said in a previous interview that news and politics don't normally influence your music. So, what would you say our your biggest influences?
TL - Other artists are probably our biggest influence. We listen to a whole variety of music, obviously a lot of electronic music, but also some more commercial music with vocal to more underground. We also like rock music, some Australian acts, or indie rock. We like to share music, anything that's exciting us. That's a really good starting point for us writing a song. Also, the location of where we're writing. We wrote our first record in Australia, our second one in Berlin, and another one in LA. Wherever we live really influences the sound of the record. 
You guys had to add the "DU SOL" part to your group name due to trademarking issues, but why RÜFÜS?
JG - That's a good question. We keep asking ourselves that. [The three men laugh again.] It was just a situation where we were all sitting down, and we were making music already. We were just trying to come up with something that sounded familiar, yet foreign. Like a little earworm in our head, the name Rufus stuck with us, feeling like we had heard it before. With the two umlauts above it, it felt foreign. 
TL - We liked that it was very anonymous, and even in our headshots, we would have out faces very shadowy. It seemed like we were some sort of Scandinavian electronic outlet, but really, we're just three dudes from Sydney—it was just kind of playful.
SOLACE REMIXED was just released on September 6. What made you guys decide to remix it? 
JH - We liked different types of live indie music and electronic music already, and we like to DJ. So, we were already heavily involved in the dance world, I guess. Being able to remix all of our songs ourselves enables our music to be played in clubs and stuff around the world. We just jumped at the opportunity to get the best producers in the world and to get their take on it. 
What are your desert island songs (if you were stuck on island and could only listen to three songs for the rest of your days)?
JH - "La Femme D'Argent" by Air, "All I Need" by Radiohead
JG - "La Femme D'Argent" by Air, "Echoes" by Pink Floyd 
TL - "Echoes" by Pink Floyd, "What a Wonderful World" by Louis Armstrong