The Rabbit Hole Effect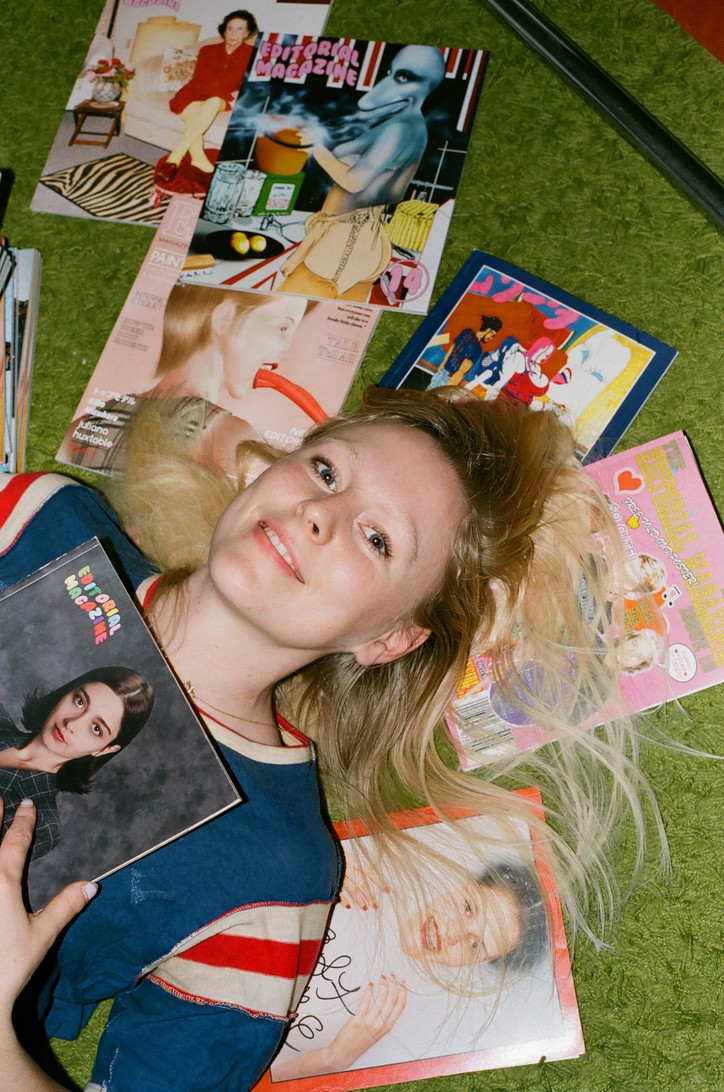 What inspired you to start a magazine? Why a magazine?
I started the magazine in 2012 as a platform for me and my friends to publish our work. The first few issues featured literally only people who lived in my building, which was kind of a communal artist building in Montreal. Also, I was part of Petra Collins's collective "The Ardorous," and I was inspired by how she gave a platform to me and so many other unknown artists. I think that's a big reason why I started Editorial. I didn't have any special respect for the medium, I just wanted to get our work published. There are so many things I didn't consider, like the cost of printing and how to design a real-life thing. It's taken years to learn the actual craft of producing a carefully curated print object. And even now real designers comment on how Editorial's design is "outsider." Sometimes it's good to not know about the field you're entering into otherwise you'd never do it.
What things did you come to find out you didn't know?
I didn't even know that files had to be high resolution and CMYK to print! [Laughs.] Learning the tech stuff was hard. I wanted the immediacy of making art, like "look here it is," but there were all these hoops to jump like converting files, graphic design, etc. Learning how to work with artists was also a big learning curve. Artists have to be handled with care, they need compliments and cushy deadlines.
When did you realize you needed to bring other people on? And, similarly, what's it like to be producing a collaborative object as opposed to the more solo process of working in your studio?
I think immediately I needed other people's help but I've managed to maintain a sense of solitude in it. I'm really good at turning meetings into email threads. I don't go to shoots, or even meet with our editors IRL to discuss things. "Send it to me in an email!"
Are there references you've looked towards in making Editorial?
I love Mould Map and always have an identity crisis when they put out a new project. For design, I pull from porno magazines. My friend bought a house in L.A. and in the basement was a huge collection of porno magazines so she sends me those for inspo. Drummer mag [a 1970s gay S&M lifestyle magazine] is amazing.
How has the magazine shifted over the years—both as an object and in how you run it?
When I look around at my apartment filled with boxes and Editorial merchandise piled up around my bed I think it hasn't changed at all. Sometimes I worry I haven't grown enough, that we should have a warehouse and glass office with nap rooms. In small ways though, it's changed a lot. In the last year a good amount of my team moved elsewhere and I got gallery representation for my painting. I was really worried that meant the end of Editorial, but if anything I think it's made us more committed to the project. I use the sales from my painting to pay for the printing now which has removed a lot of financial pressure. Also, because I'm an artist and the magazine began as a vessel for that, Editorial had always been visual-heavy. In the past few years my editor, Olivia Whittick, has made a push to make the magazine more literary, as well. We're working with a lot of writers now.
This issue looks a lot different in some respects than previous ones. Why did you change it up?
It used to bother me that Editorial was always changing; I wanted consistency in content and design but I realized that was actually limiting. This issue we embraced the fact that the magazine is always shape-shifting. We made a new logo and got our first mascot, an early Cabbage Patch Kid. The concept for the logo was actually supposed to be shit. We had a picture of Zaina on the toilet that her boyfriend shot, and a big brown sloppy "Editorial" up top. I'm really glad we threw that idea out.
There's a long history of artists making magazines—Avalanche, 0 to 9, and File all come to mind. As an artist, primarily working in the more traditional field of painting, how does Editorial fit—or not—into your art practice?
I rely on the opposition of the two projects to keep them both going. I typically can't paint when I'm putting together a new issue, it's too hard for me to split my brain from Richard-Branson-entrepreneur-mode to the childlike vulnerability required for making art. Artists talk about the necessity of being involved in the art community, like going to openings, meeting other artists, studio visits, etc. I hate openings and socializing so I use Editorial to interact with the art world. If there's ever an exhibition I want to see, I'll review it from the comfort of home. It's a rabbit hole effect, learning about what inspires other artists, or what they've stolen from where. I reviewed Koak's recent exhibition Breaking the Prairie; the title's taken from a 1930s Grant Wood mural. The work was meant to challenge masculinity and liberate nature and femininity, but my research sparked an obsession with Grant Wood's hyper-masculine prairie scenes which I'm now pulling from for my own work.
What are your hopes for the future of Editorial?
I'm such a Taurus I just want it to stay the same forever. [Laughs.] I don't want it to get bigger than it is, but maintain the same kind of niche loyal following. I should be more lofty.
Speaking loftily, what would your dream story be?
A dream story...I actually do want to feature a celebrity in Editorial one day, but an irrelevant one like Cameron Diaz or Ray Liotta. And I want more scandals!