Sign up for our newsletter
RAVEN - A New Year Mix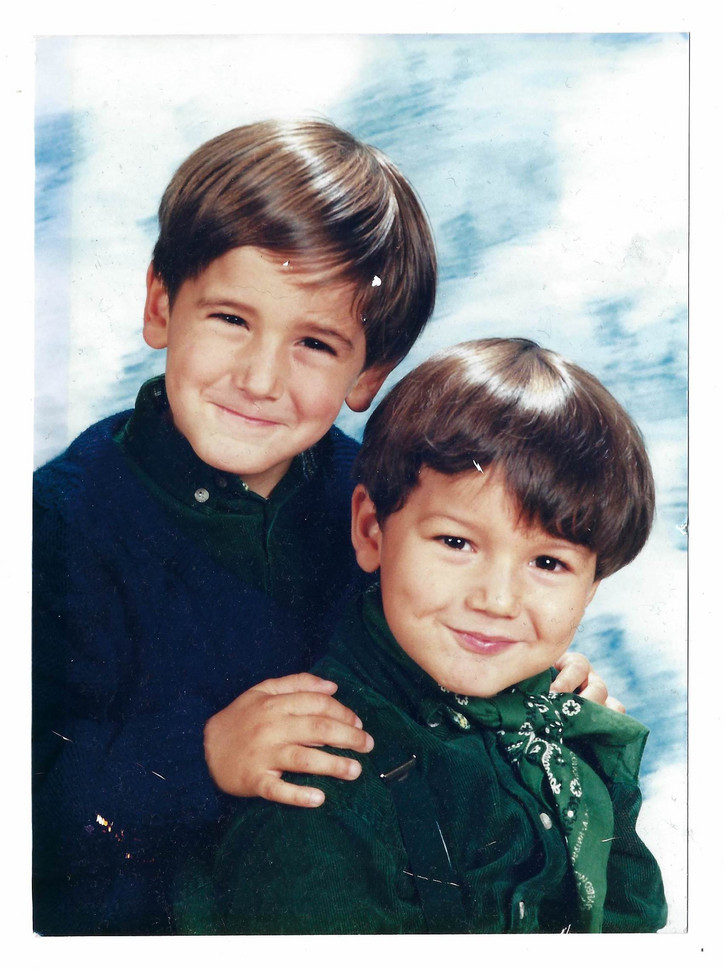 Listen to Raven's New Year's mix, below.
Rich Brian Gets Richer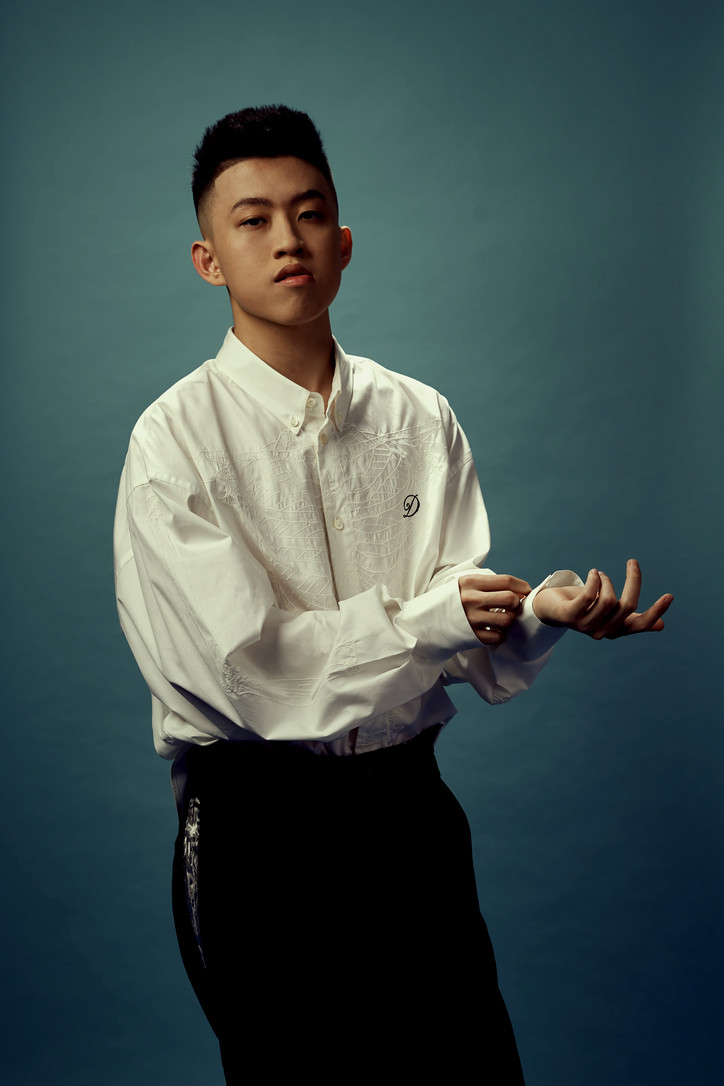 Releasing The Sailor with 88rising a little under two months ago, Imanuel demonstrates his metamorphosis as an artist through his diverse tracks and kitschy lyrics. office caught up with Imanuel to pick his brain about the process behind his latest album.
Read the interview below.
It's been almost two months since you've released The Sailor; how long did it take to bring this album to life?
There are songs on this album that I made a year and a half ago, but when I consciously decided to make an album? That was probably nine or ten months ago. It started with me being in my room messing around with beats and liking an individual song. We found Bēkon and The Donuts, who executively produced this album with us. When we met those guys, we started being at the studio everyday and actually getting together. That was probably about four to five months altogether.
With the release of The Sailor, you've come such a long way from "Dat $tick." What's one of the hardest things you've had to learn on your journey?
I think one of the biggest things I learned with this new album—it's a lot more vivid lyrically. You can really understand everything that I'm saying. On the last album, I was a lot more focused on the sounds and the flow instead of the actual message that I was sending. I wasn't really sure what kind of rapper I wanted to be and where my place was in hip-hop. Recently, I realized you can literally talk about anything. You don't have to only talk about getting money, doings shows, or whatever. It's all a matter of how you word things, and I realized that while I was going through a four-month period of writer's block. And now, I feel like I've kind of found my writing style here. That was one of the biggest things I was really conscious about while making this new album.
Do you have any favorites on the album and if you do, then why?
Yeah, the big difference between this album and my last one is that I have a lot more favorites on this one. There's so many different types of songs on this album. For example, you have "Drive Safe" which is the most emotional song I've ever made. I just sing over a guitar, and that's my favorite song.
I didn't know you could sing like that!
[Laughs] Yeah, thank you. I've always wanted to do melodic stuff, but I was too scared to do it. I thought, 'Maybe this is too not me.' But then like, what even is 'me'? With this album, my mindset changed so much. Going into it, I felt like 'This album is gonna be up forever. I want everybody to listen to it, not just people who listen to hip-hop.' I want to be able to listen to it 20-30 years from now. The whole time, I made it a point to remember that I wasn't only making my fans. I want new people to listen to this and also enjoy it.
You premiered your album with 88rising, a company whose mission is to give Asian artists a platform to grow and develop, which is really cutting edge and exciting to see. How did you get involved with 88rising?
When I was about 16, Dumbfounddead was like the first rapper to follow me on Twitter after my first music video came out. Then, I DM'd him saying, 'Yo, whenever you have time, can you let me know what you think of it?' And then he was like, 'Yeah dude, I already checked it out. It's really tight. What's your number? Let me connect you with my manager.' And then he did, and his manager at the time was Sean [Miyashiro], the CEO of 88rising who is now my manager. At the time, 88 wasn't a thing. I got on a call with him, and Sean told me about his vision for 88rising. Being a fan of Dumbfounddead and kind of knowing what they've done together, I thought it was really cool, and I wanted to be a part of it. Being 16 at the time, I just signed the contract without telling my parents, and they wanted to fly me out to America. I was super psyched about it, and I ended up working with them for around a year and a half.
A lot of this album and in the video released by 88rising, it seems to delve into your roots. Can you speak a little more on incorporating your identity into your music?
On this album, I definitely went a lot more into my roots. "Yellow" was like one of the earliest songs we worked on. I went through a four-month writer's block, and it was definitely a weird time in my life—I felt like I hit a wall. But the first time I heard "Yellow," I felt really inspired to write about how vulnerable I felt at the time. So, the first verse is about me going through this struggle. It tended to be a very emotional and hopeful kind of feeling. That's when I realized that this was a topic I had never touched on before and that this was the right time to do it. The Sailor refers to an explorer and not being afraid. I went to America as a 17-year-old without my parents. I know that I am not the only kid who went through that.
What was it like returning to Indonesia to film "Rich Brian Is The Sailor," the short film released on 88rising? Was it surreal?
It was insane. It was my first time shooting a video in Indonesia. It was like a whole new thing. It was with Sing J. Lee who is such a talented director, and he captured it really well. It was amazing. My family was there as well for the first time to see me working with a music video, which was really cool. I had them in some parts of the video.
Do you feel a need to prove yourself in an industry where there isn't necessarily a lot of Asian representation?
Absolutely. I want people to focus on the music and art, but at the same time, I realize that the pressure that I have is definitely a real thing. I want to do well. I love it when people come up to me and say, "Yo, I didn't think my dreams were possible until I saw you doing it." That stuff is basically what I live for. Being able to do this and represent these people means that I am inspiring a whole part of the world who might feel like their dreams are not really possible.
What do you want your listeners to take away when they listen to The Sailor?
I just want them to listen and be inspired. This album is a lot about Asian identity, but it's for everybody. I also just want to make people happy, because that's the whole point of making music for me. I used to watch YouTube videos with albums from start to finish for whole days at a time, and I really miss that. Now we're in a generation where people just skip around songs, and I feel like artists reverse engineer their albums to how they think people would like it. On this album, I really made what I like. I am caring a lot less about the streams and a lot more about the outcome.
What's one thing you want your audience to know about you that they might not already know?
I am very interested in acting and really want to get into it. So if in a couple of years, you see me in a movie, don't be surprised.
If you could collaborate with any artist dead or alive, who would it be and why?
I would love to collaborate with Childish Gambino and do like a back-to-back style rap with him
Deb Never Puts on a Front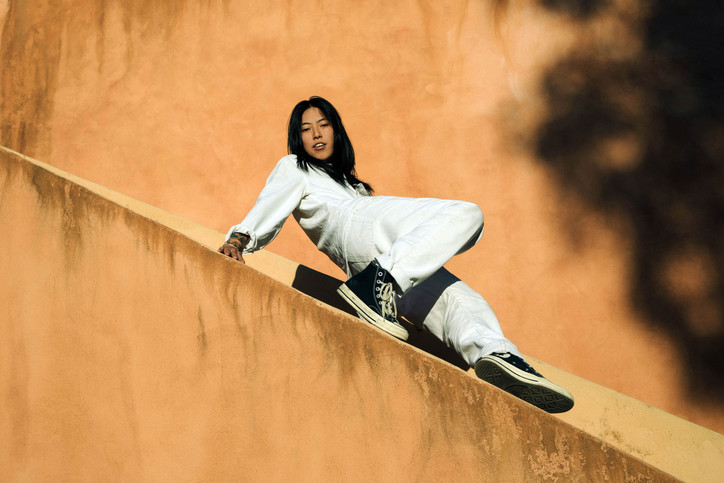 Fans and journalists alike might be wondering, "What is her intention with the project? What do these songs mean?" For Deb, there isn't always an answer. She even becomes self-inquisitive on tracks like "Ugly," venting about relationships, "Am I desperate to feel the way that we used to?" and "Same," where she repeatedly asks herself, "Will I always feel the same?" Instead of putting a heavy focus on lyrical denotation, though, this project is more about the process of feeling. As many music projects are, this EP is an emotional response to the artist's collective life experiences, both past and present. What makes Deb unique is her ability to transform her feelings into a sonic landscape that reflects the essence of her own personality: someone who has seen darkness, but chooses light; someone who has reasons to cry, but chooses to fucking mosh. 
The EP's title rings true to the life of a touring artist: constantly being on the go, a struggle to find stability or knowing what's to come in the future. But leading this life as an artist is the only option for someone like Deb–her desire for self-expression transformed into something tangible outweighs choosing a plan B. This is about the immediacy of creating: having access to an outlet, in Deb's case, her guitar, that allows one to articulate their emotions without insecurity and pressure to define what they mean in the moment. The visceral release of performing, even if its only for yourself at first, can be an extremely cleansing thing. The melodies and beats that Deb creates are representative of her consciousness: the dissonant guitar drowns out the sound of reality… tunneling the listener into her world, a private jam session motivated by loneliness, love, frustration, uncertainty and the combination of them all. And then the 808s kick in. 
Though Deb's art isn't overtly about identity politics and representation, these are two things that unavoidably lie at the heart of day-to-day human experience, even when it seems easier to escape or avoid them. But instead of letting prescribed identity makers confine her, she makes them her own simply by being herself: when she feels something, she says it, and when she wants something, she does it, Deb doesn't have to do much for you to fall in love with her–her transparency of self is a quality sought after by many, especially in an age when individuality is the new "fitting in." Her genuity has allowed her to carve a path for herself in the music industry, where all signs point to her career and fanbase growing in a real, organic way.
With early influences ranging from Nirvana and Radiohead to Three-Six Mafia, Deb's genre-meshing grunge-meets-emo rap music unfolds as if the listener has access to her stream of consciousness. With the vulnerability of a personal diary, she wants you to hear what she's saying and feel how she's singing it. That being said, House on Wheels EP is music for many moods: car rides, parties, lonely nights, break ups, mosh pits, smoke sessions, hanging out with friends. But most importantly, it's Deb Never's way of proving herself; after growing up with a sense that no one out there was really listening, she has now become a person that others are listening to. On "Swimming," her latest single off of the EP, Deb unforgivingly sings, "Treat me like you give a fuck about me now." Coming from a past reality of small-town isolation and discouragement in the Pacific Northwest and landing success in Los Angeles, she's reminding us that, deep down, she's always been the person that people are finally acknowledging her as today.
How, if at all, did your hometown influence your sound?
The only thing about my hometown that influenced my sound was my environment growing up. I was always trying to keep my head up in a sad situation.
Where does the title House on Wheels come from? 
House on Wheels comes from the way I feel about this EP and my life [laughs]. I feel like each song takes you to another place even though they all live in the same world.
You've talked about music being a release for you, is it a cathartic experience seeing the EP as a finished product versus the process of putting it all together?
Yes, seeing it finished and listening to it altogether is crazy cause it all started with me making songs in my closet [laughs] literally. It's like seeing my music baby grow.
What has the power of collaboration brought to your work? 
Collaboration has only made me better and inspired me.
Do you feel like you're defining your own identity in music rather than letting others define you?
Absolutely yes. I think music is such an honest way of representing yourself and saying things you would probably never say in real life. You can say I'm this or that but I'll tell you exactly how I'm feeling and show you who I am through my art.
RÜFÜS DU SOL and The Setting Sun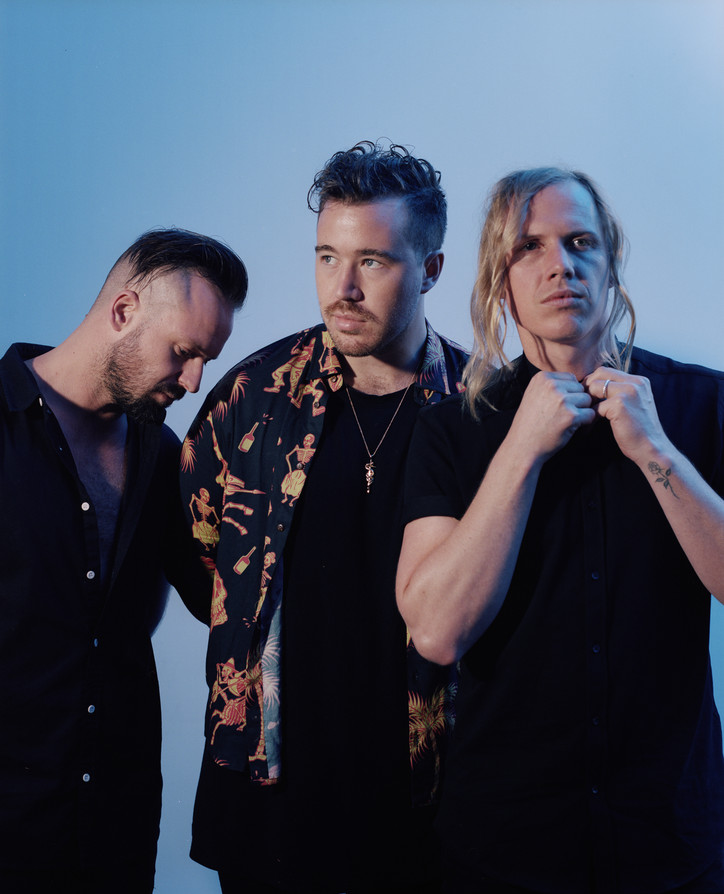 office photographed and interviewed RÜFÜS DU SOL members Jon George, James Hunt and Tyrone Lindqvist on their break after tour. Check out our chat below. 
So you guys just finished your tour. How was it?
Jon George - So good. We had the best time. We've been playing some of the most amazing venues we've only ever dreamt of playing, starting with The Greek Theatre in San Francisco. We played two nights there, and it was so incredible'—the natural amphitheater they have there with everyone looking down on you to thousands of people in America just welcoming us with open arms. So it's just really been a dream run, and we're looking forward to the next few shows. We're pinching ourselves all the way.
Did you have any favorite moments or highlight on tour?
James Hunt - It's pretty hard to pick. Every night was a pretty mind-blowing and memorable show. Finishing at the Brooklyn Mirage was a really special way to cap off all the shows. Specifically, I think putting SOLACE out and putting some more heartfelt shades of music, seeing people's reactions to that at our shows, and even the entire last year have been really intense. It was really cathartic—people crying and knowing the words so well, because it means something to them. That seems to be happening at all the shows, so it's hard to wrap our heads around how awesome it all is. 
We got to play during sunsets for the first time on this new record. That's our favorite time slot to play at festivals, and that's definitely my favorite thing that we've gotten to experience, because it changes the sounds of the song and the context. Playing sets of SOLACE and our older stuff, you could feel the energy of the crowd was different than what we're used to.
How long does it take you to create to song from ideation to launch?
JG - On average, it changes so so much that it's hard to say, but that's the beauty of it. Sometimes, we can come up and create a song within a day, the foundation of a song, and then we like to take our sweet ass time producing from there. "Innerbloom" was written within a two-day period, and we just took our time really finessing it into laying down the vocals. Other tracks like "Like an Animal" can take a year.
Is there a different audience vibe amongst various countries that you visit and perform in?
JH - In the US, there's consistently a really loyal fan base that turns up to all the shows—it's a really good vibe. When we play Europe or Australia, we can feel a difference.  We played some shows in Southeast Asia around five years ago. They were much more polite and withheld. As soon as we finished a song, they would clap very enthusiastically. Different places we play, there's a different kind of interaction. In Europe, sometimes they'll be a little more standoffish or too cool. 
Tyrone Lindqvist - It does depends on the of venue a lot. So if it's an outdoor venue, you get a different atmosphere. Like the Brooklyn Mirage, everyone was really smiling and feeling good from wherever they were. Just the atmosphere of being outside and listening to live music is really special. If you're in a club in a smaller space, it can be such an intimate show, there's a different shade. People kind of lose themselves a little more.
Describe your songwriting process as a team. Does anybody have final say or the power of veto?
[The three men laugh.]
JG - No, it's very collaborative, which is really nice. Even in terms of who contributes what, it's a very open table, a very open creative space. No idea is shut down before we try it, and anyone can contribute anything. Once we get the momentum going, if anybody has an idea, we try that idea. 
JH - When we play on stage, like our show at the Mirage, we have fun after writing the song working out who is going to play what live. But essentially we're three songwriter-producers, and we can play any of the parts to begin with, which is a lot of fun for us. 
You've said in a previous interview that news and politics don't normally influence your music. So, what would you say our your biggest influences?
TL - Other artists are probably our biggest influence. We listen to a whole variety of music, obviously a lot of electronic music, but also some more commercial music with vocal to more underground. We also like rock music, some Australian acts, or indie rock. We like to share music, anything that's exciting us. That's a really good starting point for us writing a song. Also, the location of where we're writing. We wrote our first record in Australia, our second one in Berlin, and another one in LA. Wherever we live really influences the sound of the record. 
You guys had to add the "DU SOL" part to your group name due to trademarking issues, but why RÜFÜS?
JG - That's a good question. We keep asking ourselves that. [The three men laugh again.] It was just a situation where we were all sitting down, and we were making music already. We were just trying to come up with something that sounded familiar, yet foreign. Like a little earworm in our head, the name Rufus stuck with us, feeling like we had heard it before. With the two umlauts above it, it felt foreign. 
TL - We liked that it was very anonymous, and even in our headshots, we would have out faces very shadowy. It seemed like we were some sort of Scandinavian electronic outlet, but really, we're just three dudes from Sydney—it was just kind of playful.
SOLACE REMIXED was just released on September 6. What made you guys decide to remix it? 
JH - We liked different types of live indie music and electronic music already, and we like to DJ. So, we were already heavily involved in the dance world, I guess. Being able to remix all of our songs ourselves enables our music to be played in clubs and stuff around the world. We just jumped at the opportunity to get the best producers in the world and to get their take on it. 
What's your desert island songs (if you were stuck on island and could only listen to three songs for the rest of your days)?
JH - La Femme D'Argent by Air, All I Need by Radiohead
JG - La Femme D'Argent by Air, Echoes by Pink Floyd 
TL - Echoes by Pink Floyd, What a Wonderful World by Louis Armstrong