Sign up for our newsletter
RAVEN - A New Year Mix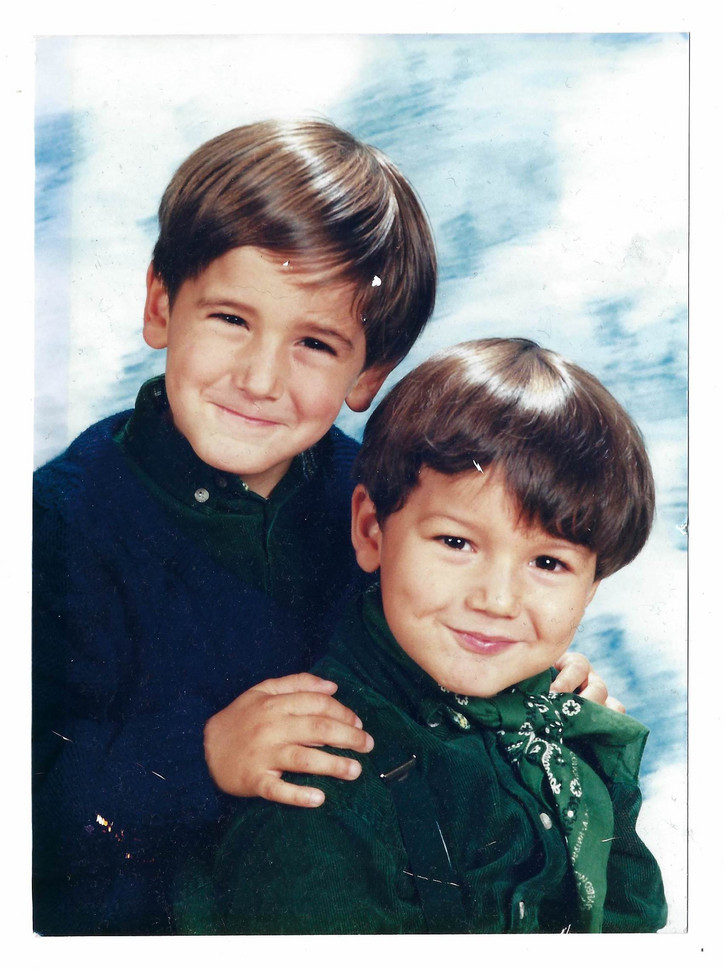 Listen to Raven's New Year's mix, below.
office 2018: It's Destiny... Princess Nokia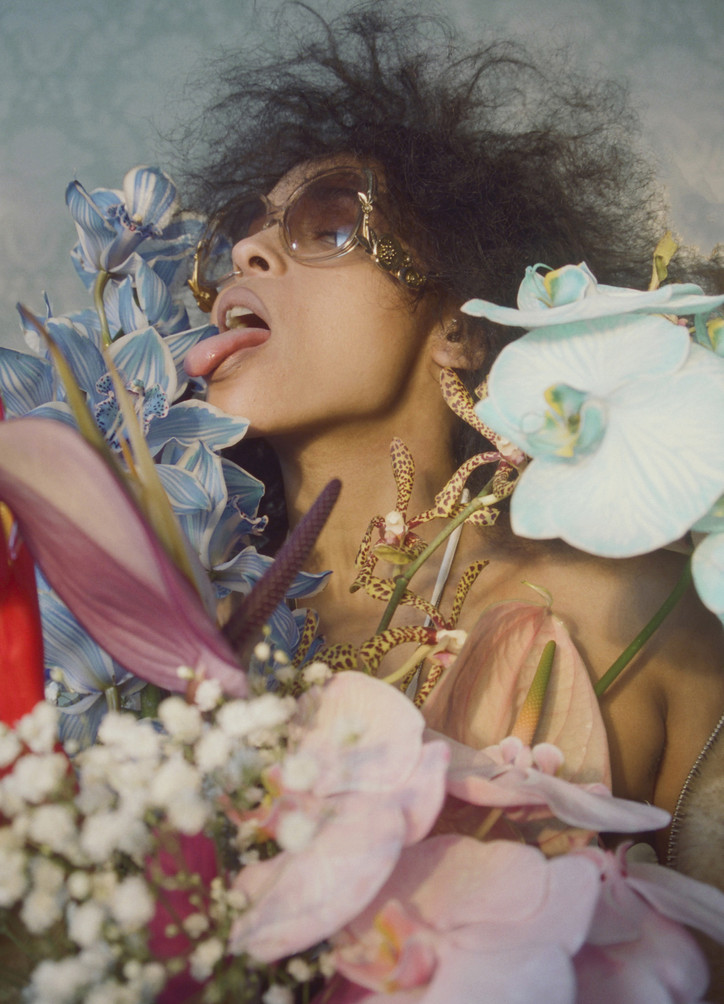 Destiny was born in New York on June 14, 1992, and came up against high hurdles at an early age. By nine, death had taken both her mother and grandmother. As a teenager, under turbulent and at times abusive conditions, she ran away to live with her grandmother and father. "One of the best decisions I have ever made."
Destiny describes her father as "a loving, non-judgmental feminist." When she and I first met in 2010, she wasn't hanging out with a group of teens, she was kickin' it with her pops. Seventeen years old with a swoop bang channeling Aaliyah, light pink Chloé shades (you know, the ones with the rhinestone heart in the corner), matching plaid bikini and mini skirt, pacifier necklace, tiny anime backpack filled with comics and tarot cards, bumpin' grimy New York rap in her headphones. An original.
"When I was a young girl I always wanted to be the underground, I always wanted to do music and I always wanted to be in the art world and all that cool stuff." I have been observing her growth for years, watching that vision come to fruition, and here we are, sitting on set in a multimillion dollar mansion off 54th Street, filled with racks of designer clothes and shoes, a team of professionals getting her camera-ready, and a photographer ready to shoot the dreamlike scene with Destiny as the protagonist. All because she put in the work. This was her doing and I could not be more adrenalized to be there with her for it. "There's something to be said about the imprint and the narrative of brown women that create friendships within these art worlds and music scenes and cities and networks of people and youth and subculture." 
She's come a long way, but to be honest the music has always been inside of her. Before her best-known album, 1992 Deluxe, she released the song Destiny under the pseudonym Wavy Spice, and went on to release more singles via YouTube and SoundCloud, bootstrapping her career and organically growing her fan base. Soon she started to tour, and was featured on tracks with NYC rap group Ratking. By the time she took on the moniker Princess Nokia she was seasoned, and ready to be heard by the world.
In 2016, she released 1992, a nine-track mixtape, which was later bolstered with eight additional tracks and re-released as an official album on Rough Trade Records. On the track "Receipts" she raps with pride about her diligence, her prolificness: No. You hope that I fail, but I won't cause I can't, It's Return of the Mack and I'm lit to the max, And I really count stacks. This a tour back to back, And I got a catalogue, it's iconic as fuck, Three albums in three years. Damn. I'm good as fuck, It's 2017 and you out of luck, This is Princess Nokia. I don't give no fucks.
"1992 came from a new chapter in my life where I felt free of the pain I was feeling and the bullshit I was internalizing. If I kept my pen on the page, my life would get better. I'd find the clarity I was looking for. Very early when I was writing it, I felt it. God told me, 'This is gonna be your baby.' I cut my bullshit out. I put my foot down as a woman. I put my foot down about a lot of things in life. About being lazy, how I spent my time. I was focused on writing, exceptionally."
God was right. 1992 Deluxe took Destiny international, brought her financial success, and presented noteworthy opportunities, including working on a NOH8 Campaign for the Super Bowl withTimbaland. Most importantly, it made her proud.
"Metaphorically this album has taken me to God. Music is the biggest joy for me sometimes. I've been taken to some places in my mind,spiritually. I've done Yoruba offerings in the Red Sea in Dubai and I've been in the biggest brown, queer, safe spaces in The Bay, Los Angeles, Texas."
Now, coming off a number of significant successes, she's contemplative, and ambitious as ever. "I'm excited for life. Life is limitless. I got a taste for life. I got a taste for the finer things in life. And I got a taste for always making sure I make myself proud. That boss-lady archetype is all I've ever wanted to amount to. I think all I've ever cared about is my job. You can't have everything in life. I always valued being a woman of good, outstanding accomplishments. And I'm just one of those nerdy career women. Me with a broken heart is not a big deal for me. Me with a fucked-up career is a very big deal for me. Everything is an experience in life. If you can understand the joy and take the joy and not dwell on the "it's ending" then you can enjoy life in not feeling attached."
As she speaks, with clarity and honesty, I can see her mind going back in time. Back to the moment she broke out on her own, declaring who she was, and who she was bound to be. Years later, she is still that girl, her boundless confidence eclipsing her insecurities. Taking everything into account—her resilience andtenacity, her swagger and her talent—it almost feels like she's been headed towards stardom since the beginning, chasing a dream she knew was within reach. Living up to her name.
As 2018 comes to a close, office is counting down some of our favorite stories from the year. Keep your eye out for more highlights—like our Issue 08 story with Vaquera—this week.
Buy office Issue 08 here.
office 2018: Blood Relative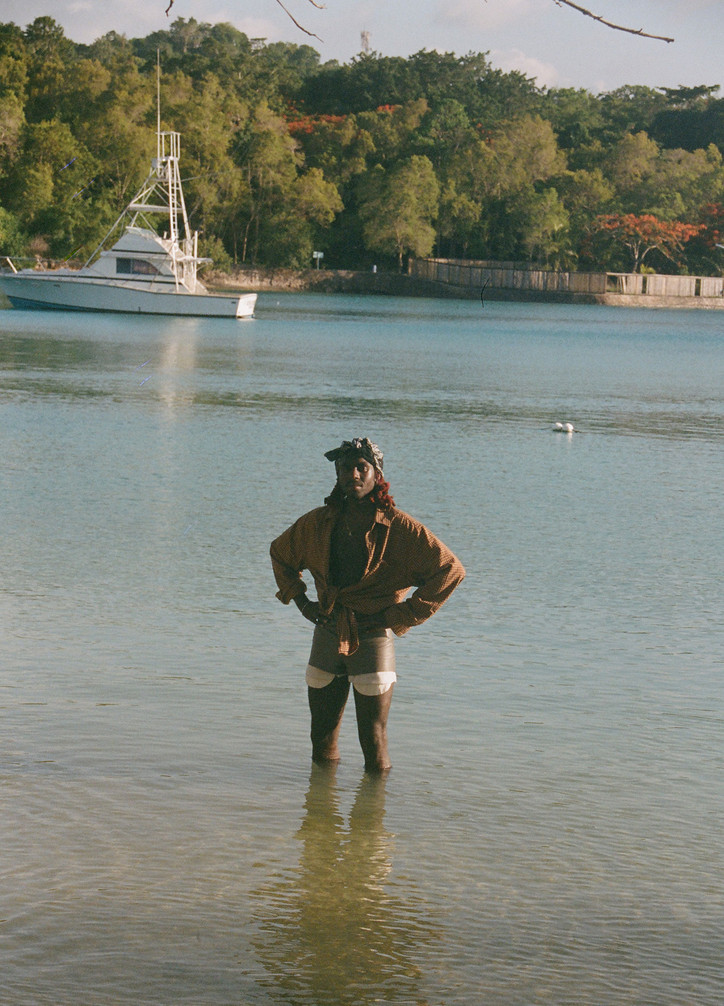 For the latest Blood Orange album, Negro Swan, he wrote songs in various locations across the world, using whatever instruments might be at his disposal, welcoming people from different parts of his life to speak and perform on the tracks. He wrote the music for himself, rather than any audience, and with no strict objective other than to let it happen, rather than make it happen.
Earlier in his career he'd spoken about leaving behind former aliases and projects in an attempt to avoid the influence of expectation, but when I bring up that mentality he says it's a thing of the past. With Blood Orange he has found a project which can continuously reflect an honest and evolving version of himself. Some aspects of the work may be collaborative, some more individual, and one album may not sound quite like the last. But every decision that goes into it is Dev's, and every note a new chance to reveal another side of the musician's endlessly inventive collective consciousness.
OFFICE — So it must be a pretty exciting time for you, with the album coming out.
IAN ISIAH — I think the world is really excited. Like, actually.
DEV HYNES — Really? That's cool.
II — But it's like half music people, and half like woke people who just see Negro Swan and are like "Oh, it's about to go down, in like, awake-ness." And I'm like yeah sure, it is about to go down in awake-ness. I mean, I'm excited.
O — Ian, I was just watching the video for "Jewelry" that you had a role in casting, and you were in it as well. I'm curious if you could explain how it came about.
II — Here it is. Dev had an idea, and then we figured out a few boys in the neighborhood that made it look very New York, because that's the spot. Very New York situations. We all got together and went to West 4th and just like, danced around for a while. A lot of people in the park thought we were also doing a performance piece because within 100 feet there was a weird pianist on the side doing a little show and all that. Then there's us, no shirts, jumping around with a camera and stuff, so there was a lot happening that day. But the crowd appreciated it.
DH — Yeah there was a little crowd, I always forget that.
II — Yeah, at West 4th. It was funny, but it was fun. A lot of those boys were like old and new friends of ours that aren't doing anything and I'm happy that they were like, "Oh yeah, of course." They were actually fans of Dev already, I didn't even have to push a whole treatment, those are all just homies.
O — When did you two meet?
II — Maybe four, five years ago? Downtown. Post Dev moving to New York and like, living in New York and then once he was really settled I came around and we became friends. I don't know how, there's no specific day or anything, I think it's just downtown New York fun-ness.
DH — And he's the first voice you hear on Freetown .
II — That's crazy. But yeah, at first it wasn't even like a music friendship. Just like a homie situation. Then it got musical and it's a wrap from there.
O — At what point did you, Dev, feel that New York was where you were based, like you were no longer just visiting here for a few months at a time.
DH — I guess, maybe not sentimental, but I look back and think about stuff. Cause you know what's weird, is that I'm 32 now and my memories of England are of a teenager. So it's kind of an interesting thing to be British and feel British, but the memories of living it is off, like I don't remember.
O — Like the British you is a teenager.
DH — It might be perfect actually.
II — You only need to know about British '90s actually. [ laughs ] You didn't miss anything.
DH — True.
DH — I think Cupid Deluxe is kind of about that. It's a different record if you look across the board at the albums I've made. It's a little bit outside because it's mainly about me being comfortable. It came out 2011, so yeah, around then is when I felt like alright, I live here.
O — Was there something here that you felt you couldn't get elsewhere?
DH — Not even like that. I mean, you know, I was younger. I didn't really come to New York for a reason. I didn't live anywhere. I was couch surfing in London and had a backpack and a friend of a friend's old roommate had a couch in Long Island City, so I just came and stayed on the couch.
II — And now you like own Chinatown. He's a part of the list of where you mention people in Chinatown. You're like, mentioned. You're like the Chinatown real estate.
DH —[ laughs ] That's hilarious. That's fucking funny.
O — Do you maintain ties in the UK? Are you back there a lot?
DH — I'm not there a lot. This last year I've been there more times than before. But I have some really close friends there that I talk to daily.
O — Are you sentimental about it at all as a place? I know this album touches upon stories from your past there.
O — I mean, it is a weird feeling. I grew up in San Francisco, a city that is so unrecognizable in a lot of ways compared to when I was a teenager. I'm 32 as well and going back there it's sort of the same thing, I have these memories and they're fine, but I can't access that version of the city anymore. It's not there.
DH — You know what, I even felt that way, not to go so cliché with it, but last year one of the soccer teams I was playing for was playing on the waterfront in Williamsburg, and I don't think I've been there in six or seven years and I just remember riding my bike across the bridge and down Kent and just being like, "What the fuck!" Some of the venues I first played when I did solo Blood Orange don't exist. They're gone, like dust. It was kind of a crazy feeling because I guess I've lived here long enough to have memories like that. So that was kind of crazy. It was even crazier to have that feeling about a place that I live now. I mean I feel like I've been here a long time, but it still feels new.
O — Right, so to see evidence of that time passing puts it in perspective.
DH — I'm like, "Damn, I'm old!" I'm actually old.
O — You recorded this album in a lot of different places, what pulls you in those different directions? How did you choose those cities?
DH — It was more that I was going there just hanging and I'd record wherever I was. The Japan stuff, we were playing at a festival and I'd just set up in the hotel rooms and record. LA, I was going there quite a bit to kind of go away and stay at [ASAP] Rocky's place a lot and record. And Florence I just kind of fell in love with, I did an art residency there, and recorded while I was there. It's like, one of my favorite cities in the world. I like the size and the classical-ness of it all, and I love the coffee. It's great. If they had like a good weed plug, then it truly would be the greatest city in the world.
II — You really did make this album all over the world.
DH — Yeah, I don't know how.
II — Its fab. [ laughs ] I'm impressed because I'm not used to it. I'm a church boy, I'm from the church. I know music like the back of my hand, but in that sense. Before Dev I wasn't even interested in coming into this side of the music world. But now I'm in it and I see Dev, we'll be hanging out but he'll have a laptop out working. We'll be waiting for a flight and he'll be recording a track and I'm like, "How is this possible? Like, what are these programs?" I didn't know that whole lifestyle could be so mobile.
O — But that's new, right? Like, grand scheme you think back on all these albums and it's like "No, the band was holed up in some studio in the forest for a month to record this."
DH — But I do romanticize that, though. I've always loved that as a concept. When I see people do that I'm always like, "Ah, that's so cool."
O — Maybe the next one. [ laughs ] You can find one spot.
DH — Yeah, I mean I'm into it.
O — For this album, you've talked about how you'd find these different locations and just work with the instruments and equipment that was already there. Was that something intentional, in terms of self-imposed limitations and parameters?
DH — Yeah it was super intentional, and I love it. Like the last song on the album, this song called "Smoke" which is just guitar and voices because there was just a guitar there. [ laughs ] I would never have written it otherwise, it wouldn't have happened.
II — Well, once again, it proves my point that Dev is behind the scenes of his own project. I also don't understand the staff behind it because he is kind of the staff. But, it's also new for me to see in this music world because this is normal in fashion. Just like, directionally based and just being able to be a director within like this whole, whatever your project is, and it's cute to see how Dev does it in music because music direction is a thing obviously in band life, and as a whole, like playing live. Music direction is a thing in general in music, but music direction in production is a huge, huge thing and its cool that Dev is the one who does that and he's not looking for the help that's in that studio to make it happen. This is not normal for artists, or these new artists or people that aren't as musically inclined.
O — They need the team.
II — They need that full huge budget and team to make this one person. With Dev, you really just need PA's. You probably just need PA's to facilitate, which is great.
O — And yet, you're so collaborative in terms of other people's projects. You've got a long list of other artists that you've worked with. Is that something that enabled you, because you've done it for other people and you've done it for yourself, you're like, "I can cover all these bases."?
DH — Yeah, I guess with me it's like, I don't know what the point of me doing a project would be if I had someone else helping. It's like there would be no point in the project existing, because it's more of just seeing what I could do.
O — Okay, yeah. Is it like if you wrote a script and handed it off to a director and it becomes their thing?
DH — Yeah, but I would be into it if that was the goal. If the goal was to see what would happen to a director with the script.
O — Right, if it was like a two-part authorship, or whatever it is.
DH — Yeah, but essentially with Blood Orange, it's actually more. It's a little bit of the reverse. It's kind of more to see what would happen if I was just the director, you know? Like I'll write a script, but I'm interested in seeing what people coming in can do, and what I can then make that into. I think people get hung up and don't do that, because they feel like they would lose ownership. I think they don't think about making the best thing. They get tripped out thinking. Like I play bass on my records because I'm in the room. But if there was a bassist in the room, they could play it. You know, I'm not like, "I need to play bass on this." It's more like, "This needs bass, there's no one in this room," you know?
O — I mean in a way it's interesting that you don't go by Dev Hynes, because that would be a little more "It's all me, every instrument on here is me, the producer is me, the writer, everything." But Blood Orange ends up being more of an open group, or a collective, in that way.
DH — Yeah, I love that. That's how I want it to be. Even though it is me, it's not actually just me. This also could be some UK shit, cause if you go back to '90s, it's really UK to have a group who is one person or two people that has tons of guests all the way throughout. Its engrained in English music, Massive Attack, Prodigy, Gorillaz. It's like a thing where you have producers where you know its these people making it, but they might sing on the song, they might not.
O — So, you mention that you make music for yourself, and you've spoken about how performing live isn't necessarily something that you've embraced or been able to love in the way that some performers have. Would you prefer it to be a more intimate experience when you perform?
DH — Yeah, I guess I would. I kind of worked out what it was recently, because it's kind of been hard to explain it, but I think I've got it now. I like performing music live, but it's more of a twisted irony that the one music I write with no intention to perform live is actually my only real vehicle to perform live. That's kind of what it is. It's like I work on Blood Orange music and I'm never thinking about anything live. It's the furthest thing from my mind. I'm trying to think of this, I don't know world or whatever, for people to listen. But then if that is what is popular, then that's what you perform live.
O — Right, you can't show up and play a bunch of improvisational shit for people to interpret.
DH — And I will never do that. The only time I will do that is if I say very clearly beforehand that that's what it is. Now actually I have a music director for live shows, which is really cool cause I never had one before.
O — Somebody to come up with a little bit of a vision.
DH — That's exactly it, and you just get to deliver more.
II — You get to deliver more on the mic. You get to deliver more on the guitar when he plays cause it's freed up with thinking about all the rest of it.
DH — It's so true. You're completely right. I can play better.
II — Singing too.
DH — But more involved in the moment than before. Ian's involvement in my shows has changed everything.
O — In what way? And also what does that involvement entail?
II — I think I was raised more live than production or studio.
O — Was that a church thing?
II — Yeah, it was no choice. All we would do is what we do live and recording was not a thing for me until I was 22 or something like that. I mean of course I recorded gospel stuff and we recorded for fun, but recording professionally wasn't a thing for me until I was grown. So like I'm used to the live, but I push him a lot with the live. Cause first, it's a band, full of all great musicians.
DH — Yeah, crazy musicians.
II — So like it's like tight right now, and I want him to feel that so he just delivers different, especially with the new album coming out, like, all new delivery. Fresh.
O — You talk about not paying much attention to the music scene, or reviews. So how do you decide what to play?
DH — Spotify and Apple Music.
O — No kidding.
DH — I looked at my artist profiles, like, "What do people actually like?" [laughs] I literally pulled from those and made a set.
O — It's almost like a data-driven set list. So what do you think is the biggest change that's taken place in the live show, or something that you may want to see more of? What direction are you trying to help bring it in?
II — Real tight sound, just like full, tight sound music. So tight that the cues go right by because everyone is like in one mind, through the music.
DH — Yeah, yeah. That's fire.
II — And then allowing our audience to be like, okay this is the formula. One band, one sound. And then they can start understanding that this is the line that they missed out on that they referenced so like you can just get in on this vibe of really being involved in music.
O — Is that something you're looking for in choosing the band that supports you on stage? You can't just plug somebody in, somebody has to kind of feel and understand what you've written.
DH — That's why nearly everyone is either jazz or church or both.
O — Both are genres that touch on this one mind aspect. People are writing together on stage, or they're singing together with one voice. I mean, it's even in the lyrics in the church music.
DH — I've never even thought about that, it's literally everyone in the band. [laughs]
II — The new live band is set and its really tight.
O — So I want to ask about the spoken elements on the album. Cause it sounds like something that came to you, but that you enjoyed searching into a little bit. Getting some of those elements in there, which is new, right?
DH — Kind of. I guess on Freetown it existed, but they were samples and with this it was all new recorded things.
O — Did everybody know that this was potentially going to be on the album, or is this something that you asked for? What was the process in getting some of those monologues?
DH — Puff just did it, I didn't even ask.
O — I was reading about how he kind of called you out of the blue the first time?
DH — Yeah, it was after Freetown dropped.
O — Cause we have Fab 5 Freddy interviewing Redman for this issue as well, and Fab sends the transcript and is like, "Oh by the way, Diddy FaceTimed us in the middle of the interview." [laughs]
DH — He FaceTimed me this morning.
O — How does this guy just keep popping up in all these places?
DH — That's wild, bro. He's fucking omnipresent, Puff. Yeah, he's the fucking guy. But yeah, he just did that one monologue. That was not like cued or written. It just happened. The music all existed in that part. It was just going to be kind of an instrumental outro. Yeah, his monologue was longer and I cut it. And then with Janet it was a conversation here. I don't have the book, but there was like a Negro Swanbook that I was filling up as I was working on the record, and I would talk to her and play her stuff and she would sit and write and then I'd talk back and she would write in the book and I just recorded all of it. So none of it was to music. It was just like large audio file talking. But it was always relating to things in the record, so it just kind of worked. She talks pretty rhythmically, musically anyway, so I tried to work with that where I was flowing into the music.
O — Lastly, I wanted to ask about the title, Negro Swan and then the winged figure on the cover and in the video. Is there like a little bit of a sort of mythology that arises when you're writing an album like this?
DH — A little bit, I guess. The only thing I actually ever studied was English literature and I think that's always at play. A friend of mine recently said, whose known me when I worked on albums, that they think I work on albums as if they're a book. It kind of makes sense because I have it tracklisted out way before anything is finished. Every decision that you hear when listening has been thought out over 50 times. It's why it's in that moment in where it is. Every album I've made, I've had the title way before things were written. Like I had the idea of it, wherever that idea is, it's usually something that's hard for me to describe. It's usually imagery. I've been thinking recently that this album, instead of being after Freetown it feels like it's inside it. It's a moment in the album that has been like focused in on and then expanded.
II — A capsule. [laughs]
DH — [laughs] It's a capsule collection!
II — Cute.
As 2018 comes to a close, office is counting down some of our favorite stories from the year. Keep your eye out for more highlights this week.
Office Issue 09 is out now. Buy it here.
Me, Myself & Raleigh Ritchie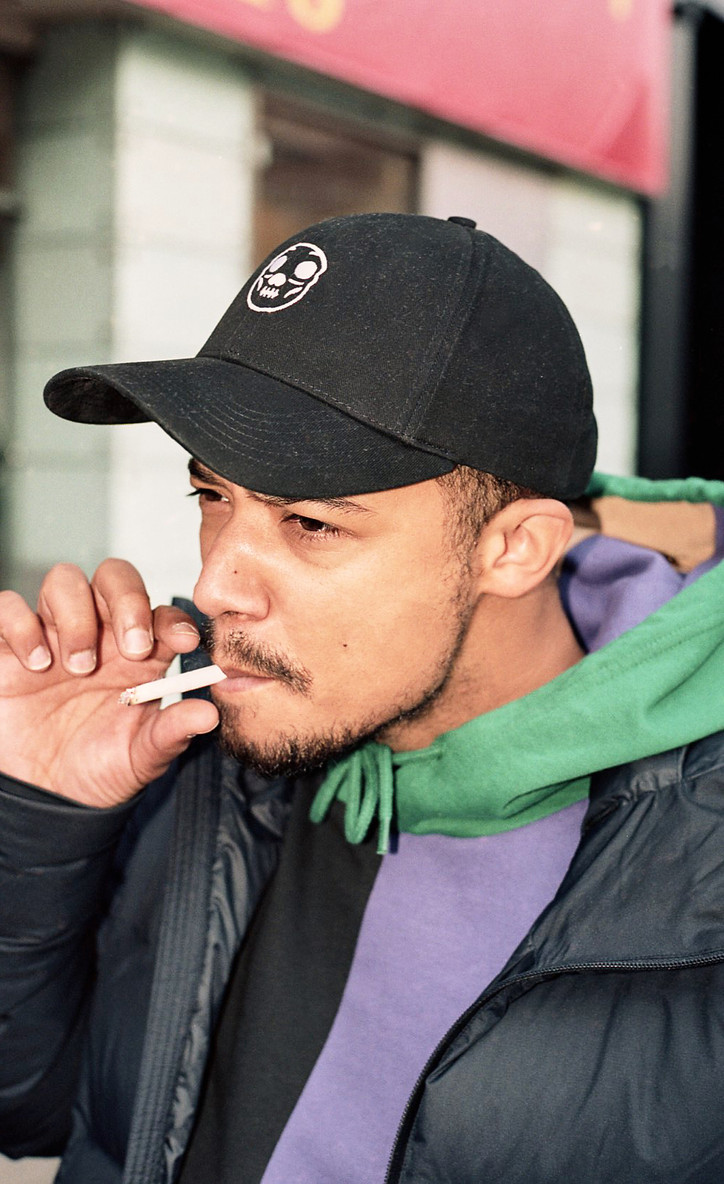 Earlier this month, Ritchie swung by office before the final stop on his U.S. tour, to talk and take a few photos. Read our interview, below.
Tell me a bit about your come up story.
When I was a kid, I felt like I couldn't really talk to anybody—just a combination of family stuff and being a child of divorce. There were a lot of really adult things going on that nobody really wanted to talk about, and I didn't really know how to talk about it—I had a lack of vocabulary to talk about. So, I turned to listening to music. As I got older, I would look for musicians who would talk about their lives in a really personal way—not just singing the song of the week or whatever. And looking back, I would always write down how I felt. My exercise books from school were never full of schoolwork—I would take them and write how I felt that day and somehow adapt that to songwriting.
Why is it that it's always easier to write down your feelings instead of talking about them?
The way I see it, when you write things down, you're not getting an instant reaction. Say I said, 'Today I'm thinking about death a lot and I'm scared of dying'—if you say that to somebody's face, you may get somebody trying to talk you out of that feeling, or somebody thinking you're weird. It's not necessarily always that—sometimes people try being really supportive, as well—but that doesn't work either.
I hate when people try to level with me. Maybe it's more about that feeling of release and less about wanting someone's opinion.
Exactly! It's a lack of accountability. My girlfriend's an actress and she has this thing about if you act in something that you're filming versus acting in something on stage. When you do something on stage, you have instant praise, but when you're filming something, you don't know how people will react to it. With music, you have that same safe feeling as filming. I write with people I trust and when I go away to write the lyrics for a song, I come back and it's not like people being like, 'Oh why don't you make it more this, or more that?; Most days later I can say, 'Yeah I did feel like that, and I don't feel like that now,' but it's a safe space to express things that maybe I can't say to my parents or my friends.
How did you meet your band?
It started in a really inorganic way. We had auditions for a band but my MD is a really good guy and I really got a long with him—he understood the person I was, the people I liked to surround myself with and the kinds of shows I wanted to put together. It's weird, 'cause I don't have exactly the same band now, but we just have really good chemistry. We really enjoy each other's company. I just got really lucky to have people who are my friends now, who I trust and who also trust me.
Yeah you're lucky enough to find a few good friends, but to have those people also be able to get you closer to your dreams is next level.
It's the same for producers, as well. Because of the way I write, that trust is really important—to have people who won't look at you funny or try to steer you in a different direction. My band has been writing with me, coming up with ideas and stuff—you just build that foundation with others who you trust.
So, how much of your lyrics are collective emotions from you and your band, and how much is all you?
My words are what I've got—that's my thing. But it's a really difficult process to describe or explain because sometimes I'll start tinkering on an instrument, or a producer will play some chords and that will remind me of how I felt on a certain day. Specific details seem to trigger other things. But lyrically, it's very personal to me. It's weird to share that with a group. It's like symbiosis—that's what it feels like. You don't know where it begins or ends—it just happens.
In that sense, is making music a nonlinear process for you? Is it different every time?
Yes, and no. I'd say if I were to look back on the songs I've actually released, they were probably written in a very similar way every time. There are some songs I've written that feel very personal and honest which I've spent a lot of time trying to finesse and perfect, or whatever, but there are other songs that have just fallen out of me—that you write in one swoop in 40 minutes and you look back like, 'Where did that come from? I guess that really needed to come out.' So, I guess there are two different things—songs that you agonize over and then songs that just kind of happen.
Do you think that the two different kinds of processes—whether it's spilled out or pried—has any different reception amongst your fans?
No, not really. The songs that don't come from that place of needing to come out never actually make it on a record. The ones that I put out are the same ones I'm most scared to share. Inevitably, I think they are the best songs in the end.
I was watching the Billboard Awards and one winning artist said that while it was her best year career-wise, it was also her worst year personally. I wanted to know if you felt the same way with those tracks that you get scared to release.
My therapist would tell me, 'Pain is not what makes your music good.' I'm trying to learn that I don't need to be in pain to make music, but at the same time, that's when I need to make music. It's like an exorcism. I'm not somebody to just sit down and write a song. For this album, we've been going away for a week or two at a time, just writing. And some of the days we're just sitting around playing Mario Kart because it's just not there. I don't hoard lyrics—I write them as I'm thinking them. Sometimes I'll go back and edit, but mostly it's just stream of consciousness. So, yeah, it's a weird dichotomy. Myself, as a human being, I don't want to thrive on pain, but as a musician, my inspiration often comes from a place of hurt.
It sounds like a viscous cycle. In that sense, do you sometimes try to find the worst in situations for inspiration?
If I'm being really honest, I'm definitely guilty of that. I think that then eats into trying to do something versus doing something you have to do. There are times where I've done that then I go to a point where I can't go any further because I'm trying to squeeze something that's not there.
Definitely. I feel like the listener can always tell the difference between what's real and what's not.
Exactly. I know when I'm lying and when I'm telling the truth—and I never want to release something that's a lie. I would never put out a song like, 'Oh, I'm so fucked up,' if I wasn't feeling fucked up. You can't take your listeners for dickheads. When I was younger, I was like a music detective and I would just move on if I thought someone was being disingenuous.
Name one thing that you've recently listened to that you felt was really honest.
Okay, so it's not a recent song, but there is a song called, "Powerful Love." It's not a song about mental illness or anything—it's a love song, but there's one bit where he sings, 'Baby try it my way.' I don't remember the word for it, but there's a word that defines when the music and the words tell the same story. Whenever I hear that song, I hear it in my stomach.
We all just really yearn for a sort of connection—through whatever medium.
Yes! We all want to recognize ourselves. We want our stories and our music to be a mirror. I think as people we want to relate to other people and sometimes the safest place to do that is through your headphones. There's a Björk quote, I don't know exactly how it goes, but it's something like, 'All good art is art that understands you.' I really get that through touring. I really feel understood.
You just toured throughout the UK, now a bit throughout America. Tell me, is there a difference between the two crowds?
No, and it's funny when I first started touring people would be like, 'Oh with London crowds you have to work a bit harder. They'll cross their arms and be on their phones,' or 'You really have to impress LA crowds. The same thing with New York.' Then I did a show at Bowery Ballroom and it was the best show—just a really warm crowd. I don't think there's a difference between geographical lines. Not to big myself up, but that's what I want to achieve—I want my shows to feel like we are all sharing something, despite where we are from and all of the politics. I find that my shows are really eclectic, and I love that.
That's really representative of your sound, as well. I feel like you're inspired by so many different genres. If you had to describe your sound through three movie titles, which would you choose?
I'll give you two examples: first, Jurassic Park, because it's the idea of bringing something old and trying to update it—sometimes it gets a bit out of control, but there's something really special about it. Second, The Apartment, because I think that film is a comedy, drama and romance story about mental illness that crosses all of these different lines while still balancing all of the different aspects. That's what I want to do. I don't know if I've exactly mastered it yet, though.
You've been acting and doing music for a long time, but I feel like everything we've talked about almost transcends those realms. So, I'm curious—what do you want to be remembered for?
I'm still trying to work that out. I just hope that I put something out into the world that's honest and helps other people to be honest with themselves and those they care about. I hope I can help people work through some shit. I hope I can help people feel understood.
Listen to Raleigh Ritchie here.