Sign up for our newsletter
RAVEN - A New Year Mix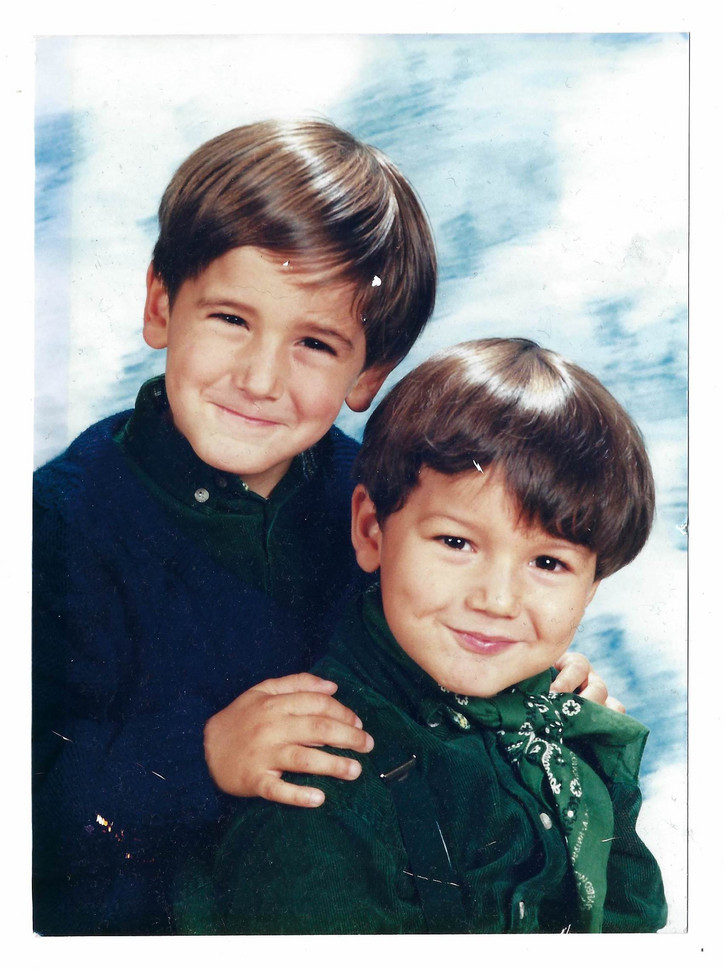 Listen to Raven's New Year's mix, below.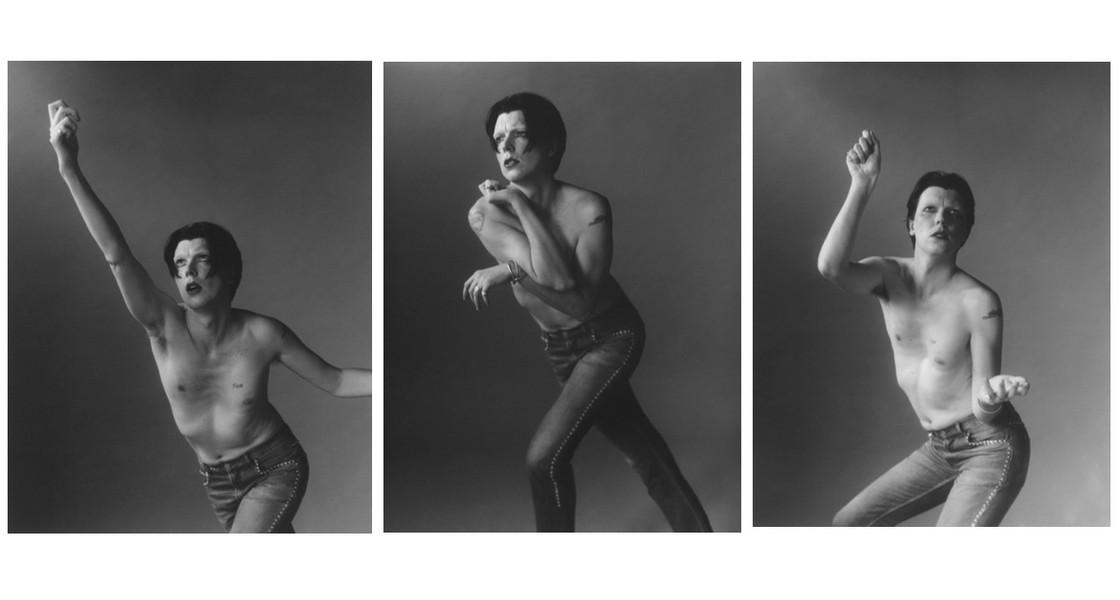 Master of Multiplicity
Alex's work habitually explores masculinity; and all of its trappings, and failings. Though Miami Memory is different from his two previous records. In fact, this record is, in part, dedicated to Jemima Kirke—the artist's partner, and a key source of inspiration. At this stage in his career, Alex is ready to talk about other things, beyond tropes, and characters. Rather than just satirising fragile men, he uplifts women; and contextualises the relationships between these men, and the women they hurt.
When I galloped over to introduce myself, Alex is receiving the full treatment: blue eyeshadow, rosy cheeks, red lips. Even though makeup, which in itself in non gendered—despite advertisers aggressively targeting women at the turn of the early 20th century—cosmetics only been re-normalised for men in very recent history. But it is typically only seen on the faces of 'feminine', typically queer men.
Perhaps, to some, Alex Cameron, a man who doesn't regularly sport peacocking cosmetics isn't that revolutionary; as history entails the likes of David Bowie, Louis XIV, Tutenkhamen. However, social progress is not without backlash. As outdated gender expectations continue to dissolve, zealots are emboldened to reinforce rigid ideals through violent means—bleeding into racial, and sexual politics. So when a man is courageous enough to step outside of his assigned role, it is a revolutionary act.
I watch as Alex move gracefully, then awkwardly, teetering on both. There is something deeply poetic about his gestures. Shot after shot, Alex Cameron subverts what it means to be a man's man in a man's world. More than music, the man behind Miami Memory is a master of multiplicity.
Jacket, pants and shoes by GUCCI
What's your earliest Miami memory?
Miami is… let me think about it, as there are a lot of memories. Probably like riding a tandem bike along Miami beach board. I just had like so many beautiful times though. My parents have come, probably two, or three times a year.
And what drew you to Miami?
My girlfriend: Jemima. It was a holiday, or a destination, you know, when she wants to get out of the house. She's lived in Miami. So we spent a couple of days on the beach, and it just felt right to me. I don't know—I thought I was weird, but then I took Roy [Molloy], my business partner. He comes from Australia, as well. He loves it, too. So maybe that has something to do with Australia; growing up on beaches, and just being in a familiar territory, you know?
Did you have a musical upbringing? If so, how did that shape your artistry in your current stage?
Yeah. I wasn't necessarily in a musical family, but my mum really encouraged me to learn instruments. And told me a lot about rock and roll. When she was a kid, she listened to a lot of, you know, classics—now they're considered classic rock and roll songwriters, and she showed me the ropes.
What did you learn to play?
I learned to play the snare drum in a marching band, and I also learned the bagpipes. I have a Scottish heritage so—
Can you still play the bagpipes?
I can play one song on it. I can play 'Flower of Scotland' if I practiced recording.
I think you'd go out there, and you try to get broken again. Break twice.
Suspenders by GUCCI, denim by MARTINE ROSE
Where do you go to be alone?
I go to the movies. The last place I was really truly alone was—in terms of socially, I did a long walk down Rockaway Beach about eight in the evening when it was pretty empty, and it was raining; and I just walked for like two hours. And that's how I rehearsed for the tour. I just listened to the songs, and sang along to them. And that was my rehearsal. It was really a nice thing to do. It also steered me away from panicking.
Do you believe in magic?
You have to. I think if you're writing songs, performing... I know that I would lose interest if I didn't have faith that that was some kind of spiritual energy involved in the whole process. You know, honestly, I barely feel responsible for the songs. I'm more of a conduit for it all—it already existed. It's always existed. 
I know that you've been telling stories since you were a child, and consider yourself a storyteller; what stories have inspired you?
There was this story that might have been called The Inch Warrior, but let me double check that there.
Alex pauses to Google the story on his iPhone
Well, that children's book [is in] Mandarin—cause I'm part Chinese. I had a lot of Chinese children's books, but they were in English, and there was one about a little inch warrior. He was an inch tall, an extremely aggressive gentleman, but he had a needle for a knife. He was always told by the army to go away. The moral of the story was that one day there was a monster that could only be defeated because he went inside the belly, and poked him with the needle. 
And there was another one about a gentleman who was traveling the world, essentially the countryside. And I think he starts with a fly on a string, and he trades it for some mandarin, and then he just keeps trading, keeps trading, keeps trading until he has resources to live. But they were little children's stories that I remember that are from China.
When you critique, or satirise, where do you begin the thought; and how do you translate them into songs?
I think it generally comes from a conversation that I'm having, or ones that I'm overhearing. It's normally one sentence, one lyric, one idea, that kind of triggers this energy in my mind. There's a path I can follow here, you know? Um, yeah, it's all from conversations with people. 
How do you heal a broken heart?
There's a shortcut: to leave town. That's a shortcut. Just leave town. I don't know if that is a long term solution. It definitely helps in the interim between heartbreaking, and recovery. I think you'd go out there, and you try to get broken again. Break twice. It's already broken. It's broken. I think that taking some time to yourself before really rigorously throwing yourself out there socially, and enjoying being independent in myself... fall off from your phone. 
Shirt, jacket, pants and shoes by MARTINE ROSE
When was the last time you cried?
Last time I cried… probably watching a movie on a plane, but maybe—probably just on tour feeling miserable in a hotel room somewhere in Europe, just leaning over the bathroom sink. I cry. I cry. I do micro cries. I just contort my face, and one tear comes out, and I'm done. I move on. Takes about three seconds. It's a micro cry. But I always want to do more. I just can't.
How has your life changed since the release of your first record?
I can afford to pay rent, and I completely moved countries. I live in America now; I work in America. I travel all around, but I'm a resident of Australia. I get to work—that's how my life has changed. I get to work. I work as much as the business needs us to. I've already done over a hundred shows this year, and we've still got another 30 to go. It's like it's good work.
What's your favourite part?
Being on stage is really, really fun. Right now with the band we've got, and the tours we're doing, we just sound really good; feels really good. Recording a song is like—you're in a studio. It's a fantasy.  It's really amazing, and magical. I get to do something not many people get to do. And then getting on for the tour, and just relaxing. It's the best job in the world, but it has its challenges.
What is the most Australian thing about you?
I still really religiously watch sports. I can watch any sport, and just try to calm down at the sport, and I just follow the rules. It's like a system.
What's your favourite sport to watch?
Right now it's basketball; any type of basketball. It's so easy to watch over here in America with the NBA. I tend to like the Boston Celtics. But I also just follow teams that have Australians on them. I love it. I was really a fan. I'm a big fan of Elizabeth Cambage from Australia. She plays in the WNBA. She's awesome.
Shirt by MARTINE ROSE; shirt and jacket by CELINE
Year of the Coi
Leray was born in Boston but spent her childhood in Hackensack, New Jersey. The daughter of Boston rapper and industry tycoon Benzino, she dropped out of high school at age 16 to pursue a career in music. Since then, she's done precisely that, with a surprising ferocity and tenacity that parallels throughout her music.
Within her tracks, Leray never passes up an opportunity to flex what she's earned. "Hit the mall, spend a bag and watch me cash out. Numbers going up, yeah, I don't know how to act now," she spits on her 2018 breakthrough single "Huddy." The music video for the song has since garnered over 3.5 million YouTube views to date. And as if that wasn't enough, Leray has since released two albums, titled Everything CoZ and Everything CoZ 2. It goes without saying that Leray's on the come up for 2020—and she knows just as much.
Left - Full look by GUCCI
Right - Jacket by EVISU
How do you feel your family and life growing up has brought you to where you are now?
Before I became an artist, I was doing sales and working with e-commerce businesses, speaking directly with the business owners and trying to sell shit. In my family, I ain't got no sisters. I was raised by boys—I got five brothers, and I grew up around a lot of tough love.
Did your brothers influence your decision to pursue music?
No, I influenced myself.
Left - Body suit by MONCLER, shoes by GUCCI
Right - Jacket by EVISU
You would never know by listening to your music that you're from New Jersey. Has growing up there influenced your art, or did you look elsewhere?
Like I said, I influenced myself. It wasn't just growing up in Jersey, you know. I've been everywhere. And just being creative, even when I was in school, even in kindergarten—just picking up a box of crayons and looking at the colors. I get influenced everyday by everything around me.
Speaking of colors, if people could see your aura, would color would it be?
Purple, dark purple. There's not really a light or a dark side to purple. If you pick dark pink, you're damn near going red. If you go black, then you're gonna get just… black. If you do white, it can be really bright. But with purple, you're at the right level. It's the best of both worlds—you got dark, and you got light. Real level.
Right - Double jacket by EVISU
Left - Jacket by EVISU, glasses by GENTLE MONSTER
I read online that you've been writing your own raps since you were 14. Can you tell us about your first time writing a song?
My first song was called "Stitch and Lilo." I wrote it in a grocery store, and I was, like, ten. It goes like this: [Raps] I like Stitch and Lilo. My brother's name Ray Ray, and my father Benzino. And if you don't know, I like to play with toys. My middle name Leray, and my first name's Coi.
You're a Taurus—what's the most characteristic element of your sign to you?
I don't really know any other signs besides my own. I wouldn't say I'm crazy about it, but I believe in it though. So Taurus, I would say I'm stubborn.
Of course I have doubters—I'm one of them. But that's just life.
Where do you draw inspiration from for your lyrics?
Just life itself and everything I go through. Life. When they hear my official debut project, people will be able to understand me more as a person, 'cause I'm talking about a lot of things other than lifestyle stuff. I'm talking about real shit that people go through. I just write about life, man, you know? Tomorrow could be the best day, and next thing you know, I'm writing, "Today's gonna be a good day." Or the next day I can get my heart broken, and then I'm talking like "fuck these people."
What do you think is your greatest strength as a musician?
The versatility that I have in my melodies and the way I switch up, whether I'm singing or rapping. For the most part, a lot of people who are introduced to my music, they say that's what they love about it. I can touch a lot of different subjects, and I can actually do it compared to, like, a battle rapper. A lot of battle rappers can't really make hit songs or make official songs in the studio, but I'm one of those artists that can make anything. That is amazing. The only thing I can't do is make an instrument out of my mouth. I can beatbox a little bit, but other than that, I can't.
Long sleeve and top by COLLINA STRADA
Do you have any secret talents people might not know about?
I can paint. I've always wanted to invent something. I want to invent—I don't know, not like a security system. But I've always wanted to be one of those people that invent a robot. I love engineering and building.
What do you want your listeners to take away when they hear your music?
Depends on what they're listening to. If people are listening to my turnt stuff, obviously I want them to feel turnt and feel good. Or even if they're listening to slow stuff, I want everybody to feel good listening to my music. That's a hard question. You want people to feel good listening to your music, but if you make a good sad song, then it would make them feel sad, right? That's weird to think about.
Left - Jacket by EVISU
Right - Bikini by CANDY SHOP
Was there a moment you realized you had established your place in the rap game?
When I went to my show in Clifton last night, I sold it out. I headlined the show, and I actually sold it out in Jersey. It's crazy 'cause like, we've done shows in Jersey before. Back then, I was just featured, and the shows weren't even sold out. And now, I'm the main headline. This is my show, and that's the best feeling in the world. And I still don't think I'm where I need to be yet.
Is it surreal returning back to Jersey to perform after coming such a long way as an artist?
You really be thinking like—you know, I sold out the show, and the whole time I'm thinking… I get support from Jersey; I really do. But I get a lot more support from a lot of other cities. Even then at the Clifton show, I sold it out, but I didn't really see a lot of familiar faces that I would expect. That right there just shows that I'm loved. Regardless of whoever is watching, people are watching. Regardless of who wasn't at that show, I sold it out.
Left - Bodysuit by RUI ZHOU
Right - Jacket by EVISU
Do you feel like you have doubters?
Of course I have doubters—I'm one of them. But that's just life.
Do you still get stage fright, or have you adjusted really well to performing live?
It comes naturally, but I get this whole nervous thing where I have to pee right before I have to go on stage. I always have to pee out of nowhere. I'll be totally fine, and somebody will be like, "Are you ready in ten minutes?" And all of a sudden, I gotta pee.
If you know your worth and you know what you're capable of, then shit, nothing can stop you.
Left - Full look RUI ZHOU 
Right - Full look GUCCI, Glasses by GENTLE MONSTER
You have such a strong and distinct presence as a performer. How do you channel that level of energy in your songs and performances?
I got ADD, so it's natural. I get on stage, and I see all these people looking at me, listening to my music and jumping around and going crazy. What else is there to do? I mean, I'm not a comedian. [Laughs] 
Your image kind of juxtaposes your sound. Can you speak to that a little?
My style is my style. I get sexy occasionally, but you know, everything's always gonna be cozy. I would say It makes people guess a lot about my sexuality, who I am as a person and what I'm really into. When you listen to my music, it's the same thing. I get sexy, and then I got this deep voice that comes out of nowhere, and I got dudes listening to my songs as soon as they hop into their car.
Jeans by OTTOLINGER, bikini by CANDY SHOP, shoes by OTTOLINGER
Were people in your inner circle kind of surprised when they first listened to your music?
It happened so randomly, so yeah. I would say everyone was surprised. Moreso, everybody was surprised at the consistency, 'cause I was just always in the studio, nonstop just creating, creating, creating. Everybody around us wasn't doing that. Everybody in Jersey was just stuck on the same thing, you know? And I was literally in the studio everyday, shooting or whatever else it was.
In an era where your fans and the outside world have so much insight into your personal life, what is your relationship to social media?
Social media is the [sings] devil, but that's how I make my money. I'm playing chess, that's all I can say. As I've gotten bigger, it's gotten worse. Or I mean, it's getting better. But you know, I got good problems. When I say it's getting worse, I'm just like, "Oh shit, are you kidding me?" Yeah, it could be ten times worse than this, but when you're dealing with millions of people that don't even know you and constantly judge you whether it's good or bad, it just gives you so many mixed emotions. Like damn, somebody really woke up today and thought about you. Think about that. Somebody really woke up today and thought about you. There are billions of people in the world, and you're the person that they're thinking about. That's insane to me. I still think about it everyday.
Left- Body suit by MONCLER
Right - Full look GUCCI, glasses by GENTLE MONSTER
What is the most challenging lesson you've had to learn on the come up so far?
Patience. Patience and just understanding the process of dealing with lawyers and legal shit. Before I was signed and stuff, you get to do a lot of different things as an upcoming artist. And before I was even big at all, I was a little more open to different things. Now, I just literally gotta watch and be cautious. I can't just drop a song when I want, 'cause you gotta just trust the process. Everything's got a plan behind it.
Any hints for your fans on what to expect next?
I'm touring in 2020. I wanna go back overseas. All over. We were in Berlin and Ireland, London—we were all over the place. I just wanna do that again. My debut project is also coming up. It's gonna be out of this world. Everybody's just gotta keep waiting.
Desert island songs. What songs would you listen to if you could only listen to three songs for the rest of your life?

I would probably listen to jazz or something with no lyrics. That way, I can make my own lyrics to the instrumental for the rest of my life. I could make a new different song over and over and over again, 'cause I wouldn't want to listen to the same thing everyday of my life. Three songs?! I would be fucking sick of those three songs. [Laughs]
With 2020 on the horizon and being a part of a new wave of rappers and a new sound, what do you think the future for female rappers looks like?
The future for female rap, hmm. Who knows? There's so much of the same shit out here. Who knows what it's gonna be? I know that I don't even want to be seen as—I mean of course, I'm representing my females, but I just want to be an artist. Fuck the females, fuck the males, we're all one. When it comes to music, we shouldn't even be separated. You get what I'm trying to say? I have no clue. A lot of this shit sounds the same. People be popping their pussies, shaking their ass, stripper music, doing what they gotta do, but they're stuck in the same sound that's been out here for years. They're still trying to find their way. Nicki Minaj, Remy Ma—everything is temporary these days, but they're stars.
Do you have any parting words of wisdom for anybody who wants to follow your footsteps in terms of leaving their day jobs and running after their dreams?
Keep people close, but not too close. Don't get too attached to nobody. Just learn to trust the process, and have loyalty. Really all it is. If you know your worth and you know what you're capable of, then shit, nothing can stop you.
CRYBABY :*(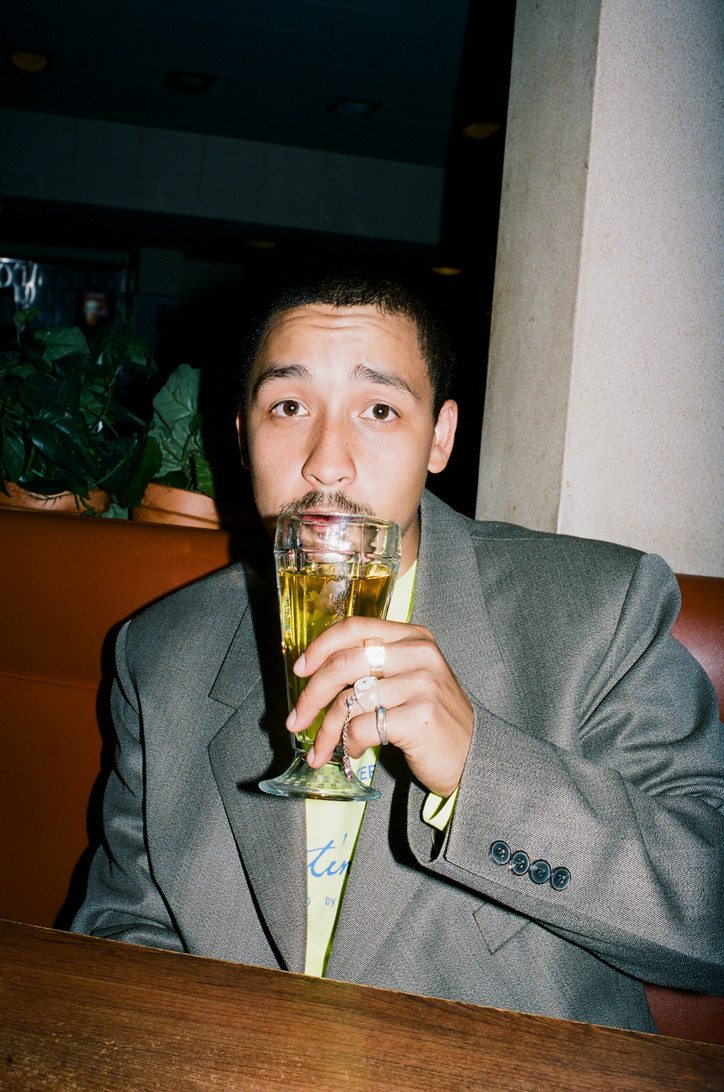 An incredibly articulate young artist with a delirium-inducing vocal range, Dijon has been creating music out of Baltimore bedrooms for the last few years. And although the stripped-down sound makes up his music's core, the simplicity is its strength. He packs each piece with a powerful, philosophical lyrical strategy, with a process that translates as anything but homespun. Each project he presents is hyper-intellectual and entirely unpretentious. Hard to find in a young and emerging artist. Dijon references everything from literature—Tim O'Brien of Roland Barthes, to techy Sci-Fi—to Lucinda Williams and John Vernon as inspiration. And somehow, it comes through.
To listen to his work is to experience separate from what exists in today's industry— to use his favorite word, it emanates "earnestness", lacks irony, and sounds like a soft iteration of old school RnB with the underproduced essence of Bedroom Pop, with words that are personal, raw, and poignant. Having recently released a new music video for "CRYBABY :*(" that reflects the above sentiments with overwhelming and emotional editing, alongside many new major projects on the horizon—we headed to LA to get to know this sure-to-be star, Dijon, a little better.
"My first five songs, I love them, but I made them at a time where I was looking for myself. So there's a little bit of a lack of sort of a lack of total confidence I think when I listened to some of those other things. There's a pride in how simple it is. And there's an actual palpable feeling of acceptance, which I think a lot of younger art doesn't have really yet."
Suit by 424, shoes by VANS
I want to talk about the term 'Bedroom Pop'. It seems to be a genre that is thrown around a lot nowadays, but for me, it's not one that I've heard of before just recently. Is this a new thing or what? And how did your music become associated with it?
It's a pretty complicated situation. I wouldn't put myself under that category. [Bedroom Pop] has turned into an idea of a [certain] kind of music and style of song structure. But the reality for me is that I used it as a blanket term for things that are home-recorded. And for as long as I've made music, that's just kind of how I've understood music being made. I think that's why I've resisted the terminology generally. For me it has always just been everything that was being made in Baltimore, slotted in this DIY-type thing.
It seems that "genre" itself is less and less relevant in the SoundCloud easy-access era, as much as it is in itself an ever-evolving concept. So we've established that your style is it's kind of a stripped-down, do-it-yourself thing, but then with success, which you've been really building on, comes producers, it seems. How has that process changed your work, and in what ways do you hold onto the DIY spirit?
I think forever, no matter sort of end goal or the destination, I'll probably always be doing like 80-90% of my own production. I really, as a philosophy point, sort of avoid studios... It's just not how I make music. So if it's specifically based on recording techniques, I'll be a bedroom producer for the rest of my life probably [laughs]. My goal is mostly just to get better at just songwriting and create very interesting divergences from the idea of certain songs, structures. And that's pretty much my only goal.
Left - Suit by MARTINE ROSE, vintage T-shirt
Right - Suit and T-shirt by MARTINE ROSE
That's the way people make timeless music, which I think is so rare these days. I remember Jay-Z speaking to David Letterman about that—the importance of timelessness.
It's a bit frustrating. I think the democratization of making music is the most beautiful thing, 'cause I wouldn't be able to make music without it, but I also do think that naturally it just overcrowds everything just because the playing field is so leveled now that it's almost impossible to sustain some sort of grand idea of progress in a certain group because you're constantly distracted. The one thing about today is there isn't the same irrelevancy factor. If you just continue to make kind of cool shit. I mean there is, but somebody who made one big YouTube viral hit could probably make another one two years, three years down the line and nobody would really be bummed.
It's like an almost an entirely different industry, due to the internet. There are the people that were established in the late 2000s and early 2010s that can ride on that position, who are going on physical tours, putting out full albums, and it's just, not comparable to the way the YouTube or SoundCloud community of musicians is making their way up.
Yeah. And it's really weird to see that. Obviously there is no rule book, but it does seem like, from a practical standpoint like the albums right now are kind of privilege. They're like a privilege, sort of given to the people who have passed this threshold of relevancy. And so everybody else was sort of forced to try and kind of figure it out on their own. Like, "Oh, we can sing these back to back, to back to back to try and amp up stream volume." It's very sad way of thinking about music.
Left - Suit by 424, shoes by VANS
Right - Suit and T-shirt by MARTINE ROSE, shoes by VANS
It's an interesting conversation point for us to have reached, given that your latest music video presents this perfect, beautiful overlap of analog and modern technology. Just watching something so traditionally made [stop-frame stills] on YouTube was such an unbelievably unique experience. And honestly, I started to lose hope in anything being unique a while ago.
I appreciate it. And I really have to give much of that whole thing to Jack, because he was always going to be the video. He is one of the few guys that I have integrated with and trust making music with at this point. But we did have that conversation about the real kind of paradoxical death of the music video because we have so many resources to make crazy crazy shit and no one does. And so we sort of brought about the frustration that kind of comes with these really bizarre and limp performance videos that sort of have no character but they serve a function of just providing a visual to a song.
Or like adding sponsorship to the singer's brand. [laughs]
Yeah. Exactly. And then they just check a certain box that sort of leads happens there. So the video that, I mean the only reason the size of it came out was because I mean Jack's video concept was just terrific and we thought it would be a really fun way to commit to sort of establishing a philosophy. And specifically with the still image, I mean the more Jack talked about the idea the more sort of kind of hit this very subconscious philosophy of the whole situation where it's like everything is sort of a deconstructed. A performance video and while having to literally pose for the syllables of each line, each word. For me making music is such a real-time situation. So I, for better or worse, all the songs that have been released, are the songs that I make right then. And this is despite my having a longterm 10-year goal for where I want my songwriting to ready to go.
Left - Shirt by 424, pants by SONG FOR THE MUTE
Right - Suit by MARTINE ROSE, vintage T-Shirt
What is that? What is your 10-year goal?
Well, my 10-year goal is just to really establish myself, my voice and myself as just something very new. I have no respect for traditionalism, to be honest with you. I just think it's probably just because we all grew up in an age where everything's smashed together. My goal is—in the way that kind of Prince would do it—create a language for myself, not really anybody else's, that allows me to explore song structure and melody and lyrics in a very specific way that can't be really effectively emulated.
That's incredible. Yeah. Timelessness in artwork feels like it holds this notion that there's a thread that goes through everything that's created, but everything that's created is unique and different and new.
I'm not really this fastest person, but yeah, that's [another] huge goal of mine. It's like getting that excitement and those threads of character and uniqueness, but also being really honest about it. Like if I got the privilege to make a pop record for somebody with producing it or even helping write it, there wouldn't be irony. Just earnestness. And that's the struggle for me—I do look at all of it as a giant interconnected board that's very complicated.
Left - Suit by 424
Right - Suit by MARTINE ROSE, vintage T-Shirt, shoes by VANS
A challenge and an opportunity, there's a lot of cynicism in what we're talking about, but it's also like it could just be criticism and it could also be something really incredible that's not being done.
No, I think that that's perfectly said. That's just where I'm at right now personally—taking time to try and fill this quota in terms of like I can't disappear for five years 'cause my career hasn't really started in full yet. But at the same time not be discouraged or intimidated by the pace at which things happen. Allow myself to explore these ideas because it takes a long time to explore the ideas.