Sign up for our newsletter
Rejjie Snow's Debut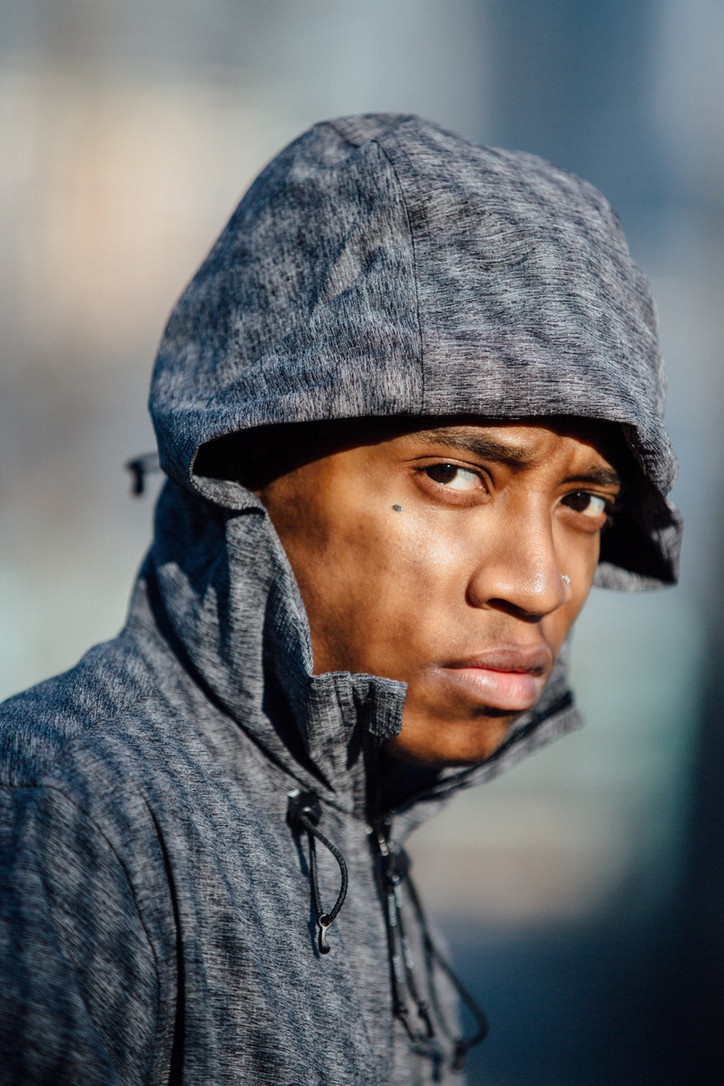 Angels & Demons
Left - Vest + sweater by Louis Vuttion
Right - Jacket + pant by Off-white
What made you choose to go with Nas and Mass Appeal Records—how do you think that decision has changed your trajectory?
100 percent. I feel like Nas is definitely one of the greatest, if not The Greatest—one of the legends, one of the icons and one of the people that I have always looked up to. I just felt like the connection was ill, 'cause we're from the same hood basically. I was in Queensbridge everyday. I could walk to his building where I was from, and me and his brother was super tight, so it was beyond just getting a deal with somebody or somebody just saying, "Yo wanna sign?" It was a really dope connection, man. Even when we first met we had so much in common and so much to talk about—just blocks, people, stuff that I know we can't do with the average audience you sign. So as dope as it was that it was with Nas, it was a lot deeper than the music.
You've recently announced your debut album Survival. What can we expect?
Classic, in my opinion. I feel like I got something for everybody. The production is elite. The topics of discussion are worldly and something that anybody can relate to. I kind of experienced it from just talking about where I am from, the blocks and stuff like that to make it more relatable.
Left - Coat by Heron Preston, sweater by Moncler x Palm Angles, pants by Gucci
Right - Jacket + pants by Off-white
God and The Devil. Straight like that. I feel like I have a great heart. I'll let you sleep on my bed, and I'll sleep on the floor—I got a heart like that. But don't cross me.
With survival comes success. What does success look like to you?
Success to me looks like no stress as far as your family goes. For a person to get successful, it comes with stress, but my thing with success is that my mom is good and doesn't have to worry about nothing. That's success to me. And also being able to sit back and watch the seed I planted. Not really sit back, 'cause I've been working the whole time, but I've seen the work I put in from the older and the younger people around me. I want to continue that.
How is this one different than any other you've recorded?
I feel like Survival is my most detailed body of work. Probably my most—I wouldn't say passionate, but there's a lot of pain just because of the things that were happening while I was recording this project. Like through my last two to three projects, somebody died in the making of them, and I mean that didn't happen this time, besides Nipsy and my boy Cliff; they got killed. At the time when that happened back in March, I was active, so I was kind of off the rack for awhile. I wasn't even in my own thoughts for days. I got back to that maybe around August. So this is also the most time I've spent on a project—going back and tweaking it and letting people hear it. All my closest people that either inspired me or that I inspired gave me feedback. So I've paid the most attention to this project. It's my baby. It's gonna mean something forever, 'cause it's my debut album on Def Jam, and from where I'm from, that don't happen everyday.
Coat by Heron Preston, sweater by Moncler x Palm Angles, pants by Gucci
You're a gemini, notoriously known for having two contrasting, yet equal sides. What would you say are your two personalities?
God and The Devil. Straight like that. I feel like I have a great heart. I'll let you sleep on my bed, and I'll sleep on the floor—I got a heart like that. But don't cross me. Don't try to play with me or think I'm dumb. I can be a whole other person. That did happen with a few people in my life. They'd meet one day, and they ended up knowing. I gotta say that as I have gotten older, my geminism cooled out. It used to be hot, cold, hot, cold, hot, cold, all the time. I truly believe that shit is real, 'cause me and my father are both geminis. I'm June 3, and he's June 8—and I wouldn't call it bipolar, but it was like Dr. Jekyll and Mr. Hyde shit, you know? He was cool in the morning, and then at night, he is speaking to you like, "Fuck outta here!"
I want to also talk about your role as Method Man on Wu-Tang. What was the process like getting into that character?
It was a challenge, but I was relieved when I got the lead as Meth. I went into the audition two times, and then I got the role. Maybe a week or two went by before I actually chopped it up with Meth, so I was panicking for a little bit. Then I went on set with him, chopped it up, got the vibe with him and really did my research on him as a person. I talked to people that know him and stuff like that. It made it a lot smoother for me. I couldn't get out of his character; I'd be leaving the set and still be Shotgun, and it was dope, 'cause I always wondered what it was like for actors to become their character. You know they say like Heath Ledger (RIP), when he played the Joker, he locked himself in a room and turned into the Joker. So it wasn't that extreme, but I was definitely on some Wu-Tang shit. I was listening to all of the interviews, watching all of the videos—I was just totally consumed with Wu-Tang.
Left - Vest + sweater by Louis Vuitton
If you could go back and give your younger self a piece of advice, what would you say?
Relax. Think about the consequences of your actions, and know that shit will get better. I had a mental block up until a certain age. I didn't know where I was going. I was watching a lot of people pass, go to jail, and shit like that around me at a young age. So it kind of had me thinking, "Well this is life. This is what it is." And Nas changed that for me, to be honest. He moved me out of the projects. He showed me a different outlook on life and what I was capable of becoming. He gave me a different outlook on life that I was able to show others. You know, it's a chain reaction. So, I would definitely have told my younger self to calm down. I mean it ain't that serious—focus on your craft a little harder. There's things I wish I could delete. It's helped make me the man I am today, but there's stuff I'm not proud of. But I had to do all of that to get right.
One last question, how many times have you watched Belly?
Seven billion, man.
This Is What You Fucking Get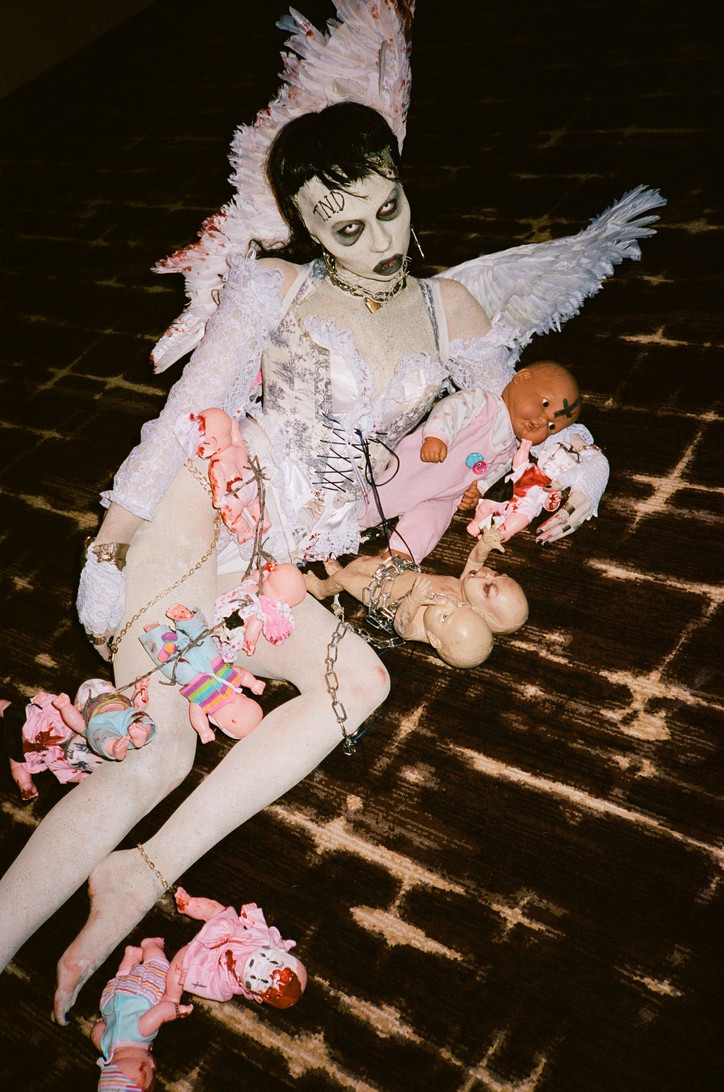 The 29-year-old Toronto-born musician knows what it means to have to fight, and she's not afraid to do it. The release of her new EP, Daddy Loves You, is the culmination of countless false starts, broken promises and years of legal battles over the rights to her own work. It's a dynamic she's been railing against since her former all-girl metal band, Dentata, "a sisterhood," she told office, dissipated thanks to a hometown producer impeding the release of their record. And that's just the industry side of things.
The untimely loss of her mother, years of exploitation at the hands of a predatory, well-known musician, and time spent navigating the pre-Me Too era of modeling as a teen preceded the struggle to seize control over her art. She's exhausted, but she's on the other side of it now, and ready to take on anyone who's ever silenced her or told her no. 
"I definitely Me Too'ed some people, and just how I feel on the inside, just Dana at home, having said people's names and called things out that were so fucked up that other people were afraid to do––how I feel with myself at the end of the day? I feel better, I feel happier, I feel lighter, I feel more free and I want to keep that going," she said. "There's no reason for us to be afraid anymore."
With neither fear nor fucks left to give, Dentata presents Daddy Loves You––the darker, bloodier follow-up to last year's DANAVI$ION; marking the dawn of a call to arms as revolutionary as it is radioactive.
Read office's conversation with the artist about demons, dicks and dispossession, below.
How would you describe the work you make?
It's something I've wanted to do for a very long time and never felt like it was okay. People have always been really against it and telling me not to do it. It's like the Joker movie, have you seen it?
I just saw it last night and I loved it.
You know how you kind of feel good for him when he's doing the horrible things at the end, because it's like, this is what you fucking get when you do this to a person? I feel like that with my music. Some people think my music is a lot, or intense, or too much. But this is what you fucking get when you do this to a person; when you do this to a woman. And then people still want it to sound pleasing and easy to digest. And I don't think this is that, for a reason.
With your lyrics we get something that we don't often see––this somewhat playful violence and this dominant sexuality coming from a woman directed at men. And I feel that so many male artists have gotten a pass to do that, and, people might call it edgy, but nobody would say it's hard to digest the way they would about your music.
It's like matching masculinity with masculinity. I'm coming forward with my masculine side, which I think makes it even more intimidating for men. 
You've said in the past it's not that you're a misandrist, but this is what happens when the type of experiences you've had manifest into raw and honest art. And I feel like you've had a pretty amplified experience as a woman.
Yeah I've been through some extremes.
Do you feel like that's influenced your work?
Yeah. If you saw what happened to me in my life, it would make so much sense. I started modeling when I was 14, I was going to Milan when I was 15, living there by myself, doing all that, so you can imagine the kind of stuff I went through doing that as well. Being put in those situations, and then dancing… It's funny, I was an American Apparel model.
Me too!
Really? We're survivors. I'd stopped modeling, and then that's when I was working at the strip club, and [American Apparel founder] Dov found me then and took me away, and I ended up living in his mansion in LA. He wasn't there when I lived there so I didn't have to live with him. It was when the company was crashing and burning. But that was a big part of my life for at least a year, two years. 
What a weird time. So what age were you when you were living in that mansion?
That was in my early 20s. I'd quit modeling because I hated it and never liked it anyway. The American Apparel thing just came to me and it was like, I was working at the strip club and this person came to me and said 'I want you to move to LA, and we'll pay for everything.' I'm not gonna say no. It wasn't even about the modeling––I didn't even care about American Apparel at the time, I didn't shop there because I thought it was too expensive. 
Do you feel slighted that you went through all of that right before the Me Too movement blew the lid off a lot of the industry abuse and people started recognizing that it was messed up?
 
With Terry [Richardson] and Dov, I felt very safe and protected because I put up a front where, like, Dov was afraid of me. I had been working at a strip club before that. This girl [warned me about shooting with him]. And I googled him, and instead of being like, 'No I'm not doing that,' my mindset was 'Bring it the fuck on. I wish you would, bitch. Let's see what happens.' And then me and his relationship, it's probably really unhealthy in a lot of ways, but our dynamic has always been that I'm more powerful than him. And he liked that. So for me and him it was like, you don't do shit like that to me or you get your ass beat. Terry never was weird to me at all in any way. So I don't feel slighted by it. I feel like it makes a lot of sense I ended up in that world based on shit I went through as a teenager. It's the natural course.
How do you feel about having your music described as empowering, when men who are making music of a similar vein to yours don't really get that description?
It's just how sad the state of music is, and how much women are controlled and brainwashed into being pleasing. I think there aren't a lot of female artists that aren't pleasing. It's fucking sad thinking about that. No guys have to be considered empowering. But hopefully I can be really, really, really empowering, and a bunch of girls will spring up after me and it'll be more normal. I'll take the L for that, sure.
There's been an insurgence of women beginning to take over the music scene in a really cool way, but we're still not where I want us to be. I feel like you're leading that charge and creating this space for girls that we didn't have growing up. 
Or that I don't have, either, that I want for myself. And I've seen firsthand, even with Dentata, every song was basically screaming about men being pieces of shit. I wrote a rap song about being raped six or seven years ago, and everyone in my life said not to put it out. But to me it's the most empowering thing I've ever written and it made me feel strong after that happened. And I feel that other girls would feel that way too.
With the music you're making now which is what you've always wanted to do and say, are you feeling angrier and more emboldened, or is it more of a release?
The release is never enough. I feel like I have so much in there still. Even now making this kind of music and living my truth and being as harsh as I want to be in my personal life, it's almost like I'm sacrificing my relationships. But it doesn't make sense, because that shouldn't be a sacrifice. It just shows you how pussy men are.
Now in my real-life situations with everything I do artistically, guys are really intimidated by me and insecure with me, and have done even worse things now because of the level of strength and power I'm presenting in my art and who I am as a person. I'm just dealing with so much fuckboy shit.
Seeing how strong you are and needing to somehow top that, rather than just sit with it and being like, 'I fucking love this person. This person is so sick.'
Men can't handle it! I'm actually shocked. That's fucked up. What can't you handle? That I feel safe and secure saying things that make me feel good? What is wrong with this world? I'm unfuckable because of that? I don't get hit on after my shows. I mean, my friends are like, 'Okay well you're covered in blood,' but still! All these fucking men on tour, so many girls after the show [are hitting on them]. People say, 'Well it's because you're intimidating,' it's like, what?! Not that I want loser guys hitting on me, glad they're not in those situations.
This is what it's like for a woman to exist––there's always a fucking bloodsucking demon standing behind you.
Working on Daddy Loves You, it's really raw and dark but it's still very danceable. What was the making of these songs like and do you feel like with this album you got closer to portraying something about yourself?
Yeah, because all the songs on it were made in places I felt safe, and it was a really good time in my life. I was really free. For the longest time I couldn't find producers who weren't trying to rape me or were actually doing what I wanted. So finally, there were a couple different producers who were making stuff that I felt was heavy enough for me. I felt really open, I was writing so fast. Pretty much all of the album was made over a year ago and I'd been wanting to put it out since then. It's been a nightmare; I've had to fight this whole year just to get rights for those songs and for people to agree to let me use it.
I've pretty much had to threaten my life to get my own music back this year. It's been dark and sad. My lawyer said it's the worst song clearance situation she's been through or seen. It's almost like the world was trying not to let me do it. I felt like I was being silenced. I've been performing 'Lil Blood' for over a year now, and I would've liked to release it a while ago.
I've spent so many nights crying, so many nights feeling like I'm gonna give up, I'm never gonna win. I tried reproducing and rerecording it, but apparently they still controlled it even if I did that. I felt like I was trying everything I could and nothing was working, and I was at the mercy of a pig. Man, it's been a really rough year. I'm so exhausted emotionally from having to fight.
How did you manage to deal with all of that?
I don't know. I feel like I have depression now because of it. Just multiple situations like that, every day for a year, it really brought me to a dark place. I wanted to give up on music. I've felt like there's been a curse on my soul since I was in [Dentata] and a man got in the way of releasing the album. I made an EP a couple years ago and then a manager had it taken down. I'm 29, this is the first time in my life I've been able to properly release a song. It's just control and power and greed.
It must be mostly due to the type of content you're making, right?
That's what it feels like. As much as there are personal situations between me and these men, it's still that men don't want this to happen.
What inspired the album lyrically?
I have a demon that's usually with me for a lot of things I do, I talk about the demon a lot in the music. Girls just started calling me Daddy, and I started to embrace that and get really interested in why they were calling me Daddy, exploring that through my songs. I'm exploring a lot of my own sexuality through my songs too. I was doing femdom and stuff. With the lyrics I write, the life becomes the art and the art becomes the life. Everything becomes real if I've written it in a song; it can happen after.
It's like matching masculinity with masculinity. I'm coming forward with my masculine side, which I think makes it even more intimidating for men.
So you feel like coming out with these stories in your songs is broadening your identity and experience?
Mhm, yeah. Definitely. When I do a performance I learn so much about myself. I did a performance with my demon on a chain with a mattress on the ground and a TV, and the performance art was based around this mattress. The set was different aspects of a relationship with a man. It starts out with me antagonizing him and him bothering me, and us going back and forth, fighting and then we end up forgiving each other and Netflix and chilling on the mattress, watching "Hellraiser" and then there's this end piece that's the sex scene, but the sex scene is him ripping my angel wings to shreds and eating them and carrying me away.
For me it represents how you can give somebody your all, give them everything, and they'll still just be an egotistical asshole and absorb it all for themselves and rip it to shreds. Taking something pure and ruining it. 
What does the demon represent performance-wise?
My inner demons are always around me and around us. Specifically for me, men have been demons in my life. They're all fucking demons to me. So I figured I might as well have it around just to show, yes, I'm standing here and doing this, but there's always a fucking demon lurking in the shadows, and let's just call it what it is. It's surrealism but it's also realism, because this is what it's like for a woman to exist––there's always a fucking bloodsucking demon standing behind you.
That's so on point. It might seem surreal but everything else that's not addressing it is the actual dream. Growing up music-wise, who did you have to look up to?
The first one for me was Britney Spears, I went from her to Marilyn Manson. I thought Britney was God. My mom took me to her concert and I was like, 'Wow, I'm seeing Jesus Christ.' She was so powerful, even though she was like, a 16-year-old girl being exploited by everyone. Kind of reminds me of me in a way, all of us, being exploited as teenagers.
Really Marilyn Manson and Eminem have been since I was 10, my favorites.
Eminem's another artist who I love but some of his songs I just can't even pretend to go along with, they're so misogynistic.
It's been weird for me because I'm so influenced by him. I wanna be him. And I'll be rapping "put Anthrax on a Tampax and slap you til you can't stand," and I don't know why I love it so much, you'd think I wouldn't. But I don't feel like feminism should be like, 'We don't do this and we choose this.' There is no right and wrong, there's a gray area. I don't feel like I have to hate Eminem's music. Listening to it now it's like, at least times have changed enough that people aren't writing about murdering people. But his music is like a horror movie, it's really bad nasty terrible things for our enjoyment.
There shouldn't be this right and wrong mindset with feminism, but I guess the problem is that there hasn't been a counter-action to it because it hasn't been allowed. If women and men can shit on each other equally, then that's cool. I think it's just the lack of the other side.
Yeah, that makes sense. Why isn't there the female version of the song "Kim"? That song is pretty gruesome and hard to listen to but it's still an expression and it's still art, and I see space for that––but why isn't there the female version out there? God forbid a female artist comes out here with their eyeliner smudged, that's what that is. 
I think it's really cool that you're being open about the struggles behind this album release, because the only way that you can transcend it is by confronting it and making it known.
I hope so. I think the culture has changed a lot. I definitely Me Too'ed some people, and just how I feel on the inside, just Dana at home, having said people's names and called things out that were so fucked up that other people were afraid to do––how I feel with myself at the end of the day? I feel better, I feel happier, I feel lighter, I feel more free and I want to keep that going.
There's no reason for us to be afraid anymore.
What's coming up for you?
I'm playing Rolling Loud in LA December 14th. It's a huge rap festival that is so broey. I'm so excited to play. 
I think you can handle it.
I specifically seek out these types of shows and tours because there's a whole scene right now and there are barely any women in it. And you'd think they're not gonna understand me because they're all frat boys or whatever, but that's exactly the people I want to scream this shit at! It's for women and I want to play for them, they're there, they're at these fucking frat-boy shows too. It makes me want to play my stuff even more, to infiltrate the system.
Yeah, you're doing God's work. I want to see you live and get my teeth knocked out at your show.
Yeah, female moshpit, where everyone is respectful and doesn't push the limit too far, just enough. 
Right! It'll be so safe. But if I don't leave your show having to go to the hospital I'm gonna be disappointed. 
Yeah, I do it to myself sometimes.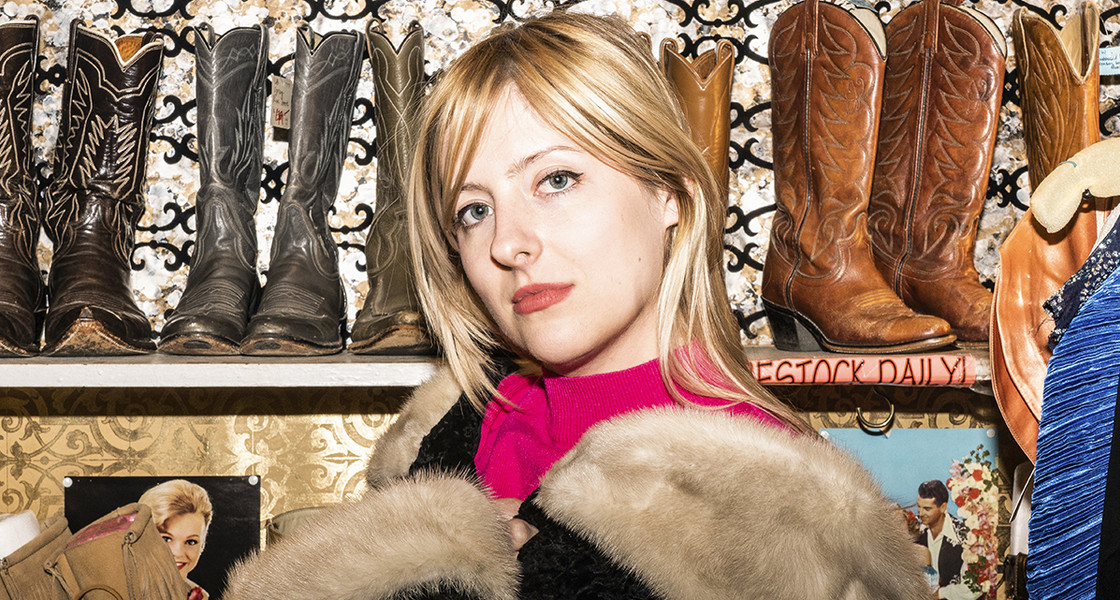 Snowqueen of Texas
But once in the dress, the woman who, five minutes ago, you would imagine to be too self-conscious to pose becomes someone too self-aware to not know all her best angles. Burch takes a seat on the couch, tilts her chin this way, crosses her ankles just so and waits quietly for the next shot. Everything is effortless—Molly Burch is a natural.
A natural-born singer, she would agree, and there are some incredibly cute videos floating around of young Burch warbling in her little toddler voice. But she explains that her ability to perform in front of the camera or on stage is something she's acquired much more recently. 
"Basically until I was in college, I was fighting stage fright and performance anxiety—knowing that I wanted to pursue music and singing, but not feeling confident enough to actually do it," she says. "It took me a really long time to commit to that as my identity and pursue it as a job."
In college at Asheville, North Carolina, Burch formed a band that she says helped ease her into performing and songwriting. The band was also responsible for throwing the jazzy Christmas parties that became the spark for her newest EP, The Molly Burch Christmas Album, dropping November 15. 
For a singer equally steeped in jazz and pop who offers aching vocals and heartbreak ballads, a Christmas album is the holy grail. Growing up, Burch idolized Billie Holiday and Britney Spears, Christina Aguilera and Nina Simone. "I would memorize—I would try to sing exactly like all of those people, like, do invocations of them almost," she says. "I feel like that's how I taught myself to sing."
And Burch has always been a singer first, above a performer and a writer, both of which don't come as easy to her. The Christmas album may be her third EP, but it's the first time Burch feels she's been able to experiment so freely. "There's something about when you're recording your own songs––there's a lot of insecurity. You're in your own head," she says. "With covers, you're like, 'OK, well I don't have to worry, I didn't write this song, I'm just interpreting it.'" 
Burch did write two new songs for the album, Holiday Dreaming and New Year Love. But the covers gave her a chance to play around too, as is evident in her reworking of the classic Last Christmas, where she welcomes on comedian friends John Early and Kate Berlant.
"This project was so great because I always wanted to do something with them, I always wanted to have our cat be apart of something, and I didn't know what that was going to be," Burch says of having her and her guitarist boyfriend's cat, Mr. President, featured on the cover art. "But this is definitely not a flippant project. I put my heart and soul into it. I mean, I've been listening to Christmas music since last Christmas." 
Burch says the focus on vocals gave her a chance to get excited to write her next album, a process that she treats "like homework." It's a surprising revelation, coming from an artist whose songwriting consistently proves touching, poetic. Burch's tender lyrics act as the thread that runs through her other two albums. On the most recent, First Flower, Burch delivers quiet but bold folky numbers, while on Please Be Mine she rendered the raw feelings from her move to Austin with a folky, throbbing nostalgia.
It was the Austin move that helped her to start seriously songwriting. She broke up with her Asheville boyfriend Dailey Toliver, and the resulting time spent on her own in Austin led to the beginnings of Please Be Mine. 
"Graduating college is such a dramatic crisis, depending on what you want to do," she says. "For me, I was lost in that way, so I just focused on my writing. The band that I played Christmas songs with—we would write together, and it was very baby steps for me into songwriting. But when I started writing my own songs it was basically out of necessity. I moved here by myself, and it was hard to find friends, so it was out of loneliness. I was like, if I really want to pursue this as a career, I need to really push myself to write."
In that year spent alone, she sent the occasional song back to Toliver, her guitarist, for his review. It's the same process they use today—Burch composes a rough draft of a song and brings it to Toliver to flesh out. After a year apart, Toliver moved to Austin, and the two established themselves in the music scene there. "Us getting back together, that helped in a lot of ways," she says. "Because it was almost like this rebirth for me here, because it was like ok, now we're a couple, and we're meeting other people."
Burch is no longer the Loneliest Heart she was on her first album. These days she's performing with Dailey and a rotating band across the country, across the world. It's a creative partnership that's weathered the test of time and touring.
"At first it was hard, because touring can be really stressful, so we would fight a lot and take it out on each other," Burch says. "And it's through experience and practice now that we're at this point where we're this well-oiled machine on tour. We do not fight, everything professional, and we know how to do it. But I feel like the next step is also finding balance in our relationship and putting our relationship first sometimes."
When she's not on tour, she's at home in Hyde Park with Mr. President, probably watching The Bachelor. They're both homebodies. "I read this interview on InStyle the other day about Michelle Pfiffer, and I loved it so much, because I related to it a lot. She was like, 'I just live in extremes, either I'm like the busiest ever or the laziest ever,' and that's just how I am. It's how I've always been, but now because we tour a lot, and it's so taxing, when I'm home, I'm such a homebody, and I've been trying to accept that. And not feel like shit."
Austin hits a sweet spot between tours, not too peaceful and not too fast-paced, either. It's a good place to relax for an extremist, as long as periods of relaxation—and writing—are broken up by the whirlwind thrill of touring. 
But maybe Burch isn't so much of an extremist as a paradox. Like the Mamas and Papas song she covers on the Christmas Album, Burch is the true Snowqueen of Texas, resisting any easy categorizations, striking the delicate balance between folk and pop, glamor and vulnerability. "I'm not what you want me to be and I never will," as she sings on To the Boys."I hope you're listening still."
You can stream The Molly Burch Christmas Album here, and see her perform in Brooklyn on December 4.