Return to Reality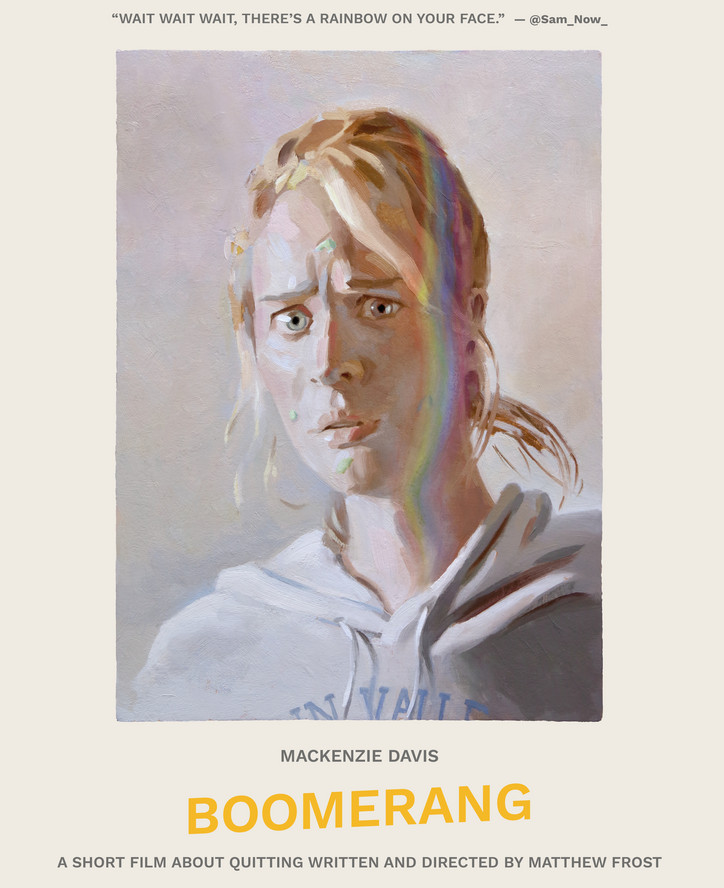 It's true that we take our online selves too seriously, maybe even causing the line between real and online to blur. It is a phenomenon that can be hard to grasp due to it's intangibilty, yet one Matthew Frost manages to make painstakingly clear in "Boomerang." After attempting to delete her Instagram, Jen (played by Mackenzie Davis) gets a very real shock. In an almost Black Mirror-esque fashion, virtual personalties like Rebecca Dayan are unsuspectingly plopped into her apartment showing us that you really cannot just up and quit social media and that even if you try, it will literally show up at your doorstep.
But thank God the film has shown up at Primo's, because as the credits begin to roll, Frost yells to the crowd of smiling guests, "You're all guilty!" and we realize the film may contain a message we all needed to hear. Read on to learn why. 
How does it feel to be presenting this project for the first time?
Matthew Frost Well you work on something for a while, this clocks in at just under nine minutes, but if you do it right it's still a lot of time spent and you require a lot of help. It's a collaborative effort that extends way beyond the shooting. There's post production and all these different stages you have to go through just like a longer feature. So it's really nice to share it. First online then through a couple screenings here and there just so you can bring some friends.
So this is not your only screening?
MF So I had a screening in LA, now in NY and maybe one in Paris in a couple weeks. Just wherever I'm able to be.
Is your whole team here?
MF No. I have an actor here, Rebecca Dayan, who plays the French Girl and a couple people who worked on it in post, but it's just really nice to see it with an audience. You watch it on your own so many times.
It's nice to have a different set of eyes. 
MF Yeah, different eyes. This is also the right audience to watch it with — a lot of followers in the room!
I liked your comment at the end when you were like, "You're all guilty!" Cause it's so true. 
MF It's nice for a lot of my "influencer" friends, especially in New York, to have a little laugh about the whole thing. It can all get pretty ridiculous and very relatable.
What is the power of satire to address an issue like this? 
MF I've always gravitated towards satire. It's the best way to have fun while making a point and talking shit! It's the best observational tool you can have and the subject matter is still ripe for humor. There's also a bit of a "Black Mirror" satire in there too.
We can't take ourselves too seriously. 
MF Right. "Boomerang" isn't trying to be preachy, just having a bit of fun.
What advice would you give to a young filmmaker who wants to create something like this, but may not have as many resources?
MF Well I think it's just about making a film. Whether it's one minute, thirty seconds or a documentary, there's really no excuse not to create something inexpensively today. The equipment is cheaper, you don't need a lot. Beyond that, there's also a lot more opportunities for everyone. I feel like different voices are being heard and that's extremely positive. You just gotta do stuff even if you feel like it's a bad idea halfway through! You'll learn a lot by seeing something through. 
Is this your first transition from fashion to cinema?
MF Cinema! Film coming soon! Not my first narrative though, I do a lot of shorts that make fun of the thing that I work in whether it's fashion or advertising (see Fashion Film, Aspirational).
So social media is what you're satirizing but it's also a means to create what you have.
MF Yes, sure. There's a meta thing about it that I'm just drawn to. Like the *Influencer Workshop* I had tonight where people could write their name on a placement card and then take a picture of a fancy table setting as if they got invited to a *sponsored free luxury brand influencer dinner* of their own!
Hosted by Unemployed Mag, "Boomerang" is screening next in Paris on Tuesday June 26th at Hotel Grand Amour, 18 Rue De La Fidelite.