Rich Brian Gets Richer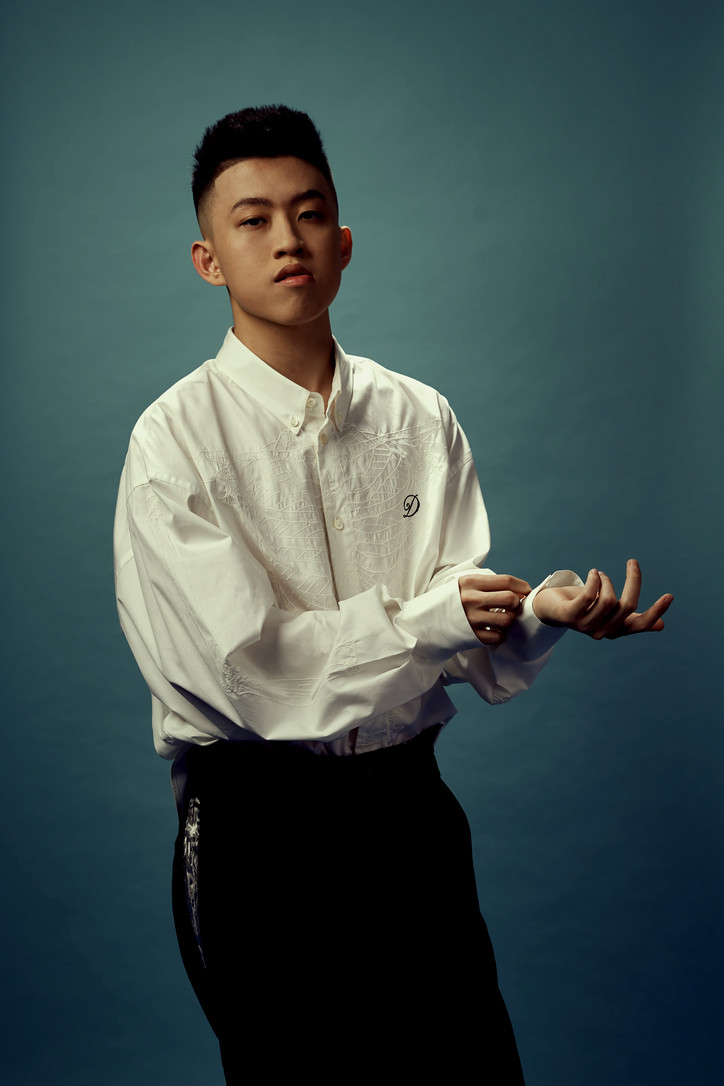 Releasing The Sailor with 88rising, Imanuel demonstrates his metamorphosis as an artist through his diverse tracks and kitschy lyrics. In the album, he touches upon deeper facets of his identity, grazing topics like his heritage and his craft. office caught up with him after his latest album release. 
It's been almost two months since you've released The Sailor; how long did it take to bring this album to life?
There are songs on this album that I made a year and a half ago, but when I consciously decided to make an album? That was probably nine or ten months ago. It started with me being in my room messing around with beats and liking an individual song. We found Bēkon and The Donuts, who executively produced this album with us. When we met those guys, we started being at the studio everyday and actually getting together. That was probably about four to five months altogether.
With the release of The Sailor, you've come such a long way from "Dat $tick." What's one of the hardest things you've had to learn on your journey?
I think one of the biggest things I learned with this new album—it's a lot more vivid lyrically. You can really understand everything that I'm saying. On the last album, I was a lot more focused on the sounds and the flow instead of the actual message that I was sending. I wasn't really sure what kind of rapper I wanted to be and where my place was in hip-hop. Recently, I realized you can literally talk about anything. You don't have to only talk about getting money, doings shows, or whatever. It's all a matter of how you word things, and I realized that while I was going through a four-month period of writer's block. And now, I feel like I've kind of found my writing style here. That was one of the biggest things I was really conscious about while making this new album.
Do you have any favorites on the album and if you do, then why?
Yeah, the big difference between this album and my last one is that I have a lot more favorites on this one. There's so many different types of songs on this album. For example, you have "Drive Safe" which is the most emotional song I've ever made. I just sing over a guitar, and that's my favorite song.
I didn't know you could sing like that!
[Laughs] Yeah, thank you. I've always wanted to do melodic stuff, but I was too scared to do it. I thought, 'Maybe this is too not me.' But then like, what even is 'me'? With this album, my mindset changed so much. Going into it, I felt like 'This album is gonna be up forever. I want everybody to listen to it, not just people who listen to hip-hop.' I want to be able to listen to it 20-30 years from now. The whole time, I made it a point to remember that I wasn't only making my fans. I want new people to listen to this and also enjoy it.
You premiered your album with 88rising, a company whose mission is to give Asian artists a platform to grow and develop, which is really cutting edge and exciting to see. How did you get involved with 88rising?
When I was about 16, Dumbfounddead was like the first rapper to follow me on Twitter after my first music video came out. Then, I DM'd him saying, 'Yo, whenever you have time, can you let me know what you think of it?' And then he was like, 'Yeah dude, I already checked it out. It's really tight. What's your number? Let me connect you with my manager.' And then he did, and his manager at the time was Sean [Miyashiro], the CEO of 88rising who is now my manager. At the time, 88 wasn't a thing. I got on a call with him, and Sean told me about his vision for 88rising. Being a fan of Dumbfounddead and kind of knowing what they've done together, I thought it was really cool, and I wanted to be a part of it. Being 16 at the time, I just signed the contract without telling my parents, and they wanted to fly me out to America. I was super psyched about it, and I ended up working with them for around a year and a half.
A lot of this album and in the video released by 88rising, it seems to delve into your roots. Can you speak a little more on incorporating your identity into your music?
On this album, I definitely went a lot more into my roots. "Yellow" was like one of the earliest songs we worked on. I went through a four-month writer's block, and it was definitely a weird time in my life—I felt like I hit a wall. But the first time I heard "Yellow," I felt really inspired to write about how vulnerable I felt at the time. So, the first verse is about me going through this struggle. It tended to be a very emotional and hopeful kind of feeling. That's when I realized that this was a topic I had never touched on before and that this was the right time to do it. The Sailor refers to an explorer and not being afraid. I went to America as a 17-year-old without my parents. I know that I am not the only kid who went through that.
What was it like returning to Indonesia to film "Rich Brian Is The Sailor," the short film released on 88rising? Was it surreal?
It was insane. It was my first time shooting a video in Indonesia. It was like a whole new thing. It was with Sing J. Lee who is such a talented director, and he captured it really well. It was amazing. My family was there as well for the first time to see me working with a music video, which was really cool. I had them in some parts of the video.
Do you feel a need to prove yourself in an industry where there isn't necessarily a lot of Asian representation?
Absolutely. I want people to focus on the music and art, but at the same time, I realize that the pressure that I have is definitely a real thing. I want to do well. I love it when people come up to me and say, "Yo, I didn't think my dreams were possible until I saw you doing it." That stuff is basically what I live for. Being able to do this and represent these people means that I am inspiring a whole part of the world who might feel like their dreams are not really possible.
What do you want your listeners to take away when they listen to The Sailor?
I just want them to listen and be inspired. This album is a lot about Asian identity, but it's for everybody. I also just want to make people happy, because that's the whole point of making music for me. I used to watch YouTube videos with albums from start to finish for whole days at a time, and I really miss that. Now we're in a generation where people just skip around songs, and I feel like artists reverse engineer their albums to how they think people would like it. On this album, I really made what I like. I am caring a lot less about the streams and a lot more about the outcome.
What's one thing you want your audience to know about you that they might not already know?
I am very interested in acting and really want to get into it. So if in a couple of years, you see me in a movie, don't be surprised.
If you could collaborate with any artist dead or alive, who would it be and why?
I would love to collaborate with Childish Gambino and do like a back-to-back style rap with him.