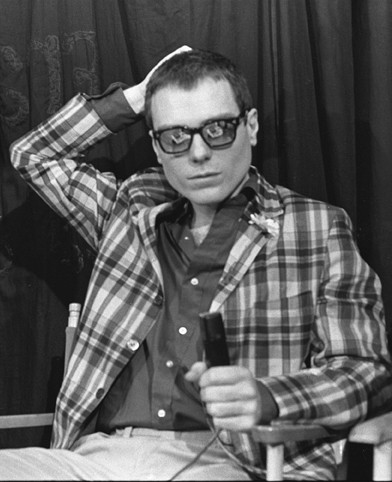 Glenn attended Georgetown in the '60s, spending his time with an arty crowd that included Bob Colacello, with whom he would go on to edit Andy Warhol's Interview magazine, and, coincidentally, my uncle Joseph Keller. As they mused on their bohemian ambitions, Glenn determined what would be his key to success: mastering the art of "hanging out." So, as Uncle Joe tells it, "Glenn went to New York to hang out. Then he got addicted to heroin." Whether thanks to his looks, banter, noted sense of style, or a penchant for certain vices of the time, he did seem to excel at socializing, and soon found himself running with downtown stars like Warhol, Basquiat, Iggy Pop, Arthur Russell, and members of Blondie and The Clash. These icons often joined him on TV Party, his subversive public access show featuring flagrant drug use, unscripted political and cultural commentary, and all sorts of inane, entertaining bullshit. After the show ended its run, he went on to write and edit a range of books and magazines on art, fashion and music. But throughout his career, Glenn's embodiment of New York celebrity has been most vividly defined by his perpetual hipness, sardonic attitude, and delightfully audacious ego. Like the claim that his crotch is pictured beneath the zippered-down jeans on the cover of the Rolling Stones' Sticky Fingers, or the story of how, after a contentious meeting at Interview in its later years, Glenn is said to have blithely lifted a Warhol off the wall on his way out, defending the heist with some remark to the effect of "What, I actually knew the guy."
I wrote Glenn a few years back to share with him the first issue of office. I referenced our past quarrels and expressed my hopes that bygones be just that, but I couldn't help but feel some sort of mischievous glee at the prospect of him seeing the designation in my email signature: Editor-at-Large. Glenn coined the term while working the for the pot-culture magazine High Times as a reference both to the fact that he was never at his desk, and to the unlawfulness of the publication's subject matter. Plenty self-important mastheaders of varied talent and influence have christened themselves Editor-at-Large since, and I can all but hear his indignation at discovering that I was the latest. "Who does this pissant kid think he is?" Well Glenn, as my mother always says, imitation is the sincerest form of flattery. So maybe one day I'll do right by the title, become famous by association, terrorize my colleagues, receive far too much money in exchange for my cultural insights and scathing wit, ignore the emails of young writers and editors who know I'm a fucking legend, and do it all looking far more natty than a man has any right to.
But for now, farewell Glenn. You were a real dick, and the city ain't the same without you.
Related posts