Rodeo on Rodeo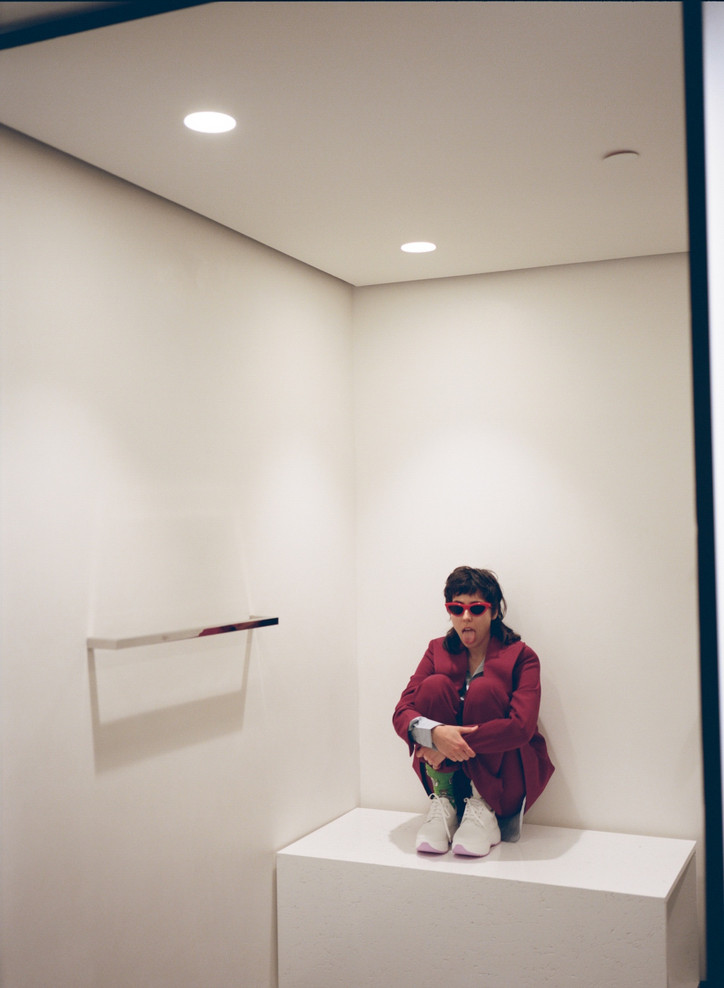 Is it fashion? Is it conceptual art? Is it a crime? It doesn't matter, what they've made is an exciting and energetic cure for the existential crisis that is our current, technologically-charged culture. Following the dress code, office conversed over e-mail with the artist— who, like Miller, lives in LA. Complimentary to such a cheeky shoot Scott's answers are a whimsical contemplation of theft, fashion, and the future of department stores.
Shot in Balengiaga, Rodeo Dr. Scarf and shoes by Balenciaga. Socks, models own.
Have you ever shoplifted anything?
i've taken stuff from goodwill but i don't think that rly counts.
Shot in Celine, Rodeo Dr. All Celine.
Do you feel like you were spoofing fashion? Or was fashion spoofing you?
idk if i'm ever spoofed by fashion i always jus go for a general busted/is she rich or homeless look.
Shot in Nordstrom, the Grove. Blue top, Ellery.
Tell me about your art.
i have ideas and make things to entertain myself that i hope other ppl enjoy too it's lighthearted n fun but also serious
Shot in Nordstrom, the Grove. Top by A.W.A.K.E., Skirt by Phillip Lim.
How did you link with Jason?
i've known jason for like, 6? yrs we met at a thanksgiving dinner.
Shot in Balenciaga, Rodeo Dr. Shoes by Balenciaga.
What do you love, and/or hate about department stores?
i love the organization of department stores i dislike having to interact with sales ppl plz leave me alone when i'm shopping i kno wot i want and i kno where everything is n if i don't i can find it myself.
Shot in Nordstrom, the Grove. Top by Acne Studios. Green skirt by Regina Pyo.
They say that local malls are on they're way out due to online shopping. Did, or do you hangout at the mall and would you be sad to see it go? 
malls will not go away ppl like to shop some malls are destination spots and are designed to create this illusion of a fun enriching experience.
~consumerism~
i live by the The Grove and i walk thru it everyday. they do a good job of creating a bomb shopping atmosphere. there are nice smells, plants, a fountain, there's upbeat music playing, its clean. it's so pleasant, i don't get tired of it. i wouldn't care tho if malls go extinct.
Shot in Barneys, Beverly Hills. Pink dress by Sies Marjan. Slides by Chanel.
Do you online shop? If so, for what? Any faves?
i love to scroll amazon and ebay for hours my main internet purchases are books.
Shot in Balengiaga, Rodeo Dr. Scarf and shoes by Balenciaga. Socks, models own.
What's your favorite piece of clothing you've ever owned in your entire life?
my ex bf bought me this balenciaga jacket a couple yrs ago for xmas (ty jake) it is the most perfect garment to exist.