"Safe Words" at Karma International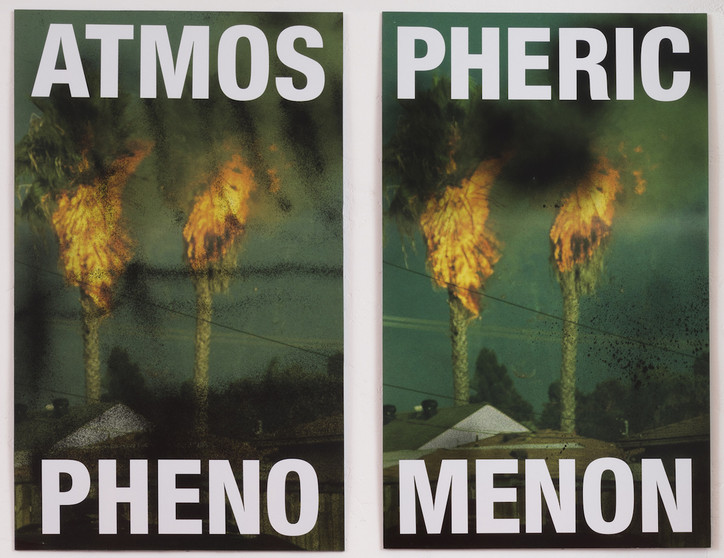 After years of living an egoless existence, Cali Thornhill-Dewitt, now 44, has decided to put on his first solo show in The City of Angels. Originally from British Columbia, Cali moved to Los Angeles with his parents at the age of three and fell into a deep love with the city that is the epitome of unconditional. He loves everything about LA - from the color of the concrete to the dead silence at night. After four decades of devotion, Cali reminisces fondly of the days when his city was a hallow, desolate landscape canvased with violence and just the right amount of degradation. Even while expounding upon his fondest memories that fester in gnats and decay, he enjoys a juice from the Green Grotto in the "new" downtown. It's a testament to what a space can become and how detrimental time can be.
Cali views his stance as being anti-human as a harsh reality. Nonetheless, it's a reality. It's difficult to come to terms with the idea of humans being the most cold-blooded species, but it is what it is. Beauty is tragedy. Always carrying a perverse sense of self-determination, Cali moved to New York, lived in a meat locker–literally– in the Meat Packing district, contracted scabies and measles, then, somewhere along the line, fell ass-backwards into art. This, after being a roadie for Hole and nanny to Kurt Cobain's kid, but still 25 years before making Kanye West's Saint Pablo merch.
Cali has submitted himself to every arena of creative expression including Some Ware, an on-going fashion project with artist Brendan Fowler, which lives as a means of cataloguing the production and consumption of goods, and the record label Teenage Teardrops founded by Cali in 2007 to support Los Angeles artists preferential to subversive sound and esoteric packaging. SAFE WORDS, like most of Cali's work, is an ode to our inhumanity. It's about everything wrong with all of us and our tendency to straddle the line between pollution and contribution without caring to define the difference between the two.