A Salute to Modern Femininity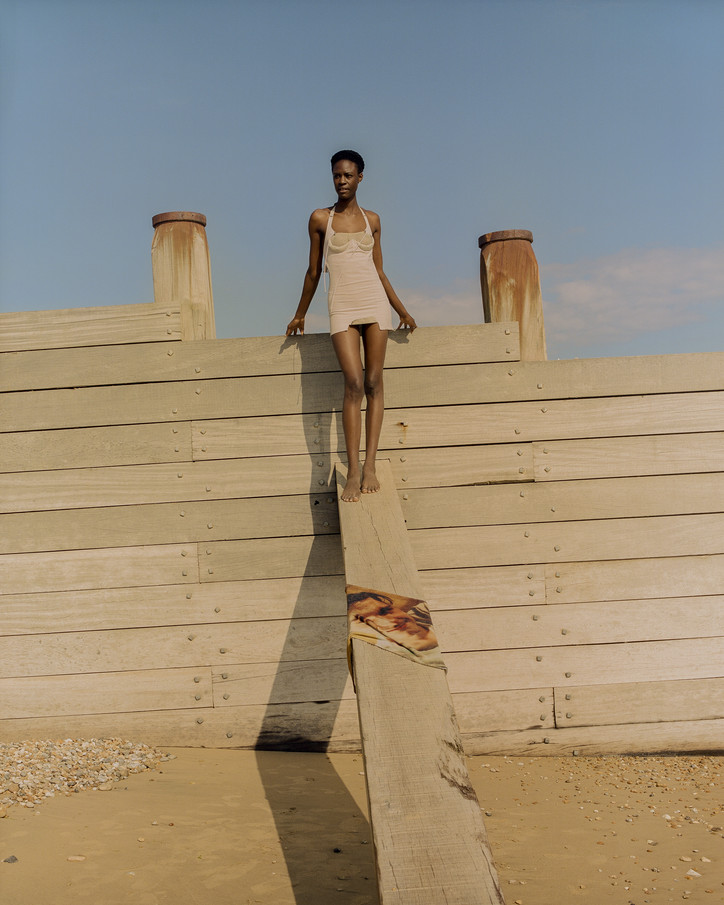 Avoiding the slap-in-the-face sensuality that litters our socio-cultural channels and titillations, Knowles brings a hefty slice of self-awareness to her evening wear, outerwear and underwear amalgamations.
How do you design for women?
There are multiple things that come into play in our design process. We are interested in techincallity, such as functionality and creating pieces that are luxury products. We are also interested in exaggerated narratives. We usually imagine our woman as odd and unpredictable, challenging certain preconceived ideas in a tongue-in-cheek way. 
Do you think sexiness is something constructed by men that women are reclaiming?
Sexiness is originally defined as being sexually alluring. It has evolved over the years and hopefully now should mean "very attractive" and shouldn't be defined by an objectifying gaze. It can be very empowering to feel attractive without any sexual association.
What influences you?
Sensuality, feminine/masculine stereotypes, pop culture, the tension between underwear and outerwear, a dangerous woman.
What are your brand's innate reference points?
Things that relates to the above really. We usually build a narrative from references, details and garments or items. We usually work from a feeling or some idea and then build around it, making sure our core design language is the same.
How is the creative landscape changing for young designers?
It is becoming more and more saturated, and the attention of people is fleeting. You have to find a strategy, stick to your guns, build a language, hope people understand it and get on board. What really defines our generation, I believe, is how close to our customer we are and how their voices are becoming louder than everything else.
What was the most important lesson you learned while studying at Central Saint Martins?
Learning how to communicate an idea without having to talk.
Who do you admire? 
Multiple people. We have been collaborating with amazing people from Lulu Kennedy, Natasha Booth, Grace Hartzel and my Mom. You know, women with an opinion and strength.
How do you feel is currently challenging the fashion system?
People doing their own things authentically instead of following the "trend".     
What do you want your brand to say to women?
That our clothes are not only of the current Zeitgeist, but of the future as well. That they are about empowerment but also craft and luxury.  We spend a lot of time on construction, fit, detailing and sourcing good quality, which a lot of young designers sacrifice for aesthetic. We try to create objects of desire.
What does fashion mean to you?
It pretty much takes up all my time… It's a love/hate relationship.