Sies Marjan Fall/Winter 2017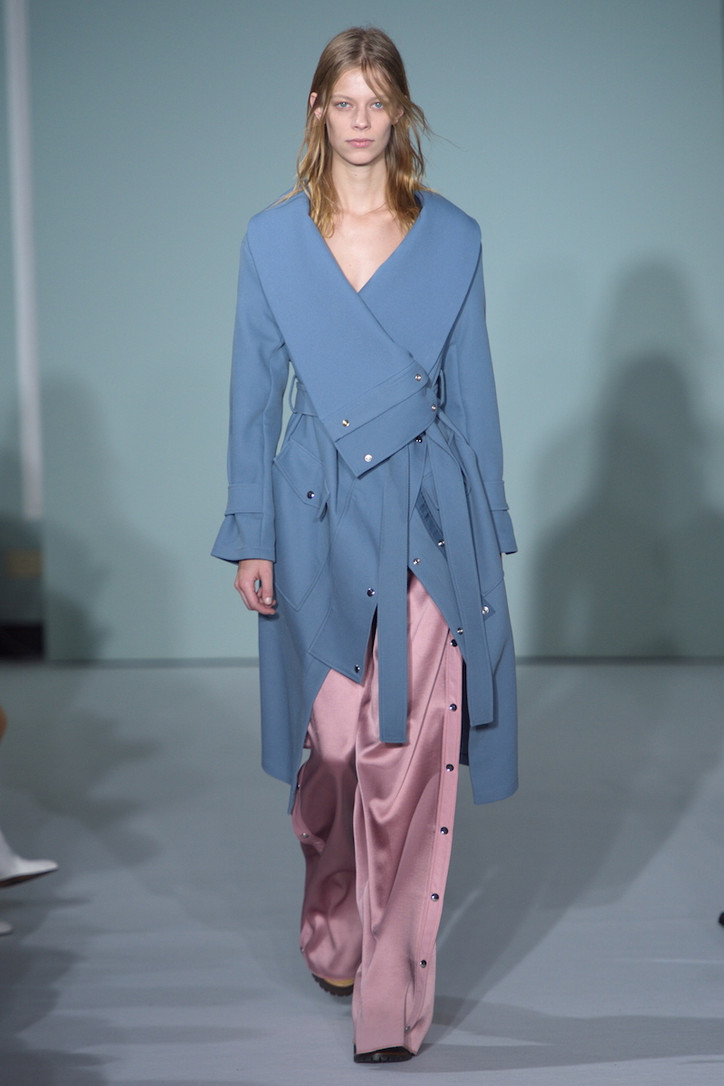 The color palette is definitely one of his biggest strong suits. There was a lovely apricot, a pale jade that I will attempt to replicate on my very walls, and my own favorite look featured a blue-grey coat paired with soft pink wide-leg pants. He also played with sparkle; a dress and two jackets featuring pink and purple shimmer caused in inappropriate stirring in my loins. Shining bright blue cropped pants paired with a glimmering sweater were also a literal and figurative highlight.
Practically every look featured diaphanous, flowing fabric, and the clothes looked so silky and light that it seemed they might actually float off the models' bodies. Several garments seemed like the embodiment of the feeling of rolling around on high thread-count sheets in a fancy hotel. They were like luxurious cocoons.
Some pieces were held down with knotting, a technique that Lak has used in the past—it serves both to weigh the clothes down a little and to define a waist. Other dresses also featured ruching done with a light hand (a far cry from something like, say, my bat mitzvah dress). And the designer also created several renditions of what once might have been called a "mullet skirt." But in his capable hands, they just felt like ocean waves, a far cry from a kind of silly old trend.
Scroll through below for all of the looks. We have done it several times in an attempt to relive all of the beauty. 
Text by Jocelyn Silver
Images courtesy of PR Consulting