Skin Deep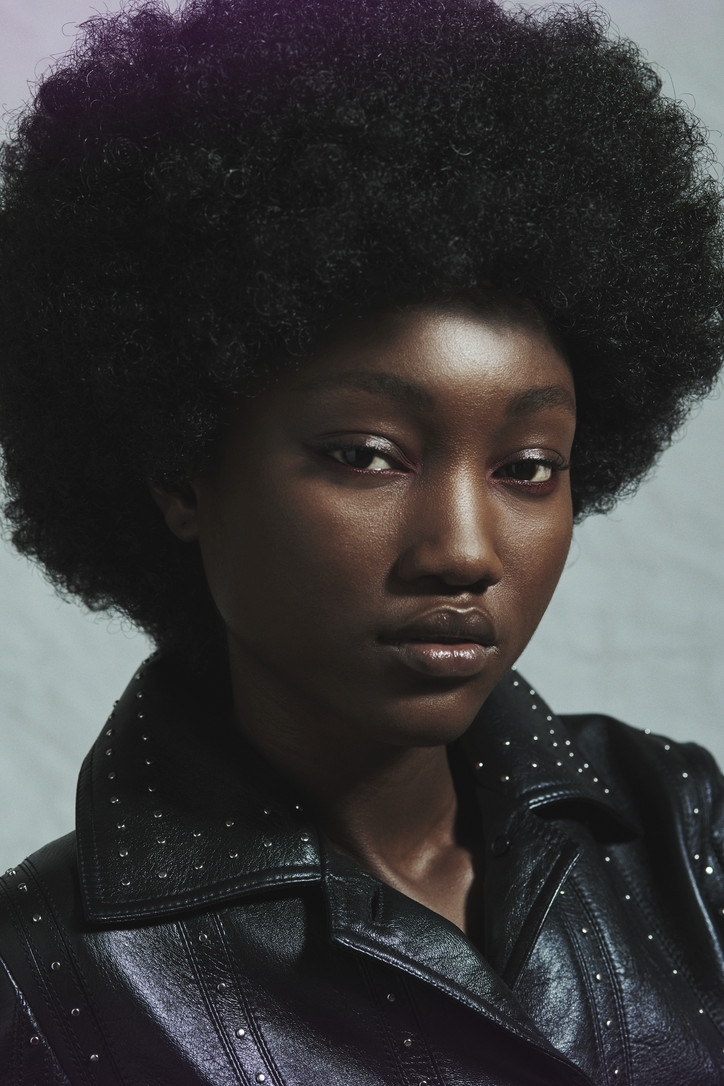 (above) Jacket by CELINE.
office chatted with the model about navigating the modeling industry as a black model and more. Check out the full story below.
(left) Top and denim by J BRAND, jacket by THOM BROWNE, shoes by SAINT LAURENT BY ANTHONY VACCARELLO. (right) Top by PHLEMUNS, hat by EMILIO PUCCI
Who or what were some of your earliest fashion influences?
My mother agent. Ms. Bolajo Fawehinmi. She was, she still is, the one that I look up to the most when it comes to the fashion industry. I also look up to Alek Wek who is an icon.
Representation has been a hot topic in the fashion industry for the last few years. Having grown up looking up to models like Alek Wek, what to you is the importance of seeing models who look like you on runways and in magazines?
Growing up I did not really know about fashion, because I attended school in Ogun State which is a rural area so exposure to fashion was limited. Now that I am part of the fashion industry, I am enjoying seeing the increase in black models on the runways. I am very excited about the growth of black models in the industry and how people are heading to Nigeria, heading to Ghana, and heading to other parts of Africa to scout models to model in in Europe and America as well as seeing the growth of the fashion scene in Africa.
Do you think we're going to continue seeing more diversity in the fashion industry?
I believe that we will continue to see diversity in the industry. The world is many colors, shapes and sizes and fashion should reflect this.
What city has been your favorite fashion week to walk in?
Milano!
Why Milan?
I debuted at Prada which was my first show ever. I arrived in Milano and everyone was incredibly nice to me. I made new friends and started this new journey. That is why Milan is my favorite city because it was the beginning.
Tell me about your beauty routine.
My routine is warm water, a toner and moisturizer. I do not even consider it to be a routine because it is so simple. I usually do not do make-up when I am off set but some days if I am in the mood, I may accentuate my brows.
How would you describe Nigerian fashion? How have you seen the fashion scene in Lagos grow or change?
Nigerian fashion used to mirror western fashion. Now, designers are taking more and more inspiration from our culture. I saw the Arise Fashion Week and my mind was like blown at the designs - they even took inspiration from the deities from my tribe, Yoruba, on the runway. I said 'This is what we need.' Ankaras, which is the fabric in Nigeria, are appearing more and more in show and editorials. Nigerian fashion is peaking.
Top by CHRISTOPHER KANE, pants by SIES MARJAN, shoes by CALVIN KLIEN 205W39NYC
Yeah, the Nigerian fashion magazine industry has grown a lot as well. I recently read about Genevieve Magazine.
It is fantastic. Model agencies like Few are working hard for so many wonderful new opportunities for their models and competing on an international level. I am very proud of how much the industry is growing in Nigeria.
Who is your favorite Nigerian designer?
Tokyo James. His clothes blow me away. I wore his clothes for Few's Next Face (modeling competition. The fabrics and the way that the pieces were sewn was perfect. And I was like, 'This one, yeah…we're Nigerians!' I cannot wait for him to be shown to the whole world so that I can see a designer from Nigeria in fashion week as one of the top designers. I will be so excited and able to say to everyone, 'Yeah, yeah, it's from Nigeria, you know, that's how we roll.'
Who is your ultimate style icon?
Myself [laughs]. Me. I can wake up tomorrow morning and say, 'Oh, I saw Rihanna dressed like this.' And I want to copy her or I ant to do what she did. Then I put it on, I'm like, 'I'm not Rihanna. Eniola, you need to dress like you.' I do nott have a fashion icon. You see me today, I just woke up and put [on] like two layers, boots, and I just came out like, 'This is me.' I am my fashion icon.
What do you usually like to wear?
If I am m not doing anything, I am always in my pajamas. 'Netflix and chill' comfortable clothes. If I am on a walk or running errands, I am wearing my pajamas top and the most comfortable, silky, cotton trousers. I always want to be comfortable in what I'm putting on.
What is one skin care or beauty product that you can't live without?
My moisturizer, Embryolisse.
What Beyoncé song completely embodies you?
'Run the World (Girls)' has been one of the songs that I sing whenever I need motivation.
(left) Dress by CALVIN KLIEN 205W39NYC, hat by 3.1 PHILLIP LIM. (right) Top and skirt by 3.1 PHILLIP LIM, shoes by ACNE.
Who is your favorite artist now?
I do not have a favorite artist. I pick songs that speak to my soul. After getting into the fashion industry, I started paying closer attention to the kind of music I listen to and I started paying attention to the actual beats in the music. Sometimes I do not listen to the words, I just listen to the beats and create my own scenario in my head.
What beats are speaking to you right now?
The beats in Major Lazer and DJ Maphorisa's 'Particula.' Featuring Ice Prince, Nasty C, Patoranking and Jidenna. The beats are everything. Everything!
What is it about the beats that effect you?
They motivate me to be more creative. Sometimes when I am getting dressed and need a little motivation, I dress to a particular beat. This morning I was listening Kranium 'Nobody Has to Know.' and the beats inspired me to wear this outfit: sweater under a big shirt and boots, big earrings and Afro.
If you weren't modeling what would you be doing?
I would either still be teaching or I would be in law school.
What kind of law would you want to pursue?
International law.
Do you have any pre-runway, good-luck rituals?
I always pray. I ask God for strength in my legs and my eyes. I do not want to trip and fall on the runway.
Are there any beauty hacks or secrets that you grew up with in Nigeria?
My mother would only let me wear lip gloss growing up. We used to do beauty hacks for skin in my grandfather's backyard. My sister and I would mash ripe plantains and mix with honey and aloe vera. It evens out the skin tone and prevents acne. If you rub it on your body, leave it for ten minutes and then take your bath, your skin will glow.
(left) Top and skirt by ECKHAUS LATTA, shoes by ACNE. (right) Dress by SAINT LAURENT BY ANTHONY VACCARELLO, shoes by THOM BROWNE.
Did you go natural with your hair recently?
I did starting about seven months ago. I stopped using a relaxer in my hair and allowed it to grow in naturally. My hair was damaged from the different styles during shows and at shoots. It is still a work in progress but it is much healthier.
Has it been difficult to transition and take care of your hair while working?
It is difficult. Your hair is constantly being styled in various ways with different tools such as flat irons which is really harsh on the hair. I do treatments and leave in conditioner to try to maintain healthy hair.
Does your mom give you any hair care tips?
My mother is a hairstylist so she gives me tips on which products to use.
Is it especially difficult to take care of your hair during fashion week?
It is the most difficult time. My hairstyle is being changed constantly and the products that are being used are not always the healthiest options for my hair.
What other areas of the fashion industry do you think that you would want to try?
I would love to explore beauty and skincare. My sister and I grew up trying so many different skincare routines with natural products we mixed ourselves. Some day, we would love to work on it again one day.
What is your go-to off-duty look?
Probably my pajamas!
What is the best advice your mom has given you?
Be patient, always patient. Growing up, she would always say 'Eniola, you need to be patient.' And I'm like, 'Mom, patience does not get me stuff.' Now, I understand what she was saying. When I was teaching, I began to understand what patience really means. Because with children, you cannot rush them.
Everyone needs patience in their life and things will just fall in place. When I call her and say 'Mom, how are you?', she always say, 'Are you okay? Eniola, God is going to help you, just, you know, keep your mind calm and be patient.'