The Skin Savior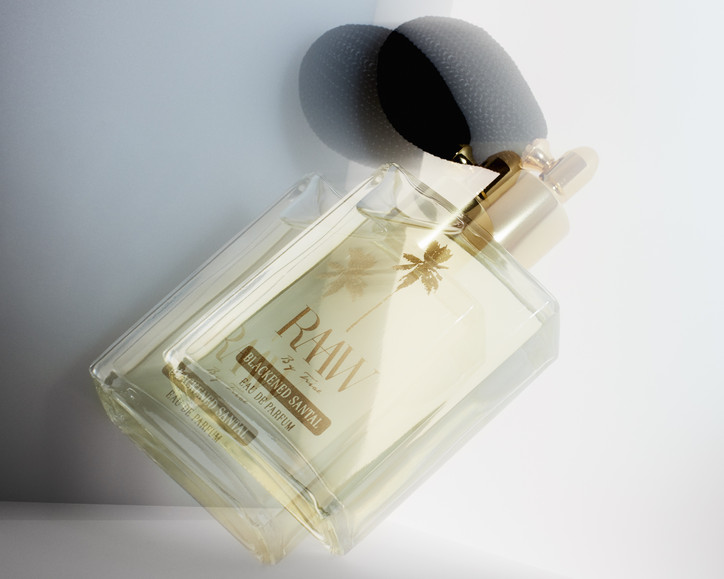 The founder of RAAW, Trice Christiansen, understands this more than anyone. After a horrific experience with a high-end beauty line that damanged and irritated her skin, Christiansen set out to develop a line of products that drew on the healing properties of plants and herbs as practiced in traditional Chinese and eastern cultures. And so RAAW was born, a line of products you can feel good about feeding your body's precious container, because you know you're only soaking up the good stuff. Read on to learn more about Christiansen's take on holistic beauty, New York and the story behind RAAW. 
RAAW has this super strong french resort aesthetic, where does that come from?
Well, I had no specific location in mind when I designed the look, but every detail is based on memories and moods. The palm tree has a very personal story though. My father passed away too young, but had the memories from a long lived life. Creating and recreating stories and moods on film had taken him to every corner of the planet. Big candles burned like a melting forest on his Hollywood Hills terrace and in the flickering lights he told me about his adventures. Many stories, bottles of wine and memories were shared throughout the time, while we mixed the fragrances to his latest and more stationary passion - handmade scented candles. His wish was to create a series of candles, fragrances and perfumes... after his passing, I knew it was the right time for me and for RAAW to adopt his vision. I chose the palm tree as our emblem because it gives me a feeling of home. There was a beautiful palm that lived just outside my Dad's place. It became part of our daily ritual. So many moments and potions were all created while staring at that palm tree, so it seemed fitting that it should be the emblem of the brand. That exact palm tree represents a very special time in my life as well as my fathers vision. The look is created based on memories from all over the world.
What does your dream vacation look like?
It would be on a deserted island with a frozen margarita and a book. I can't wait till I have time to do nothing. After that, I would love to go to Cuba!
What does a healthy lifestyle in New York City mean to you? 
It means a lot to me, no matter where I am. It's easy to live healthy in New York though - so many organic food options and then you can walk or bike everywhere. I do recommend an air purifier for your house though - it makes a huge difference.
Is there a product RAAW will never release, why? 
Hmmm... every time I think of a product I wouldn't release, I change my mind, Hahaha! Probably nail polish. Too toxic and I don't know enough about the natural versions... yet. See! I might change my mind on this one too. Wow.
If you could only use one product for the rest of your life, what would it be? 
Without a doubt: Blue Beauty Drops (from RAAW By Trice) I am addicted and can not live without it. It's an organic facial oil for all skin types, it's super light, packed with antioxidants and leaves your skin glowing of health!
Why is packaging an important part of a beauty line?
Beauty is all about treating yourself. To me, Packaging sets the mood... I tried to create the whole package with RAAW - sustainable, organic products in aesthetic packaging that gives you a feeling of luxury. What's the most beautiful thing within reach of you right now? My sleeping husband.
How do you use RAAW products in your daily routine?
My beauty routine is combined with RAAW products as well as a few edible ingredients. I use organic apple cider vinegar as a toner to close my pores. Then I use Blue Beauty Drops and the Laminaria Eye Creme. Blue Beauty Drops absorbs immediately so it's easy to use under makeup. The eye creme really tightens the skin - it's magical on those tired mornings and the best trick to look like you've actually slept for 9 hours! At night I wash my face in raw honey and leave it on for a few minutes. After I rinse, I apply the Plankton Enzyme Creme and mix it with a few drops of Rosehip Facial Oil to give the skin a hydration treatment overnight. We are coming out with a cleansing ritual this fall, which will complete the RAAW beauty routine.