Sneakersnstuff, LA Edition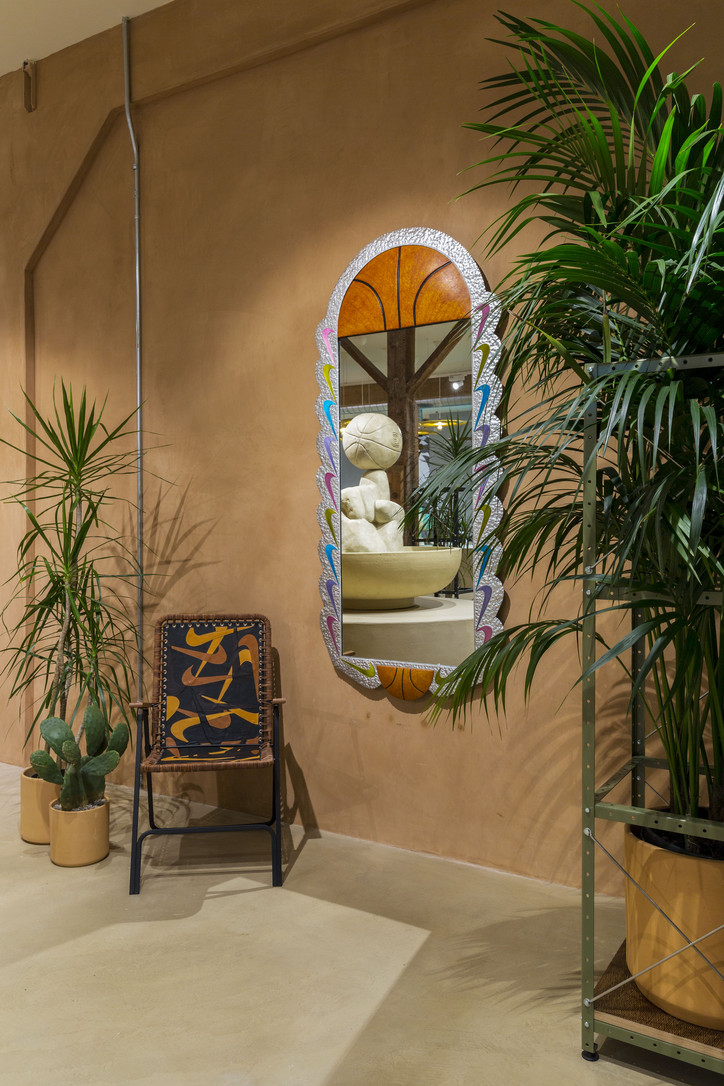 From carpets that, upon closer inspection, have the Nike logo stitched into the fabric, to design elements heavily influenced by the Mexican heritage of the West Coast beach communities and poles strewn throughout the store like Italian gondolas, the founders have found a fluency of modern style through an archetypical, and certainly atypical, Los Angeles lens.
Venice Beach revels in the atypical, so SNS is in good company. Muscle Beach is an all-out Adidas arena, and for the hardbodies who need a break from pumping iron, they can stop by the "Souvenir Shop" in SNS, which sells Chinatown Market goods and other high-end skater trinkets, the whole thing styled after one of the tacky "Buy-one-get-one-free Toe Ring and a Bong" stalls one might see on the Boardwalk just outside. For a brand looking to come to California with such a current, cutting-edge concept, it seems slightly out of left field. We got a chance to chat with Erik Fagerlind and Peter Jansson, the founders of SNS, to find out more on why they wanted to bring their boldly-styled store to the old-school Boardwalk.
Just to get a feeling of you guys: how was it in the beginning? Like what was the first step in going from a store in Stockholm, how did it all get started?
EF We grew up Sneakerheads, in the 1990s. In Sweden, in the 90s, there was only really one place to work that involved sneakers, which was a sporting goods store. We ended up working at the same chain... Eventually, we ended up working at the same store, and found each other connecting over our love of sneakers. And we decided to go to New York, to go and see all of the shoes we never saw before. The first time we went together was in 1996.
PJ Obviously NYC was different, in '97 it was pretty rough.
EF The trips we went on in the beginning, we stayed at the YMCA for the first three days. Then we roamed the city trying to find the best prices for the shoes that we wanted. Then we switched to the most affordable hotel we could find where we could actually lock the door — which was the Grand Onion.
PJ Grand Union.
EF Well, I call it the Grand Onion.
This is the old sneakerheads, the days before we just bought things online.
EF It's not necessarily pre-internet, but it was pre-Google.
PJ It was an era where you could buy stuff up in Harlem, on 125th street, and you could walk down. We would be in Brooklyn and see someone with great shoes, and say, 'Where did you get those?!' and they'd say, 'In the city! You just have to travel on the train for 20 minutes.' Then we realized nobody left their neighborhood, or borough. Especially in Brooklyn, they look at Manhattan, but never go there. And the people in Harlem don't go down to the Lower East Side for any reason.
It's still like that.
PJ And us being from Stockholm, we just want to be where the shoes are, so back then, we'd go down to Fulton Street Mall a lot.
Speaking of different! That area has totally changed.
PJ Even 125th and Spanish Harlem is different. It used to be Harris Square, all these Chinese guys smack in the middle of Midtown with their shiny shoeboxes. There was one street full of Mom and Pop stores, there was one great one on 10th Avenue and 48th, and you could go and find Air Force One NYC, Swoosh, all the new Nikes for like, fifteen dollars. Nobody wanted them. Everything was dual colors, multicolors, nobody cared for those in the US. We bought them super cheap, brought them home and they were exotic in Sweden.
EF We went for ourselves but then friends caught on, and were like, 'Can you get us shoes?' wanting anything that was not available in Sweden. So, it turned out to be a lot of friends. So we said, 'We are going to have to charge you, like, twenty dollars,' and we ended up carrying hundreds of shoes. And that was sort of how we got to see that people really wanted to buy functional sporting shoes for their looks. That was the original idea of SNS. That's what we offer. There were no real sneaker stores. 'Sneakers' as a word didn't even really exist in Sweden at that time.
So is SNS going to be the IKEA of sneakers?
EF (laughs) Well they do sell very good stuff, and we do too, but they definitely sell more meatballs than we do. They are the biggest exporter of food in Sweden. But no, I don't see us being IKEA, as much as I love them. For SNS, we are planning on having about 15 stores, in 15 key cities all over the world. Right now we are just following the path of local action. So, making sure that we open in Venice not to rule the world, but just to win Venice. We don't have to win the street before we win the block, then neighborhood, and city, and it cascades on. It's important for everyone who comes in to work here, knowing that is how we work. This is a word-of-mouth marketing plan.
And why Venice?
BOTH (Points at the beach) That.
It's funny, because I think that's a Swedish thing, to be like, "Wow, the beach."
PJ (laughs) Growing up, seeing all of these [Hollywood] movies, they're all on the beach. So, that's LA to me. The beach.
EF Looking at the US, a city like New York has felt almost like a second home, so that was an obvious first step. But then LA would be the second one. We were never the ones to say, 'We did New York so let's go to Philadelphia, Boston…' LA was the next step. But we wanted something special and off the beaten path. We went everywhere in a few days — downtown felt just like New York, and it just wasn't us. Then the Arts District, which was amazing, but also didn't feel like us. Fairfax felt like riding somebody else's wave. If we went there we would just be shoo-ing off somebody else's flow. But then we were staying out here in Santa Monica and I went running in the morning, and the realness of Venice… So we told the real estate agent, they were like, 'Why would you want to go here?' and showed us Abbot Kinney, but we just felt that area was actually pretty un-Venice.
It's not the original Venice. I love the choice you made, it's super bold, and in the morning it's so gritty and dirty almost, yet there are palm trees, and the beach. It's a great contrast.
EF It's the most real place in Cali. For us, it's a great opportunity. Now that we have reached this level, to use this platform, work in this kind of space, and give back to the community rather than just feed off of where we are. And Venice is all about community. We have to be a part of that.
I see loads of people looking excitedly through the window already.
PJ Just two days ago it was shuttered, but we just raised the gate and opened the windows. In about an hour, three digits of people tried to come inside, which is why we don't put too much hype in the front, otherwise they'll start lining up! We're really excited.