Spray Painting, Wrinkles, And Hollywood: The Designs Of Giovanna Flores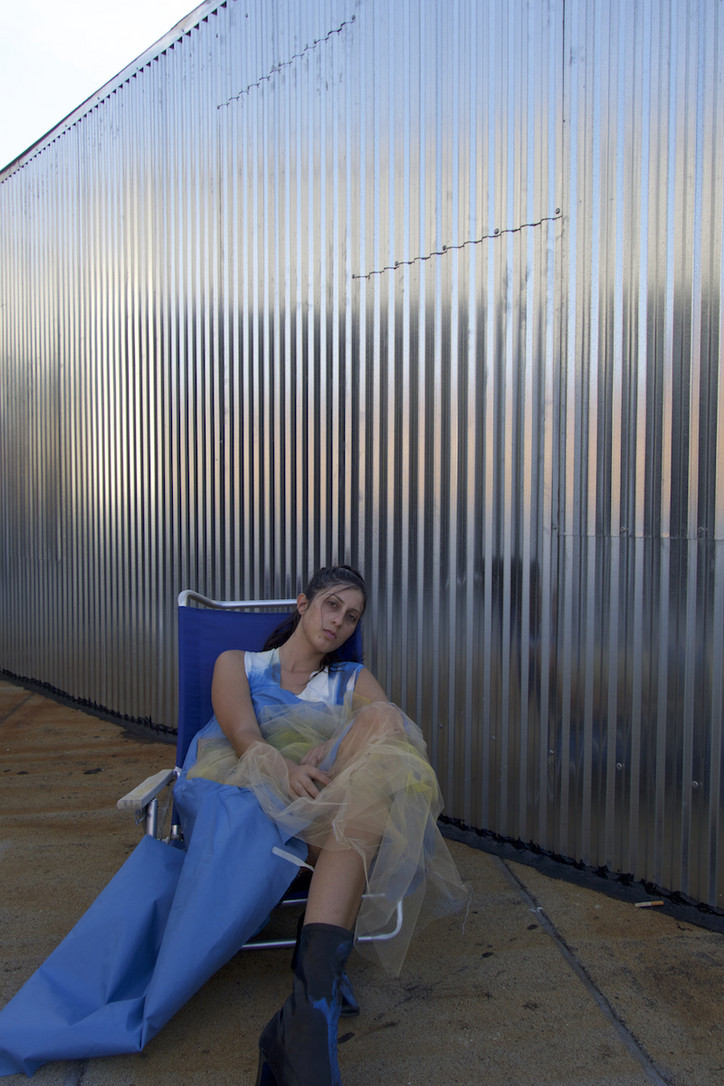 In addition to her handsewn collections, her lookbook, displayed here, was shot and styled by the designer, and she served as her own model. It was a solid move, budget-wise, but it's also true to the spirit of her label. Pretty much everything is handmade, and she doesn't reproduce her clothing for commercial use. If you want a piece from Flores, you basically have to DM her, making her a very 2016-style couturier of sorts. And a DM from Adam Selman lead to Flores' biggest endorsement to date: Rihanna wore the designer's denim suit during a performance on SNL, and again in a Puma campaign. Not bad exposure for a Pratt senior thesis collection.
The clothing is both fresh and distinctly of the past—oversized spray-painted pieces are paired with the floaty and gauzy, and they feel kind of like something Paris Hilton might have worn to Hyde in 2007 if she'd also gone to CalArts. Flores aptly calls the look "romanticized streetwear," and it's both unique and very now (as vomit-inducing as that phrase may be). So we met with Flores at her cozy apartment in a traditional Fort Greene house to talk about her work, Rihanna, and why the concept of "flattering" is entirely outdated.
Tell me about your most recent collection, Collection Four.
Growing up in Los Angeles, I always bought clothing from thrift shops and rag houses. They were always clumped together, and I think that in Collection One I started doing this thing where I fold wrinkles in. I always like it when the clothing is worn in.
With this collection, it really started with spray painting. I started looking fading in clothing and things like that, and then I started putting in wrinkles. My collections aren't so specific anymore, which I like. They kind of just come from studies of people, and of people wearing clothes.
I love the spray painting. It's very early 2000s, which I suppose means it's very now.
I think that's always been a conversation with most of my collections, looking to the early 2000s.
Are there particular people from that era who inspire you?
I don't know, I hate to name people, because then it becomes specific. But it's that whole aesthetic, with the glitz that's still very streetwear-esque, and Hollywood. I like this raunchy/not-raunchy thing.
When I say 'flattering,' I think we all know what that is supposed to mean to a woman, and it doesn't hold true anymore.
Could you expand on not caring about "flattering?" It seems to be something a lot of designers are feeling right now.
Well, right now I'm working in fashion as well as doing my own line, so I hear a lot of things about [clothes] being commercially driven. It's not that I see my clothes as unflattering—
I don't see them that way either, it's just not caring about the principle of it.
Right. I think that so many things are moving forward right now, and it's crazy that flattering is still the same. When I say "flattering," I think we all know what that is supposed to mean to a woman, and it doesn't hold true anymore. Those clothes are not what I see as flattering to myself. I wear things that may not fit me well, but they feel cool. I don't see that as much in retail, anywhere. So I don't know how [my collection] would work in a commercial space.
You want to dress in a way that reflects your personality more than anything else.
I think about that a lot. I wake up different every single day. Some days I like to put on huge pants, or some days I like to wear a see-through top and nothing underneath. There's a different feeling with every day, and it sucks that this flattering thing has to be a constant. Some days I just want to put on huge sweatpants, and that's flattering, I feel beautiful in that way. I think that's what I have a problem with. When people DM me or message me, I feel like they understand it, and I want them to wear it.
Designers often have to be part artist, part businessperson. So for now, you're leaving the business part out of it, right?
For now. I'm working right now [as an assistant designer at Creatures of the Wind]. I love it there, they're great, and I get to do a lot of creative stuff there too. But I think when you have a full-time job like that, it's not as much about me pushing [my own line], at least right now. At some point I would like to make it my entire life, but right now I like to keep them separate. Obviously if I got an amazing opportunity and I loved the people, I would be interested in selling more. But for now, I like having more personal client stuff.
You're a couturier!
[Laughs] Well it's nice, because everyone has different sizes too, and it's fun, I get to make sure it fits them. Do you know Susan Cianciolo? I worked for her for over a year when I was still in school, and she works a lot this way, so I was inspired by that. I never knew that people worked like that still. 
Right now, it's a pretty ripe field in New York, there are all these young designers. Is it a good time, is it hyper-competitive?
I don't feel like it's competitive. I think it's really nice, and it's inspiring and exciting. I have friends moving here and they see New York as an exciting place. I've been here for about six years, maybe a little longer, and I haven't felt that energy here until now. I look at the shows from younger designers, and I'm always excited to see what they're gonna do. And it's nice to see commercial elements coming into their lives in fashion. Even though I'm not there yet, it's nice to see that because I can see how it is for them.
Do you feel the struggle in New York?
It gets really exhausting. Especially because I love having "do nothing time."
Same!
And here, that's not really understood. Or if it is, I don't know where people are finding the hours to do nothing. It's hard, because I work full-time at Creatures, and then I have Saturday and Sunday to do my own stuff. So in that sense, it does get shitty. I do try to take breaks and go back to LA. And when I do go back, I look out at a massive backyard and I think, "what am I doing in my tiny apartment?" But I'm still young, and I don't think I'll have this energy forever, so I'm just taking advantage of it now.
What was it like to work with Rihanna?
It was definitely a weird experience. It was really validating for sure. I think it was weird for me because I've always been doing weird stuff—like, I made my sisters Christmas presents every year that I was in fashion school, and they always just thought they were these goofy, handsewn things. But I think that Rihanna wearing something made them think I was doing something real and actually cool.
I would have told everyone from my high school. Like, "suck it!"
I was getting texts from my cousins and stuff like that, just like "Oh my god, so proud of you!" But I was like, "I've been doing stuff forever!"
It was really great, and I'm so grateful. Working with Mel [Ottenberg] was amazing, and having that connection is great.
It started with an Adam Selman DM on Instagram, right?
Yeah, he DM'd me! He didn't tell me what it was for or anything, he just wanted a higher-res photo of the denim look. He's really sweet. I actually met [Selman and Ottenberg] for the first time at the last Pratt show.
And to finish up, how would you summarize the Giovanna Flores aesthetic?
That's tough! Well, it's just very personal and intimate, and there's a streetwear thing going on, but it's very romanticized in a way. I'm always super nostalgic, so I want to say that the clothes have that kind of feeling. I like that they turn into these kind of abstract things, but I also always want there to be hints of what you see every day. Kind of ordinary, but kind of weird.
Interview by Jocelyn Silver
All images courtesy of Giovanna Flores