Sign up for our newsletter
"The Stalker" by Ben Elliot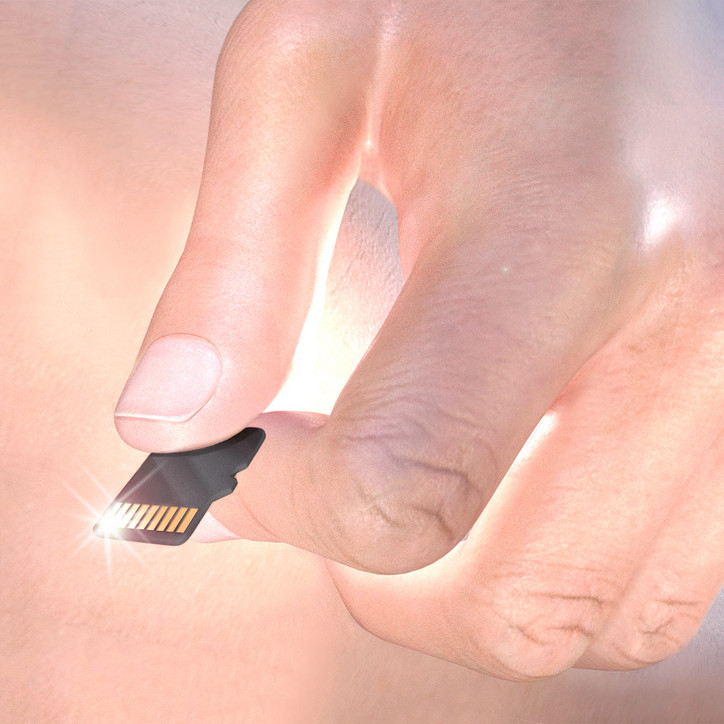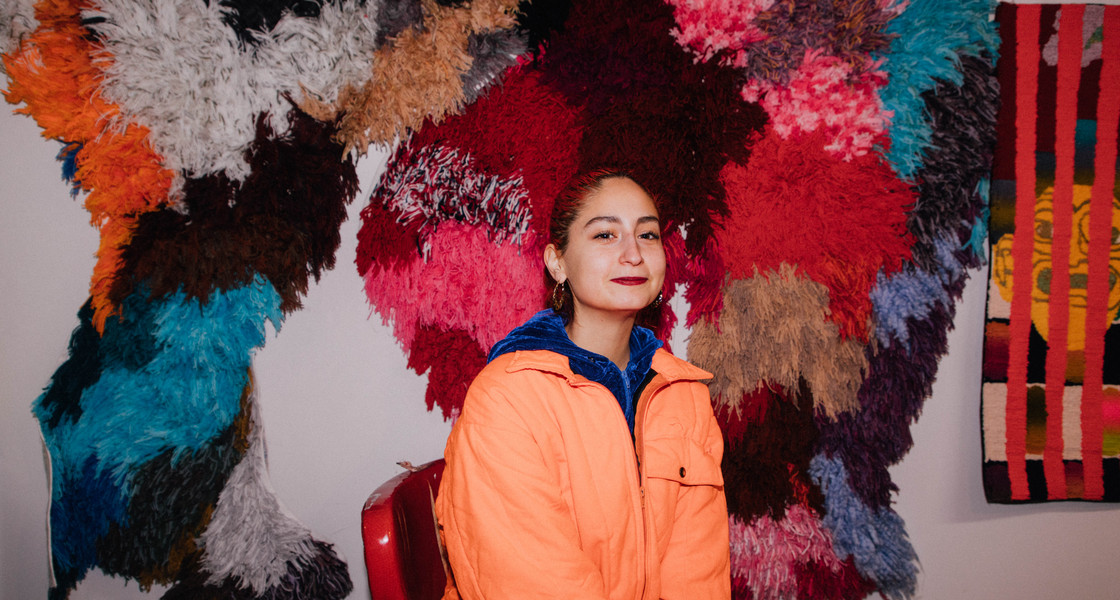 Fabrics & Foot Fetishes
But what moves her? Included here is a helpful, if abbreviated, list of Sarah Zapata's interests, the foremost being—
How I can operate in this low spectrum but create these sort of high situations.
What's more accessible than textiles? We're in (almost literal) constant contact with cloth; tapestries and weavings have been traditional art forms for thousands of years. But one of Zapata's strengths as an artist is her refusal to take anything for granted. 
"I'm interested in the familiar," Zapata says. "I think textiles are very familiar, and I'm warping that relationship."
At her Performance Space show A Famine of Hearing, viewers walk into a square gallery room divided diagonally into two distinct sections, one red, one green. Walls of colored carpets stand in the center, perpendicular to each other, broken up by carpets hung on the walls referencing the style of stained glass windows. The red and green, she explains, expressed two questions on her mind at the time:
1. How did we come to accept modern Christmas colors?
2. How could she work in her interest in the metallurgic trophy heads she came across while studying the Pre-Columbian Moche civilization?
Through research, Zapata found that a single Coca Cola advertisement had established green and red as a specific visual language for Christmas. "I liked these two colors representing something that has this sort of spiritual beginning and was then hijacked by capitalism," sha said. As for the Moche heads, she explained, "I wanted them to be these agendered sort of figures from an anti-hero society, rather than the western canon."
The result was a gallery space resembling a synthetic, fluffy Garden of Eden, or a trippy little cathedral. A high situation, if you will. In spite of its intricacies of intent, A Famine of Hearing is, at its core, about—
Access. You're working with this material that everyone has a connection to, but then it's presented in this other sort of situation.
The art world is rightfully obsessed with access right now, and so is Zapata. We want paid internships and participatory museums! Better representation and more national arts endowments! And above all, when we see a carpet, we want to touch it.
Zapata knows this. "With textiles people are so hungry," she says. "They just know that they can touch it, even if they're not supposed to." And in a gesture of humility, she often allows gallery-goers to feel her works. 
All of her environmental installations are comprised of different components assembled specifically for the show; though each piece is for sale, Zapata is interested in giving an experience to the viewer that's free and only exists once. 
Zapata's show If I Could, which ran at Deli Gallery in 2017, was a wall-to-wall exhibition of vivid patchwork carpet relieved by islands of stout, furry sculptures. Made in the aftermath of the 2016 election, to the tune of NPR playing while she wove, Zapata was amazed at how colorful and lush the installation turned out. "Everyone was in such a state of shock and needing to have some sort of comforting escape," Zapata says. " I think that I was definitely trying to give that to people, as well as myself." 
The title If I Could samples a song by Simon and Garfunkel, which in turn samples the Andean folk song "El Cóndor Pasa." It's the perfect name—a synthesis of Zapata's Peruvian ancestry and—
Humility. Because they are so accessible, I never want it to be this sort of masturbatory situation, like, 'Look at what I can do,' but more so feeling like I have to earn what I'm doing.
If I Could was installed in a way that made it nearly impossible for the viewer to take a good look at the work without taking off their shoes and plodding around the room, feeling the yards and yards of labor-intensive, carefully-constructed fabric on their toes. It was a scenario Zapata planned for and encouraged.
But what does humility have to do with textiles? Aren't artists already supposedly eking out a humbling existence? ("Starving artist" trope anyone? Unheated studios?)
"Humility and guilt are definitely not synonymous," Zapata says, "but those are the two pillars that I'm sort of living my life in."
As a lesbian raised in north Texas and steeped, early on, in Christian evangelicalism, Zapata tends to deal with a lot of guilt. Throwing herself into theological studies is as much an act of healing as it is a manifestation of her interest in, as was the case with her questioning of Christmas colors—
Tradition, though I felt like I lived an untraditional life. For me, that manifested into textiles, but it wasn't until I graduated college and moved here right after that I was able to sort of digest what my life had been up to that point. So I started writing foot erotica.
Zapata began working in textiles out of a desire to form a tangible relationship to Peruvian culture, part of her heritage on her father's side. 
Since starting textile work at 18, Zapata's spent a considerable amount of time in Peru, and has an upcoming show in Lima, for which she's been researching rocks. "This is the first one that I've been researching around an object, but rocks are really important in the Bible, in the Battle of Jericho specifically." From the research, she'll write and then craft an idea of what she wants to produce in the form of watercolor sketches. Construction involves a lot of math, and the final product takes a lot of time. 
Though the act of weaving is a solitary process, many of Zapata's shows incorporate the works of other artists, including performances and readings. It's a mode of humility, too: "But what was so great was that I was able to curate some performances that went on in the space, but they also took control of it, and it went out of my hands and was able to be activated in all these different ways. Which was great."
Occasionally, performances will include readings of her own—
You could call Zapata's foot erotica a sort of fanfiction. Biblical fanfiction, that is, injected with a particular strain of foot fetish. 
The longest one she's written concerns the canonical story of a woman having been healed of a 12 year period by touching the hem of Jesus' cloth. In Zapata's retelling, the cursed woman ends up in an affair.
"It's just sort of everyday situations but using text from the bible to elevate it and change the situation," she explains, half-blushing, half-deadly-serious. "The bible has really incredible, beautiful text. There's something very satisfying about it."
Religion, she muses, "feels like home, even if it's not at all." Regardless, it is inescapable. As is the connection between textiles and the feet, especially when viewers were encouraged to take off their shoes to fully experience If I Could. "Textiles are so related to the body, and I wanted to be in control of how they related to it," she says.
The only thing that may be familiar to each of Zapata's works is her tendency to warp any complacency—on a personal level or on the part of the viewer—into a sense of wonder. "I'm very comfortable with what I do but I'm always trying to challenge that," she says.
Her upcoming show in Lima revolves around the Battle of Jericho, rocks, and time. If her works are based on a question (such as why these Christmas colors?) this show takes a metaphysical cake: "I'm interested, now. in how we're just dropped in the middle of time and having to navigate why things are the way they are. I'm interested in creating strange senses of time." Until the next show, you can find Zapata weaving rock ruins, warping the familiar in her Red Hook studio.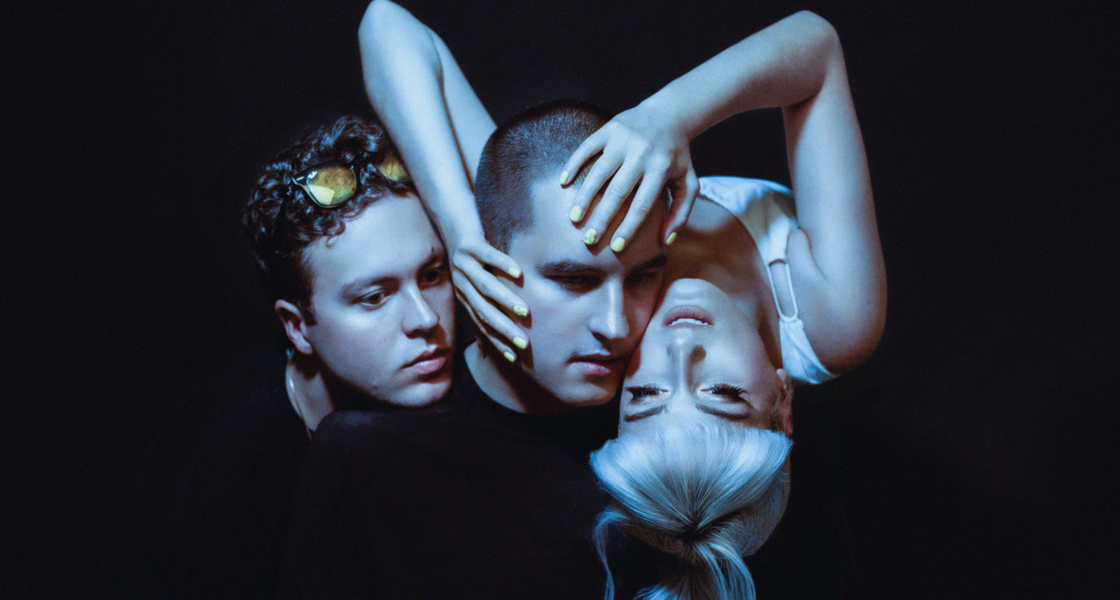 Actual Objects
Where does the name Actual Objects come from?
The name comes out of our research into the materiality of technology. It's the idea that digital things contain embedded material, and emotional knowledge; the cloud is not bodiless. So we see the work that's created in the studio—primarily digital imagery and films—as "actual objects," artifacts made of simultaneously 0s and 1s, but also rare metals, spinning in an HDD, intrinsically tied to the hyperobject of computer production. In the time of climate collapse, and our increasing digital existence, we think it's extremely important when working with digital tools to evaluate the extent of materiality that compose our work.
How did the members of AO come together? And why did you decide to work together rather than individually?
We all met about seven years ago, and have been working together on various projects since. Claire and Rick lead the creative production, and Nick handles everything else.
We think that breaking down the implied separation inherent in nature's definition—the wall between animal and human, between technology and ecosystem—breaking down this line might give us clarity to coexist as our civilization continues to accelerate.
When developing a new concept, or project, how do you map out your process? Are there any guidelines that you set for yourself?
Most projects begin as a conversation between Rick and Claire. Our formal collaboration is relatively new, but we've made work, whether it was Claire's drawing & painting, or Rick's music & architecture, alongside each other for 7 years. So, we've honed a tight conceptual and formal language that informs all of our work. Every project presents us with something we don't know how to do, so we usually start there. How can we make this particular thing happen? We troubleshoot, and research until we inevitably figure something out—and that solution is usually the first moment energy is really breathed into a project. From there, it's pulling references, developing narratives, talking to our brilliant friends / AO team, drawing, photobashing. We're a little all over the place, honestly. We tend to work fast, and for long hours, very much guided by our intuition, and not very much planning.
Is there anything that scares you?
Claire has an injection phobia; and Rick has a fear of heights, and mice in the bedroom. Nick has a fear of reborn baby dolls. Other than that, climate disaster.
Since much of your work is video based, are influenced by cinema? If so, what films inspire you?
We kind of fell into making films—it ended up being a natural transition from painting, and music/architecture. Of all the art forms, film is funnily enough one of the ones that we've paid the least attention to, but have found to be the most representative of what we're trying to say—film is the strongest combination of image, sound, and space.
What is your relationship to nature?
Nature is a problematic term in 2020, and the way we would define it is perhaps unconventional. Nature as an untouched, vast wilderness struggles to exist in the age of climate crisis; it no longer sits patiently awaiting manifest destiny. We believe nature is something all-encompassing—a motherboard is just as much "natural" as a pinecone, or thistle plant, or star, or jaguar. Classic dystopian futures are spaces devoid of that quintessential, sublimic wilderness, replaced by computers, and plastics; white walls with some well-manicured gardens. We think that breaking down the implied separation inherent in nature's definition—the wall between animal and human, between technology and ecosystem—breaking down this line might give us clarity to coexist as our civilization continues to accelerate.
When was the last time you dreamt?
We probably dream every night, but doubt dreams are very informative to our practice.
How does architecture inform 3D design?
As an architecture student, Rick was never interested in making buildings—most of his time was spent making experimental electronic music. Outside of the technical knowledge that architecture brought, it gave us an understanding of composition, and of pace, a foundation by which to create, and assemble disparate disciplines together.
The Marine Serre F/W '19 Radiation film is very much a digital runway—did you work with live models? Are reference images a common practise?
We didn't work directly with live models for that piece, but have in the past, through motion capture, and 3D scanning. For this project, everything was created by hand: the models are sculpted and textured first, followed by 100s of reference photos of garments which are then hand-patterned in a 3D clothing program. These are then collaged, and assembled into the final garments you see in the film.
What are some unique challenges of working in 3D; and how do you overcome them?
The world of 3D is vast, and ever-expanding. We've barely grazed the surface of what's possible to do and learn, which is simultaneously overwhelming, and invigorating. We hope to always be on the frontlines, working with emerging technologies, which is expensive, and labor intensive to constantly build new skill sets, understand new interfaces, research, and troubleshoot. It's tempting to just relax into what we're already familiar with & good at, but the desire to push ourselves is stronger.
Can CGI change the way we perceive reality?
The larger question here is whether (or if) CGI can be considered something real, something with a material, or emotional knowledge. CGI certainly has a shape to it, a list of aesthetic and technical attributes, and maybe even some exciting or novel traits, but is it tangible? The highest achievement for game developers is creating something immersive, and I think what's more important to us as a studio is to create things that feel like they aren't trying to mimic reality, but rather an uncanny subversion, to create an alternate perspective through which to view our non-CGI existence—the production of reflections, and mirrors.
Who do you find original?
We don't value originality very much—the act of making is entering into a long conversation that's been going on since the birth of humanity. We think the concept of originality undermines the work of all of our influences, references, predecessors, colleagues, etc. In the age of the poor image, we consider the concept of originality, and the "hero artist" to be irresponsible. That said, we're inspired by Marlene Dumas, Arca, Marguerite Humeau, Amnesia Scanner, Graham Harman, Chino Amobi, Ian Cheng, Michael Armitage, Hito Steyerl, Ed Atkins, Isamaya Ffrench, Gerhard Richter, Marine Serre, Timothy Morton, to name a few.
Chess, or checkers?
Tennis.