This is a Stick Up!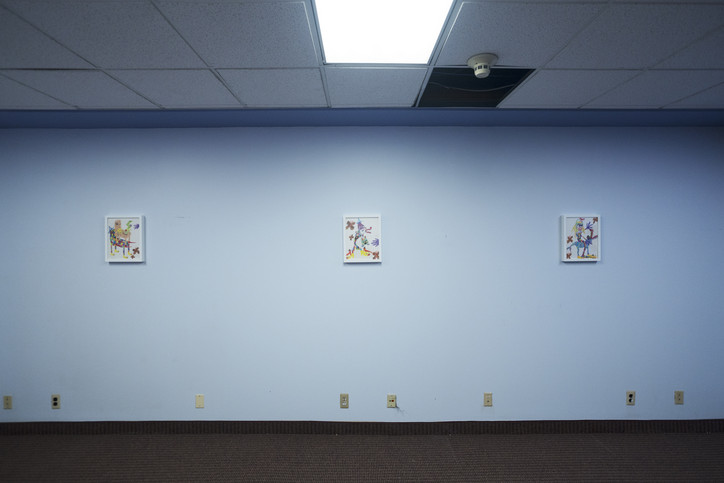 First of all, tell me about yourselves!
Emi Nishani I was born in the capitol of Albania, Tirana .After communism fell in 1990, my parents and I moved to a city right outside of Detroit. I went to college in Detroit at Wayne State University for environmental science.  I currently work for an environmental consulting company monitoring air quality on deleading projects to acquire data on lead, silica, and dust levels in the surrounding communities. I have a dog named Pablo, he's my baby.
Stephen Mcclintock I'm from Camden County New Jersey but after my dad got home from a vacation we moved to Jupiter where I went to high school. After that I kinda just couch surfed for most of my twenties living between Miami, San Francisco and New Jersey. Now I live and work in Brooklyn NY and I'm the owner/creative director for GX1000. 
How did you guys come up with the concept behind this show?
SM I worked a construction job at the Wilson Building in Camden in 2009 for a couple months to get some money to go to France. While working this job I met some crazy dudes who would come and go. I worked with these guys Nate and Reggie who just got out of jail. They use to rob banks and armored cars in Philadelphia in the 90's. They would tell me all these insane stories about where they hide money, cars they bought and how they got caught.  Those stories were always in the back of my mind.  Reggie would drive me around to show me the sights of Camden in his pick up truck on his way to buy viagra from the corner store. 
EN The concept began with Stephen's bank robber paintings on linen. He thought it would be cool to show them in a bank. Once we locked down the bank in Detroit, we decided that proceeds would go to Flint. Flint is important to me on many levels, especially due to my education and line of work, as well as being from Michigan. The water contamination crisis was brought on by negligence, budget cuts and mismanagement of funds. So while we were having an art show in a bank, toxicity and currency kind of organically became part of the concept. We called the show "This Is A Stick Up" because artists are taking over the bank…
A lot of these artists including yourself are somewhat involved in the skateboarding community. Is that a coincidence?
SM Skating has a huge network of people, especially if someone used to skate. Some of the artist involved may have skated at one point in there life.  Other artists in the show make work like they skate or are some punk kid hanging out behind an IGA shopping center all day waxing curbs but have never touched foot on a board, I think that's pretty cool.
Detroit is an extremely interesting city in terms of art, how did you guys even go about getting this space?
SM Google Street Views
I've read about some pretty ridiculous bank robbing stories and it seems to be something that has always been somewhat romanticized…Do you think it's still worth doing?
EN Perhaps
SM If you can get away with it
You have an interesting mix of artists working in a range of mediums, how did you go about curating this all?
EN Curating was the most fun.  The range of mediums made it even more interesting since there were so many unique attributes in the bank. We hung or placed work in vaults, tellers, elevators, and offices. Once we locked down the space, we selected artists whose work we thought would fit into this eerie setting.
SM Lots of emails
What scares you the most and why?
EN Bigotry and more animals and plant species going extinct. Bigotry because it's like a lack of compassion and empathy, which is part of my definition of evil. And extinction because once they're gone we cannot bring them back. They are innocent and add so much beauty to the world and also play necessary roles in our/their ecosystems.
SM Somnolence.
This is a Stick Up! opened on October 13th in Detroit, Michigan and includes work from artists Zachary Armstrong, Matthew Luther, Joe Roberts, Micheal St. John, Stephen Mclintock, Leo Fitzpatrick, Philip Ashley, Tyler Macko, Peter Sutherland, Tommy Malekoff, Dessislava Terzieva, Joe Garvey, Bailey Scieszka, Gardar Eide Einarsson, GX Jupiter-Larsen, Jonah Freeman, and Justin Lowe. With proceeds going to the Flint Child Health and Development Fund.