Stockholm Fashion Week is Cancelled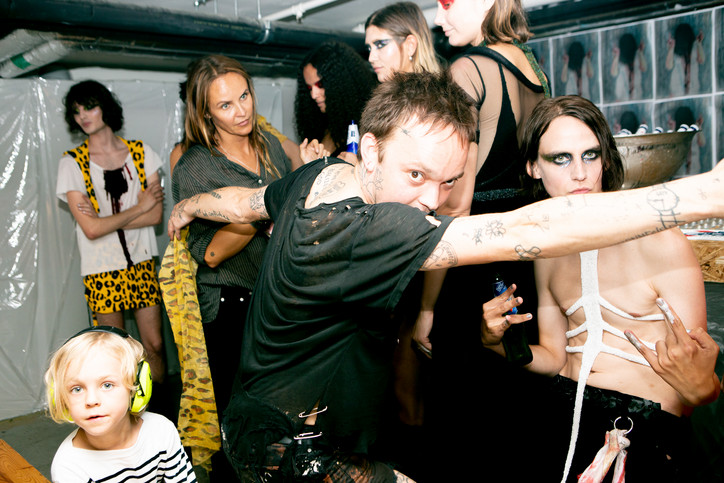 With "slight anarchistic ideals," prize-winning Swedish punk stylist Christopher Insulander points out how canceling a fashion week maybe isn't the most relevant rebellion on overconsumption, let alone the heroic act it claims to be. However, that's not the only question surrounding the cancellation of Stockholm Fashion Week: How, who or when will fill the empty void left behind by the biannual event? Insulander has a few ideas up his ripped sleeve. In a conversation with office, he discusses how to handle this recent loss of creative space.
Check out the interview below.
Why do you think Stockholm Fashion Week was cancelled?
What I've read is that SFW is cancelled in the name of "sustainability," meaning that the more sustainable choice was to just not have the event. That's how I perceived it. It's interesting though—we don't have a Stockholm Fashion Week in order to be more sustainable, yet they then send Swedish brands/press/stylists and etc. to Copenhagen Fashion Week instead. I guess they must have taken their bikes there? It doesn't really add up.
How do you feel about that?
I think it's very sad that there won't be a Stockholm Fashion Week. It's always fun with shows⁠—it's 3D, and it's live. You can show your concept and your collection in a whole other way live than you can via an image. You can absolutely build a fantasy in a campaign photo, but there's something special about a show. It's something that I personally want to keep alive. The first show I attended blew me away; I remember thinking it was so cool. It's such a shame to take that part of fashion away. It's a reason why we work within this industry, and killing that part can make you question why people would want to work with fashion altogether.
You decided to do something about the absence of Stockholm Fashion Week. Can you tell us about it?
I planned to do a show with Emelie Janrell (couturier) and Pia Simensen (fashion designer/artist) before this press release. We'd talked about making our own mini-fashion week. Everything was a little bit unclear and undecided, but it all fell into place when the SFW was cancelled. In relation to that, we started composing Crap Diem Couture Week (CDCW). There will be two fashion shows: one with Emelie Janrell and one with Pia Simensen. I also decided to make an accompanying fanzine called Crapzine. That's what's happening.
In regards to the cancellation of SFW, what is CDCW offering?
The two actors that I work with now don't have a production on things. Both Emelie Janrell and Pia Siemensen's garments are made to order. Pia, for example, dyes her fabrics with different spices. She just made a leopard print with turmeric, which shows that you can think better, buy better and buy less. That's a sustainable way of doing fashion.
What's your view on Swedish fashion?
We've had a lot of super interesting players throughout the years, many of them practicing a more art-like fashion form and within that they are being more "sustainable." For example, Helena Hörstedt, Sandra Backlund, Martin Bergström, Diana Orving, Ida Sjöstedt and Ann-Sofie Back. We also have some newcomers who really impress me like Selam Ghirmay Fessahaye and Lazoschmidl.
How and when did you start to work with Emelie Janrell and Pia Simensen? What are you doing together now?
I've worked with Emelie since she started showing her collections. She didn't have a show last season, and in correlation with that, we started thinking about if and how we would do things going forward. Now we're making a Funeral collection where we mourn. We mourn the death of Fashion Week, and we gladly mourn the patriarchy⁠—both are cancelled. Pia had her own fashion brand about twelve years ago, and she hasn't had a show since. But we started working together about a year ago and discovered that we have a very similar way of looking at art and fashion: what art is, what fashion is, why we do this, and what is important with a fashion show. We tried coming up with a 3D way of making an exhibition for her, and on that path, we landed in taking parts of her art and applying it to clothes instead.
What's your view on art and fashion? What's their relationship?
It's very common to want to separate the two of them. One of them (art) is considered high-end and the other (fashion) low-end. When it comes to art, you work at a much slower pace, which I sometimes envy⁠—having to spit out new ideas/things all the fucking time. Yet, that energy is something that I love. The Crap Diem Couture Week and the Crapzine is some sort of world between the two. Having a show once a year as in Emelie Janrell's case or every now and then as in Pia Simensens case is a compromise/middle way. What's art? And what's fashion, really? If fashion doesn't follow a trend, is it fashion, or is it something else? If you drape a dress by hand for three weeks, painting it by hand or stitching a billion pearls on to it, is it fashion? Or is it just an artistic expression?
Can you tell me about Crapzine? How did it come about? And why the title?
It's a fanzine for and by the people I'm a fan of: friends, acquaintances, colleagues and so on—an immense mix of people. The idea behind it is to offer/make a free creative space where you get to do what you want to do. Nowadays, there aren't many spaces where you can do that. In the same style as Crap Diem Couture Week, there aren't many rules. The question I've asked the contributors is, what do you want to do? Not saying this is what you should do. Sometimes people almost get a little bit scared when they get total freedom to do whatever they want. You're so used to being controlled, particularly in the fashion industry. The zine will be out the same day as Pia's show, which she also did the cover for. The zine is very DIY—everything is made in a Xerox machine. We have the legendary beauty editor Ignacio Alonso and fashion editor Maria Barsoum. It's good people in it. Everyone is super sweet and on top of it.
So the idea was to offer/make something that doesn't exist?
Yes. It's supposed to be something we miss out on—which is the whole "ideology" of Crap Diem Couture Week, and the zine will be an extension of that. We need more creative spaces to generate more creativity. I think it's good to have something that can shake things up a little bit, or at least serve as an alternative to the more controlled form.
Can you explain the title of the zine and "Crap Diem"?
When I started my Instagram account Crapdiem, I had a really bad day and got provoked by everyone sharing "wholesome" quotes and a lot of Carpe Diem-stuff in general. So out of some sort of frustration, I ended up with "crap diem." After that, it's been my brand. It's a little bit like taking the piss out of everything. For example, when I first started to post work images on the Crapdiem account, I got annoyed with everyone posting theirs with the #portfolio. So, staying true to brand, I have my own hashtag: #poopfolio. Building on that brand, the name Crap Diem Couture Week came about. And naturally, Crapzine. Also, I call my fans "little craps."
You often get mentioned as "punk." How do you feel about that?
I have absolutely no problem with that. For me, punk is about putting up a fight, challenging norms, doing everything on your own, and having open approach to what belonging/communion is. I think it's a lot about being anti-establishment which I would say that I am. Of course, you can't be fully anti-establishment when you work with what I do. I work with companies and have more commercial clients, but I'm always trying to do my own thing and make people rethink. As a stylist, I work a bit differently from what a lot of others do. I wouldn't consider myself a "fashion stylist" per se. I don't follow a trend or do what everyone else does; I tend to go on feeling, focus on constructing an impression, build and play with identity. Maybe you could say that I work with style more than with fashion?
Is there anything else about Crapzine and CDCW that you want to share with the readers?
I just want to say that it's a lot of work putting together something like this on your own, but it's fucking fun. It's going to be so worth it in the end. Also, I'm amazed by the support I get. I've always felt a little bit like an outsider, but in situations like these, I really do realize how nice people are. I have managed to pull in a lot of favors from people to make this happen. I've gotten a lot of help from my agency Link Details, their production department Link Production and Acne Film. For their help, I'm so thankful. No matter how good you are, you have to be nice to everyone all the time. Work hard, be nice; that's how you get your allies. Also we have invited students from Swedish design schools. I don't know how often they get invited to these types of events, but it's really important to include the younger generation to show that you can do this on your own. They don't have to mass produce a thousand jackets to have a show of their own. Save up your money, call in favors and show what you want to show. If it's ten paper-maché balls on one's head, fine, you do that. We just need to create a bigger and freer dialogue within fashion. This is about kicking up, helping down. Show that you can. Is it going to be fabulous? It's going to be fabulous. It's going to be Funeral Couture and Rock Festival Couture.