Sunday School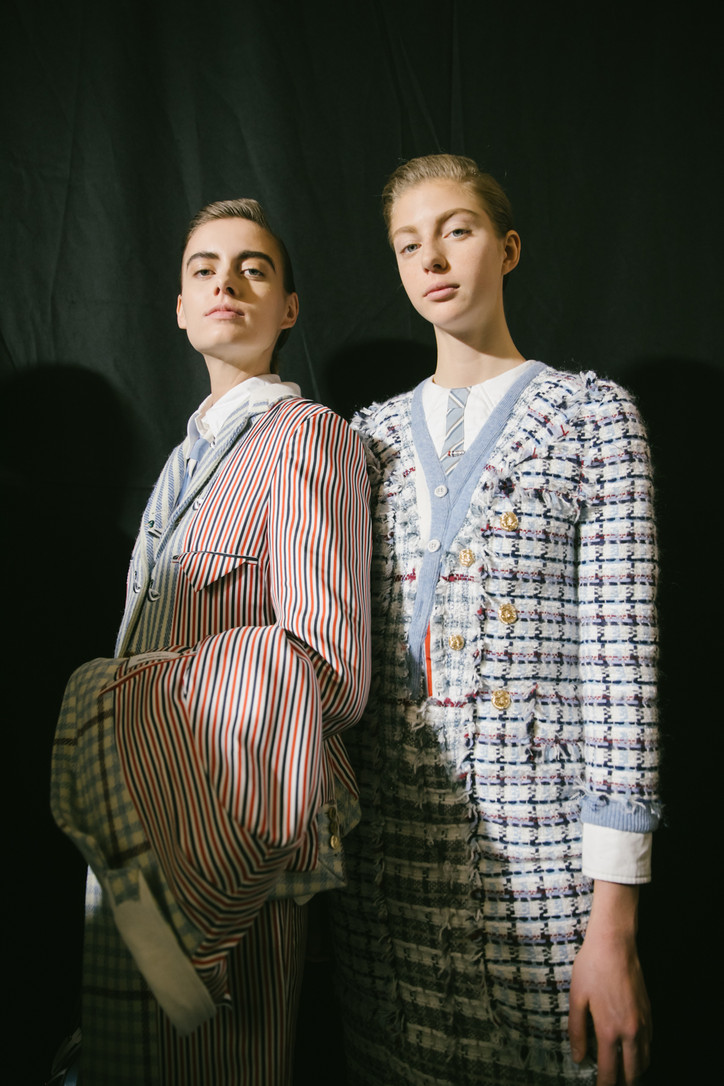 As the women typed, more models began appearing, walking around the cage, rather than entering it. The atmosphere began to change—the white noise was replaced by soaring classical music, and the clothes became increasingly flamboyant. Thom began to show us his playful side, the foil to his crisp, controlled tailoring. Dogs and ducks appeared on jackets and as bags, and trompe l'oeil dresses poked fun at serious suiting. Browne's signature tricolor grosgrain ribbon became oversized bows which spilled off the toes and heels of shoes. Giant monocles and tiny pince-nez were suspended from wire, hanging over the models' faces and bouncing gently in midair as they walked. The frivolity brought to mind the character of Sebastian Flyte, the exuberant protagonist of Evelyn Waugh's iconic 1920s romp Brideshead Revisited.
Whilst the setting may have recalled the 2009 Pitti Uomo presentation, Browne's new collection paid homage to the decade that has passed. Firstly, this collection was womenswear. Although inspired by men's tailoring, today's show was a celebration of a post-Me Too matriarchy. These women may work in an office, but they are not the secretaries of men. Nor do they limit themselves to any one vision of femininity. Looks ranged from form fitting and flirtatious to androgynous and empowered. Browne's woman is not controlled by her uniform, rather it allows her to be in control of her future. The show finished with two magnificent gold looks, both worn by women of colour, a celebration of the industry's increased diversity over the last ten years.
What Thom Browne offers is a nuanced, intellectual, and surprisingly playful way to dress. He captures both the seriousness and efficiency of the modern era and the playfulness and humour needed to survive it. His is an expansive vision which combines ideas and distills them in a manner that feels clear and concise, just like his tailoring. His is not a world of binaries, instead it is one of unexpected opposites that through his lens (or monocle) begin to make sense. Bring on Thom Browne 2k29.
View some photos from backstage at Ecole Nationale Supérieure des Beaux-Arts, below.