The Surrealist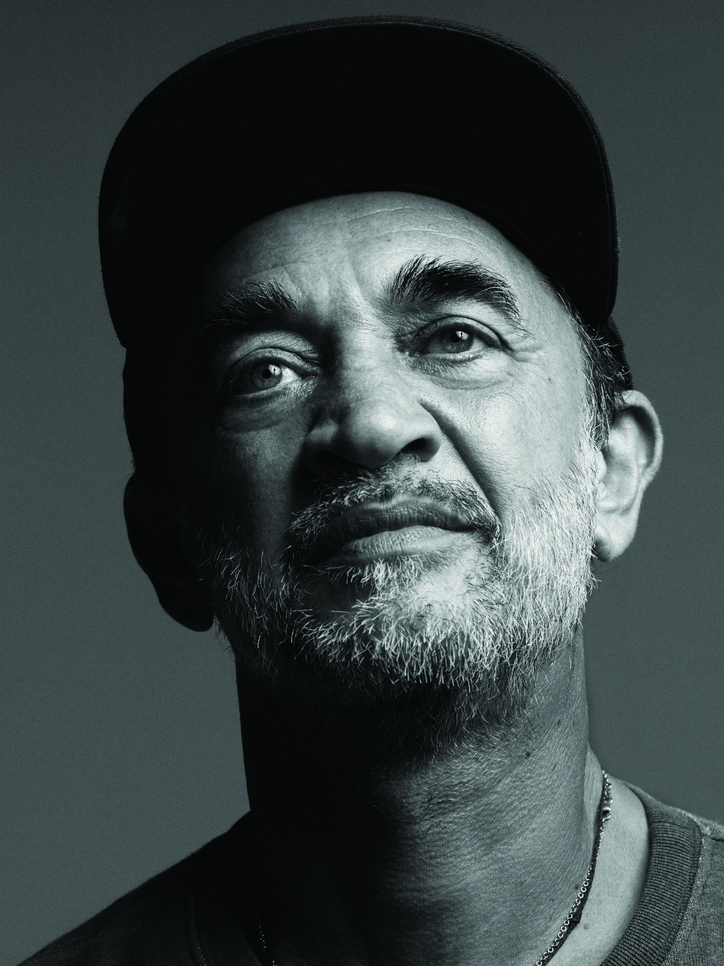 From that point on, Souleiman has worked seemingly nonstop for the world's top designers and magazines, often with high-profile friends and collaborators Craig McDean and Pat McGrath. He has delicately placed butterflies amongst curls at Alexander McQueen, plastered down greasy swirls of hair at Thom Browne, and created delicate mesh head sculptures for i-D. In Souleiman's portfolio, hair swoops and contorts in inconceivable fashion, becoming a medium for real art. The man is an absurd talent.
Souleiman recently told Dazed that he doesn't work for people "who want a ponytail," and indeed his work is always fantastical. "I didn't love my reality," he added, "so I created my own."
O — How would you describe what your own hair looks like right now? You've changed your hair a lot. Do you have a preferred style these days?
ES—For me it is hair about convenience. Sadly, I'm receding. I've come to terms with it and wear my hair completely back, and I love the look of my hairline. It's very retro, Bela Lugosi. I've been through so many hairstyles now. Instead of hairstyles for me, I'm into a hat! I love a good hat!
O—Growing up in East London, what sparked your interest in artistic expression?
ES—Straight up, it would be punk. [But] I've always been interested in art. My earliest recollection was being an 8-year-old child drawing and writing my own comics that were Marvel and DC-inspired. Love a superhero!
O—Could you tell me a bit about how you got your start? What lead to your apprenticeship with Trevor Sorbie?
ES—The manager where I was working asked me, "Why are you working here?" She told me to walk around the corner and ask for a job at Trevor Sorbie, a very well-noted salon.
O—I've read that you began working with Sorbie in 1982. What kind of styles did you like to do in the '80s? What was the big difference between working then and now? 
ES—The '80s for me were a very free time, creatively. I did lots of avant-garde hair looks and did trade shows.
I've been through so many hairstyles now. Instead of hairstyles for me, I'm into a hat! I love a good hat!
There were no boundaries for me at that time. Money changes everything. Today, marketing has almost taken over creativity. There are twice as many fashion shows. There aren't just two seasons anymore for collections. Things happen at a much faster pace today. Personally, I think they go too fast. And we don't have the time to evolve creatively as artists. We are constantly on to the next thing and not exploring the possibilities of what we've created, which does sadden me a little.
O—Is it fair to classify your 1995 Jil Sander campaign as your big break? Could you tell me a bit about what that shoot was like?  
ES—Yes, it was my big break. It was the first time I'd ever been flown to Paris to do a job. There were very long hours, and the shoot was three days long. It wasn't digital, it was shot on real film.
O—Pat McGrath and Craig McDean worked on that shoot, and you've described them as important collaborators and influences on your career. What is it like to work with them? 
ES—They are family! For me it's not just about the work it's about a personal connection, collaborating, inspiring ideas and, above all else, having fun!
O—You've created iconic looks for so many designers, photographers, magazines. Do any shows, shoots, or art works—such as your 2003 wigs for chess pieces for an exhibition with the Chapman Brothers at Saatchi Gallery—stand out to you in particular?
ES—Working with Jake and Dinos Chapman was a highlight in my career. Probably not my fashion career, but I really enjoyed working with individuals who came from somewhere else creatively. For me, it was unusual to work on such miniature heads. It was a challenge technically, but I enjoy challenges. They bring out the best in me. I don't feel I've done my best work yet. There is still room for improvement on many levels.
O—What outside of the beauty industry inspires you? 
ES—Everything! I'm engaged with being alive. Lots and lots of things inspire me—obvious things like art, movies, popular culture, music, but also the people I work with. Having a conversation can be really inspiring. I don't look for creative stimulation, and it doesn't necessarily have to be visual. It can come from other senses.   
O—Are there any hair trends that drive you insane?
ES—The term hair trend drives me insane. People should have what they are comfortable with and what they enjoy.
O—Hairstyling is so intimate. How do you like to connect or find chemistry with models and clients?   
ES—I feel that people connect with me because they can feel that I love what I do, and I like people. It is that simple. —END