Take Me To Lamyland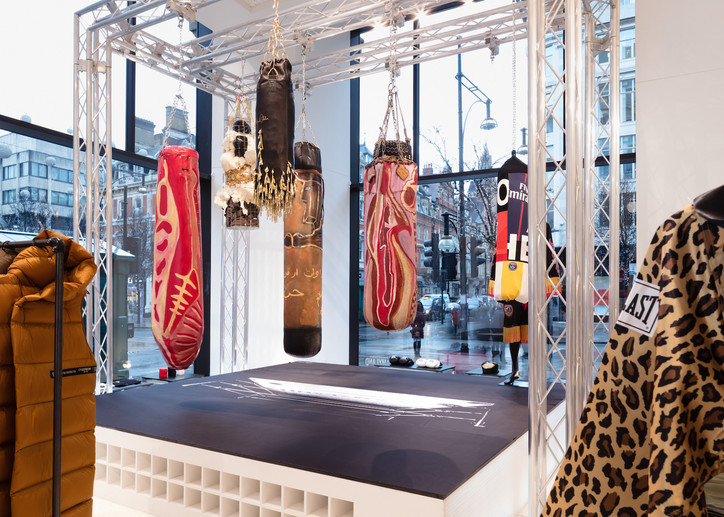 The set up begins with a boxing club in the Selfridges store, which is based on the 'very boxe versus very chic' project she had presented at the Venice Biennale 2017. The idea was for a collaborative jewellery collection, but in true form, Lamy's final result is fully amplified— unfolding in a radical revolution of the retail space that brings together two of her interests, boxing and art. It is bold, and multifaceted, much like Lamy herself. 
Incorporating the artistic aspect, Hugo McCloud has installed a series of punching bags, previously presented by the artist in his exhibition, "Veiled". Further re-interpreting the installation for The Selfridges Corner Shop window display, Lamy has congregated an abitious crew of artists and collaborators who have come together to customise the punching bags— offering an opportunity for expression to exist in an otherwise commercial space. Inspired by the brand slogan of Overthrow NYC,  "What are you fighting for?", Lamy's interpretation speaks to the spirit of inclusivity, inquiring, "What are we fighting for?". 
For the first part, yesterday Lamyland launched multiple capsule collections of boxing equipment, by brands such as Stephen Jones, Koché, Nike, Edward Bess and Rick Owens, who have created an exclusive collection of boxing activewear, equipment, memorabilia, jewellery, fragrance and art.
Special edition collaborations with brands including Versace, Craig Green, Everlast, Off-White, Gareth Pugh and Sacai will be presented, with exclusive drops arriving in-store throughout the three month residency. There will also be a small sparring ring within the space. The second part launches in February Selfridges space fully functioning boxing gym. 
Those lucky enough to get in will be able to take part in workshops, an open training schedule and multiple events hosted by Lamy and boxers like Anthony Joshua and Nicola Adams. a partnership with BXR London in the Selfridges Ultralounge.