Sign up for our newsletter
Tree of Life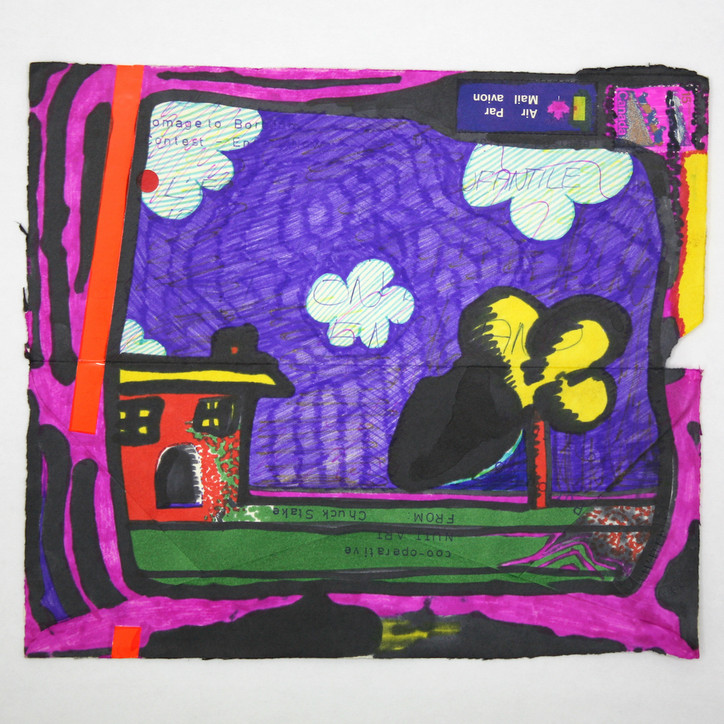 Be sure to become further acquainted with Genesis' story, and check out the show before it closes, February 4th. 
London is Burning
How splendid and exotic are these enduring creatures of the night, don't you think? To meet their compelling gaze is to feel the story of a worldwide wonder: the slippery crux of what it means to be male, female and alive.
office spoke with curator Vincent Honoré about this fabulous exhibition.
It feels important that the works are self-portraits—how did this choice inform the show? Are these essentially elevated selfies?
As drag is about freedom of choice, firstly how an alter-ego is created and what kind of meaning is attached to an alter-ego, it was important for the artists' work to speak their own language. It was also crucial for the exhibition to belong to the community of drag, and to avoid any voyeuristic approach. In the self-portraits, artists are both object and subject: one of the possible definitions of drag.
The span of the show goes back to the '60s. How do you feel drag has changed since then? Are there examples from before then that, if you could, you'd like to include?
Drag became much more widely used from the 1960s, which is the starting point of the exhibition. It coincided with the rise of performance art, and with visual art's engagement with feminism and the civil and gay rights movements. Artists are turning their attention back to drag for the same reasons: because drag is by essence performative, and is a critical tool enabling artists to engage politically with society. As well as parodying and unsettling the very idea of gender, drag is also able to reveal and undermine other systems of oppression. In this exhibition, visitors are able to track several societal changes or issues in the exhibition: feminism with Valie Export and Eleanor Antin, civil rights with Samuel Fosso, gay rights with Luciano Castelli, and the AIDS crisis with Hunter Reynolds. Ming Wong uses drag to critique the depiction of cultural and racial stereotypes, while Jo Spence, Cindy Sherman and Paul Kindersley touch on class and consumerism. In the light of current societal debates and identities, drag has become a relevant way for a growing generation of artists to​ take on​ political dimensions.​
If the exhibition would have explored art before the '60s, I would have included three particular artists: La comtesse de Castiglione, possibly one of the first bio drag in my opinion, Marcel Duchamp and Claude Cahun, who created some drag king images in the '20s.
Above: 'His Majesty The Queen,' Hunter Reynolds, 1973 and '24 Heures dans la vie d'une femme/Phantasmes La Maternite,' Michel Journiac, 1974.
I do drag myself, and I often feel like drag queens are taking over the world. What do you think it is about drag queens that are so magnetic for the modern moment?
Drag queens and kings have always been magnetic, not only for our modern moment. Look at the Harlem Renaissance, in particular Gladys Bentley, for instance. Drag is fascinating because it hides and reveals at the same time, touching upon theatre, cabaret, music and fashion.
If you did drag, what would your name be?
I never thought of it! I asked my partner, who suggested 'Bobby Cleo'.
Are there any good drag clubs in London?
Of course, London is one of the most vibrant drag scenes in the world.
RuPaul once said, "You're born and the rest is drag." How do you feel the show engages with this idea?
Drag allows a perpetual transition and a constant transformation of oneself. Drag kings, drag queens and bio drags not only offer a sharp and humorous parody of genders, they also question the notion of originality and the essence of social constructions. Drag reveals systems of oppressions, and proposes endless alternatives to reinvent oneself.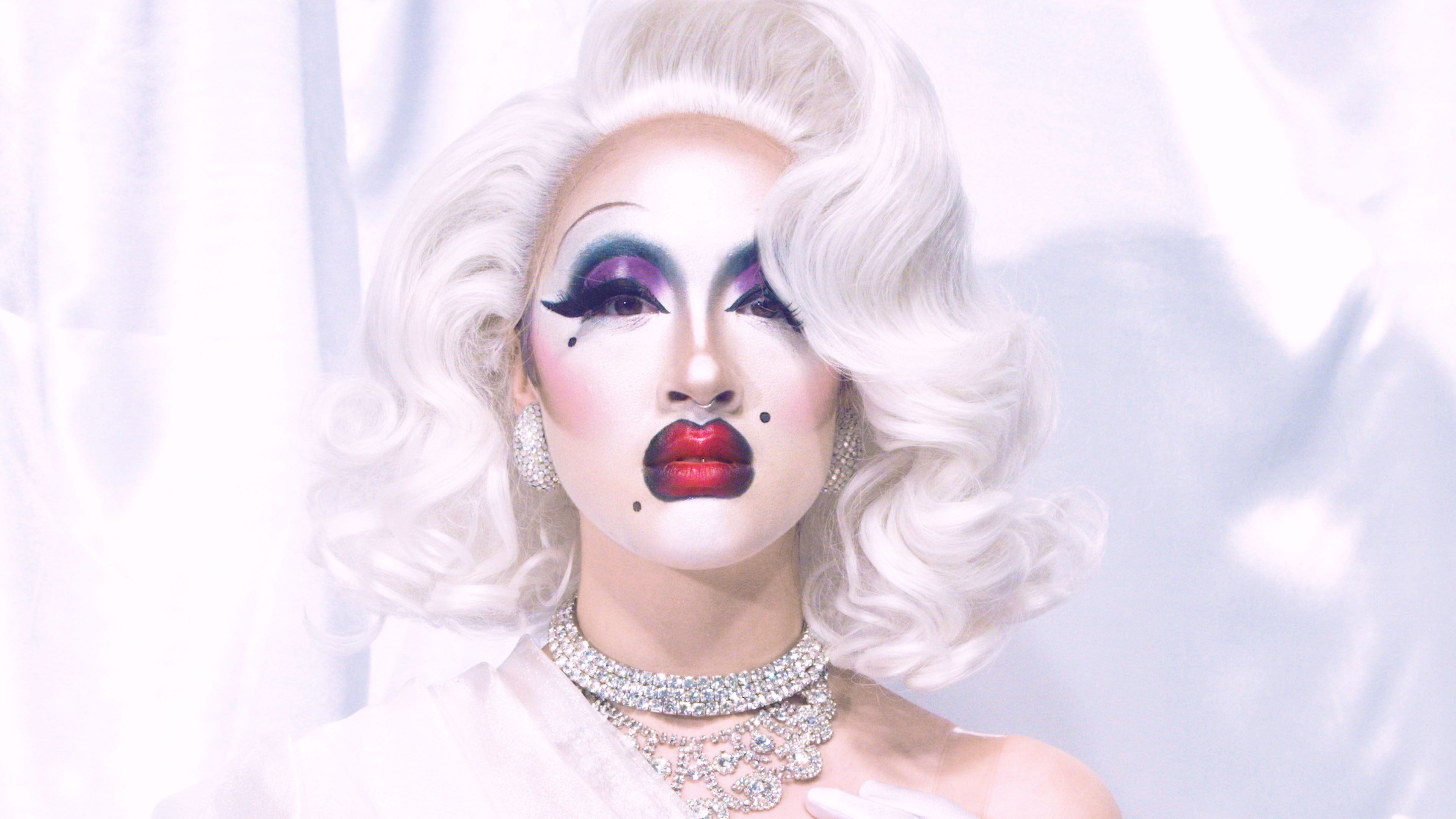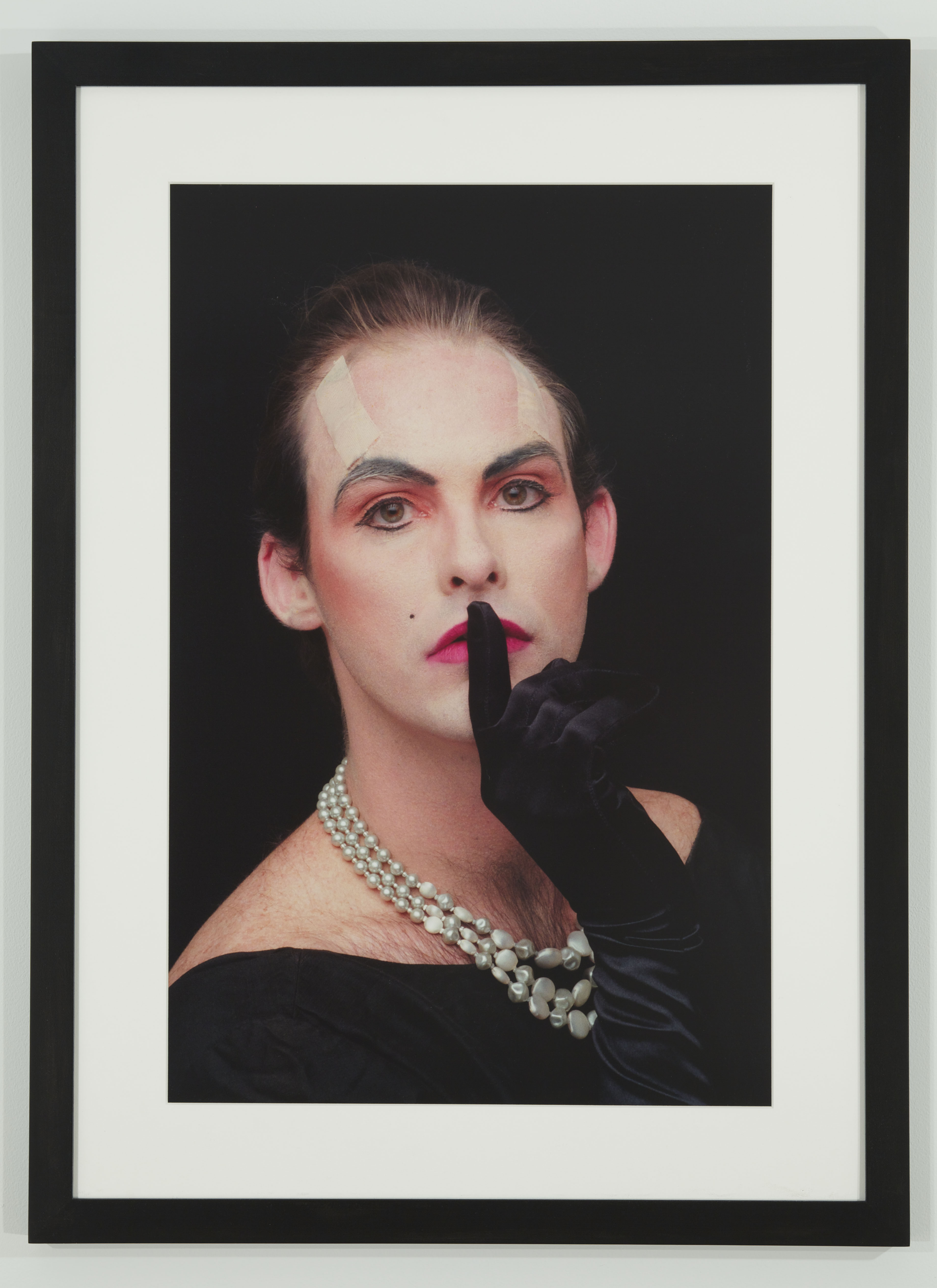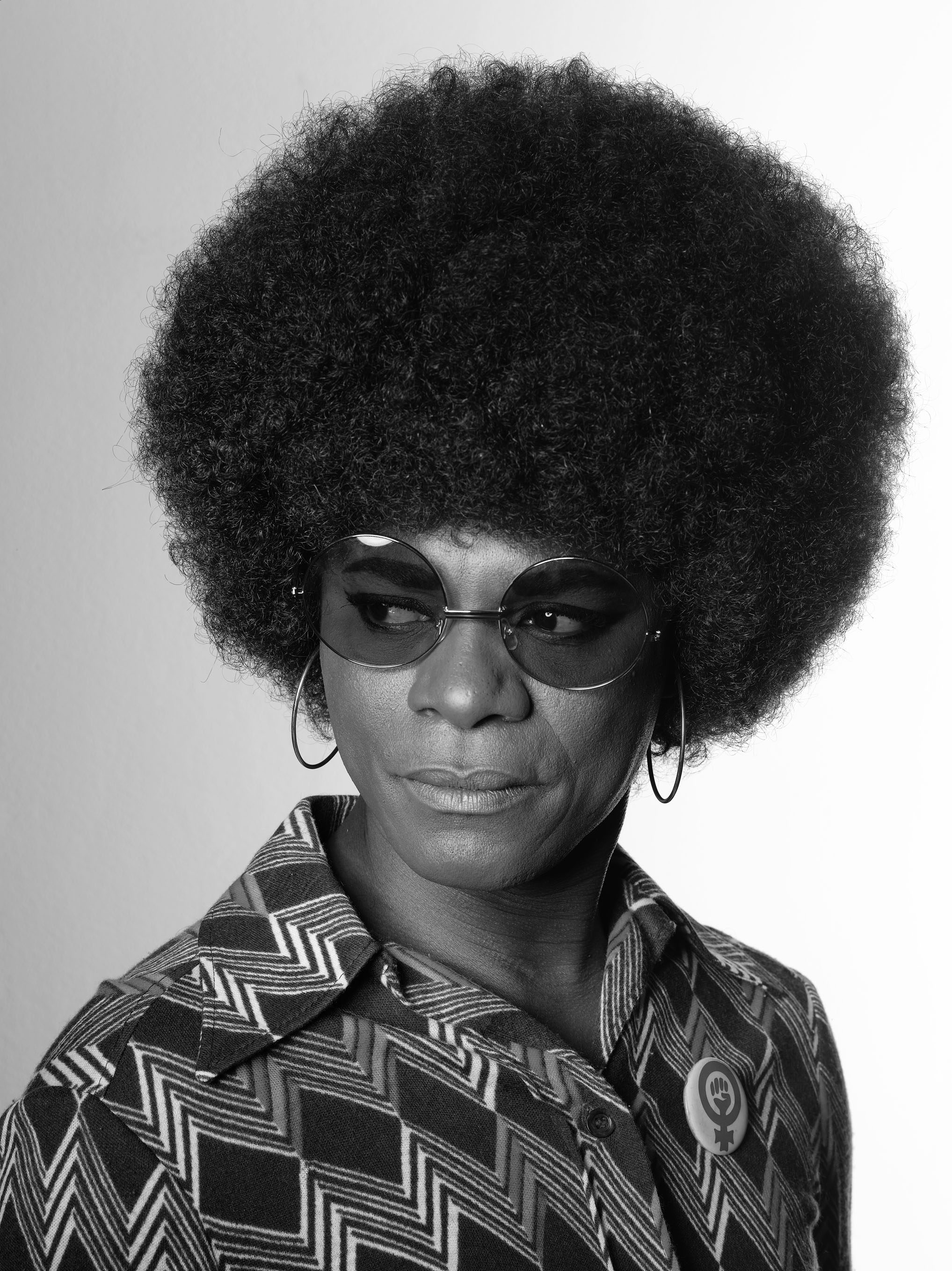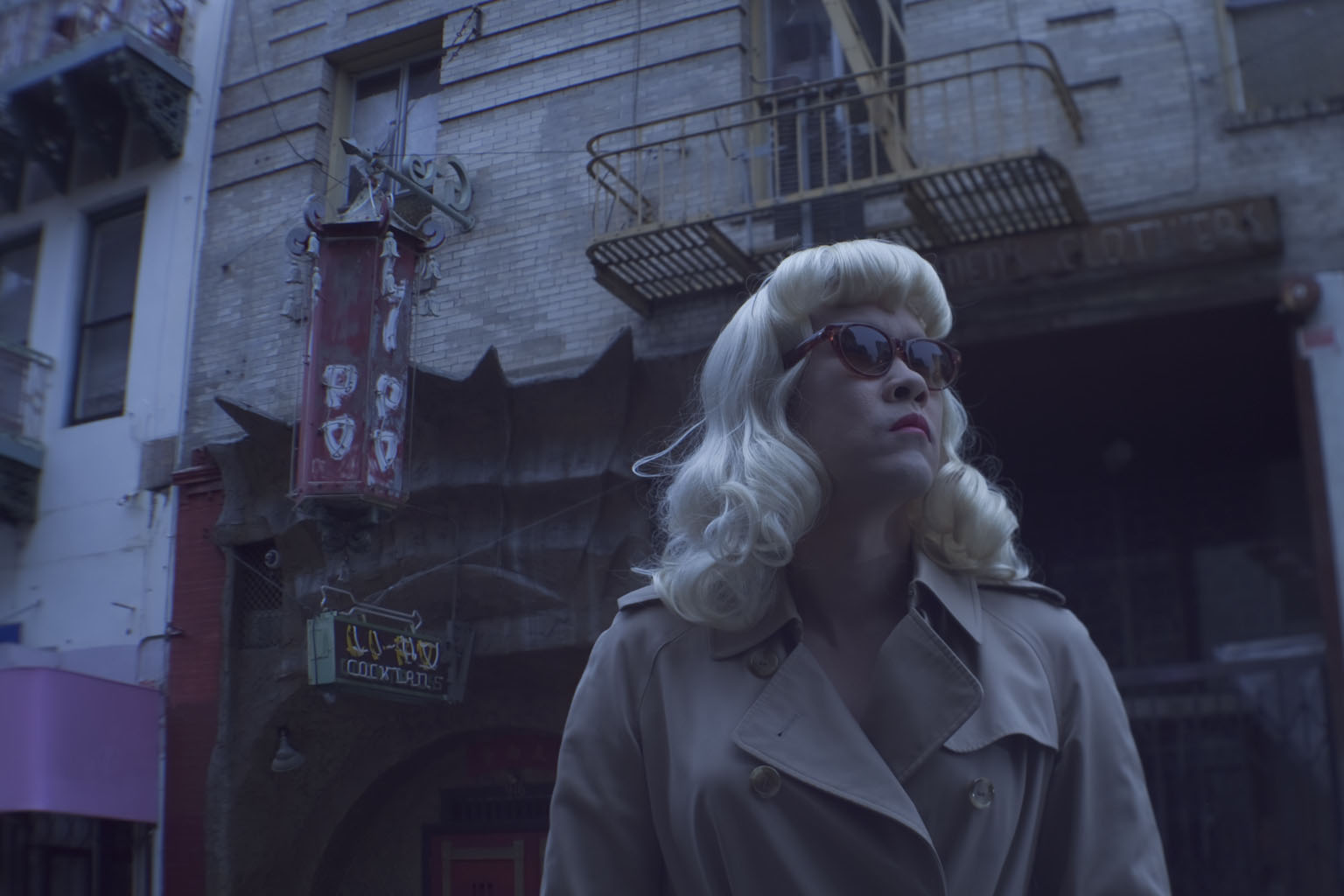 Lead image: 'Renais sense (White Mask),' ULAY, 1974/2014; all courtesy of Hayward Gallery, London.
'Drag: Self-Portraits and Body Politics' will be on view at Hayward Gallery in London through October 14, 2018.
Creature from the Black Lagoon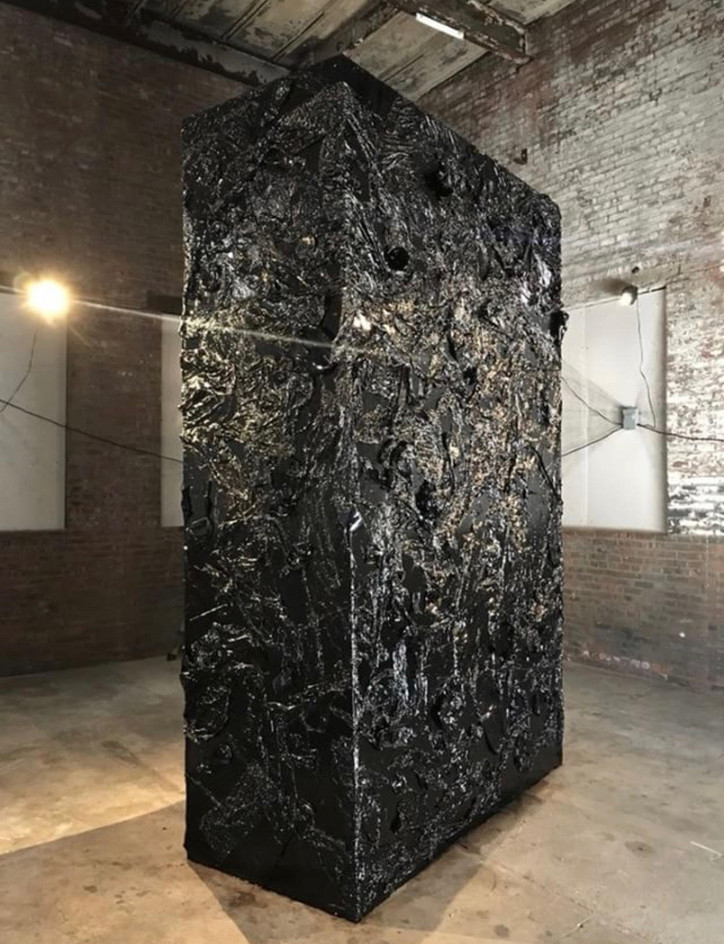 Can you tell me about the piece you did for The Chimney?
My exhibition is about the environment around The Chimney, especially the creek near the gallery. This creek is polluted—it's the most polluted creek in the United States—and I was very interested in the subject. So, instead of bringing in some works from afar, I proposed to make a site-specific work for this exhibition concerned with the creek, which has been polluted since the 19th century because of the petrol refinery. So, this creek is very polluted by petrol, back to the Industrial Revolution. I work with materials like coal, and coal and petrol are the same family, sort of—they're fossil fuels. So, I thought, 'Maybe I could work in the same idea through petrol this time.' So, what I've done, I've built a kind of Shinto shrine for all this negative history of this creek, and what's floating in it. It's not to clean the creek with my work, but to purify the creek by the spirituality of this dark history.
It reminds me of something ancient.
Exactly, the title of the sculpture is 'Monolith.' I decided to make a monolith that suited this space—The Chimney has quite a high ceiling. Actually, this building was made as a petrol refinery. It's an ancient power plant.
Do you always draw from things around the gallery?
I like to work site-specific, but not every time—it depends. Usually, I like to work on a conceptual level with the environment.
What drew you to this project?
I was interested in where this pollution was coming from, and what's going on now, and what we're going to do after. So, I made a shrine to this dark history, to here, to what's going on, what happened in this creek, and I picked up a lot of garbage on the street around this creek to construct the Monolith—I picked up a lot of plastic garbage.
Is it a shrine to garbage? Is garbage the god of the shrine?
Yeah, kind of. There was a lot of plastic around the creek, so I picked up a calculator, bottles, even forks and knives, dental floss, very quotidian objects I found around the river—and I covered it with tar. It's the same material as petrol—so everything in the sculpture is made by petrol.
Do you think these little plastic objects have a certain spirit to them?
While I was producing this Monolith, I didn't think there was a spirituality to this sculpture, but after I made it, I made a fresco on the walls near the windows, and actually this fresco is connected to all the electric power, which illuminates the space. And these are all connected with one cable—it's just like the shimenawa wire that hangs in a Shinto shrine in Japan. So, this electric cable surrounds the sculpture to charge the spirituality of the negative history.
So, the wire is connected to the lights?
Yes.
How is it similar to a Shinto shrine? I don't know much about them.
I was inspired by Shinto shrines for this installation. The wire helps to divide the spirit world and the human world, and also it helps to charge or keep the energy in the space. In Japan, there's a lot of huge trees that are roped by large wire or rope to keep the power in. Since Fukushima [nuclear disaster] in 2011, I think about how I use electricity and power in my work. So, this is a good example of how I treat electricity and power in my installation, because after Fukushima there was no electricity, and most Japanese power plants run on coal. So, fossil energy, and today we still use petrol to create electricity—even in New York, they use mostly petrol for electricity still.
Have you ever considered using something radioactive in your work?
Not really, because I'm not interested in nuclear power, I'm more focused on fossil fuels. After Fukushima I didn't know where our power was coming from. I realized it was so stupid to use nuclear power for electricity. We're using nuclear power just to boil water, to turn on the lights—it's such a simple thing to produce energy, why do we have to take so much risk just to produce energy when we can use solar or hydraulics?
I was very curious why we use coal and petrol, which produce so much CO2, but we use it because actually fossil fuels are made by ancient living things, like plants or animals, which are accumulated after they pass away. So, with this accumulation of energy, we remove it from the ground and then we burn it, so all the ancient powers are expanded today—that's why we have so much energy in petrol or coal. But instead of energy we produce a lot of CO2, and the carbon from CO2 is a trace of these ancient living things. I think we release the CO2 as a kind of spirit energy. I don't feel that it's good to release the CO2—it's just a question of should we release all this CO2 or let the fossils sleep in the ground? I tried to reveal the actuality of the situation, the real history.
It reminds me of diamonds, because that's the next rung on the carbon ladder. Have you ever worked with diamond?
Not yet, because of financial problems, but I've worked with other carbon materials, like lead, carbon graphite. I like this exhibit because it really has to be experienced in person—there's the smell of tar—you have to feel it with the five senses.
Is there sound?
I make a lot of sound works, actually. But sound was an important part of this exhibit, too, because I opened this huge gate—not enough to allow a human to pass through, but it's an open gate to let the spirit enter the sculpture. Also, The Chimney is placed in front of a big avenue, so there are a lot of cars passing through. So, the sound of the cars is very important.
I love that little detail.
There's lots of hidden details.
Above: The Chimney in Brooklyn; all photos courtesy of the gallery.
'Seek Hope, Who Enter Here,' will be on view every weekend through October 21, 2018.
'
Harlem Remembers The Bronx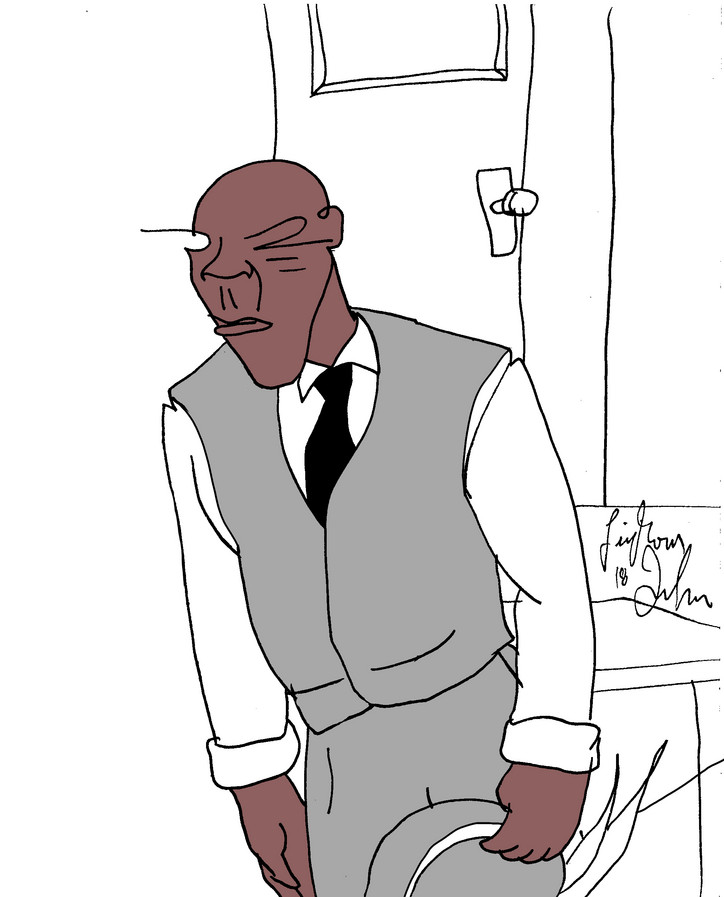 The police arrived, he writes. They taped off the area with the yellow police line bullshit they use for occasions of the like. They asked us questions. One officer was in my face. He was demanding. 'What happened?! What did you see!' 'I ain't see shit! What would you do if you were working in a restaurant and some crazy mother fucker pull out and start shooting everybody?! Would you stay there like: 'Oh. Umm. OK. Uhh. Lemme stay here so I'll have something to tell the police when they get here. Fuck no! Get the fuck out of my face!'
The officer left me well alone. He must  have felt like an ass.
We watched John Brown get arrested. They handcuffed him to a stretcher and carted him off. A day later he made the news. Just like his uncle. Who was also names John. Not Brown but Luger. I didn't give a fuck about them. I had a fine woman, no job and rent to pay. SHIT!
Harlem Remembers The Bronx is Johnston's ode to New York City. And we can't get enough of it.
Peep some excerpts, below.
'Harlem Remembers The Bronx' is available now via Paradigm Publishing and will celebrate its official release tonight at The Flower Shop in New York City.
Photos courtesy of Paradigm Publishing and the artist.