Sign up for our newsletter
Unclean Lines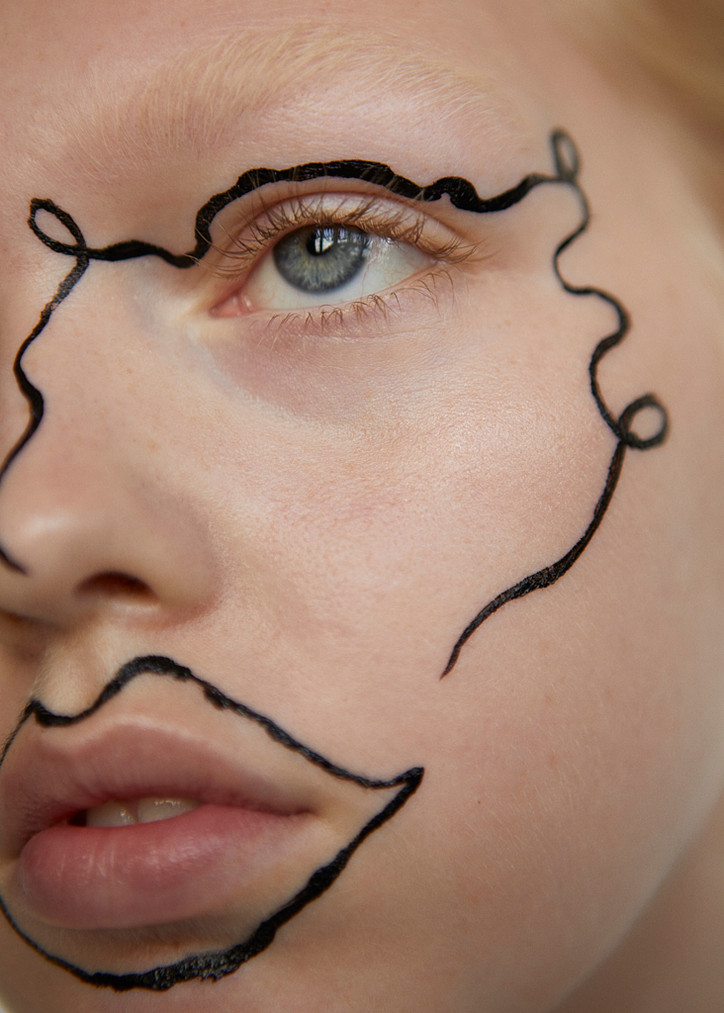 Check out the rest of the images below.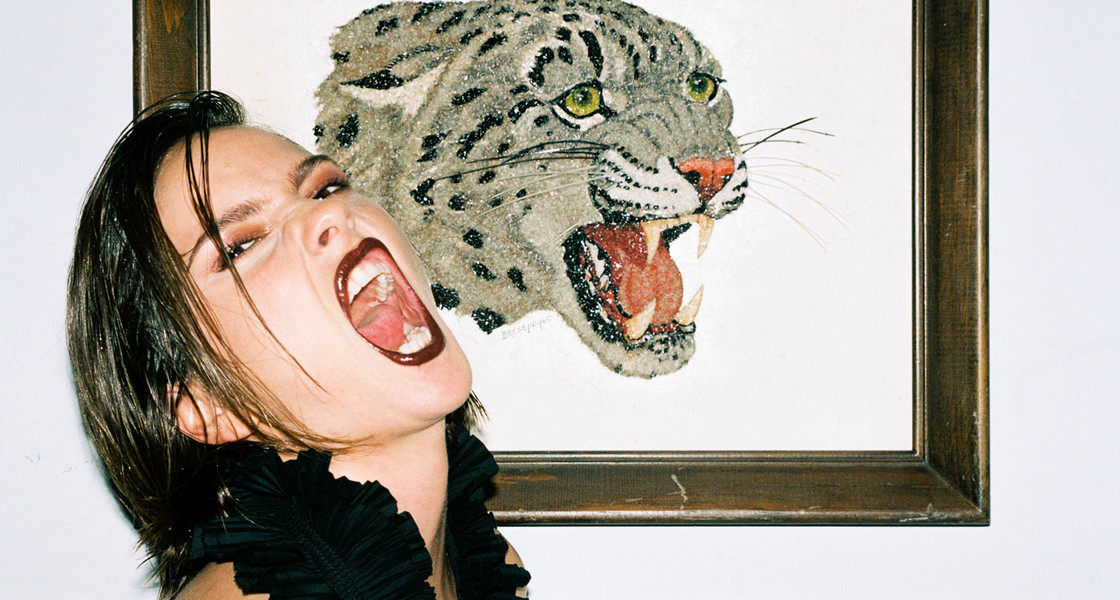 Shelley Hennig Is Not Your Girl Next Door
Ever since her Miss Teen USA years, we've been imagining Hennig as the older sister we always wanted. You know, the one who would give up the best hand-me-downs and teach us how to apply liquid eyeliner, all while spilling the beans on her latest crush. 
Speaking of, we had to know:
Left - Green dress by Kenco Korp, earrings by PR SOLO.
Right - Nude dress by PR SOLO and Serpenti, shoes by Amina Muaddi.
Who was the childhood celeb crush that you're now friends with? And how long did you wait 'til you changed your IG bio after becoming friends with them so that it didn't make it weird? ;) 
Ahahhahahahha! JTT. I've been friends with Jon for a while now. And last year, I was re-capping my life in my head and when I got to the part where I became friends with my childhood celeb crush, I became so happy for pre-teen me. He does not know that I used to sketch his face using posters of him from Teen Bop magazine, and he still won't know, because he's cool as hell and doesn't pay attention to the Internet. He's the best. We bond over '90s country. 
What's your favorite part about working on DollFace? 
My first thought is Kat Dennings. She is a goddess. But I've said this so much, I should probably stop now—it's starting to look weird. Second thought is it's always cool to be a part of a show that is the type of show you can't wait to watch. And Dollface was so good! It has a unique and modern voice (thank you Jordan Weiss). It also has a literal cat lady. Like a woman with a cat head. Played by Beth Grant. Uhh, I love it. I loved everyone involved. I'm relieved more shows like this are getting made. It feels like there's less of a mold now.
Congrats on your new role in the NBC comedy pilot Crazy For You! What can you tell us about it besides that it's executive produced by Lorne Michaels and Seth Meyers?
I can tell you that I'm really excited about it. Feels like the moment Cinderella's foot fit that glass slipper. Crazy for You was written by Rachele Lynn, another SNL creative, and she's written on my two favorite shows—Pen15 and Baskets—so I love her.
I play Daisy, and it's about Daisy re-entering the dating world once she discovers her ex has a long time ago, and she's rusty AF. Her friends aggressively help her manage this new "quick-to-dismiss" dating culture. She really just wants to be herself, but her friends advise against it. Rachele told me it gets pretty dark. God dammit I'm excited.
Left - Styling by BCBG.
Right - Nude dress by PR SOLO and Serpenti.
The pilot's been postponed, but it's nice to have something to look forward to once the world is back on its feet. What's your go-to quarantine binge watch at the moment?
Well, I had already binged 10 seasons of Friends and five seasons of Love Island before the quarantine, so I was really pissed at myself and was wondering what the hell I was going to do. I don't think I will be finishing the rest of the Love Island seasons. I became an addict, and to be honest, too many people from that show have since died. I feel weird about it, and it makes me sad.
In better news, I have discovered Netflix's Tiger King, and Joe Exotic is now my new favorite fashion icon. I really relate to his wardrobe and can't wait to dive into this deeper when we go back into the physical world. I am also passing time with Virtual Piano. I noticed everyone is brushing up on their music skills, and I felt left out, so I started thinking if I could play piano online by typing, I could also make music. (I have a very high WPM, and this includes accuracy.) Then I Googled it, and of course it's possible online! Virtual Piano lets you type the music using music sheets with the English alphabet. I may start entering the online competitions.
What's your star sign, and how accurate is it?
Capricorn. Omg, I just read, "Brave enough to never run away, but constantly afraid of their inner monsters." I feel very exposed. It also says Capricorns are responsible, disciplined, have self-control, and truly believe they can achieve anything with hard work. Oh, this made me laugh: "Capricorn dislikes: Almost everything at some point." All pretty accurate and mom-approved.
What's the one beauty product we'll always find on you?
LUCAS PAPAW OINTMENT. Great for my lips. Then I put the rest on my elbows to clear my fingers, and it gets all over my leather car seats which I believe is okay. I use it so often I should probably look at my real problem—dehydration. Or I can blame the desert.
Is sustainability an important consideration in your beauty routine? 
It has become a part of my routine since I just stopped buying shit. We all have that one drawer or closet, filled with products and makeup we don't use. I'm currently going through everything I have in the house before I buy anything else. Throw some alcohol on that old MAC eyeshadow palette from 2009, and call it a day. As my dad says, "It ain't gonna hurt ya."
Left - Nude dress by PR SOLO and Serpenti.
Right - White pearl glove by PR SOLO.
How do you practice self care while managing your huge social media following? 
Hmm… it's not the following so much as it is "the pressure of posting." I could take it even further and say "the pressure of having a social media account." I struggled with the idea of even being a part of it some years ago, but it became inevitable. I'm pretty private in regards to my personal life, so I see my social media accounts as more of a creative outlet.
You've had a lot of roles and titles: Miss Teen USA, Stephanie Johnson on Days of Our Lives, Blaire Lily on Unfriended, Malia Tate in Teen Wolf, among many, many others. What are you most proud of?
Wow, that's a fun rabbit hole! I'm proud of all of them, even the ones where my hair is massive, and my eyeliner is thick as hell. I think what's funny about the roles you've mentioned is that they're all teenagers. I've made a career playing a teenager for a decade while being an adult, and though I loved it, I think I have finally graduated. The only teenager I could play at this point is one from PEN15. 
What's your go-to nail color/shape/design/everything?
"Short, round, and bare," I say for nails. My favorite nail artist is my friend Michelle Saunders. She's amazing and pure, but I also follow @iamzoie, and he posts video commentary of some bizarre nail "art" that he finds online that'll make you question beauty and life itself. This is probably the stuff your kids were binging on YouTube even before the quarantine.
What's one beauty tip you've kept with you from any of your roles? 
I have learned over the years that sometimes less is more.
Cover image - Styling by BCBG.
Princess Gollum Goes Offline
As a child she knew she was different, and she took pride in that, defying negative comments about her looks with what she knew to be true in her spirit: "I didn't understand why people would put so much value in the way you were born… Those are gifts," she told office. "You can't control the way you look––well, at least not when you're that young, anyway." 
Her attitude hasn't changed, but now that she alone holds the reins on her visage, the only thing consistent about her appearance is its constant state of transformation. A philosopher in latex and chains, Lee keeps it real with us, both on the inspiration behind her aesthetic's signature strangeness and what "beauty" actually means to her. And other pressing matters too, like whether or not Avril Lavigne was really replaced by a clone.
Read our interview with Princess Gollum below.
Catsuit by ASAI, dress by Perfect Number, earrings by Mounser, shoes by Mulberry.
What should we know about you?
That as of 2020, I am hot! Not cute! 
I'm Paris Hilton.
How do you feel about the internet?
There are many days I love it. There are many days, like this past week, I don't. Deciding that during a pandemic, it's best to stay off the internet, but it's nearly impossible, because it's all that we have. If the world ends tonight, know that I love you with all my heart. See you in heaven (or hell). <3
How has our dual existence as a culture online and IRL affected what beauty means?
I think there's always two extremes coexisting and pushing in opposite directions even harder now with this duality. Although the beauty standards have switched to a different look, they've assumed the role of a different standard––but it's a standard nonetheless.
There's another community who are pushing the boundaries in a way that's a lot more open. There is no one face of beauty. The weirder you look, the better. But this gets contrived, too. My goal in all of this is to widen people's perspectives into seeing beauty in everything. Even the mundane. Life is so much more fun that way.
Did you feel beautiful as a kid? 
I grew up with a lot of love but I also grew up being told I was ugly.
It hurt my feelings, but I didn't pay too much attention to it.
I felt beautiful, and I always felt special. No one ever thought like me. 
You can't control the way you look––well, at least not when you're that young, anyway.
I didn't understand why people would put so much value in the way you were born.
You didn't do anything. Those are gifts.
Who you become as a person and what you make with what you're given. That's important. 
Top, skirt and leggings by Maisie Wilen, trainers by ASICS, rings by Spinelli Kilcollin.
Was Avril Lavigne really replaced by a clone?
Is it a conspiracy theory if it's true? 
Not sure if it's 100 percent valid, but she might as well have been. She said she'd never wear preppy clothes, and now that's all she wears. 
But I still love her, and she will always be my #1 Canadian pop-punk princess forever.
What tunes are you rly into right now?
Here! Let me give you my set list from one of the last parties I DJ'ed in LA, until further notice…
Dj Dado - "X-Files"
999999999 - "300000003"
999999999 - "Lost In Jails"
Grimes - "My Name is Dark"
Kelsey Lu - "I'm Not in Love"
Eartheater - "Inclined"
AlphaFox - "spazzonabeat"
Evanescence - "Bring Me Back to Life (ELMS BOOTLEG)"
Purity Ring - "Begin Again (Nightcore)"
ICE UNDERLORD - "DONT WASTE MY TIME"
100 gecs - "ringtone (feat. Charli XCX, Rico Nasty, Kero Kero Bonito)"
Grimes & i_o - "Violence (Club Mix)"
Nightcoregirl - "Take Me"
Dan2600 - "I See Right Through You (nightcore)"
Krewella - "Alive (Svengali Edit)"
CORDIFORM - "ALL NITE"
ICE UNDERLORD - "ALL THE THINGS YOU SAID (DREAM MIX)"
Night Lovell - "Lethal Presence"
Saweetie - "ICY GRL (AlphaFox remix)"
Tay Money - "Tay Money"
Rico Nasty - "Smack a Bitch"
ZillaKami x SosMula - "Shinners 13"
City Morgue x ZillaKami x SosMula - "66SLAVS"
Chief Keef - "3hunna (ryder ripps remix)"
Dana Dentata - "lil blood"
The Original Theme from Blade Blood Rave
What have you found inspiring this week?
Björk always + forever. And Amy Winehouse––I listen and sing and cry to her every day.
What are your predictions for this year?
SPITSNOT
Left: Sweater by Knorts.
Right: Top by GOETZE, pants by Ottolinger, shoes by Celine.
What should people know about beauty?
Less is more.
But more is everyone's favorite amount!
What beauty trend would you like to see die?
Seems like everyone is doing really well with beauty trends right now.
The only thing I'd like to see less of is I guess culturally inappropriate ones––black fishing, Koreaboos. Just be yourself.
What's your best advice re: taking care of oneself?
Don't be too hard on yourself. You're your own worst enemy. If you mess up, take responsibility, apologize, make it right and move on. 
Don't make excuses but also don't guilt yourself to the point it becomes mental abuse. Forgive yourself. Be kind to yourself. Do better next time. (This is something I need to remember.)
Lead image: Top by GOETZE, rings by Spinelli Kilcollin.
Hair Necessities with Palma Wright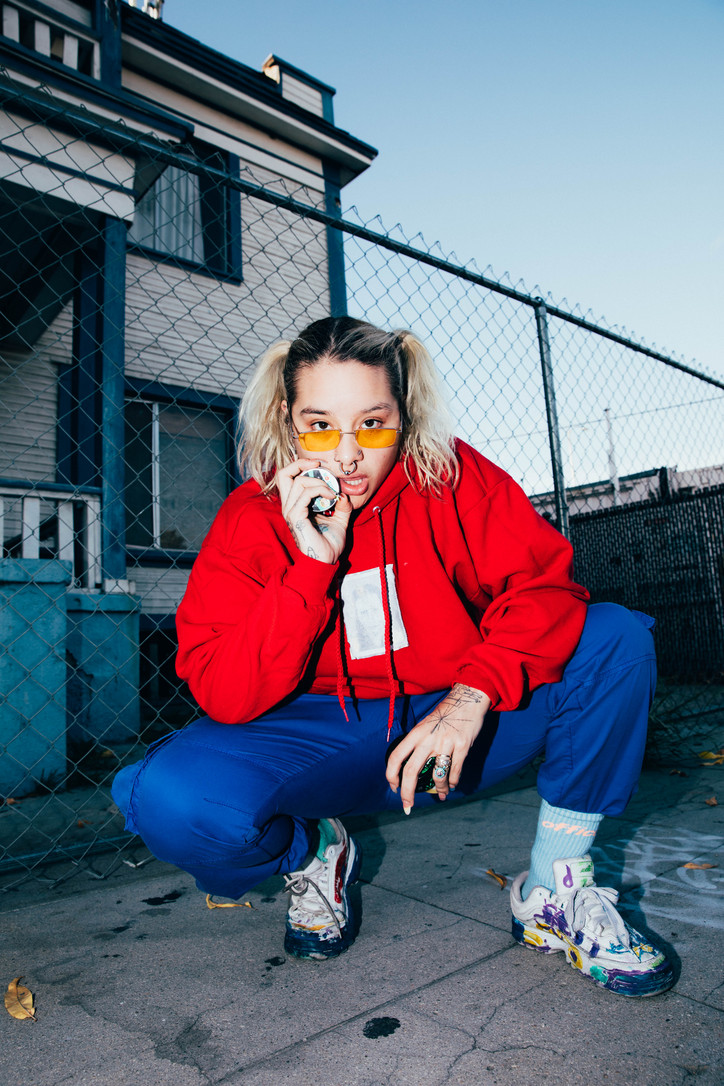 Palma Wright aka @hateboy2 puts her mane to the test—follow along as the Colombian creative reviews three styling waxes for office Beauty Committee. Without futher ado, the all-natural, non-toxic contenders are: Less is More's "Honey Mask," BluMaan's "Monarch Matte Paste," and NO GUNK's "Styling Funk."
Which one has the best name?
NO GUNK.
One is crazy, one is cute and one is cocky?
CRAZY: NO GUNK'S "STYLING FUNK"
CUTE: LESS IS MORE'S "HONEY WAX"
COCKY: BLUMAAN'S "MONARCH MATTE PASTE"
You have to eat one—which one?
LESS IS MORE'S "HONEY WAX."
What's the best part of every product?
THE SMELL.
Which one are you most likely to use yourself?
LESS IS MORE'S "HONEY WAX," BECAUSE IT'S ORGANIC.