Sign up for our newsletter
Urs Fischer: Play
'Play' is open now, until October 13 at Gagosian Gallery in New York City.
Art Scene: Detroit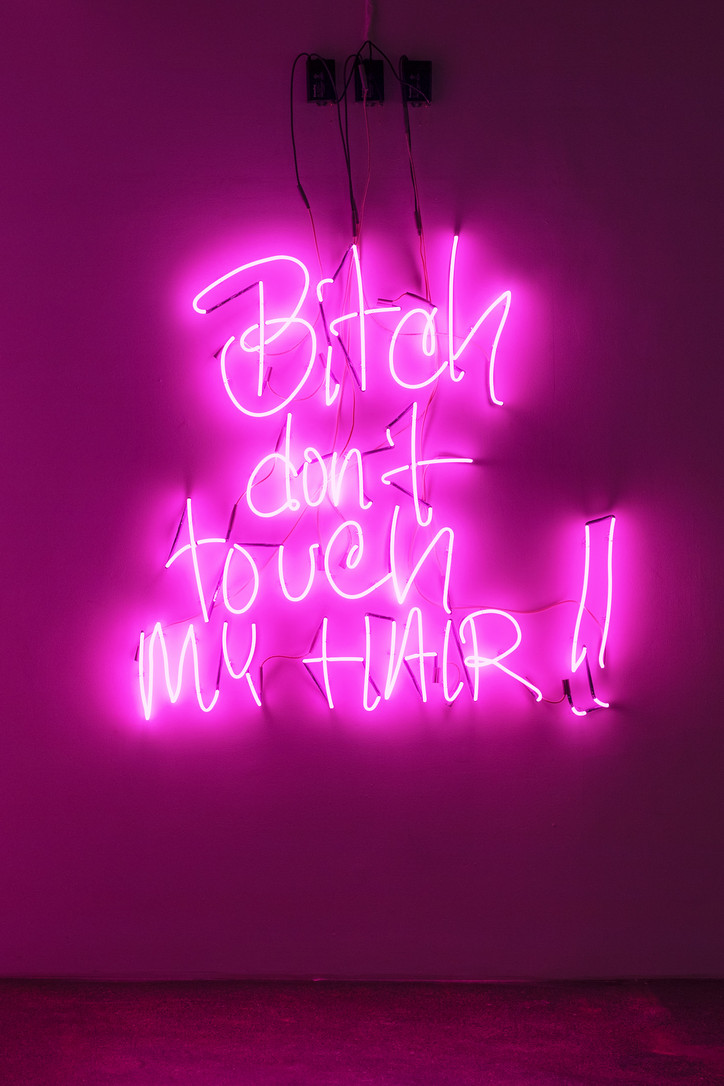 Her hair at the opening was remarkably artful, braids threaded with clear beads from mid-shaft to ends like a heavy Egyptian wig, though I must admit I was happy to admire it from afar. The impulse to touch someone else's hair is strange and the artist's use of it in her work fascinating, since it almost confirms and denies that she herself is a living artwork, one that is not to be touched even if the impulse is strong, but who is also by no means an object, and therefore calls out the impulse itself as a subconscious regarding of the black body as a mere object of wonder by a white audience. The neon message, then, is directed at this audience, while nodding to the black viewers that would immediately understand the sentiment.
Her other works are about hair as well: one attempts to replicate, in its way, the overwhelming nature of a beauty supply: a wall mounted with false hair pieces, all ombréed from a dark, natural-colored root to a Crayola yellow hue—not blonde, but the cartoon version, a distant reference to Eurocentric standards of beauty (blonde only naturally occurs in the white population), but with an almost childlike interpretation. Apt, since the work across is a set of surrealistically-sized pink berets, exact replicas of those the artist wore in her own childhood—remnants of her first lesson in personal adornment. The neon sign's brassy imperative can easily refer to the artworks themselves: "The security guards were saying, 'This is the one to watch, the wall of hair,' because they know how much black women pay for their hair," Massey said with a laugh, though all the hair pieces were synthetic, a choice based both on cost and meaning. She confirmed my curiosity that one hair piece had begun on her own head, the others created specifically for this project with the help of her hairdresser.
Above: 'Proud Lady' 
Miatta Kawinzi's video work directly across from the hair wall makes a germane complement to it: an overhead web of elastic strips sewn together must be navigated through, whether visually or physically, in order to watch the video being projected on the wall, which is obscured slightly by the web, creating an intentional partial silhouette. The web, Miatta explained, is a wall that can be traversed, which relates to the content of the video, derived from the artist going on walks around Detroit and negotiating her way through crumbling walls of abandoned buildings, holes in fences, and other surmountable barriers. She was also thinking of string theory and the idea that you could exist both here and somewhere else simultaneously. Ambient singing plays overhead as well as snaps, a DIY soundtrack recorded in the shared studio provided by the residency. "I came across a text about spiders. I found out that spiders tune the strings of their web like a guitar, which is how they sense their prey. I became obsessed with this idea," the artist explained. Understanding an environment through sound, as well as movement through space being simultaneously restricted and free, which is expressed through her physical presence on the screen, her slow, methodical movements set to her own music, became her central focus—especially in Detroit, where all these ideas actively coalesce (music defines the city, movement defines residents' relationship to it). Poetry enters the work as well, letters dispersed across the screen must be pieced together, the words sometimes coming together, sometimes not. "English is a colonial language. I wanted to find my own relationship to it by breaking it up and specializing it, find a space of empowerment within."
Above: Stills from 'Libration', by Miatta Kawinzi
Patrick Quarm's explorations through African fabrics ask pointed questions about movement as well, but this time across continents. His brother in Ghana, where the artist hails from, sends iPhone photos of fabrics for sale in Ghanaian markets, and Patrick chooses which he likes. The irony is that the fabrics are produced in Indonesia, so right away the artist is thinking about what can really be claimed as belonging to one's culture, and if something can "belong" to a culture at all in a global climate of cultural hybridity. His paintings are crisp portraits that he produces at a rapid pace, consuming himself in the process. Many of the works take on a 3-dimensionality by hovering away from the wall and punched through with holes: "The holes are like reaching back into the memory, it's in the past but we can still find it. I thought of it as a cultural archeology," the artist explained. He's thinking about his own past as well as that of Detroit's, America's, and Ghana's—a clothes hanger from his father's wardrobe is included in one piece, a suit the artist would wear to interviews hanging from it. It's clothing as artifact, a totem to a character one is able to embody through costume. A young man in a pink hoodie looks apprehensively at the viewer, his eyes seeming to understand the loaded nature of the garment he has donned. Every garment has the potential to become as loaded, even just the fabric—beneath the holes the artist has pierced in his pieces, one almost expects to find the skin of a living breathing person, one caught between worlds like the artist himself.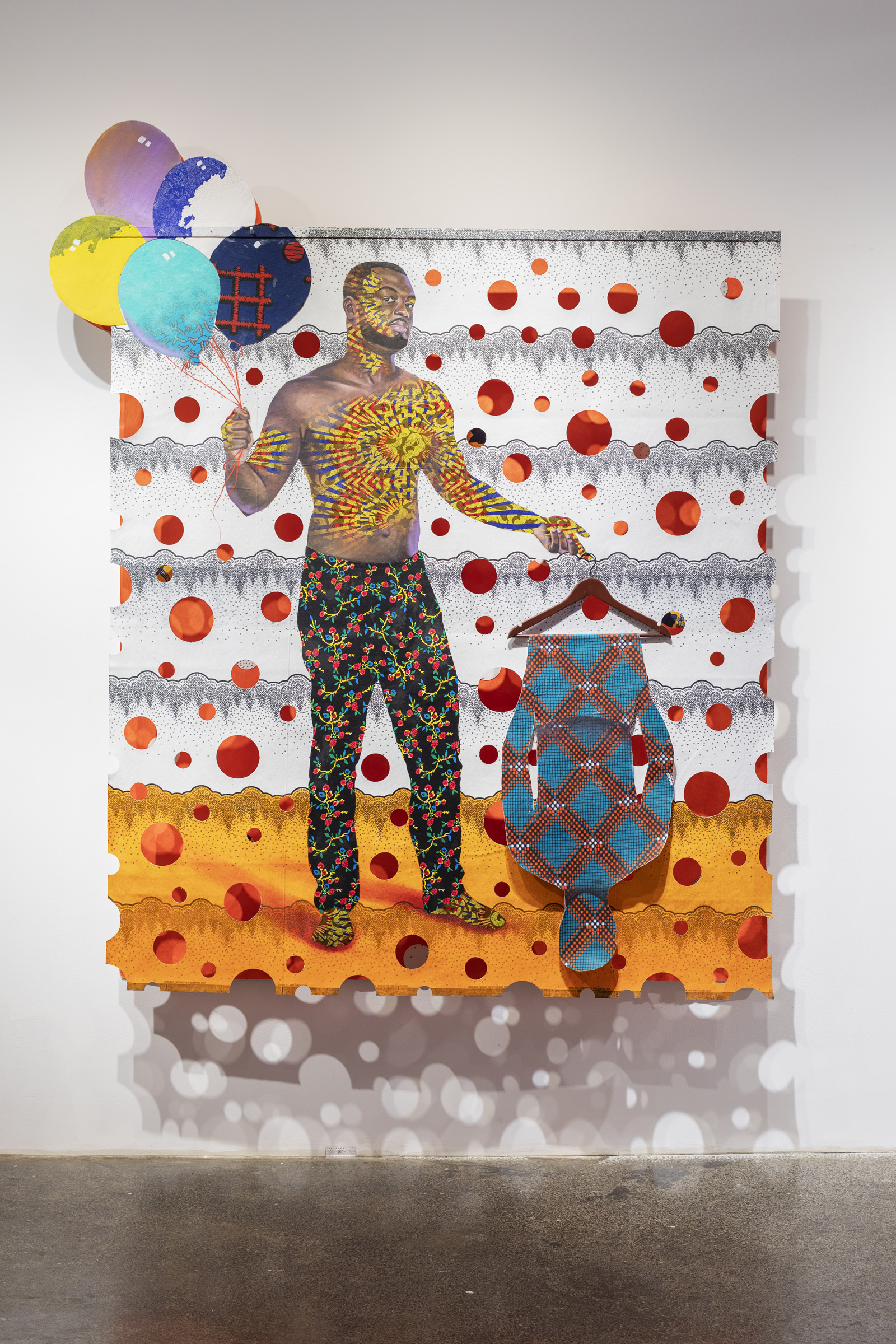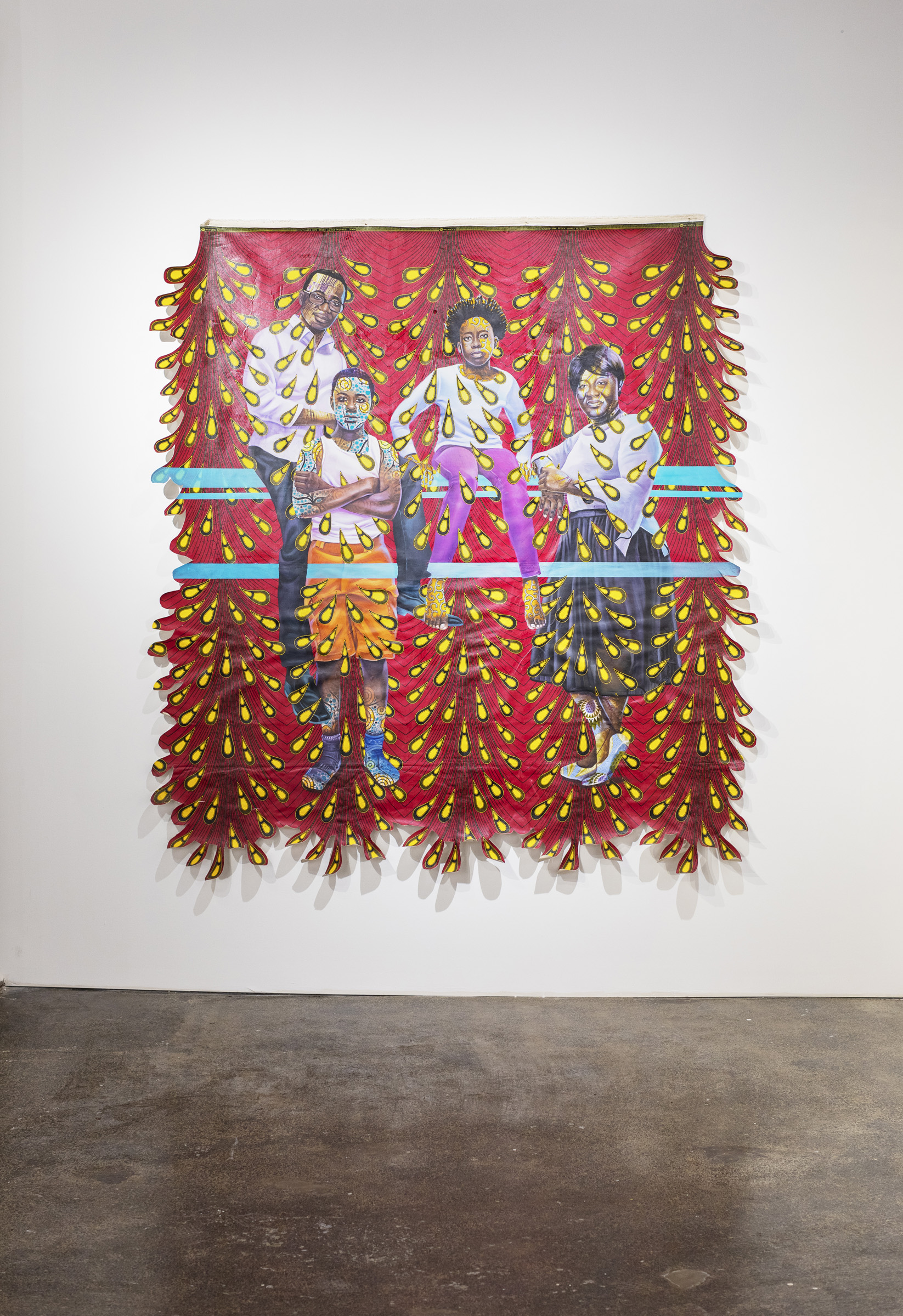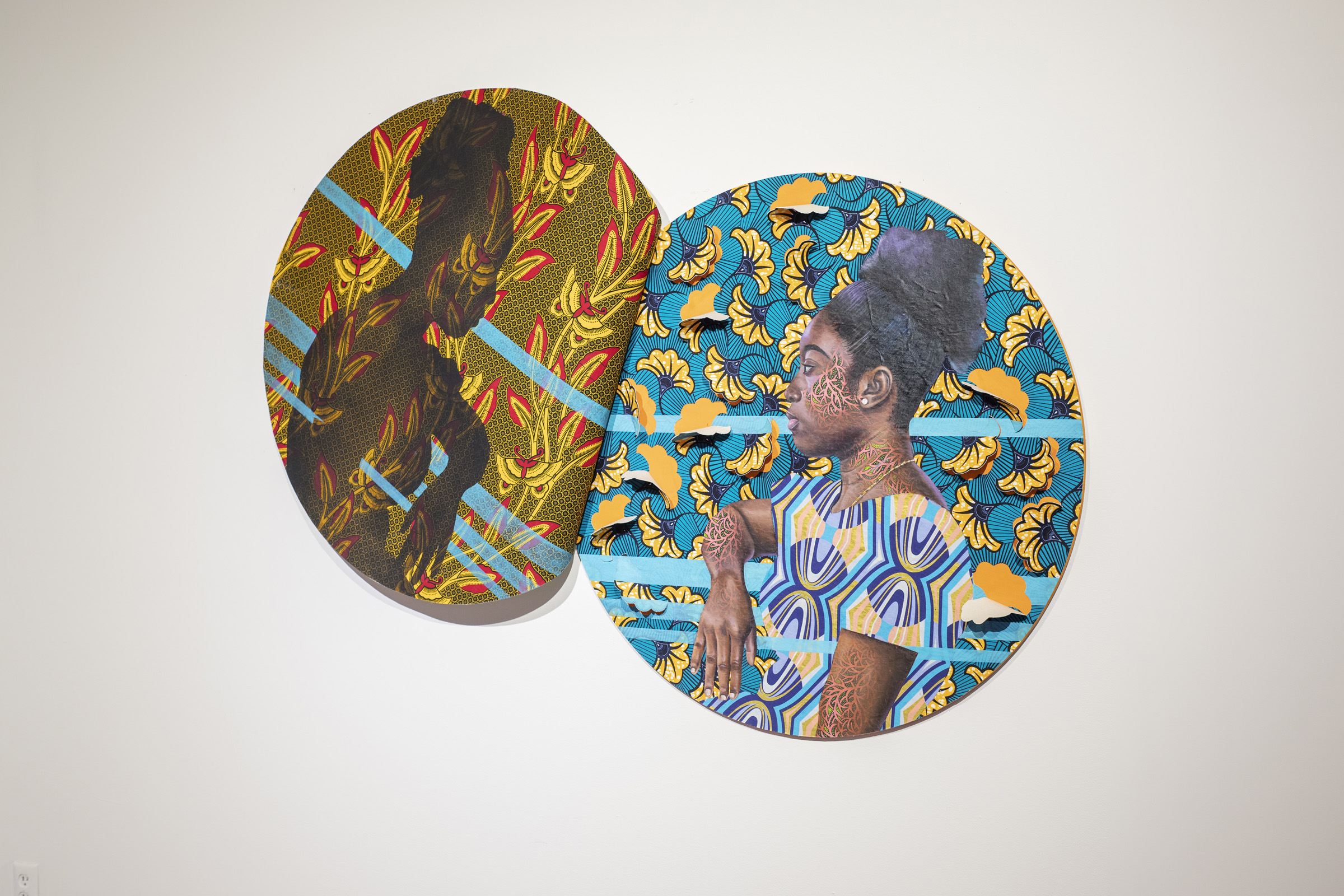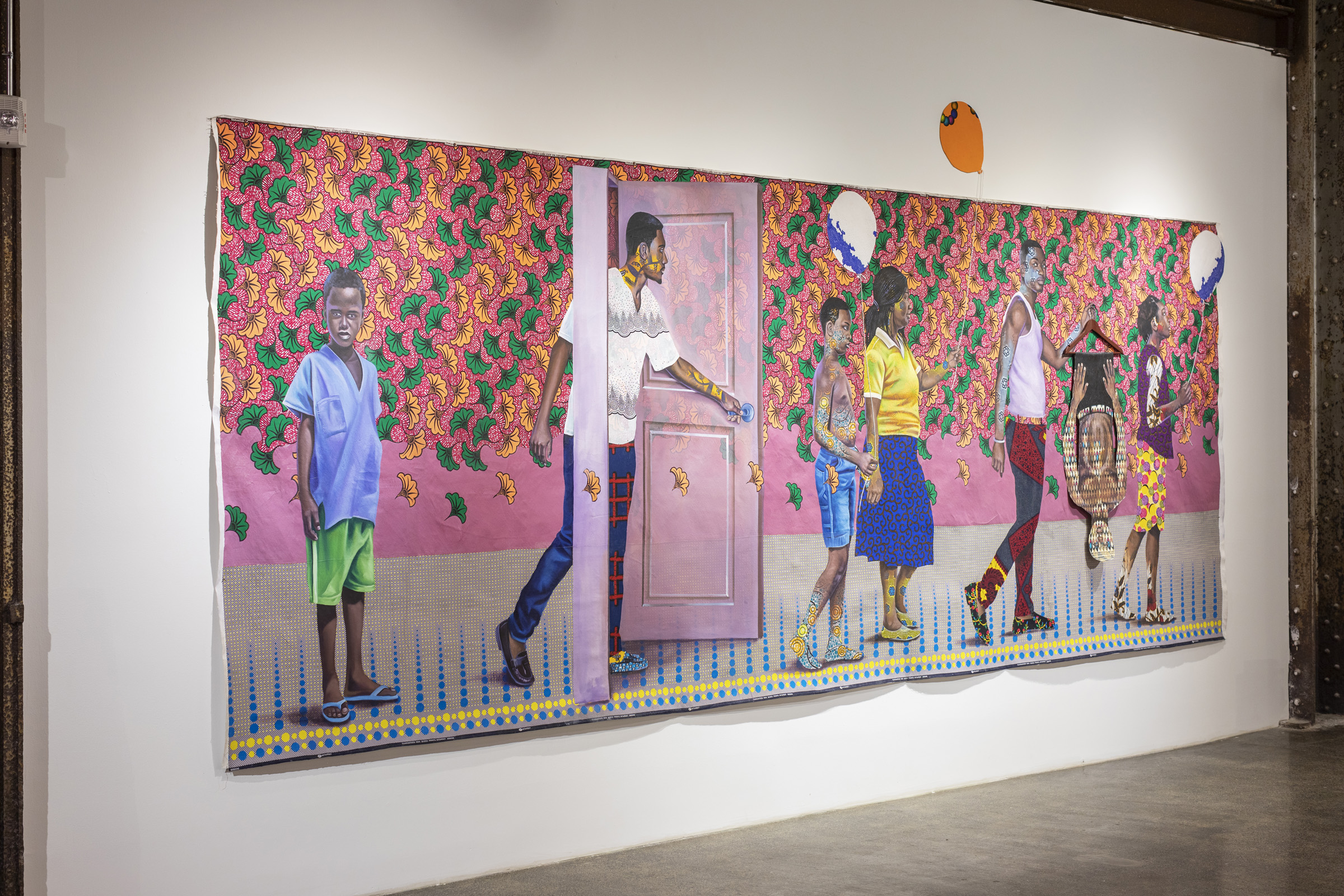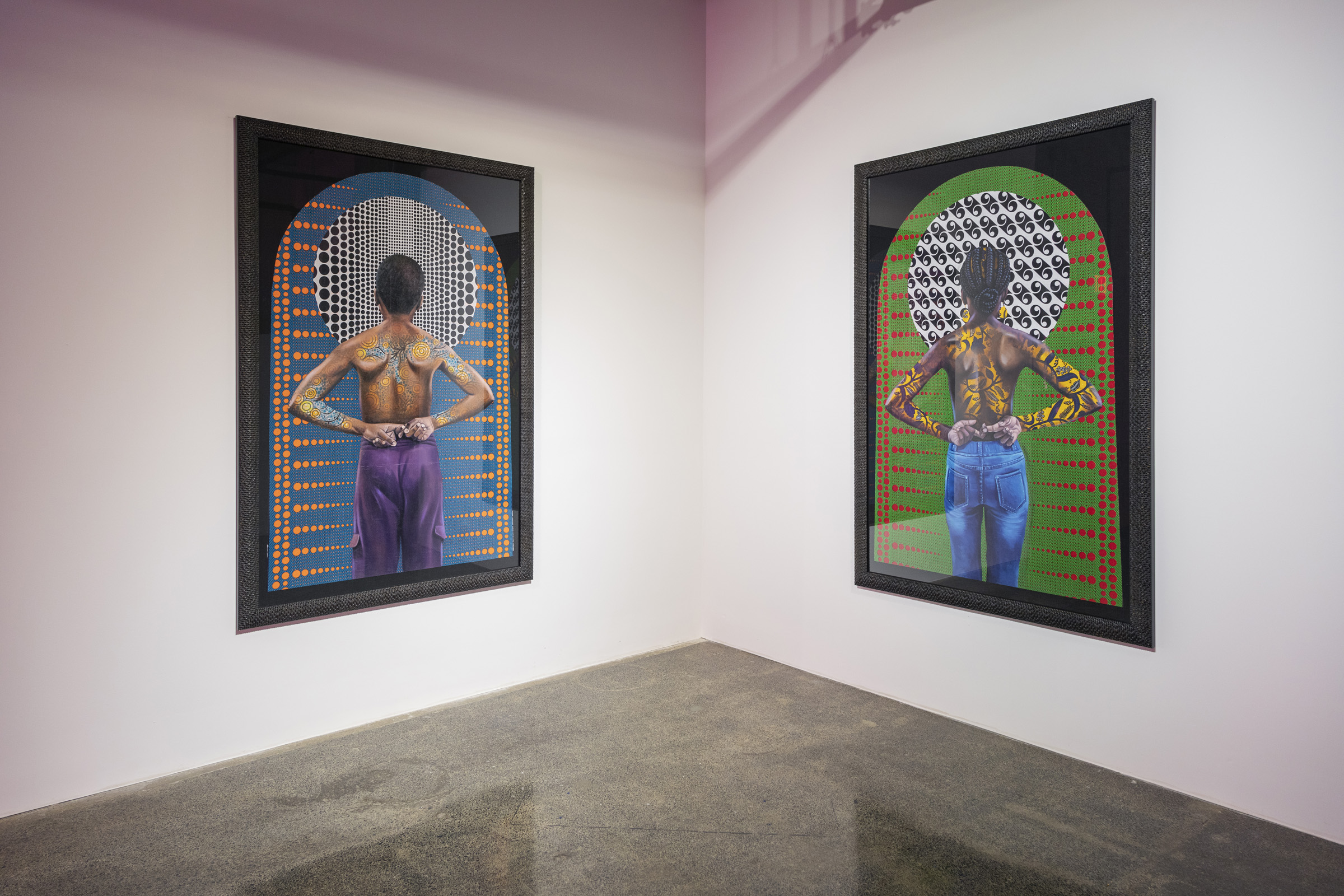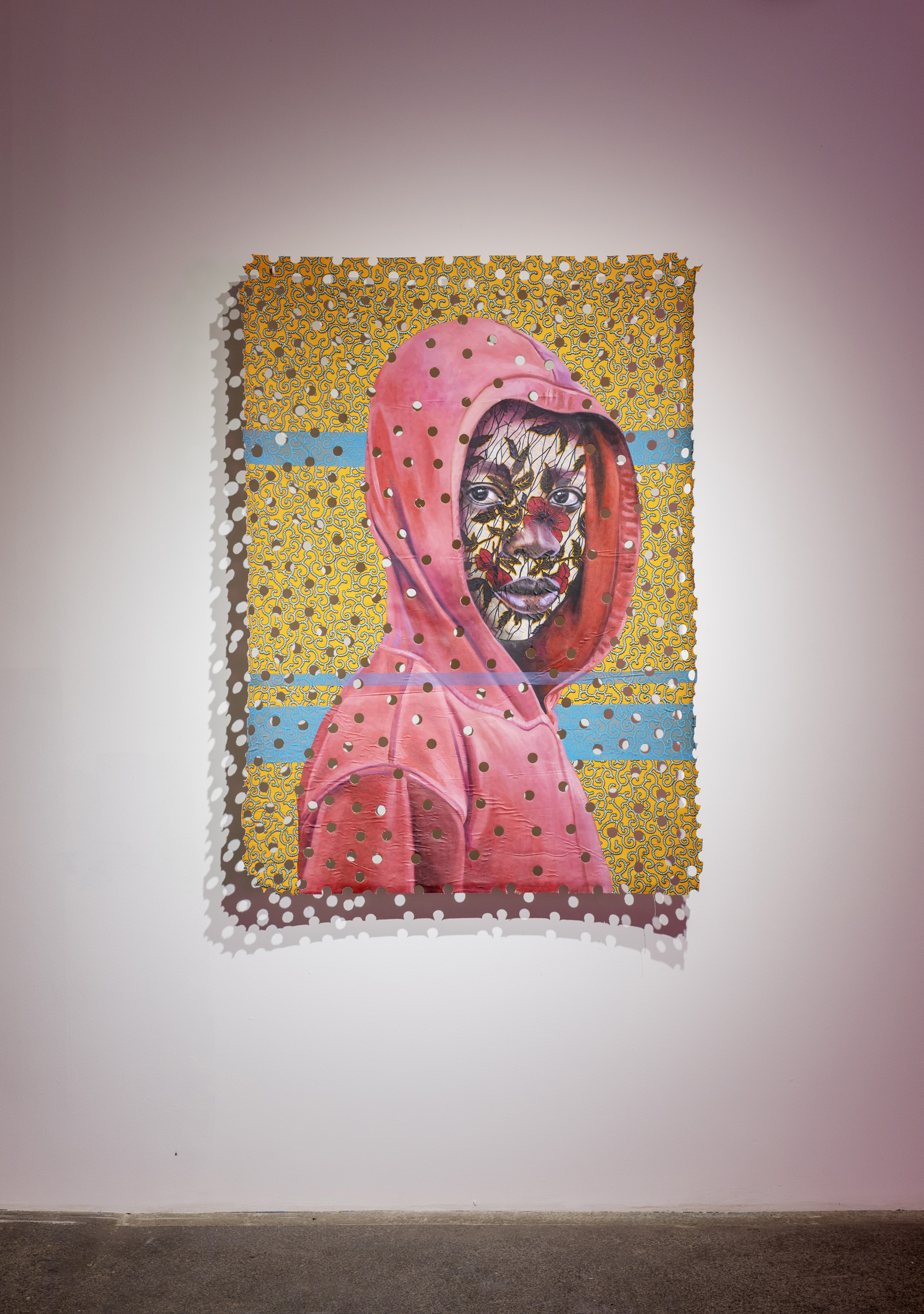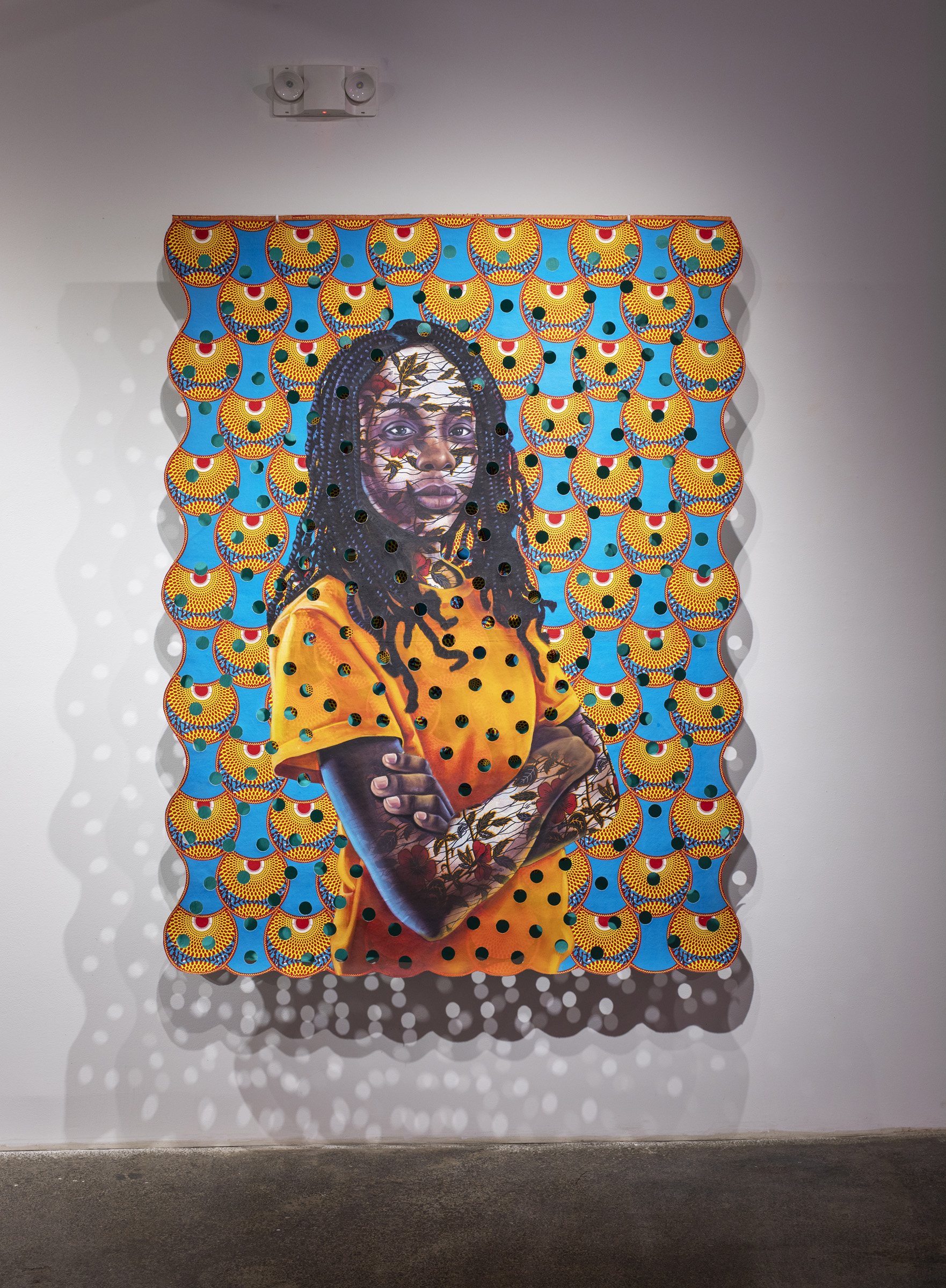 'Resident Artist Exhibition: Miatta Kawinzi, Patrick Quarm, and Tiff Massey' is on view at Red Bull Arts Detroit through June 2nd. All images courtesy Red Bull Arts Detroit.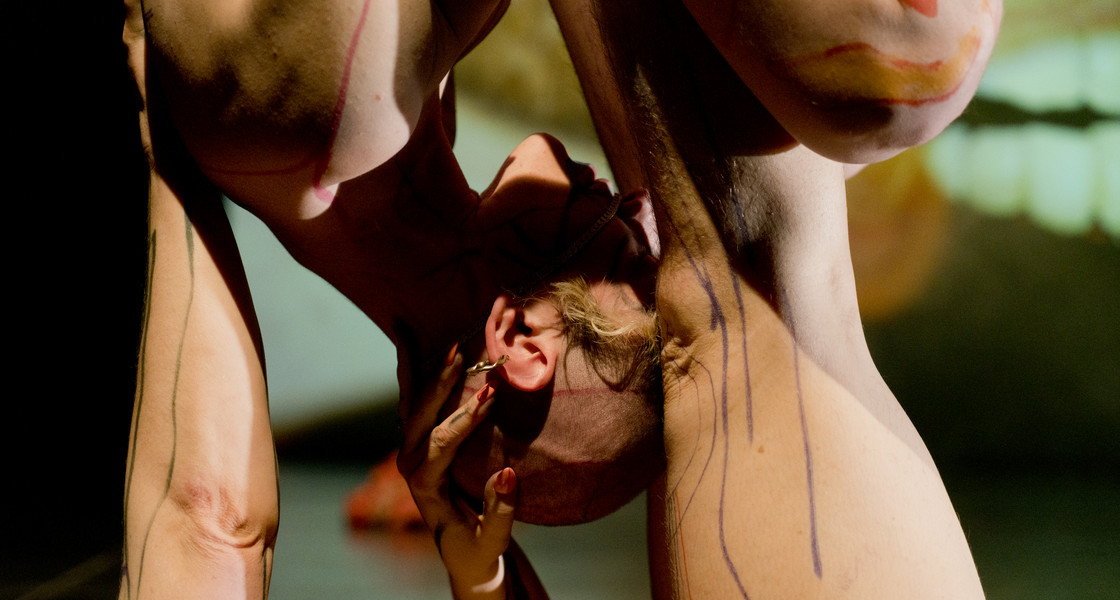 Venice Redux
These are the Biennale beasts of the the art world, the artists, curators, collectors, gallerists, and institute directors. Like most art fairs now, and most Insta bios of our culturally polygamous times, they are joined by the the fashion world as well. At the Biennale, it infiltrates through collaborations, patronage and parties hidden under the guise of deejays, performers and influencers who collab their way onto guest lists and crash their way into pavilions. They are joined by the wider network of the creative industries, the agencies, the producers, the makers, the department stores, all descending on this sinking city for this global art event. Everyone is here to gorge on the 360 glocal cultural narrative that this Biennale always delivers: it's a hybrid of the Olympics, Eurovision and made-in-Chelsea, with each country having a represented artist or collective, and curator there to deliver their response to the set theme.
We are all here anticipating the art world's global response to the social, political, and ecological crises we are in. The climate alarm is ready to be sounded, the red alert will be heard streaming from the canals… or perhaps not? We can only guess what is to come—what is to be discussed, dissected, held to rights, and what is left ignored. Rugoff states: 'Perhaps art can be a kind of guide for how to live and think in "interesting times." May You Live in Interesting Times will take seriously art's potential as a method for looking into things that we do not already know—things that may be off-limits, under-the-radar, or otherwise inaccessible for various reasons.'
Not only are there 90 pavilions for this to play out until late November, there is also wider central pavilions with 27 artists inhabiting Venice. A performance schedule has also been drafted for the opening week; it's a sensory overload of delight. The schedule, devised by Rugoff, is curated by Aaron Cezar, who noted: 'Performance is a way of processing and documenting the immediate world around us. It is both an alternative means of writing history as it forms, and rewriting history, bringing forth stories that aren't told, which are often those that complicate the normative "textbook" narration.'
Above: 'What Are We Fighting For', part of the 'Lamyland' installation; and film still from 'Casanova x 4k' video from film series installation at 3x3x6.
Michele Lamy is also here with her 'What Are We Fighting For' installation, which is a part of the exhibition DYSFUNCTIONAL by the Carpenters Workshop. DYSFUNCTIONAL is a show that boasts 'a conversation around the duality between art, design and function.' Lamy's installation is the continued development of her 'Lamyland' series, which spans the globe and exists in art fairs—Frieze 2014 featured an iteration—and nomadically spans even into department stores—Selfridges Ultra Lounge just last year. For the Biennale, she invited some other artists to collaborate: The Campana Brothers, Ingrid Donat, Kendell Geers, Studio Job, Morgane, Tschiember, Giovanni Leonardo Bassan and Connor Tingley. The works hang together as a collective whole from the sky as a surrealist mobile boxing club. Lamy states: 'They exist and unite to provoke you to contemplate what you need to conquer, face, challenge and celebrate.' The bags cascade into a cosmic alliance, the objects themselves are made from resin, quilting, cheese wheels (a nod to the Italian diet), woven bark, and raffia. They spin and hold the attention of the space throughout the night, like a dream you've never quite had, or one that you are in.
The next stop is 3x3x6, presented by the Taipei Fine Arts Museum of Taiwan (TFAM), with artist Shu Lea Cheang. As we enter, we are warned of 3D-mapped cameras as we are maneuvered through a prison-like corridor—in fact the building was a prison in the sixteenth century. All this feeds into the work of Chaeng, who is an internet art pioneer, her BRANDON (1998-1999) was the first web art commissioned and collected by the Guggenheim. It's a must-see show, especially the video highlight of a cannibal chat room, which was one of the depictions by Cheang of the ten historical and contemporary cases of subjects incarcerated because of gender or sexual dissent. 
The main spanner in the works on your iron man art mission around the Biennale is the pop of the pavilion Prosecco, nothing manifests a crowd like that subtle noise—at any given point it can cause a stampede. Post-Prosecco avalanche, it's a disaster zone, left littered like a Glastonbury site, the Biennale beasts have the ability to transform a white table cloth of lined glasses into Tracey Emin's bed in seconds. Avoid this at all costs.
Above: film still from 'Sade x 4k' video from film series installation 3x3x6 by Shu Lea Cheang; and installation view.
Knowing Florence and Eve from London and witnessing their work firsthand already, I knew the pair were really challenging the state of art and the sensitivities of living. The performance 'Apparition Apparition (2019),' 'Explores the notion of materiality and the nature of our physical selves/bodies within the frame of ecological devastation.' As we enter, their naked forms are wrapped in leather harnesses and modest knickers, we as the viewer are beckoned to draw on their flesh, curating marks and surface colour for their later performance. They're conversational and laid back as they clamber across the chairs and bodies of the audience. They hand felt tip pens from their holsters and regulate their body back and forth as you lay your pen on their bodies. In the second half of performance, they take to the stage and the pace changes: a video work is screened as a backdrop for their sculptural dance, set to crescendos of sounds and an ASMR voice, the aural notes push through your vision and the tempo changes erratically and constantly, like two magnets of varying poles, it's mesmerizing and intense as they gyrate and repel one another.
This reminds me of something Cezar said about performance art: 'There is no denying the power of the body—the significance of human presence, especially in the age of the Internet (and also in the context of a major Biennale which centers mainly on objects). The experience of engaging with or bearing witness to the human body, with all of its vulnerabilities, imperfections, and strengths, brings a certain urgency to our collective concerns and it also reminds us that the capacity for change starts within our own body. The power of the live experience is also due to the temporal nature of performance. One has to be "there" to experience it fully; however, these temporal moments can create lasting memories - and this is what Ralph and I were keen to do.'
Next I stopped by Cosmo-Eggs at The Japan Pavillion, curated by Hiroyuki Hattori and featuring works by four artists who are working in different specialties—artist Motoyuki Shitamichi, composer Taro Yasuno, anthropologist Toshiaki Ishikura and architect Fuminori Nosaku. An orange, inflatable doughnut against a marble floor was a welcomed visual retreat from the madness. As you sit (in fact I laid), you notice tubes that wrap around your line of sight, your bottom was assisting the composition of the tune, this delicate interplay between your physical self and physical actions in the world felt like a moment we rarely experience these days. The project aims to 'create a platform to consider the ecology in which humans and non-humans coexist, as well as questions of how and in what places we can live within our world.'
Above: performance shots of 'Apparition Apparition' by Florence Peake and Eve Stainton.
Artists Sun Yuan and Peng Yu presented 'Dear' at the Arsonali. This installation has a provocative allure: at first glance it's a richly crafted piece of solid marble, with a contemporary steel and glass frame. Then the hissing starts, and you also recognize the chair—it's Abraham Lincon's seat from the Washington Memorial, then the whips and thrashes are cast by the A.W.O.L hose as it batters the glass, the force of the air propels the snake-like hose to expel its energy in a manic multitude of directions before it then wheezes and crashes to a standstill. This work delivers a poetic description of the state of our social, political, and environmental landscapes. Drop the mike, Yuan and Yu.
After outputting the energy needed to come to make our way around the pavilions, the satellite experiences, the parties and the general maneuvering you need to get around Venice, I felt beyond exhausted and visually overwhelmed. But really, where else on Earth can you see such a broad range of collective artist considerations, experience a concentrated pinpoint of the world at large. Go visit IRL, if you can, it's so much better than the Instagram explore page.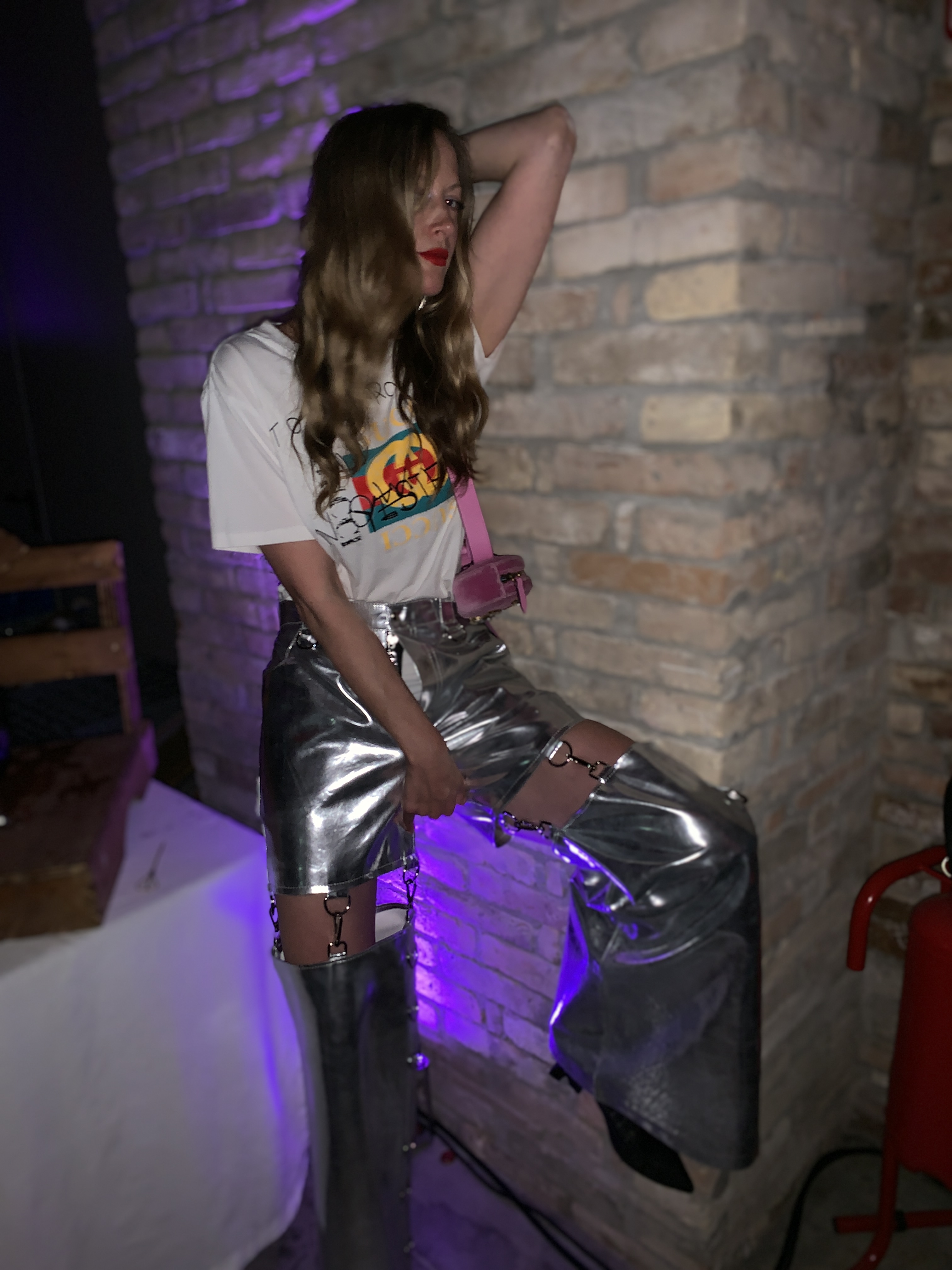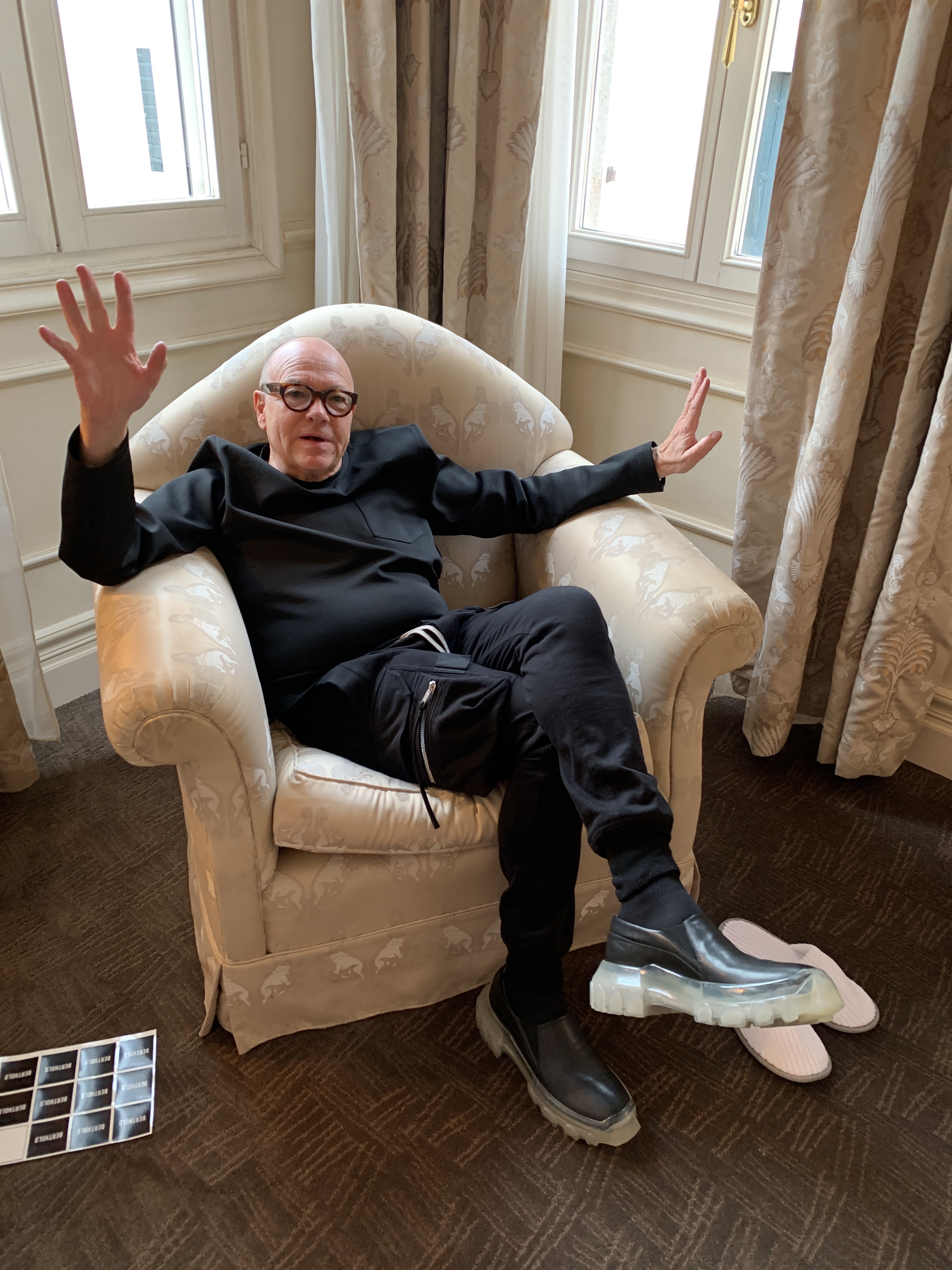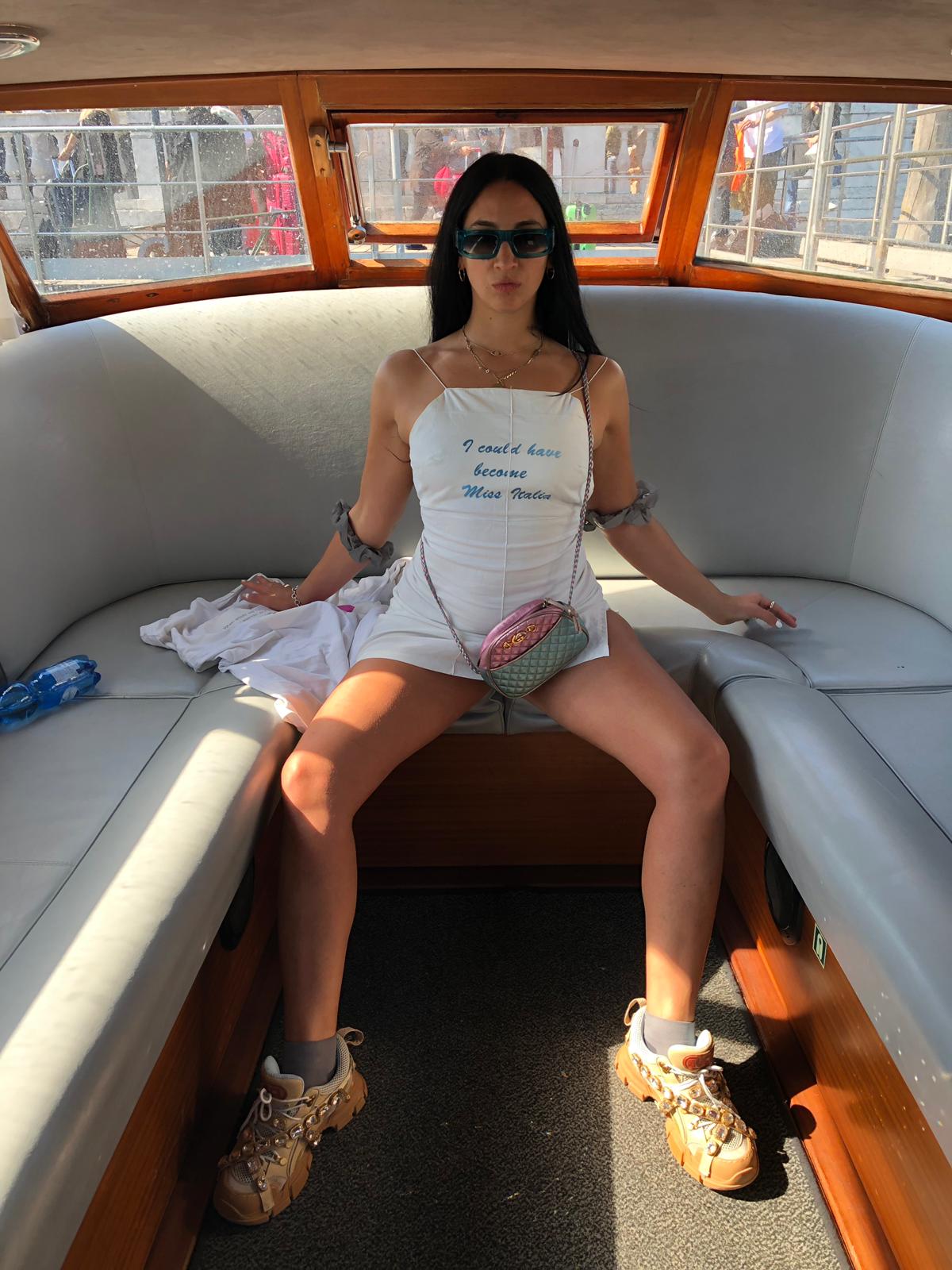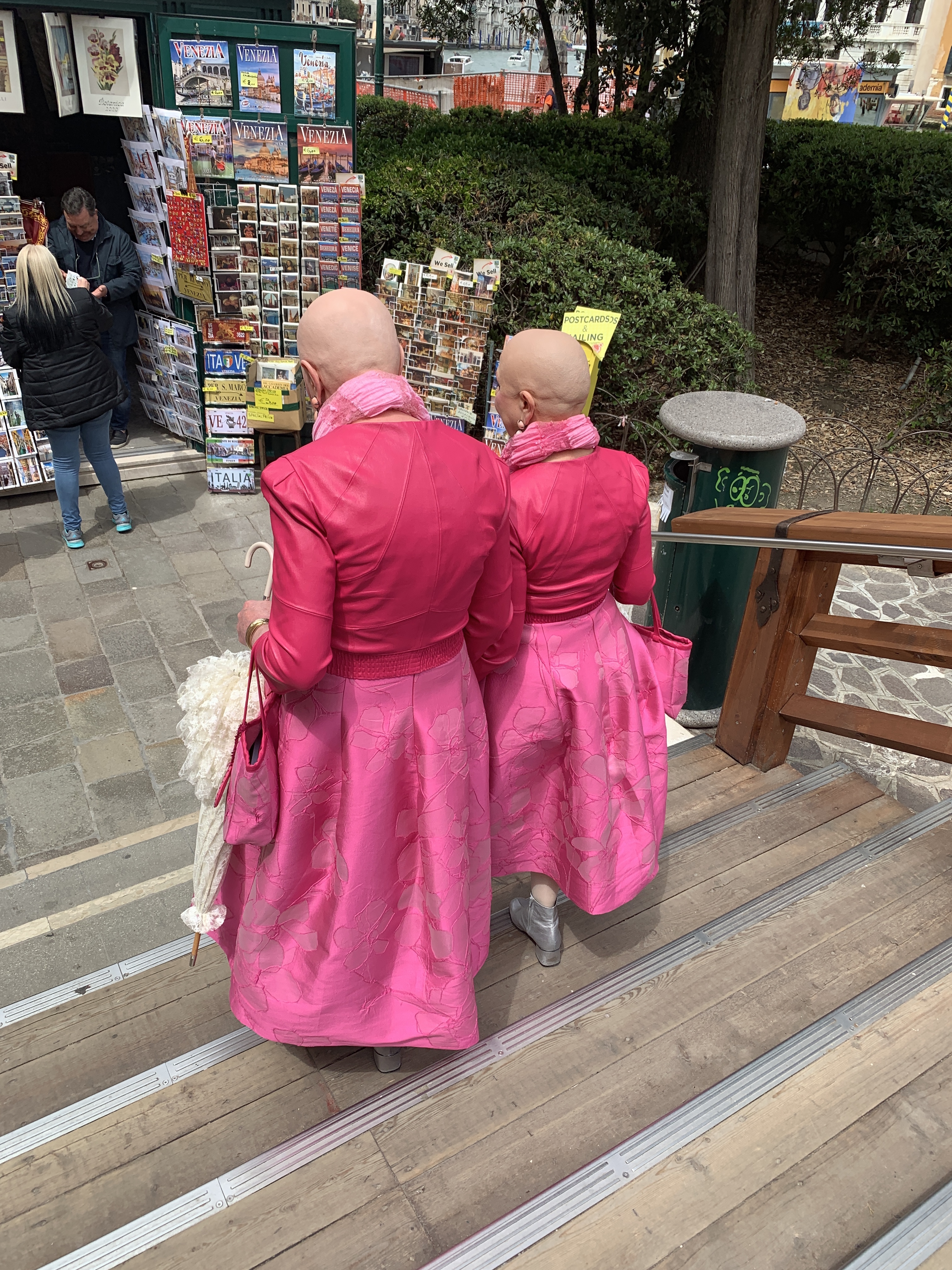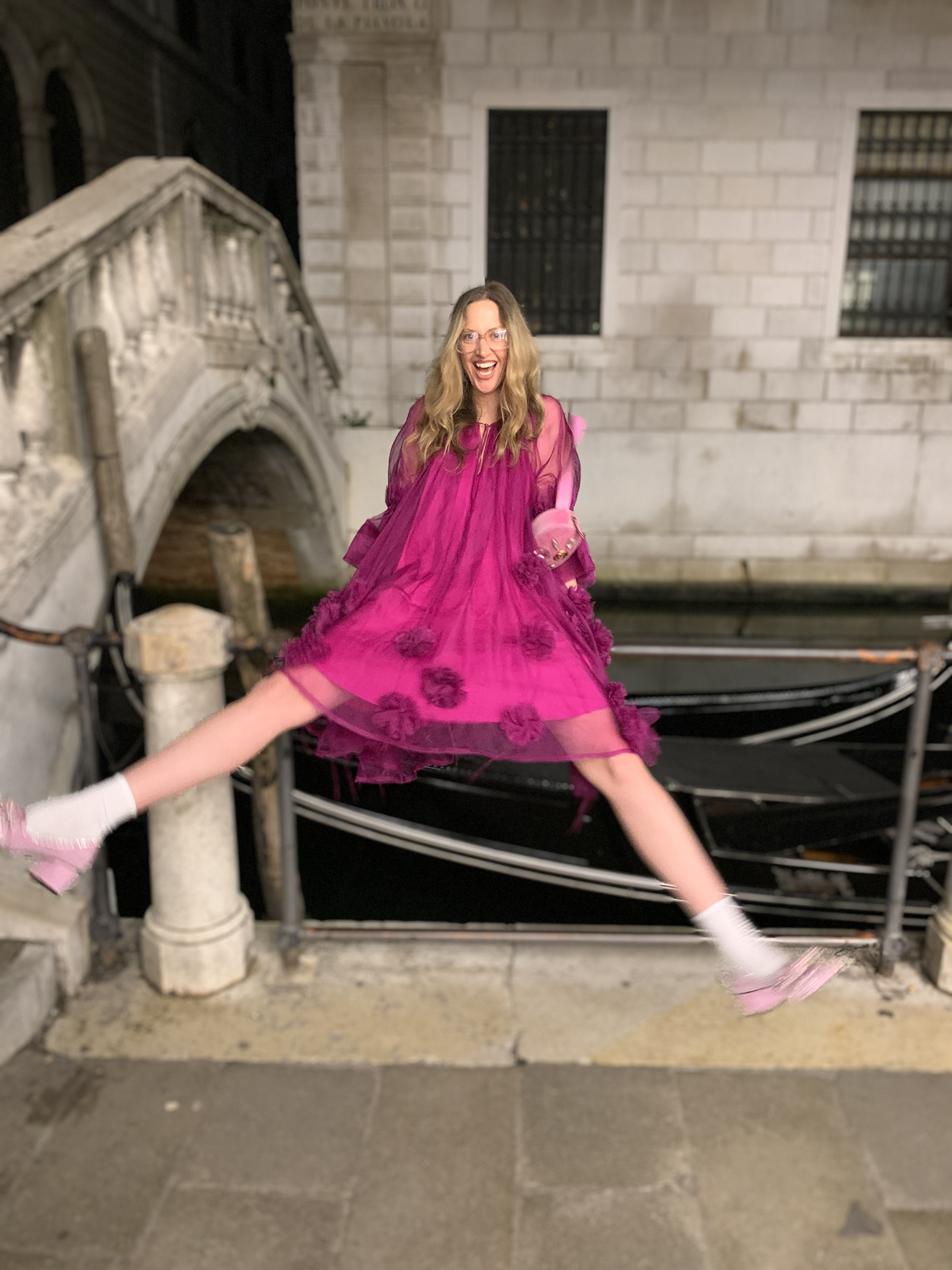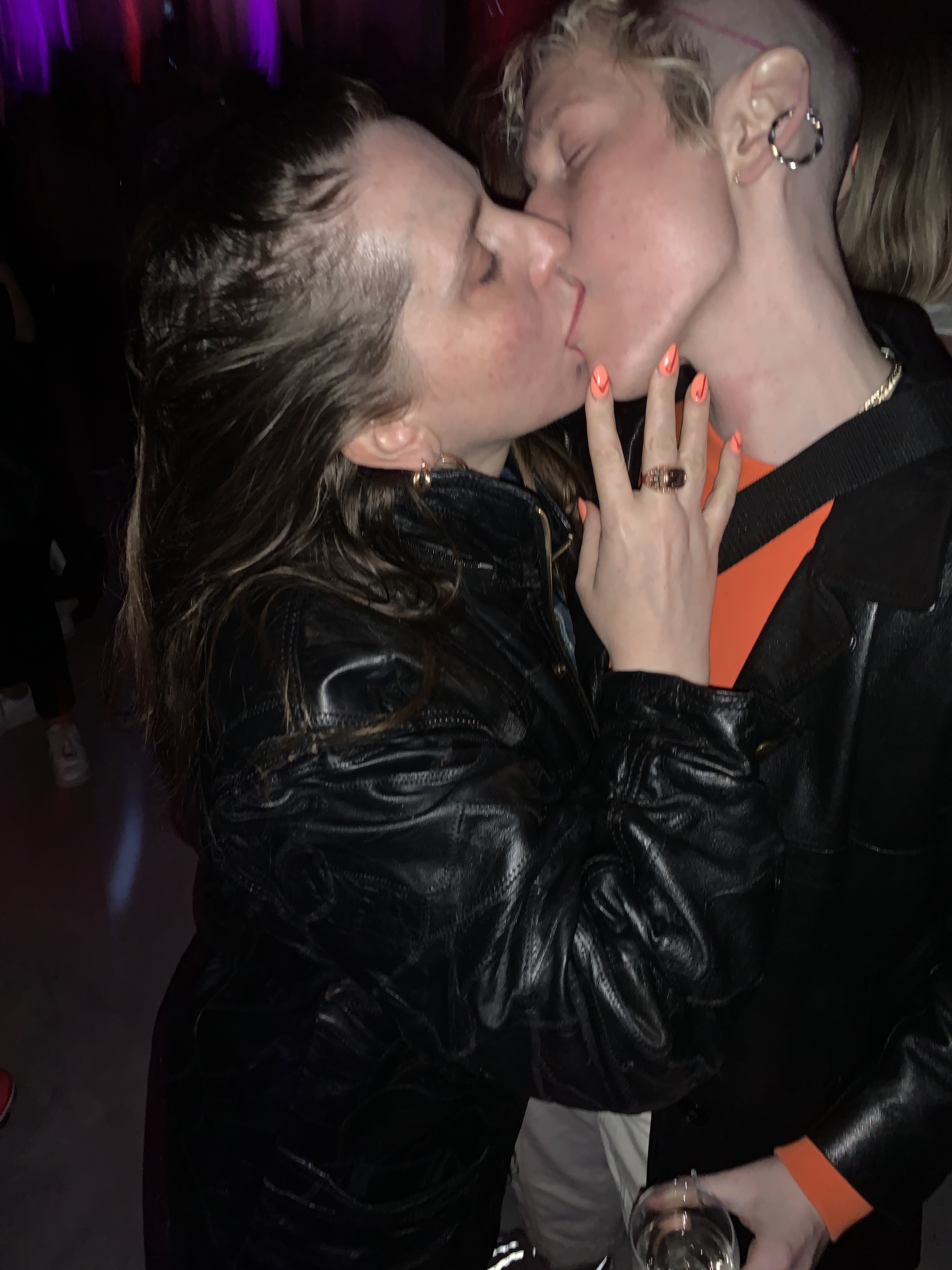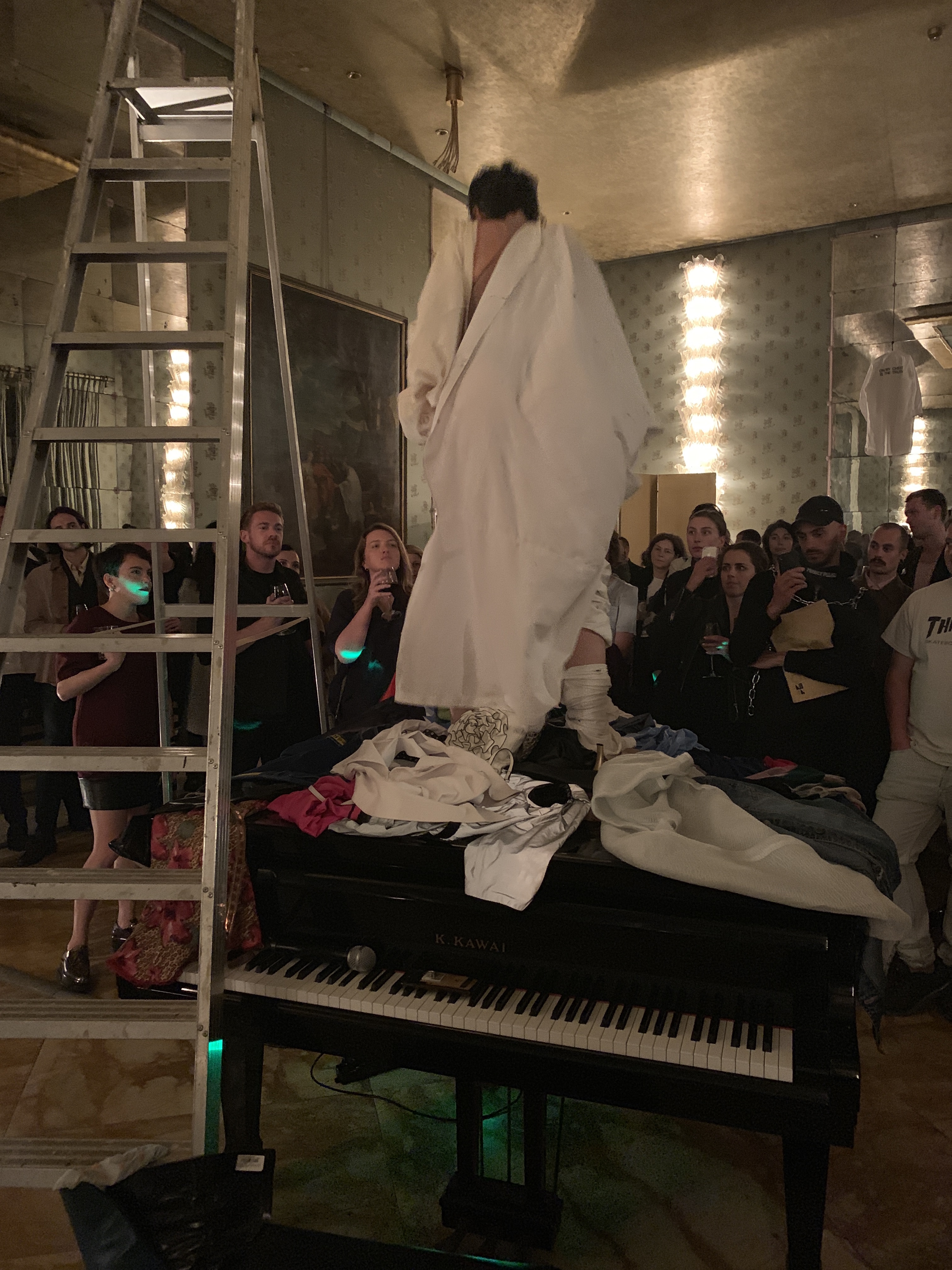 Lead image: 'Apparition Apparition', Florence Peake & Eve Stainton is first up, Courtesy Delfina Foundation and Arts Council England, the artists and Bosse & Baum.
I, I, I, I, I, I, I, Kathy Acker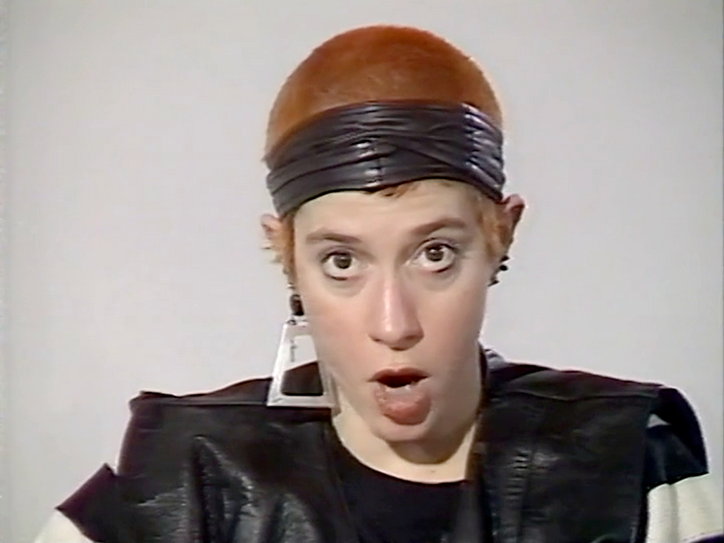 Acker was no stranger to the ICA, having developed a longstanding relationship with the institution throughout the course of her career. She appeared there regularly, in talks, interviews, and performances—so it only feels natural that her legacy returns there once more. Opening its doors to a multi-vocal milieu of varying artists and mediums, London's Institute of Contemporary Arts will host what is set to be the largest exhibition centered around Acker's work to date. The show comes at a time when her relationship to the art world has become increasingly documented and appreciated, as her influence as a cultural force trickles down into all corners of culture, continuing to amplify as the years go on.
Before the exploration of taboos and counterculture became millennial marketing material, they were topics which sat at the vanguard of postmodernism, and the heart of Acker's legacy. Hers drew much of its inspiration from that of the great—now, considerably sexist—William Burroughs; and of course others like Jack Kerouac and Marguerite Duras. A student of poetry, Acker studied the prose of American greats to propel herself into the American literary canon as a great in her own right. She was borne out of the point at which plagiarism, autobiography, and "porn" intersect, but today, would perhaps be better recognized for some of the greater feminist and transgressive fiction of the 20th century.
With that in mind, you would think that a show of this scale would be difficult to fuck up. But, in fact, there was a part of me which expected the walls of the ICA to be cluttered with nostalgic of-the-moment nods to yesteryear as a means of getting bodies through the door. Naturally, as you would be when you see a name of Acker's ilk appear everywhere over the course of twelve months, you become skeptical. In ways which echo the way Sally Rooney's overloaded, oversaturated press appearances have sprawled the internet far and wide; too much, can in fact be, just too much.
Above: Kathy Acker and The Mekons Live at Freedom, London, 29 March 1996; and Atalia ten Brink, 'Empire of the Senseless', film still, 1988.
However, with I, I, I, I, I, I, I, Kathy Acker, the ICA has nailed the brief—and with panache at that. Boasting a program so loaded you mightn't know where to start, I, I, I, I, I, I, I, Kathy Acker, is the gift that just keeps on giving. Upon entering the show, we're offered semi-chronological guidance through the sex-positive blurred identities and dismantled social constructs that made up a large portion of her career. Everything from The Childlike Life of the Black Tarantula (1973) and her encounters with Semiotext(e)—the journal-cum-publisher which later went on to publish Chris Kraus' literary biography of Acker in 2017—all the way through to her breakout title, Blood and Guts in High School (1984), and the birth of her legacy which followed, up until her premature death in 1997.
It really is a lot. But the show's strengths lie in its ability to cohesively align Acker's legacy with the lives and topics explored by contemporary artists today, and the ways in which her work continues to permeate across the world. Appearances are made by everyone from David Wojnarowicz—whose work was revamped by Every Ocean Hughes—to writer and dominatrix Reba Maybury, and Jamie Crewe, whose animated exploration of Eurydice nods to the interests in the myth held by Acker herself.
And if all of this isn't enough, the ICA has a series of events to accompany the show (which alone, really is worth the visit), due to unfold throughout the rest of the month. Last Saturday, writer and activist Sarah Schulman discussed the ways in which she shares overlap with Acker, in conversation with artist and writer Matias Viegener. And there are others, which include a Kathy Acker Reading Group (fun!), hosted by the show's very own Reba Maybury. Which I'm sure will give you your lifetime fix of all things Acker—and more.