Vanquished by the Fickle Goddess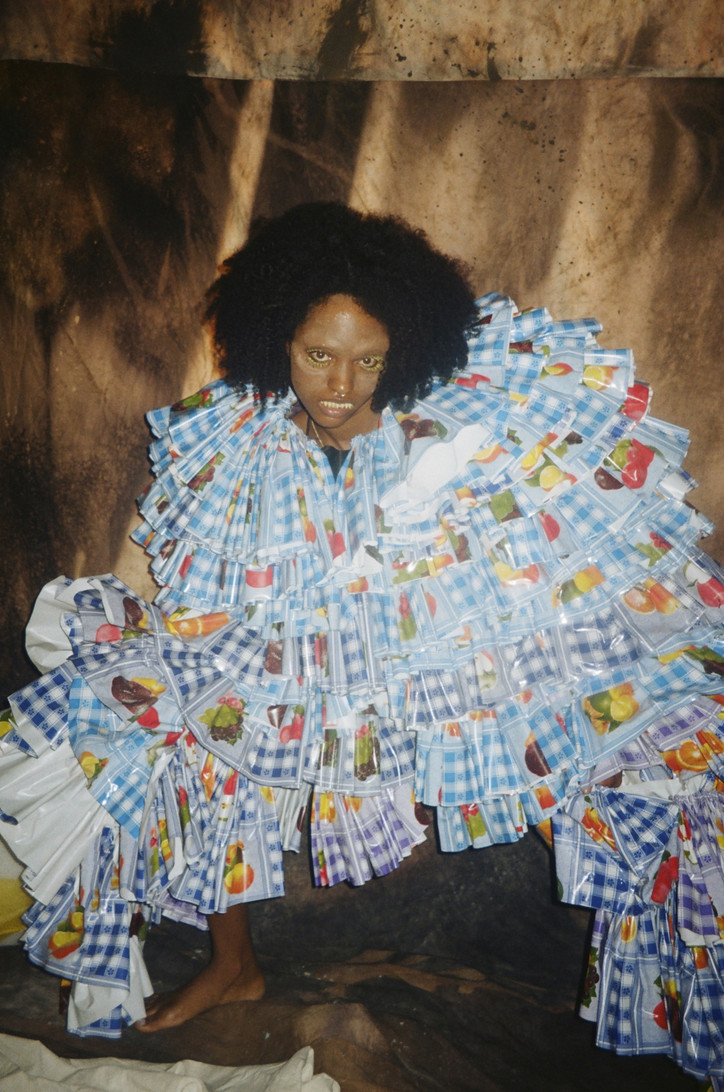 Fickle Goddess, shown at Venice's Spazio Ridotto—there are a couple days left to go see it, if you happen to be in Italy—was curated by the venerable Antonia Marsh, who found Corbet's words (which Lalita first encountered in a book of poems and songs about costume) inspiring, especially considering Venice's "rich history of costuming and masking."
"[That sentence] is super mysterious," Marsh wrote in an email. "And I think even though it was definitely interesting to us that fashion was being described as a 'goddess,' by taking it out it leaves space for the goddess to stand for anyone. Leaving room for multiple goddesses, this position remains open, and therefore so does the title."
Mark and Lalita are both artists who conceive of unearthly creatures, and the exhibition mainly showcases video works redolent of their respective processes. Mark creates twisted, amusingly nightmarish sculpture and video works with a regular cast of characters, who, according to the Fickle Goddess press release, "allow the artist to explore herself as well as human nature more broadly;" last year, Lalita presented Madre: A Disruptive Environment, in which actors in elaborate costuming and distorted makeup repeated movements designed to reflect Jungian archetypes of the mother. Fickle Goddess features Warholian screen tests of Mark's characters Tiger, Cake, and Gold-Bear, alongside a few of her characters' prosthetics (including an image by Nick Sethi of the main figure from Mark's horror short Know Nothing), and photographs of Madre shot by Rebekah Campbell.
As Marsh pointed out, there's a great deal of crossover between Mark and Lalita's respective practices, and they frequently collaborate—Mark participated in Madre, and Lalita co-starred in Know Nothing. But Marsh is more intrigued by their differences. "Carly develops characters based on what she sees on social media or what she notices around her and augments these to become caricatures that develop personalities and even lives of their own on-screen," she wrote. "By contrast, Daniela's monsters feel very dependent on one another. In Madre, each of her nine figures represent a different archetype of the 'mother' and as a result live in a kind of network with one another."
"On a more literal level, their work differs in terms of display and audience perception," she continued. "Daniela initiates performances and engages her viewership in this way off-screen, whereas Carly's characters live in an IRL environment by becoming sculptures after the filming is complete. The viewer's ongoing relationship to these characters is therefore completely different, which I think is interesting to note. Precisely how these artists take their characters offline and into our real, lived, physical experience of the world is perhaps something I'm concerned with thinking about in relation to this exhibition."
The combination of Mark and Lalita's work is designed to "signify ongoing inquiry into how we behave and enact learned behavioral archetypes both online and offline." Through examining at their monsters, we make more sense of ourselves.