The Village Grannies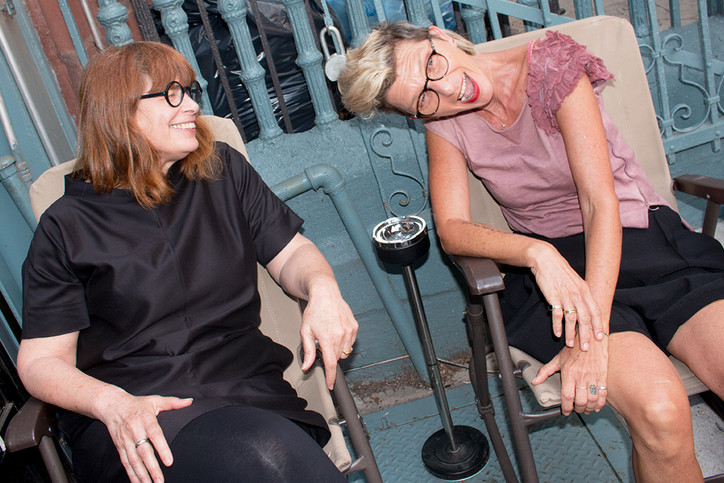 These ladies originally from Israel have the ideal business model, a unique update of the head shop and replaced a grungy experience with grandmothers.
To be clear, though, they represent everything but retired. Focused on quality and always the artful aspect of their products, the downstairs 9th st. stop Vered and Zviah have set up is the physical proof of these friends' phrase, "We don't know age".
How did you decide to run a smoke shop?
Vered: Well, we started talking about it maybe two, three years ago. It took time to actually form exactly how we wanted to do it, what we wanted it to look like, what we wanted it to feel like. It was last summer that we actually started really looking- seriously looking, for space and how to make it more real. And then we opened the day before thanksgiving.  
Why did you want to run a smoke shop?

V: For every other shopping there's a lifestyle kind of shopping. The shoe store- the shoe that you are going to buy may not be from the same store as that of your neighbor or mother. For everything there is a different lifestyle according to the consumer. We found that there is a niche for a smoke shop that is more designed, feels comfortable, and is run by women. Even the environment is different. It's not just a smoke shop, it's a lifestyle smoke shop. We felt that there is room for it because nothing like this exists.
Have you had any problems with the police?
V: Actually, listen. First of all, everything that we sell- it's legal.
Zviah: Yeah it's legal. Vered: Everything. The police were here a few times- not because we were doing something wrong, they just came to look at the shop to ask "how is business", to wish us luck, and were really extremely friendly.
How do you choose the glass works you sell? Do artists come to you or do you approach them?
Z: In the beginning- nobody approached us. (laughs) We approached everybody, we hustled everybody just to get the right products. We knew what we wanted. First of all quality is very important for us. Number one is quality. Then the design; what it looks like, the functionality; very important… and the price point also.
Do you have a favourite item you sell?
Z: Mine is the giraffe. (laughs) But again, each time it's something different. 
V: I don't have one. And my story's like this- of course with me everything is a long story. (grannies laugh) An answer like the giraffe- this is hers, mine is a long story. It's like if somebody comes to you and asks you "what's your favorite piece of clothing"… can you answer that?...Right? Depends on the season, depends where you're going, If it's work, if it's a date.. If it you're going with your girlfriends, if you're going to the beach… so that's my answer. I have more than one.
It's rare to find a store of this kind run by women, do you find that many of your customers are themselves women?
Z: Fifty-fifty... That I know of. Also ages, very interesting, uhh it's between, I think, 23-24 to, lets say 45, and 45 to 60-65, fifty-fifty. It's so interesting. Yeah I see it through google, through yelp, you know the people that are content, who is looking at the website, the ages, and I never thought it would be that much. In the beginning it was more women. You know the first few months I saw more women- not by much- maybe a ten percent difference, but now it's fifty-fifty.
What's people's biggest misconception about you?
V: When they stand outside they see the way it looks, and I hear it more than once, many times. They think that we are a very expensive shop. They hesitate to come in because they think that we overprice and everything's going to be really expensive.
Z: Yeah, it's kinda boutique, you know the prices are high, and when they come in… they're surprised. Really really surprised about the quality and the pricing.
V: But the price also they all comment, "wow it's not that you are not expensive, you are actually cheaper than other stores." So this is really a huge misconception.