Virgil Abloh: Question Everything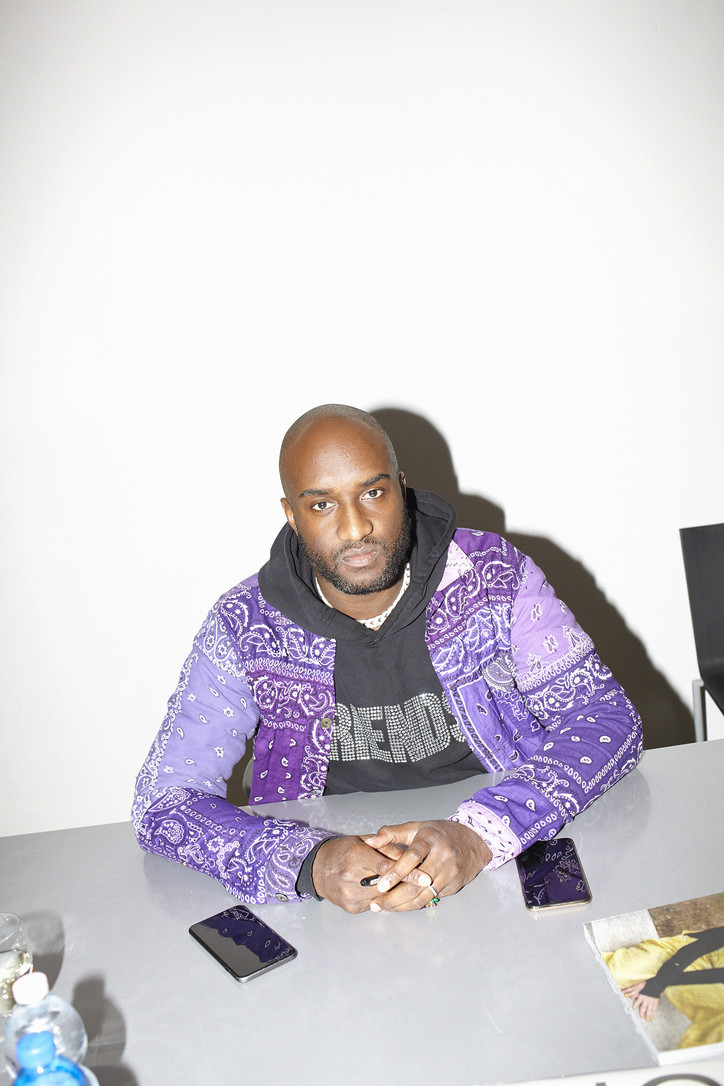 Abloh's talk was followed by a hypnotic performance by Young Girl Reading Group, a Polish-Lithuanian collective whose digital dialogue complemented the themes of technology and conversation that Abloh addressed.
During his presentation, Abloh discussed his own artistic output, covering his background in architecture, music and his work as the new creative director for Louis Vuitton menswear and his own brand, Off-White. He also shed light on his upcoming exhibition at Chicago's MCA, the first museum show devoted exclusively to Abloh's multidisciplinary body of work.
Abloh is the fashion industry's newest enfant terrible; the street artist whose medium is 21st century consumerism, covering the walls of the establishment with copyright symbols and registered trademarks, which he describes using "like a can of spray paint." In his own words, Abloh calls himself a "cultural robin hood—steal from the snobs and give it back to some kids."
Nevertheless, Abloh's high/low approach, not to mention his role at Vuitton, mean that it's difficult to label him as simply another iconoclastic rebel. Listening to him speak, it's clear he is firmly positioning his work within the canon of art history, pioneering the idea of streetwear as the new conceptual art. Using the analogy of "tourist vs. purist," Abloh converses his way across the two sides, conceptualizing himself as the modern Renaissance man of the digital world.

After the show, office sat down with Virgil to chat about his new cultural language.
You're known for being really open and enthusiastic. What's the interplay between being open to new ideas vs. being critical or discerning?
I operate in a sort of internal dialogue framework, this diametrically opposed premise of 'tourist' and 'purist.' I stay cautious of veering too much towards the purist. You know, 'This is good, this is bad.'
Which one do you consider yourself?
I'm directly in the middle. I'm a bit half of each. That's where Off-White comes from. I focus on imperfection just as much as I focus on perfection. Because I've chosen those two metrics to create from, I can create at a rapid pace, or I can think in a sort of freestyle moment.
You're so open to learning and yet also a teacher in the cultural field. How do you balance those two sides?
I think it's about conversation. Since the beginning of time, it was conversation that exchanged my idea from my head to your head. When you stray too much towards the purist side, you start realizing, 'I need this conversation to get some information to unlock something in my head' and I think the modern world, post-a young generation coming into prominence, we've poked holes in that. So, my work and how I frame my work—the context that it exists in—it doesn't fall apart once it's exposed.
In the past generation of high art and high fashion, it's like, 'Put a wall around it. Put a layer of mystique around it. Keep it on a really tall white pedestal. Put a vitrine box under it.' It's what a gallery is—a white cube. But what all these kids have figured out [Virgil gestures to the crowd of young fans outside] is that what's happening outside the cube and on the street, whether it's graffiti or real life, is just as valuable as what's in there, and it's about zig-zagging back and forth between the two.
How did you cultivate your ability to constantly adapt and morph in this ever-changing environment?
An ironic answer: it's the environment that influenced my practice. Once I started mimicking the pace of Instagram, you know, that's how the world works. To me, there was this question when the internet came into our daily life, it was like, 'Is this some Black Mirror? What's it going to do to our thought process?' And it's literally a mirror, you know? It's just reflecting human nature, if used on idle mode. Or it can be used to project good, or it can be used to project bad, but it's not as mysterious beyond that.
A lot of people look up to you as a role model. Who are your role models?
My role models are my friends. I design based on conversation and collective thought. My own opinion juxtaposed with like, 'Hey, is wearing all black cool?' My output is in reference to the people that I interact with. I'm like a sponge—I like conversation, I like seeing things with my own eyes. I get inspired very easily by the temperature in the room.
What's your relationship with the past and future? Do you plan for the future or do you wait for it to reveal itself?
I don't look back at all. I don't dwell on anything that's happened, just because I've put so many things on my future trajectory, that something's always due—the next project. And I get gratification from that—that's my creative process. Once it's done, it's into the archive, like a monument to look at when I'm old and just about to die. 'Til then, let's make some more stuff. It's like my 20 minutes a day—to do one thing, it only takes 20 minutes.
I say yes to most things—saying no to things blocks off so many other potentials. I do double time—I plan things that I want to do, and then if a new idea comes in amongst that, then it's double the amount.