The Visitor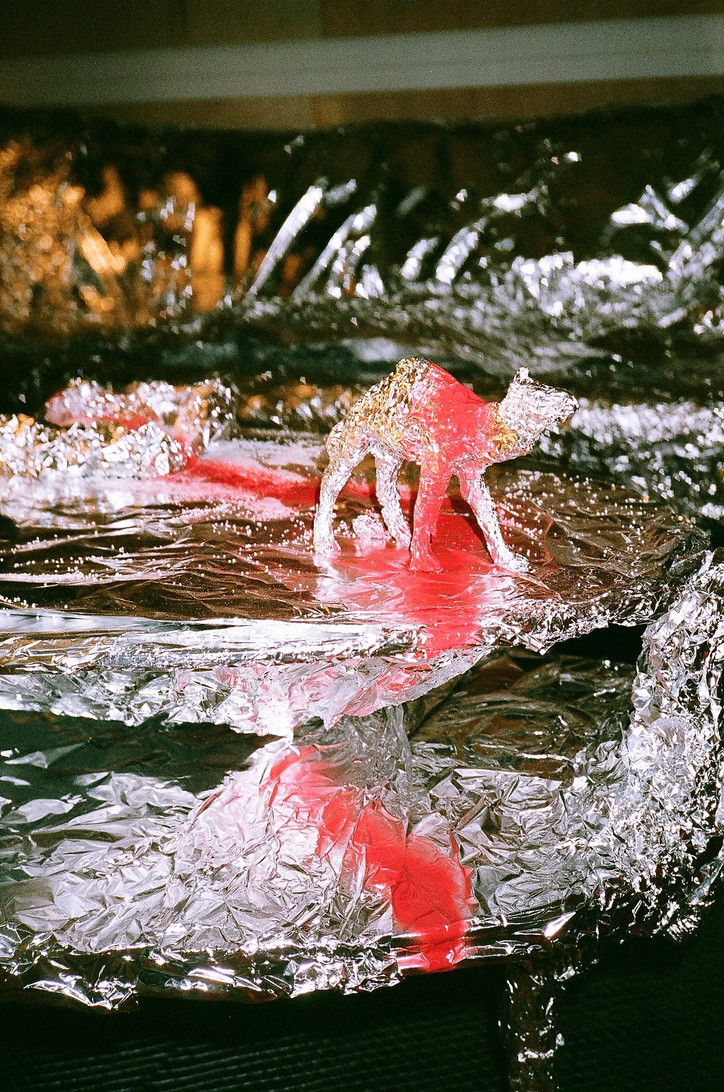 Leaving the space on Grand, you're surrounded by pink shades and black-and-white portraits by experimental New York artists, some of whom traveled to Morocco to work in the same desert NASA first experimented with robotics. As you enter the new store on Wooster, you experience moving shades and liquid sculptures that together tell a story of a birth—a life in a shape of an egg that later evolves into a flamboyant caterpillar and becomes the hope for humanity in a new, unknown sphere.
After walking through both existential—and psychedelic—installations office had a million questions. On hand to answer was Gentle Monster's US Chief Marketing Officer, Taye Yun, who gave us a deeper understanding of the brand's philosophy and experimental way of building innovative stores that focus on a real and metaphorical future.
Why and how did sunglasses become Gentle Monster's chosen medium of expression?
At the time we started, everything was being simplified, everything was beginning to be more convenient, and was turning into this online digital experience. Sunglasses throughout history have been so iconic to many rock stars and legendary people in the music industry, and in general, just a big item of influence, but never actually been tested in such an experimental way. So, we thought, 'Why not take such an item and turn it into something that can empower this value that the product has?'
What about the name Gentle Monster—where did that come from?
The founder, Hankook Kim, named the brand Gentle Monster because he liked it—it really started out as simple phrase that sounded cool. But then Gentle Monster was built up—not only with a necessary name but also with the purpose and the philosophy behind what it could be. So, now, within the internal system, newcomers understand Gentle Monster as a history—everybody has a monster inside, and we are only gently controlling those monsters within. So, why not do it with style and do it with sunglasses?
Tell me about the installation at the new Soho flagship. What's the concept behind it?
It's a continuation of a theme that is based on our project 13 that's based on a fantasy of returning to Mars. We took this idea from the fact that a lot of humans are still fascinated with going to the unknown and defining the certainties, and then trying to find a solution. As far as experimentation goes, we have really tried to be an experimental brand. Through that philosophy, we wanted to build a platform where we are able to tell this message of these journeys unknown, and through those journeys, you can ask, 'What as an artist, as a collaborator, as a contributor, and as a store – what does that imply?' The stores are going to keep building a story.
How did the title of the installation inform your creative process?
'The Visitor' is just the latest part of the story. This installation shows people who come into space what it would feel like to have landed and now, inhabit Mars. So, the next store that you will see—whether it's in Shanghai or wherever—that store is going to also continue that same story and show what happens after 'The Visitor'. It's all a part of the storytelling, and each store has its own meaning.
If you could describe the Soho location in three words, what would they be?
Oh wow. Three words? That's tough. But for me, personally, it's a space filled with love. But when it comes to a more literal description of what you see, I would say it's an experimental retail experience.
What do you want your viewers to take away from the installation?
We don't have certain expectations for how we want customers to feel—it's really about how we approach the space design to create this special emotion that drives us into the space. That's why all the installations are built by robots and engineered in a specific way, to make sure that not just the visuals are intact, but also the mood, the smell and the location is  coordinated and complementary to the shopping experience—that's what is important to us. That's what we do.
How did the creatures you create embody the spirit of Gentle Monster?
I mean, by giving them a blessing, right? Everything is done in-house by an internal team consisting of about 100-150 people—architects, space designers and tech teams who  come and try to create a very new form, but without any thorough direction, at the same time, also complementing the space that they live in and what they inhabit. So, it's more of a philosophical approach to how we create these beings and the movement around them. That alone, just shows the character of that monster—that's what it embodies.  
How are specific artists selected for each space you create? Does the same design team work on all of your stores?
We have seperate teams that we move around globally. We have them go in and live in the city for around six months, and really give them as much freedom as possible to create this amazing Gentle Monster experience.
How do the concepts behind these projects reflect the products?
It's really hard to explain or elaborate, but what we mostly do is work towards the feeling in every line, every militer, every pair of glasses, every angle—everything really speaks to our team's vision. So, rather than thinking, 'How does that look?' Or 'How does it make us a certain amount of money?' we think more like, 'How does that feel? Does that Gentle Monster customer want to go back to customize their style and their character at this time?' That's also why most of our glasses that you see, are only available for one year—we don't continue with the same products. All of this is always to pursue and inspire creativity within our in-circled team.
What's next for Gentle Monster?
Starting in January 2019 we'll be launching 13—a music and visual album in collaboration with Malik Yusef, Kanye West, Pharrell Williams, Ty Dolla $ign and Vic Mensa. Other than that, we're always looking for expansions across Europe and the US. We're just going to continue growing and building our story.
Gentle Monster is open now at 70 Wooster Street. Photos courtesy of the brand.