The Voyage Out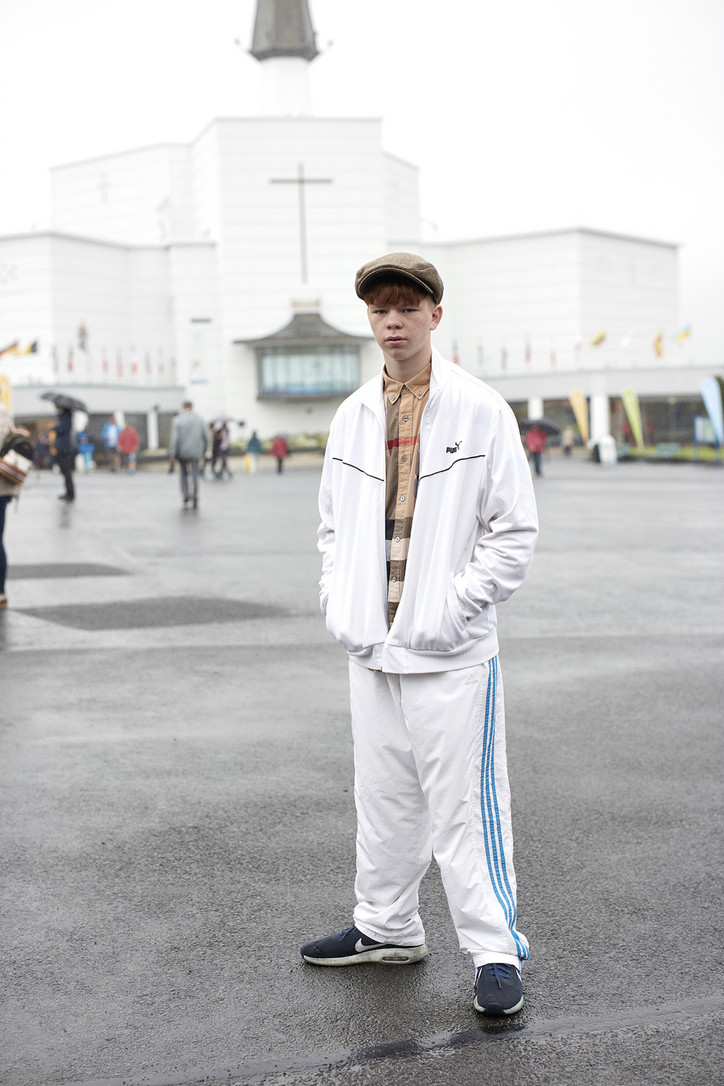 I'm going to be obvious and ask you to give me the low-down on how you met these two boys. What was it that struck you about them?
Paddy and Liam's mum and dad, Tommy and Mary, were living on the side of the road in the countryside about 20 miles from Dublin and my former partner, Marina stopped one day to buy a sulky from them. She got to know them. And then one day there was a terrible accident at their site — due to living on the side of the road — and Tommy and Mary arrived at Marina's late one night asking if they could take refuge. Marina let them park up their caravan on her land. I think Liam had just been born and Paddy was born there. Marina and I have a daughter Violet and so I would spend some time at the house and would get to see Paddy and Liam and their other younger siblings growing up. When they were about ten I thought it would be great to do a story with them. They had such striking looks and their life was so interesting — they were by now living in a house. We spent two days making photos of them doing things they would normally do such as training horses, fishing and going to the fair.  
I do hair for some Psychics here in New York who refer to themselves as Gypsies or Roma or Travelers. How did you manage to not only gain passage into such a guarded community but convince them to be subjects in highly public photographs?
Ever since I first went to Ireland in 1985 I've always known Travellers and then later I made a film — Pavee Lackeen (The Traveller Girl) — about a young Traveller girl. I mainly used one family — a real mother and daughter and some of the siblings — and mixed them with actors and actresses and cast a Traveller actor, Michael Collins, who is well-known in Ireland, to play the uncle. Possibly they see me as an outsider — I grew up in London — which makes it a little easier. But with Paddy and Liam I've known them since they were born.
I had an Irish roommate who told the meanest / funniest "ginger" jokes — do you see a lot of this in Ireland? Do you feel like red-headed models are subversive because of this? 
Not really. Not anymore. We've become very politically correct!
How have the boys changed in the time since you first met them? How has the world? Ireland?
Well, the boys started out by growing up in a caravan, albeit on a fairly nice property. But the family finally got housed in a local council estate nearby and so that's been their life for the last eight years or so. The boys haven't really changed much besides getting older. Ireland has changed radically in that the Catholic Church is almost a thing of the past and doesn't have anything like the influence it would have had 15 or 20 years ago. And Paddy and Liam are the first generation of their family to get primary education (i.e go to primary school).
How is being a fashion photographer different in Ireland compared to somewhere else? What role does Ireland play in your work?
Ireland has been a huge influence on my work and definitely informs a lot of the fashion work I do. I love the landscape, both urban and rural, and I love to find people and create little stories. But there isn't really any work there aside form personal projects, so you have to travel.
It's interesting that you as a fashion photographer return to kids as subjects, since being a children's photographer at the mall is like every photographer's worst nightmare. Are you embracing the nightmare? How do kids / childhood inform your work?
I've always loved photographing and working with kids. There's something very raw and spontaneous about them which I find inspiring.  I thought about my own childhood a lot while making these photographs, particularly the period from about 10 -16, the time I first started buying records, developing musical tastes, reading books, going to movies, meeting girls, making friends. It's such a transformative period of life, one that stays with you forever. That was the theme behind these pictures. And I think that when you are creating images you are always projecting onto your subjects. They become collaborators. Of course the fact that Paddy and Liam are Travellers is a big part of the story but when you are making work there is always something from your own life that you are projecting onto situation, the story. So in this case it was reflective of that period of time.
Tell me about your book and the event at Dashwood.
As is often the case, this series of pictures didn't start out with the idea of becoming a book — it just happened! I photographed the boys in 2012 and 2015 and then wanted to do another series with them. They started off wearing their own clothes and then I brought in the stylist Tara St Hill to dress them because I knew she would get it. She has an Irish background and worked a lot with Corinne Day both behind and in front of the camera. I like the idea of mixing documentary and fiction. It wasn't enough for me to just photograph them as they were. I wanted to create more and take this idea to a new place. So the final series of pictures, which we made on a road trip in August of 2017, were very much done with the book in mind. Then I interviewed the boys on each shoot and later edited the text and used a piece for each section — it gives a context for the photos, and vice versa. I'm very happy that Dashwood will be launching the book in America. It's the perfect place for Paddy & Liam. I'll be there signing. Maybe there'll even be a few copies of Pony Kids floating around.
If your photography were a fairy tale, which would it be? Would it end happily ever after?
I'm not sure my images and films are much suited to fairy tales and happy endings. I don't think there is an ending… life goes on and on… and sometimes round and round.