Sign up for our newsletter
We're Going To Dizzyland
Check out snapshots from Dizzyland below.
Diana Gordon Is Reclaiming Her Time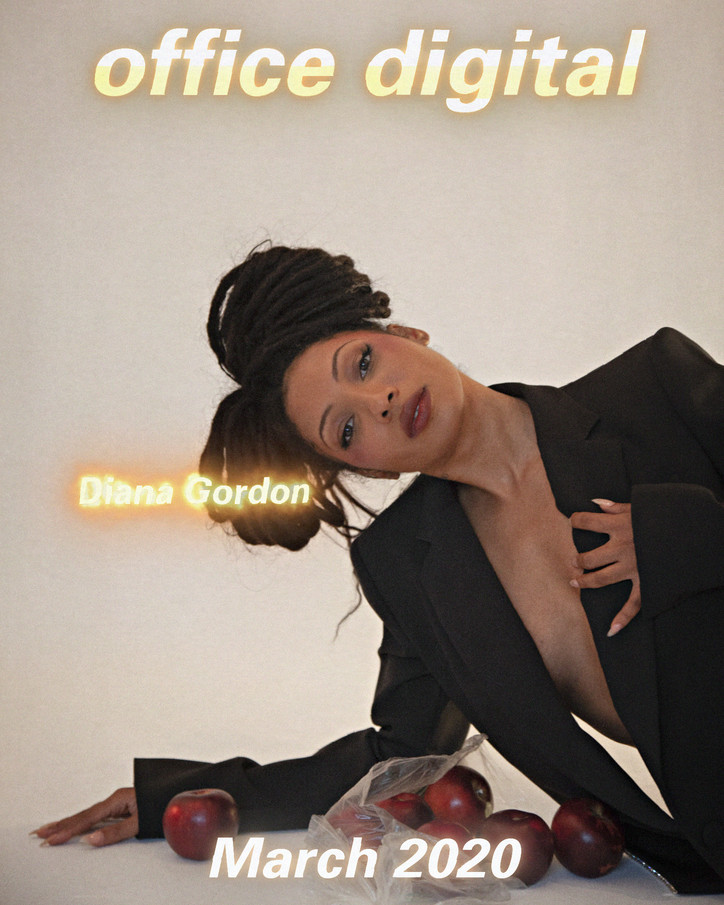 "Songwriting was never something I was proud of in the past," she tells us. "I'm starting to own that it is part of my story. I always wanted to be the artist because I'm an artist through and through. But what really took off for me was songwriting. It paid the bills and that gave me the time to build my art—financially. That [songwriting] is what gave me the accolades. But there is something to be said about these powerful women calling upon me to help them. I had to realize that was a gift. Especially someone coming from where I come from."
Diana hails from Southside Jamaica, Queens. New York. Foch Boulevard. Baisley Park. Eight people living in a two-room house. From early on Diana had a lot of responsibility, pain, trauma, and lots of religion. "I'm trying to step away from being ultra-humble. I'm so used to being a servant because of my life: helping others, having so many siblings. I got into this role of how can I help you opposed to how can I help myself. I got into a role of downplaying my greatness."
Left— Shirt, jacket and tie by GUCCI; Boots by Y/PROJECT; Panty, jewelry: model's own
Right— Jacket by AREA; Boots by GUCCI; Tights: model's own
But fate can't be fooled—there is no stunting her greatness. Diana's first big break came in 2005 when she was contracted to write for Mary J. Blige. She went on to create for other multi-platinum selling women (J.Lo, Dua Lipa and Beyoncé to name a few), which aided in her career as a professional singer. She signed with Atlantic as Wynter Gordon. However, with every passing year, Diana learned who she did not want to be.
"Everyone wanted me to make R&B songs about love, and dance like Chris Brown. By my eighth year, I had my eighth A&R and each one had a vision for me. I got stuck doing dance music, which is what they wanted me to do. I had yet to explore anything because I was fully busy on tour with Flo Rida, on the Hot 100, making crazy money, touring the world, playing the biggest festivals…and I hated it. I was making $20k a night at 5AM. I never drank and I don't smoke, so it was not my life."
On New Year's Eve in 2011, Diana sat down with her label president and explained to him that she was not looking to be the next Katy Perry. That wasn't her. After hours of back and forth trying to convince Diana to stay, he agreed to let her walk away. "Real things happen on the ground. Real things. The people say what's hot, not the radio. That's what I wanted. I wanted the people. And walking away from millions of dollars was part of that shit." She used the money she acquired to pay for studio time—her way.
"I have crossed a bridge and I'm not in the same place anymore. I can't continue to use the pain as fuel. I have to find something new, something positive and exciting. Build new memories, meet new people, and be inspired by different art."
I want to grow. I want to touch people the real way. Be genuine and honest and let them see me for real. And not pull away because I'm scared.
Right— Blouse by CHELSEA MAK; Boots by PRADA; Socks by CALZEDONIA; Panty and gloves: model's own
Whether Diana knew it or not, every YouTube single and music project, made way for future success. Her cult following grew. She was ahead of every wave that would follow. Though Diana was still underground, she was becoming the tastemaker, and people were tapping in. "It's like when you know you're the mood board. For once, I don't want to be the mood board. I want to be the main thing."
You ever get turned out by an artist for the first time after attending their live show? Maybe you had heard of them before, perhaps they never crossed your path. But somehow, some way you ended up at a venue. From that first note, they captivated you. You experienced all the glory and magic, then…poof!! You are a diehard fan. That is the effect of Diana. She is the main thing.
Not only is Diana's voice cut from the same cloth as Tracy Chapman and Joni Mitchell, but her pen game and star quality are on or above that caliber —she is fresh as fuck. From being mentored by the late Jazz whiz, Hugh Masekela, to mentoring young talents like Chloe and Halle, Diana has range –vocally, artistically, spiritually. She's an all-encompassing boss. "This is my jump into consistency. This is my jump into doing beautiful visuals consistently. You can be the only one to take power of your life."
…And what a powerful life force she is.
I want to be the best me that I know exists and it's my job to get there. That's my goal now.
"I am very happy. I'm in a place where I don't give a fuck. I am really committed to making things that feel real to me. I want people to hear my voice because it's special. I want to tell the truth in my music and my lyrics. I want to be raw and bare."
Before the world was thrown for an overwhelming loop due to COVID-19, Diana Gordon was set to open for Yves Tumor and play a handful of select venues. Sometimes it takes drastic measures for us to find solace in simple pleasures. May you be healthy, productive and as peaceful as possible during this time.
If you don't know where to start, get into Diana's discography. She will take you places.
Isolating with Chicken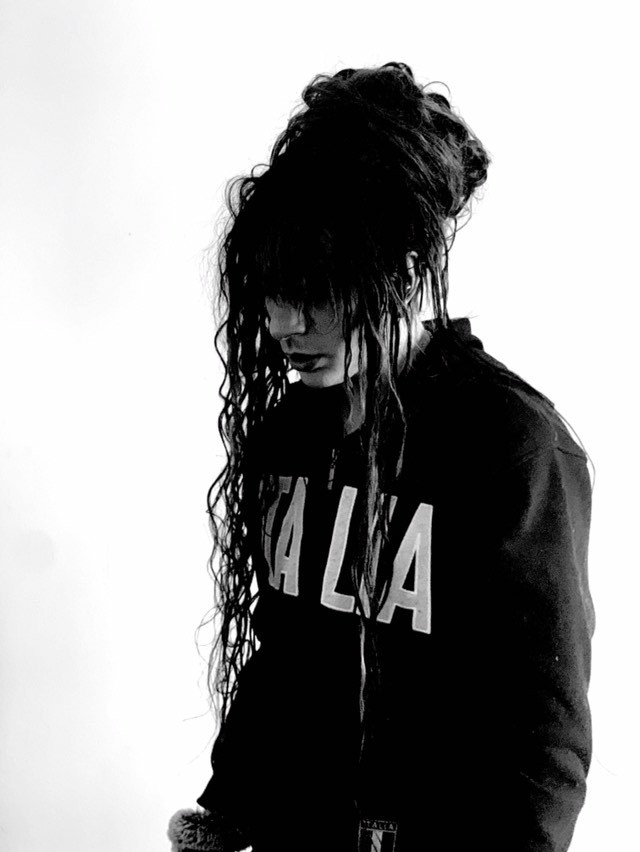 Having produced beats for the likes of Dai Burger, Bali Baby, and Isabella Lovestory, it seems like he's already on his way to doing so. Chicken's mysterious presence and highly-curated sound represents a new breed of kids who were raised by the internet, but crave the late 90's/early 2000's NYC club vibe—brought up by the YouTube era, but looking for so much more. 
Read our interview with the producer below.
Hi Chicken. Can you introduce yourself to the people—who are you? How long have you been making music? 
Hiii. I am a DJ and producer based in New York. I've been making music since I was a teenager.
Tell me about your new mixtape "A Night To Remember." It feels like a mix, but it's all original music, correct?
It is. It's mostly stuff I made in February. It's just where my head's at right now. I spent a lot of 2019 DJing and making club music, so I thought it was time to give the girls a little something different. And what I'm really into right now is pop.
What's it like being an underground music producer during quarantine?
Horrible and really scary financially.
What internet platform would you say played the biggest part in your formative teen years? 
Probably various porn sites.
Who are your idols? 
Ahh there are so many. Mirwais, Gigi D'Agostino, Pal Joey, Robert Armani, Timbaland. There's more. 
You've produced for many up-and-coming artists like Isabella Lovestory, Dai Burger, and Bali Baby. Is there a particular kind of performer you think your beats lend themselves to? 
I like people who are like cartoon versions of themselves. I can produce a whole album for someone in a day easily if I'm inspired by them because the music is just like filling in the blanks around their personality. I don't really approach it as beats. But If someone has no personality or I don't like them, it's excruciating. It's actually really hard for me to put together generic packs for that reason. Because such a big part of what I'm inspired by is the people. 
You were recently featured on the popular "Hyperpop" playlist on Spotify. What do you think about the state of pop music in the world right now? What do you wish to contribute to that? 
I mean there's a huge range, even in the mainstream. I think a lot of it is really creative like Shawn Mendes or Billie Eilish. And then there are others who aggressively claim to be progressive but make the most trite, formulaic shit imaginable. In terms of what I wanna contribute I would just say making stuff that people connect with on some level is always the goal. I wanna bring back feel good vibes. I feel like pop music is not allowed to be happy right now when it really needs to be. 
Who do you think is killing it right now, musically? Aesthetically? 
@Isabella Lovestory. I'm really excited for people to hear and see what we've been working on over the past year. 
What are you fixated on right now? 
"Be Yourself" by Audioslave. It's been on loop for the past several days. 
I feel like "Next" could be a club hit on its own. Tell me about that track. 
That track came about because I was chilling with my friend Ren who I make music with a lot and I was like, you need a song where you say, "I just wanna party, no sex." So I made this really simple beat. The whole song took like twenty minutes to make. By the time she said ketamine and cigarettes, we knew this was an anthem for club dolls all around the world. 
You're releasing three new tracks—Selections For Dancing Vol. 2. How do these tracks differ from "A Night To Remember"? 
Selections For Dancing is a project that developed over a longer period of time because the tracks all started as DJ tools more or less. I make a lot of stuff specifically to DJ, like I'll make a bunch of really minimal things to layer, and then when you have three or four CDJs, you can start to use them as samplers. For the most part I feel like it's pointless trying to translate those ideas into EP format because they are meant for a big sound system and it's so connected to the energy of people physically in a club. But it got to a point where that world started to get really developed and I wanted to share something of it. 
What can we expect from Chicken in the coming months? 
Um don't have expectations.
Let's Talk About Omar Apollo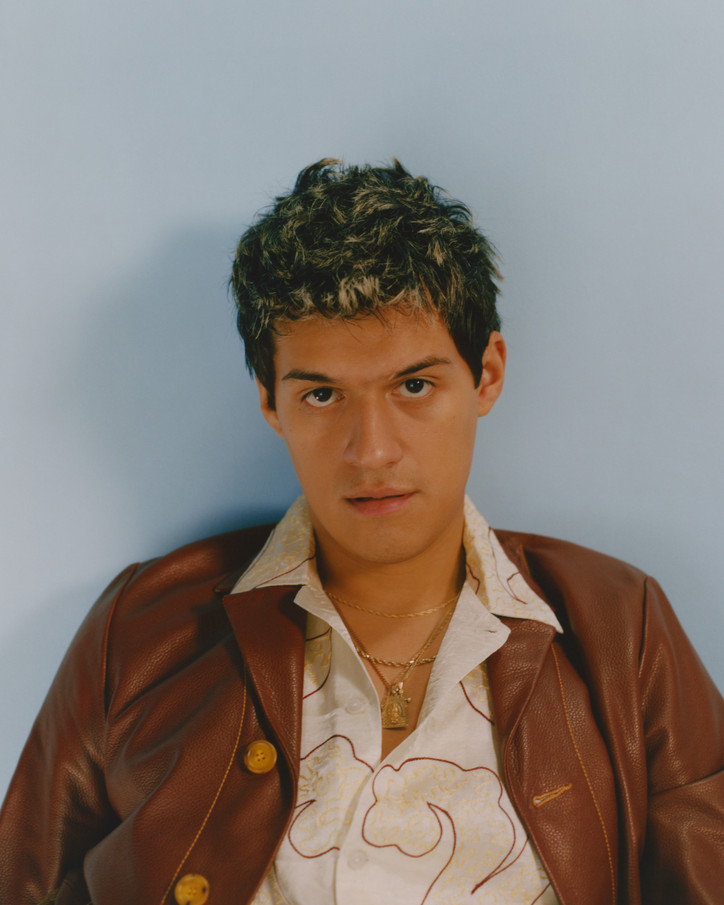 Cover photo—Jacket by Sies Marjan, top by Bode, jewelry is talent's own
Now, the script has been flipped, and Omar is able to fully support his parents with his music career. It's any first-generation brown kid's dream—not to mention Omar gets to do so by doing what he loves—but even still, Omar is perpetually chill. 
He got his start by working at Guitar Center and teaching himself how to play, make beats, and sing. The music at hand is unquestionably soulful and funky, psychedelic-infused, and typically about love. On stage, he's energetic and otherworldly, and he's built a fanbase that adores him because of how relatable and magnetic he is. When I pull up to Brooklyn Steel to interview Omar, these fans are lined up around the block just to attend his meet and greet, and I notice that they're mostly Gen Z, mostly POC, and above all, bright-eyed and eager to see their favorite performer up close. Omar captures a youthful energy that is hard to encapsulate, but in this age of immediacy, young music lovers are looking for authenticity more than anything—and, oh, Omar's got it. 
Read our interview with the singer below.
How was the shoot? I caught a vibe that you don't love being photographed, I was like feeling your anxiety. 
No, I mean, I like it when I get them back and stuff. Just like during it is awful. I don't know what I look like or if I'm going to look bad. So that's why…
So, lets talk about being Mexican. Growing up Mexican, first generation, in a place like Indiana where you're just surrounded by white people, what was that like? Did you experience any racism or bullying?
In school, yeah. But not like, who I hung out with. You just have to like find your own tribe in the city over here. I had tons and tons of it when I was young. Even from teachers. Like teachers would tell me I can not speak Spanish in the United States. "Go to Mexico," or something. I think Spanish is a nice language. At work it would be like they would see me personally like some brown kid, like first day of school type shit. Like, yeah. It's like you're not a drug dealer are you? Or some shit.
Did that affect your personal life or your music in any way?
Yeah, it just does not make sense to me. Like why would you do that to people, you know?
The song of yours that really got me was "Frio." That's my favorite song of yours. Have you noticed any differences in your process when you're writing in Spanish versus English?
Yeah. It just allows you to say different things, which is cool. Different sayings and stuff are different in Spanish than they are in English, sometimes it's like, what are you saying? And I'm like, it's not going to translate well. It makes sense in Spanish.
Is there like a specific moment that you realized you were blowing up? Like a specific event or does it feel like you blew up very suddenly or is it kind of like, okay, finally.
Yeah it's, I don't know. Probably the Metro show, like a year ago. It was like my first kind of big at night show, like 1200 people. My parents were there. I was like, "Okay, this seems steady."
Left—Jacket by Bode, tank top and jewelry: talent's own
Right—Coat by Coach, top by Linder
Are you constantly working on music? Like on the bus and stuff?
Yeah, all the time.
I like to ask people what they listened to when they were a kid, like when you were eight. What were your go-to's then?
R&B. Yeah and Alicia Keys, Keyshia Cole.
What type of media were you consuming when you were a kid? Like, what was your thing?
Like definitely Nickelodeon, Disney Channel. My brother watched a lot of cartoons outside of that. Now it is way more animated stuff, but back then it was more like real life. I loved watching like real life relationships that related more to people acting than cartoons, but now I'm like all about cartoons.
Do you make your own beats or anything? Or is it mostly guitar based?
At first it was just guitar, bass, drums. Pretty Motown. I make beats now, yeah, I do everything.
You've been collaborating with a lot of people. What is that process like? 
You just got to be friends with the person. That's all it takes. For now, it is friends. Sometimes you get lucky, like a personal friendship that turns into a studio relationship.
You've been traveling so much. What is the favorite place you've been?
London is always really cool to me. Other parts of the UK, which we got a month in, that was different, that was cool. I had just watched Trainspotting. So I was in that vibe.
What is the biggest thing you've learned throughout the past year? 
Call your friends and family. Keep up with them. Make time. Dude, I talk to my parents all the time. At first, they were like super worried and now they kind of see like how it is. So they are a lot more chill.
Is there any like weird, obscure, references that people would be surprised to know about your music? Like any random influences or inspirations? 
My music is really influenced. I will hear something and make five songs, like from hearing that one song. Like "Lover's Rock" by Sade. When I heard that for the first time I remember I made like six, seven songs. Either it was a drum sound or the tempo or the way the kick was hitting with the bass or the way the bass was like the melody instead of the background. Don't know, shit like that.
What is the biggest/main thing you've noticed about your fan base?
I noticed that they become super close friends with each other. They come to the show, become best friends. They keep in contact, they become so tight.
And how do you use the internet to interact with your fans?
I will just be talking to them. Just like they kind of get my personality. They just kind of know that I am never serious, I will say some funny ass shit. They will be like, "You're a weirdo." Then they will like go along with it. 
Do you ever plan the moves you do on stage? 
I am pretty meditated. I'll just be going up there doing whatever. But yeah, I grew up dancing at first. I started dancing when I was pretty young. Like Mexican folk dancing. I just did that, then I got into like hip-hop. 
How important are the people you surround yourself with? Cause like I've noticed you have like a good like crew, a good posse that yeah, travels with you. 
They are all my best friends. I don't know. It just kind of, we just kind of linked up. Just kind of happened and it was not like forced or anything. Everyone has their talent, so it was kinda just a, "Hey, come on" type of thing. 
I've noticed you've kind of been stepping up your visuals. I know you're working with Aidan Cullen, how do you kind of go about that? Is it becoming more important to you? 
Now it is super important, when I have way more time on my hands. Yeah, I'm not like rushed or anything, so now I'm going to have it be like conceptual things from now on. Before it was just like all cool videos. Now it can be more concept based, more intimate. 
Could you see yourself going a Tyler, the Creator route and kind of branching out into different clothing opportunities or like, different branded stuff?
That is cool. I really want to do like more hiking stuff. I am from Indiana so hiking is not a thing. Walks are a thing, but hiking is not a thing. I'm just obsessed with that right now. I love going on hikes and hanging out and wearing tactical stuff. I'd love to like make a trail shoe or something. Hiking merch. 
Are you working on stuff right now? Like any big projects? 
Yeah, an album debut. You can expect a lot of good music. More manic this time. More personal.