Sign up for our newsletter
Blu Bone, "Corone Cunt"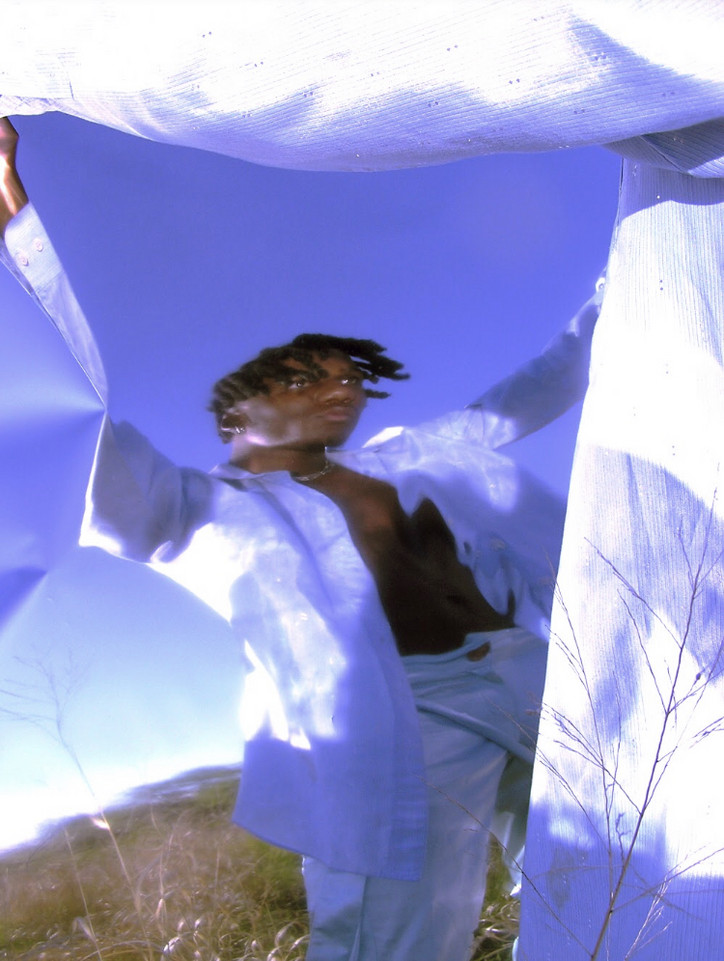 So you see the video of RollingRay, what are your first thoughts?
I've been a fan. I think he's truly an orator and wordsmith of the time, so when he came out with the "Corone" PSA, it resonated instantly. In the midst of the chaos, he gave the girls a ki' and an affirmation. That's powerful, PUR'.
Describe the process behind making "Corone Cunt."
I had gone to a ball the night before—that night all of the female figures stormed the floor for the frenzy. The room was vibrating, and the ceiling was sweating. It seemed as if everyone knew that this might be one of our last times together for a while, and we decided to give our all to the space. They had officially announced the recommended shut down the next day, and the city was on tilt. Social media flooded with despair and confusion, and it started to really give me the blues. I opened my laptop, picked up my SM-58 mic and tried to channel all the joy and strength I felt the night before at the ball onto VJtheDJ's beat. I recorded the chant in about three hours, then uploaded it to SoundCloud the same day. It was a good time and really gave me a way to reclaim and own my feelings about it all.
Besides making a song surrounding the coronavirus, what else have you been doing to survive the boredom of quarantine?
Ha—the boredom. I'm a full-time student, senior year. I'm working on my thesis film and EP, there's always something to do for that, a garment, set design, planning, etc. So I've been trying to stay diligent. Also eating good and tryna' download a piece of body when I find the will.
As funny as it seems, the song touches base on some serious topics like capitalism. How important is it for you to use music to express how you feel?
I don't think I really have a choice but to communicate how I feel, bear, and witness. I think the times demand it. We didn't ask to be in this "wicked womb," but I believe that while we are here, we gotta sing a song, and do a dance in this mf.
Did you think this single would blow-up like this?
When I was writing it, I was KIIIIIIIII'd', so I knew the girls would kii' too. I've garnered a fly and intimate audience in these past three years, but the music hasn't gone viral in this kind of way. I used to say that I was shadow-banned. With that said, it wasn't made with virality in mind, simply for the love, It's cute though. :)
What legendary vogue artist would you like to see vogue to "Corone Cunt?"
Hmm.. who do I wanna see play with the beat? They're not legends... yet! But for dramatics, let me see Freddie Ninja, Soft n' Cunt, Bunny Dior, and FQ Performance gimme delicious Gucci! That's who I wanna see.
How much does the vogue community mean to you, and how does this song's success affect that?
Ballroom here in Chicago especially means a lot to me. I've learned and built so many parts of myself in the community. Some of the most inspiring, creative, and alive people in the world are right here in queer Black America—it'll always be that way. I'm a hip-hop MC, so ballroom commentary isn't my specialty, but I got in my bag real quick. This is definitely a community where you earn your spot and respect, so the song is me paying my dues, so to speak.
What do you foresee for "Corone Cunt" post-coronavirus?
I really hope "Corone Cunt" post-pandemic fuels our journey into this new world. I want it to serve as a ki', a politic, a sample, another piece of language for the people. I pray the same for all the things I do.
Now that this has gained recognition, what's next for you?
I'm working on my Sophomore EP Hi Cotton right now. It's a new flavor but still very Blu; my pen and instincts are sharper than ever. It's an exciting time. Also working on my thesis film "In This Wicked Womb." In the meantime, I might pop a few freestyles or something.
Zack Villere's Cardboard City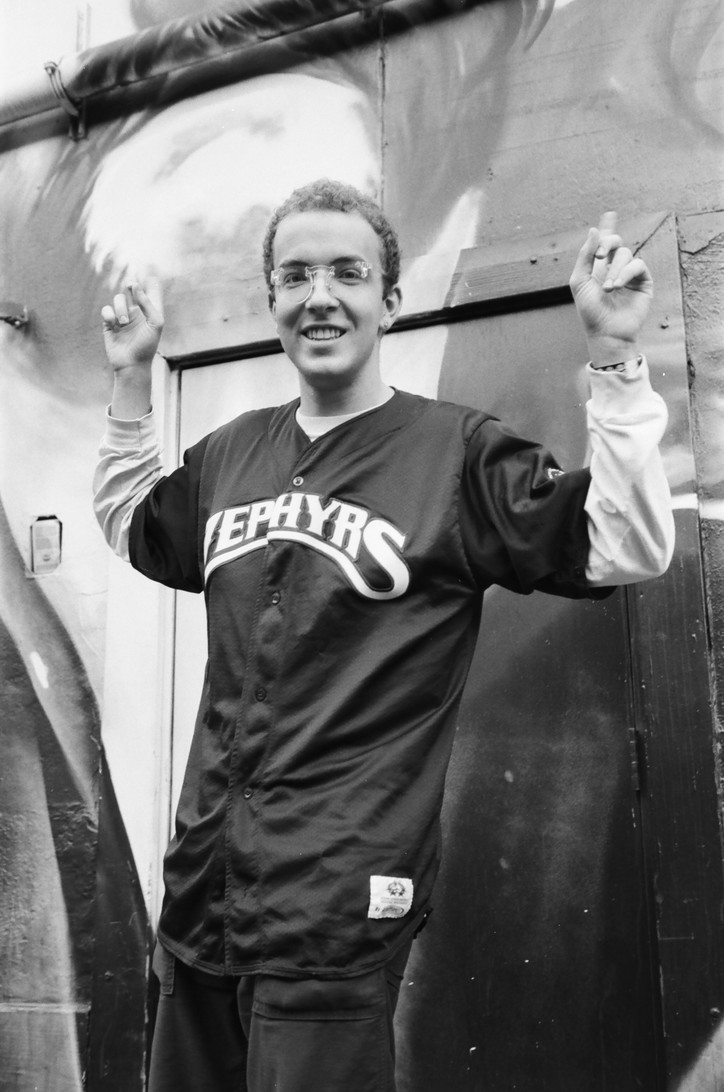 Tell us a little bit about yourself?
I'm 24 years old, and I'm from Covington, Louisiana, and I'm like 5'8 or '9. I make music—I just put an album out not too long ago.
What was growing up in Louisiana like?
It was dope. I grew up in a small town. My dad was the mayor of our town when I was really little. As I got older, we'd go to the grocery store and he knew everybody. It was a small town and I like that feeling of knowing people at the stores you go to. It's really nice. And being able to walk around a lot––me and my friends would just walk to the downtown Covington area and just skate. In Junior high we would walk to our school all of that was really nice. I like walking, and that community familiarity. It was great.
Your music seems to contain a little bit of pop, a little bit of indie combined with a plethora of other things. How do you describe the sound of your music?
As whack as it sounds I would just prefer not to describe it. Typically just 'cause there are so many things that I'm thinking about—that I'm influenced by that other people might not hear, so it makes it harder for me to categorize myself. Other people can be like, "Oh he's this," and usually it kind of sucks to hear that, but I can't really do anything about how they feel. I like a lot of music. I like a lot of R&B. That's where I get a lot of music inspiration for melodies. But other than that, I kind of just listen to whatever.
I'm just writing about how I feel.
In your new album, Cardboard City, you have two features with J'von on "No Country" and with Dijon on "Rope Swing." How did you go about choosing them?
J'von is somebody I've known for a long time; he's on my last album too. We've made a lot of music together and I thought he was sick. So yeah he had to be on this album. And then for Dijon, I've known him for a couple of years and we made one other song—I like making music with him, it's fun. So before this album had even really started to come together I had written a fake tracklist, and one of the songs was Rope Swing about the rope swing I had back in Covington. So I was like, Dijon would be cool for that, and it would be cool if we hopped into his world for a second and transfer the song to fit his stuff in the middle and then come back.
Your music has a relatable song for nearly everyone. How do you go about crafting up lyrics?
For lyrics, I like writing a lot. I think it's really cool and I think it's very satisfying for me to hear certain stuff in writing. Just like it's satisfying to hear a chord change or a really nice melody. I like the idea of writing a story. As for relatability I feel like everyone kind of goes through the same shit or slightly different circumstances a lot of the time. Not everybody goes through the same stuff if you know what I mean. I don't know––I don't see it as relatable, I'm just writing about how I feel. 
 
What inspires the creation of your music?
 
My friends, art, drawing, paintings, and movies. A lot of times I'll go see a movie and leave feeling super inspired.
 
What's your favorite song on Cardboard City?
 
My favorite song on Cardboard City, I'd say "Snoopy." All the voices you hear on "Snoopy" are all my friends and my friends' parents and stuff. I just got everybody to send me voice memos, and then I tried to compile them all together so it could sound like a busy street corner. I just like the chords and I like that song. "Superhero Strength" and "Grateful" too, those are probably my favorites.
What is your favorite movie at the moment?
Little Women, but I watched it four times and I think that was a mistake.The first three times I saw it I was obsessed with it. And then I watched it one more time, and I was like fuck. Everytime I see it I focus on different details, and the fourth time I felt like I've seen it all—I kind of checked out. I fucked myself over, but I still love that movie so much though. Little Women was fucking dope.
Your Instagram is filled with pieces of your visual artwork—when did you first start drawing?
I started drawing in elementary school. The way that it works in Louisiana, there's a gifted and talented program which is a really dumb name. Anyways if you were good at art you could try out. My dad is an artist. He makes these fish out of tin, and my aunt is a painter. I think I always thought art was really cool, but I was just really bad at drawing. And I'm still bad at drawing—I'm trying to get better.
What is one goal you have for this year?
 
Finish my next album.
Channel Tres Drops "Weedman" Single and Video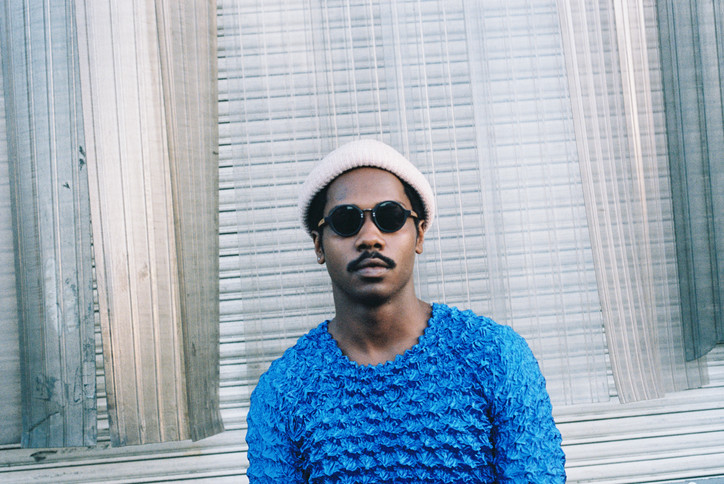 Channel set the video in a retro wood-paneled living room outfitted with all '70s decor, a vibe that reminded him of his late great grandmother's house, where he grew up. He switches perspectives in the song from the fiend to the supplier, a move he told us hints at his Gemini sun duality. We caught up with the West Coast artist-producer to hear more about the video and what he's been up to on lockdown.

Read our interview, and watch the video for "Weedman" below.
What are some top artists in your rotation right now?
Last night I got into some Barry White and Thelonious Monk, and dove back into some Kid Cudi. Kind of floating around.
Are you finding yourself more compelled to work on music during this quarantine or are you taking the time to take a pause?
I was forced to kinda take a break from touring. Music-wise, I'm always working on that every day. It's like second nature. So it's not affecting me that way, it's most affecting me not being on the road. It's probably a blessing in disguise––it's not a blessing that people are getting sick, but just being at home. I had boxes and things to unpack, because I'm always gone. So it's kinda nice to be here. 
A lot of musicians are taking to Instagram to do live stories right now. I saw James Blake reposted your live.
Yeah he reposted me. I've just been smoking blunts on live, teasing "Weedman."
The video for "Weedman" is appropriate during a quarantine, because the whole video is about just sitting in the living room with your friends.
Yep, facts. I had a bigger video shoot planned and we rented out this house, and then I felt like inviting everyone over so I just cancelled it. Filmed it at that crib.
Tell me about the inspiration for the dance sequence element of the video.
You usually see all women doing the type of dance sequence we did in the video. I thought it was really dope to have a bunch of black men just being ourselves, because we actually do that. It's very "Gilmore Girls," like on the couch, watching chick flicks, but it's a bunch of guys. Those are my childhood friends.
What is this song about lyrically? Is there a deeper meaning or is this song really just about waiting on the weedman?
That's the sentiment. But it's me detailing a time when I was 16, 17, and it was really hard to find the weedman. There's weed shops everywhere in LA now and they took weed and made it super expensive. So it's about missing a time where the weedman would pull up and you'd give him $10 and get a bunch of weed. Also, I'm a Gemini, so in the video you see me change characters––it's detailing that battle I have with myself. The first verse is the fiend, and the second verse is the provider. So it's like I'm mad at the weedman for not coming but I also don't know what he's going through. It's a phone conversation between them.
So you're sort of into astrology then?
Yeah I am. I believe in it.
What's the rest of your chart?
My moon is Scorpio, my rising is Taurus, my sun is Gemini. You can kinda tell. If you understand that stuff you can see how crazy my mind can be. If we don't feel it, it won't happen. And we work really hard.
The song is called "Weedman," so I have to ask you––are you more of an indica or a sativa type of person?
I'm an indica type of person. But the song is very sativa dominant. Usually weed songs are very slow, but there is a side of weed that gets me excited. You know when you smoke just enough or smoke the right sativa, you're in a clear head space rather than sleepy? Sometimes I take a little drag of sativa or something and it opens up my mind a little.
Some people in NYC are nervous about running out of weed during the quarantine, because there aren't dispensaries here. Are you worried over in LA about running out if people can't drive and deliver?
Oh I'm fine. I'm fine.