Sign up for our newsletter
Women Doing Whatever They Want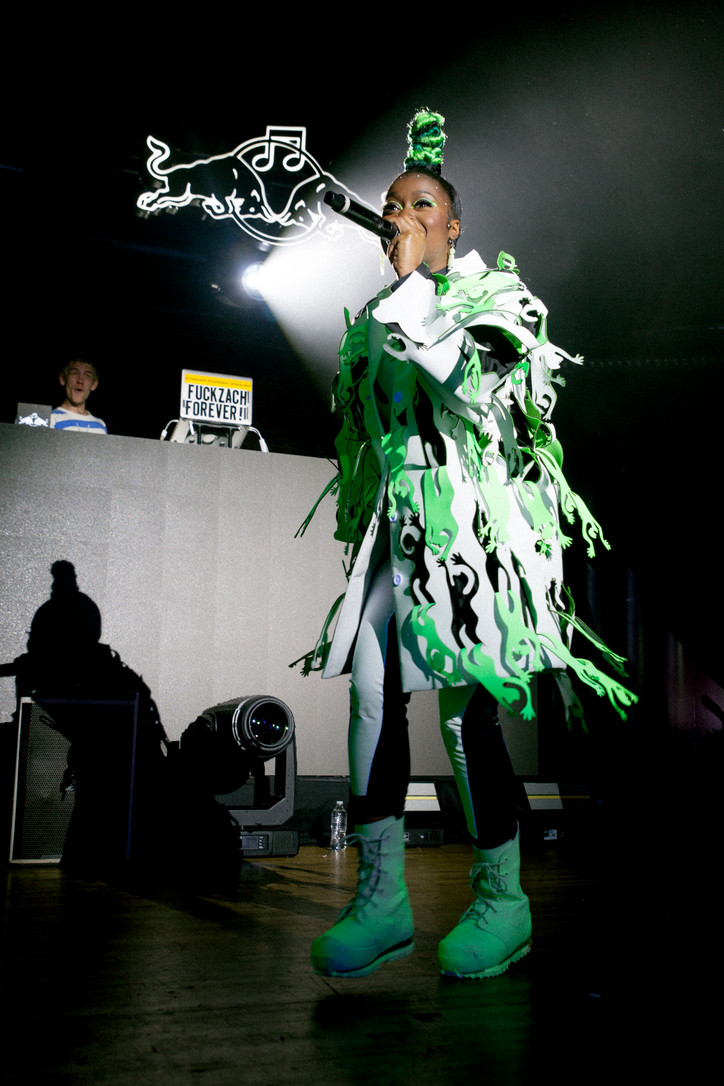 Check out our interviews below with some of the artists.
Ari Lennox
By watching your audience tonight, I could tell they all really connected with everything you sang as if they wrote it or had experienced it themselves. Is this something that's intentional? Do you try and make your songs relatable to a specific audience?
I just write about whatever I'm going through. I've never really realized that it was so relatable. It just happens and it's like, "oh great I'm not alone. Someone can identify with me and be happy with having their first apartment or dating someone that may not have as much money as you," but it's also like, "fuck that shit, who cares? I just like you for you." You know?
Yeah, you're incredibly relatable and anecdotal. Outside of songwriting, who are some of your other musical influences?
Minnie Riperton is definitely an influence, all '90s RnB, '70s Soul. I listen to a lot of beautiful music: Smokey Robinson, Teddy Pendergrass, The Whispers, etc. Real music.
You just released your debut album. Now that you've passed from a time where you were perhaps in a similar environment or relationship with your audience, how do you think your songwriting will change? What are you looking to write about now?
Damn, maybe on how I can't find a fucking apartment because all them shits are too expensive 'cause I moved to LA. Maybe write about my dog. It would only be about things I'm going through. Realistically, I know I should give him to a more stable person, but I can't let go of my baby. I could write a whole album about my dog. But I mean yeah, I guess that's all it would be, love, loss, being conflicted. I feel like not much would change, it'll always be about what I'm going through—a cross country drive, just going, myself in my car.
When I got into a position of power where I was controlling my own narrative, I took it and I ran with it. Gave me an inch and I went 30 miles and I ain't stop. I ain't turning back.
Teyana Taylor
Your show tonight had so many layers and changes, what are some of the aesthetic inspirations for the show?
It's crazy because it kind of transformed into a movement. This is the House of Petunia and for the show I really wanted to bring visuals that complemented the song feeling or vibe. As you can see, I had songs about every subject—things that people could relate to. Whether it was love, passion, hurt feelings, sexy, crying or going to church. I love to have a show where people can laugh with me, dance with me, sing with me and cry with me. I think it's very important to be touchable—for everyone to know that you're human and that we're all in this together. And that I am genuine and appreciative, so I put my all into it. I always want to reach out to everybody because you never know what people are going through. So I kind of want to be the mood—any type of mood that anybody has going on now.
The ground you're covering in all your ventures is really impressive, I wanted to know where all this motivation comes from?
I think motivation is how I want to put in work, and it shows that I will never get too comfortable. I will never stop my grind. I will always work. I look at my daughter and I look at my husband and say this is who I do it for. I look at my family and say this is who I do it for. I look at my team and my aunties and my manager and I look at them and say this is who I do it for. Like I said on stage, it takes a village. It ain't just me saying, "I'm getting on this stage—there's a whole production. There's a whole team! All the way down to the people who sweep up the stage to make sure it's clean! That shit matters and it's very important and that's why I like to thank everyone. That is my motivation, and these are the powers that we have.
What was it like directing "WTP" and all the other videos you've directed for others?
It's crazy because I've had some downfalls in my career—some things that have hurt my feelings. So I've been in the position where I was really young and couldn't control my own errors. And that inspired me to direct. Maybe there's something that doesn't look that bad to the naked eye, but to me, it could be better. I've always critiqued everything, including my own stuff, so it wasn't like I was hating. I just always seen better for others, which is very rare. I genuinely love to create for others. I genuinely love to help others. I've wanted to direct since all the way back in 2011, but because of all the ups and downs I've been through with music, it was always like get the album out and everything got pushed to the side. When I got into a position of power where I was controlling my own narrative, I took it and I ran with it. Gave me an inch and I went 30 miles and I aint stop. I ain't turning back. Ain't nobody directed a video for me yet. I don't remember the last time someone directed a video for me, including the songs that I'm featured on. And the fact that people hit me up is so dope. It's almost like people want to get me on the song just to direct the video, but I appreciate that. Chance the Rapper tweeting about me, Wale tweeting about me and Snoop Dogg—all these other people call me by director name, Spike Tee. I just think it's really dope to get that acknowledgment from my peers and from other artists. To see other women and men come up to me like, "yo Tee I need the visuals!" That excites me.
Jamila Woods
Tell me about your writing process
I think in general, I like to go as a collaging process. I just like to have a lot of stuff around me to spark ideas when I'm writing. Whether it's like keeping a lot of notes around me or stuff that I saved on my phone or watching videos on Youtube. For this project, my writing process always had the prompt of who the song was named after and thinking about what my connection is with them. There's this quote we say in poetry: "you don't always have to enter into a poem through the front door." So I have all these other songs about different people, but how can I enter into each specific one with a different perspective. As you've continually reached notoriety throughout your career as an artist and writer, you've still been actively involved in the Chicago youth art scene with YCA.
Tell me about your decision to focus on this and put emphasis on the Chicago youth.
I definitely acknowledge that being apart of youth art spaces in my last few years of high school and a few years during college was integral to my development as an artist. I remember seeing teachers, who I guess were my age now, and they were doing art and also teaching it to me, but they were young and they were people of color. And that was the first time I saw the model and I thought, "I can do something like that." I just always wanted to return, so that's what I did when I graduated school. On top of that, it pushes me as an artist. It forces you to remember why you love what you're doing and that you have to teach others why they should too. So as I was writing this project, I taught a long mentorship program in the summer, and I was bringing my ideas and I asked them to make their own legacy maps, people who have influenced them. Having them go through the process helped me see how I could reign in on my own. I think they have the best taste, young people of color especially. They are the makers of our culture, and I think it's really important to stay connected.
Outside of the aforementioned artists and students what primarily influences your work?
That's a good question. I think it's almost like a mirror, I want to try and know myself more and create music that speaks to different parts of myself and helps me be seen. Even sometimes I'll write a poem and come back to it a month later and be like, "Oh that's what I was talking about." That's a wisdom that I didn't even realize at the time. That's what drives me to write, regardless of the topic—striving to know myself better.
The Tune of The Time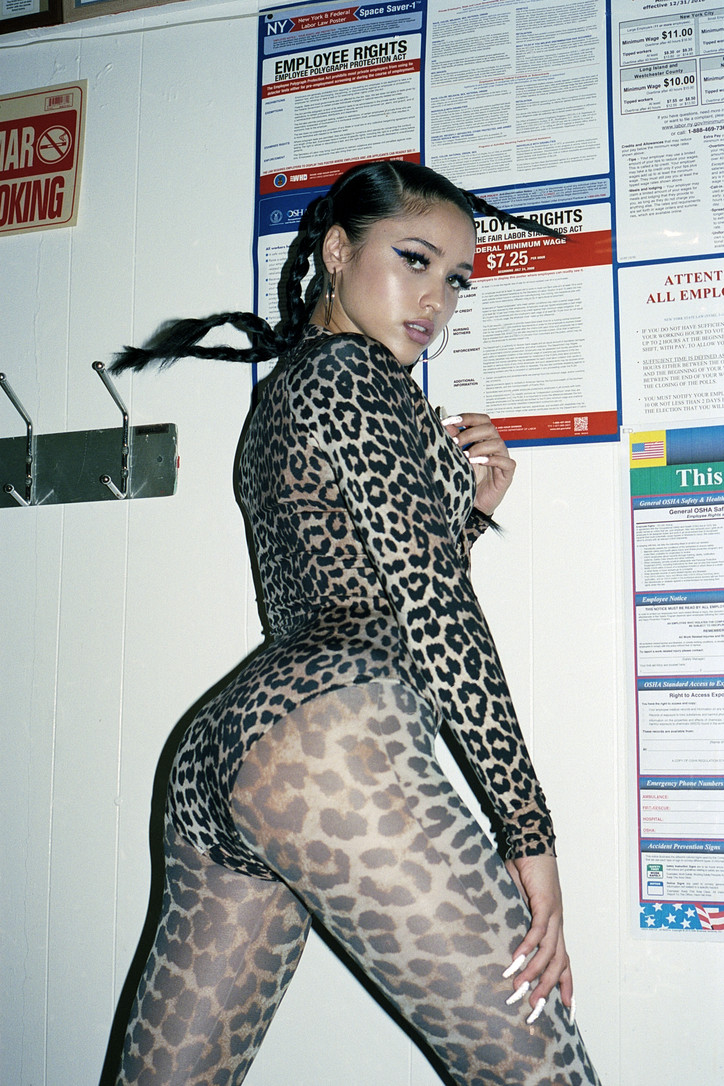 The life of an artist isn't easy, but that doesn't stop Mariah from making it appear that way. With hot songs like "Perreito" and "Una Noche Más", climbing the charts, the 20-year-old vocalist sings her songs predominantly in Spanish, showcasing her fluidity as an artist while also claiming her seat at the table—the headseat, to be exact. Iconically choosing to use her given first name as her stage name, Mariah notes, "I've always watched artists growing up with nicknames, but I couldn't see that for me. People always want to separate the artist from the person, but I am an artist. I'm Mariah. Simple."
Like most multifaceted stars, Mariah's knack for music came at an early age. Listing some of the top female performers of our time as her first source inspriation, such as Mariah Carey, the artist is hellbent on carving out her own lane, describing her personal style as, "very unique, danceable and real music." And although her music may be catergorized as pulsatingly pop, Mariah's intentions are anything but lighthearted explaining, "I'm going to take over. Lowkey, I'm going to takeover the world, and you can quote me on that." 
For future reference, Mariah will keep riding her own new wave Reeggaeton sound all the way to the top—and office fully expects to see her there. In the meantime, gear up for some hidden gems, because Mariah is fully ready to feed her fans. "I have a bunch of unreleased songs, but I have to wait for the best time to drop them. I'm just sitting on fire stuff right now." As if that isn't enough, the Latin singer also dished that she'll be releasing some "dope ass" merch right in time for the holidays. Initiating an imprint entirely her own, Mariah has solidified her status and is ready to dominate every avenue. With Mariah, more is more and most isn't enough. Mariah won't stop until she rules the world.
Documenting Realness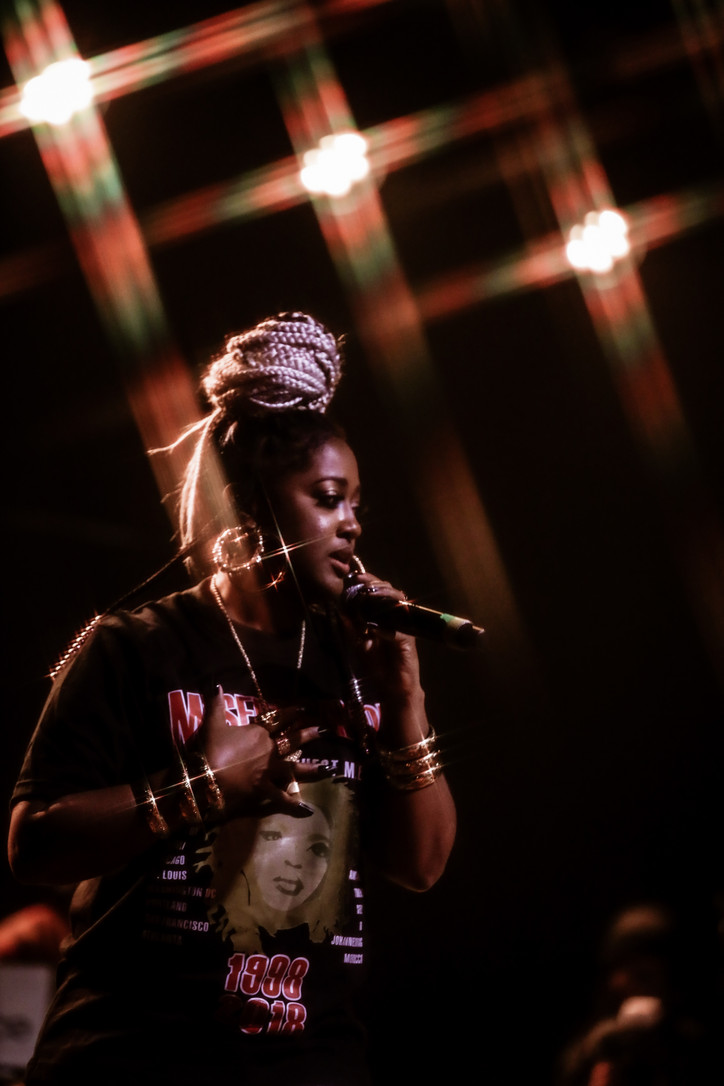 Released in August earlier this year, Eve is the 36-year-old rapper's third studio album. Featuring powerhouse collaborations with artists like office favorite Mereba, J. Cole, and Queen Latifah, the 16-track concept album consists of songs named after the black women who they were inspired by. 
"I'll always want to use the microphone and the platform to talk about what's real around me. That's something I've always taken notice of and gravitated towards—stories I've wanted to tell. That's always been a part of the fabric of who I am," says Rapsody in her latest interview with office.
Tickets for her tour will go on sale to the public on December 6.
What've you been up to since Eve came out back in August?
Since Eve came out, I've been super busy. It's been nonstop, whether it's been doing press and promos, shooting videos—I just did a seven-week tour with Big K.R.I.T. So you know, that's been like the main thing, rehearsing with the band. We did the BET Hip Hop Awards performance. We're just really trying to showcase the art in as many different creative ways that we can, as well as starting on the next project too. I'm still trying to create in between working and do all the leg work of just making sure that the music is exposed in all the right places, so it gets to all the people that we can touch. 
Your vocals are so raw and powerful. Can you talk a little about how you curated your sound to get to where it is now?
Finding my sound and my voice was a real process. When I started out early on, if you go back and listen to my earlier projects, my voice was a lot more high-pitched. I didn't have as much control, as in breath control and making sure I put inflections on certain words. So with mastering the art, the craft and the science of rhyme, I found the right tone and my voice that showcases the confidence, but still allows me to play with it to make different records unique depending on the story I'm trying to tell. I've learned a lot about breathing and even allowing the beat itself to breathe. It's also about lyrical dexterity. Once you get all those things together, it all adds up towards creating your own sound that's unique to you. 
Touching on lyrical dexterity, you've mentioned in a previous interview how you found inspiration for the song "Whoopi." You know, you were listening to the beat and thought to yourself that the beat could "make a sister act up." So building off of that, what's your song writing process like after you get that initial spark of inspiration?
Every song that I create is different. Specifically talking about "Whoopi," I got in the booth and just thought about who the song reminded me of and about how I wanted to creatively portray that without being too dead-on—I just kind of got to the mic and freestyled the hook first. I didn't write, and I was like let me just see what comes out. And you know, the first thing that comes out is, "They gon' make a sister act up. Turn my attitude back up." So I realized I could play with Sister Act and the words. 
After I had the hook down and the energy I wanted for the song, it was about finding the cadence. So you know, no words, just mumbling, like finding how you want your voice to flow as an instrument. You find the rhythm and how that meshes. A lot of songs that I do, I could say across the board, I find the cadence first and then plug the words in. 
Do you practice freestyling?
[Laughs] I do. I'll tell people that I'm not the best freestyler in the world, like everybody has their strengths. Some people are great freestylers, and they might not be as strong at songwriting, but I'm the opposite. I love to pin things, and I'm not as strong at freestyling—but it's something I've always worked on, because I'm such a fan of the culture, and that's such a big part of it. As the MC, you have to at least know how to freestyle at a bare minimum. So whether I'm in the car, the studio or in the shower, I'm always freestyling. I get with my label mates, and we'll just have fun and have cyphers. Some days are great, and some are not, but it also helps me creatively when I'm really trying to work on a song. It's something I'm a lot better at than I used to be. I'm at the point where if I go to a radio station, I might freestyle, but I wouldn't have done that before if I didn't have it written and already prepared. But it's part of the culture, so I gotta incorporate freestyling in my artforms. 
With Eve, you had so many renowned artists featured on this album. Did they have a hand in the creative process, or did it stick closely with your initial vision?
It was amazing to create with everybody. For this project, the artists' celebrity didn't necessarily matter to me. It was all about who I felt would fit the record. For the most part, everybody that I reached out to came through, and nobody had to redo their parts. They got the concepts right away, and from what I heard, they delivered in the most perfect way. So that was really exciting, watching the idea start and blossom into hearing the person's verse and just being like "wow." And that's exactly what I wanted. 
The one that was most memorable for me was the one with Queen Latifah, because most people sent their verses in, but me and Queen Latifah, we really got to go in one-on-one and really create together. So, it was really an experience that we grew to be great friends over a couple of days, two or three days. Outside of my team, she was somebody who really left some expertise and advice in the creative process. She was like, "I think you can come up with a better album title," about the original title that I had before I picked Eve. She helped with the second version of the hook for "Cleo," which is different than the one on the album. She was like, "The hook is alright, but I don't love it." So that made me go back and push the pen and write a better hook. I know how much she's done for the culture, so I really respect her advice. She helped me a lot creatively outside of my team. 
What was the original title for the album? Are you allowed to say?
We were gonna call it Alien.
Referring back to the title of Eve, would you consider yourself religious?
I'm definitely more spiritual than religious. I grew up a Jehovah's Witness, you know. That's the base and the foundation of my spirituality and what I believe, but I'm so open to learning about different faiths and religions. At the core of who I am, I believe there's a higher power—that there are things that are common regardless of what religion you associate yourself with. I'm definitely a spiritual person, and I'm trying to learn more and more and trying to find truth through it all. 
There's so many thoughtful and heavy concepts in the album. What message do you want to send out to your listeners, in your own words?
For this album in particular, I want to highlight just the beauty and strength of women, how much we have to shoulder, how strong we are, how important we are to the community and the circle of life, and how we should be respected and protected—whether it's your mother, your grandmother, your daughter, a best friend. I really want to bring people into the world of black women and how they live, but this is also something for everybody, whether you're black, white, male, female. You know, you can find something in there to relate to or inspires you or something that you can attach a memory or feeling to in some way. 
Have you always known that you wanted to use your art for a higher purpose?
I've always known in some way. The artists that I grew up listening to inspired me, like Queen Latifah and the "U.N.I.T.Y." video—seeing how powerful that was and for her to demand respect in that way and seeing all these strong women behind her like MC Lyte and Lauryn Hill and what they represented. I'm a big fan of Phylicia Rashad and Cicely Tyson and the characters they play. They were always strong women and strong characters. Outside of celebrities and in the village I grew up in with my mother and my aunt, I watched my mother come home after working so hard everyday. These are the things I live and I see in life, and I'll always want to use the microphone and the platform to talk about what's real around me. That's something I've always taken notice of and gravitated towards—stories I've wanted to tell. That's always been a part of the fabric of who I am. 
If you could go back in time, what advice would you give your younger self?
I would tell myself not to overthink it and to know that who you are is enough. I came in the game and tried to figure out how I fit in, and I used to overthink my records. But at the end of the day, just make dope art and touch people. Everything outside of that will come. I would say to allow myself to be ok just as I am and not feel like I have to have the same path and the same success story as everybody else. We're all supposed to have different paths. So, that was something I stressed over way too much, and it made it hard to enjoy the process as much as I could have sometimes. 
If you weren't a musician, what would you be doing career-wise?
Wow, that's hard to even think about. It'd have to be something to do with music or part of that culture. I probably would be doing something like marketing music, being behind the camera and directing videos, or working with kids in the arts. It would definitely have to be something creative. 
What are you planning for your next move?
I'm back in the studio working on another album, not to give too many details too early—but there's definitely another album coming out next year. Behind the scenes, I'm getting into writing, and trying my hand out with musicals and TV. I've had a couple opportunities come my way that I'm starting to work on, so hopefully things pan out. I want to expand myself as an artist outside of just creating music. I want to produce documentaries—that's what I'm hoping to do next year as well.
Why do want to produce documentaries?
It's just another creative way to tell stories and give voices to people that don't necessarily have a voice. I met a lady in St. Louis while I was on tour with Big K.R.I.T. She had such an amazing story, and she was telling me about another woman that she met while going to visit the Martin Luther King museum in Mississippi, a woman who had been on the side on the street for 30 years protesting. I was like, "Man, why don't people know these stories?" I have a platform. I have a voice, and I want to tell these stories.