Workwear and World Politics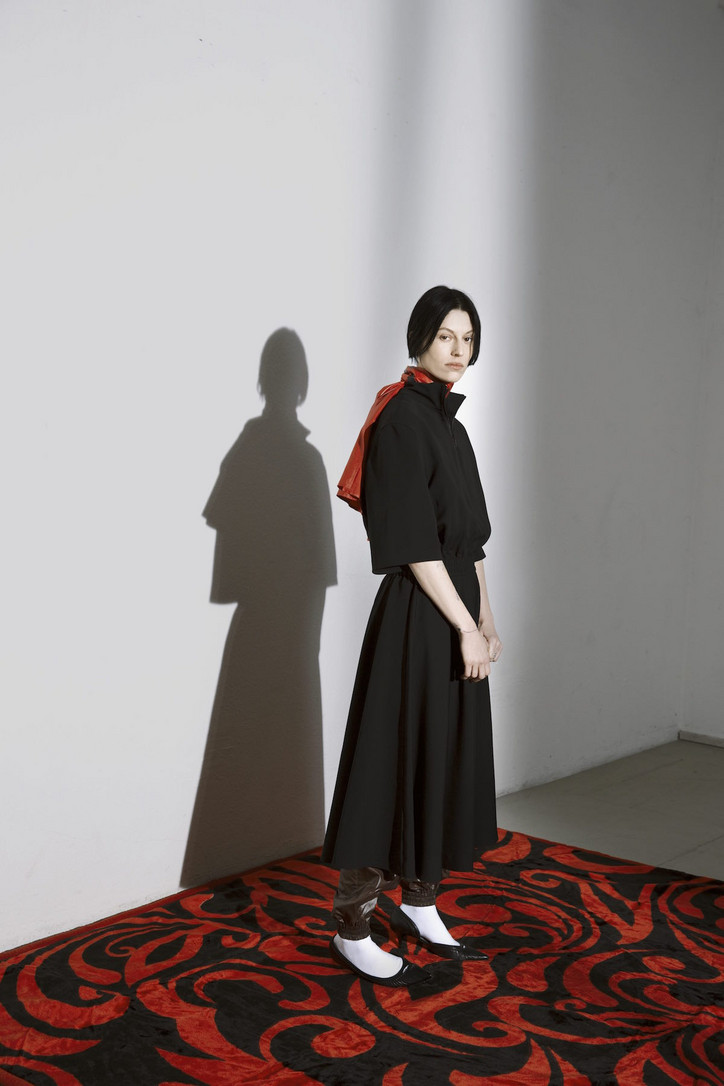 On a good day (dress up cause the sun is out day), what or who are you wearing?
I would put on my vintage Comme des Garsons dress, Tabi Maison Martin Margela boots. Then some Light make up and my hair in a bun to complete my look.
You were born, raised and educated in Kiev. How much of that shows up in your work?
I spent my student's years in Kiev. During my education nothing interesting happened, because of old education systems and boring professors. However, Kiev as a city helped me to understand all my creative ambitions. In Kiev there is a lot of beautiful monumental architecture, it inspires me every time in a new way. The works of O. Ekster and K. Malevich mostly inspire me. I discovered them during my education in Kiev.
What exactly is happening in Ukraine? And how has your work evolved in tangent with that?
I can say that now Ukraine is in a period "perestroika" which translates to means that it is in the blood of Ukrainian people to adapt to all the problems. I am not an exception, so I work in my usual rhythm trying to concentrate and remain focused on my business rather than let the nation's issues hinder this.
Why work wear in particular – what does the concept labor provoke for you?
Work wear has a simple design, nothing special, but for me the person who wears such clothes becomes mysterious, with a deep interior world. I have a lot of respect for people who work hard. As Tolstoy said "Labor awakens man's creative forces."
Your cuts, use of Cyrillic and traditional soviet work wear colors (black, red and white) all reference something traditionally Ukrainian. What is the importance of retrospection when trying to create something new?
You can create something new and feel the future just by learning to rethink the forgotten or old. Retrospection is very popular today with some of the forgotten things becoming alive via new forces. Being able to see the value in the old makes you confident in the fact that you can create something new.
What's the worst— or most regrettable— thing you've ever produced? Can you tell us a little about some obstacles you've encountered creating such political work?
For me my obstacles come from the reaction of the people who work in the factory. Sometimes it's been the case where they refuse to make a print, because the slogans on my clothes does not correspond with their policies or views.
As you said, protest is all about rethinking what has been outlived. What is next for the fashion industry as far as rethinking goes? What do we need to let go of?
It seems to me that soon it will be a time of unique things, vintage and new haute couture. Rethinking has already begun with the market being overloaded. More and more we see people are walking in black, maybe this is a smooth transition into the uniform.
In an "occasionally" shallow industry, how do you ensure that your political messages don't take a back seat to the outward aesthetics of your design?
During different periods of history (war or peace) fashion never stops, this can also be applied to art, literature and music. Fashion is not political in is pure form, but clothes reflect a human mood either positive or negative depending on events. For now, my use of slogans in my prints and design ensure my message is heard.
Favorite designers at the moment? (Besides yourself of course.)
Rei Kawakubo, Karl Lagerfeld as I admire his strong character.