Worlds Without Rooms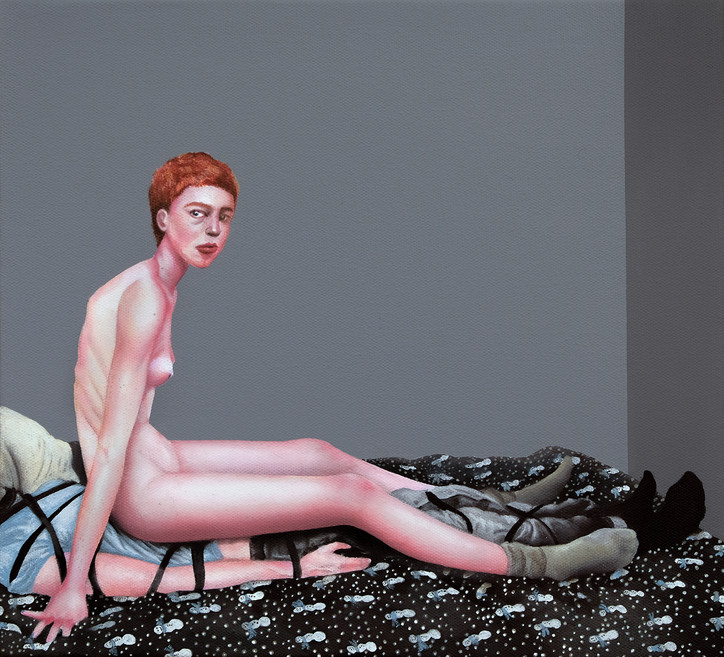 Alannah attended Cooper Union but not for painting, for photography--it was her teenage modeling years that sparked an interest in digital art, a creative realm that teaches the importance of lighting and technique. With this formalist approach to craft, young Alannah evolved into a modern Old Master.
The primordial piece of "Worlds Without Rooms" at The Painting Center hangs to the right of the still-lifes, depicting Jared Oppenheim. Her subject lies half nude, with shirt unbuttoned, on their shared bed. Banana, a tuxedo feline, accompanies Alannah's partner. Jared's feet and socks are noticeably greyscaled. In fact, many of these paintings possess this tonal quality. "I start all of my paintings in grisaille... and then, I add color over it." This technique allows Alannah to play with mood, inviting us into her "invented rooms."
Alannah's preference for painting portraits in landscape format is informed by her lineage. Both of her parents were artists: her mom is a Hudson School acolyte. These portraits of Alannah's friends — fellow East Village natives — tell tales of melancholia and contemplation. A signature piece titled, "Sanctuary (Magdalena)" features a young Polish girl lounging in her bedroom. What actually caught my eye, though, was not the quiet strength on the woman's face, but the unfinished hand on the thigh. Wide ethereal strokes fade into light. "She actually wore long, silver acrylics" speckled with glitter. Alannah's initial draft featured realistic fingers, but the nails drew too much attention away from her face. The final product is intimate and soft.
Above: 'Avenue B (Marie)' and 'J&B.'
Another highlight of the show illustrates Alannah's history with sleep paralysis. Surveyors get an intimate view as a shadowed arm reaches for Alannah's legs, which recoil. With green walls, the supernatural element adds humour — something she, and I, both recognized, whereas others only know fear. I wondered if she was a spiritual person: she is not, but Alannah does compare her artistry to alchemy. From there, we touch upon mental illness. "Sometimes it feels like I might have a mild form of schizophrenia." (It runs in the family). Positioned next to "Sleep Paralysis" is a green portrait of a woman in green glasses, dress, backdrop. The verdant schema can only be contextualized if you know Alannah's familial history. It is an homage to her uncle's portrait that looms in her childhood home.
But Alannah doesn't want to tell you how to interpret the work — her work ...or any work. I asked her why there was no wall text; and what she wanted the audience to extract from this show. "Art is a visual medium — and you shouldn't have to be literate to enjoy it." She notes how classist write-ups (and the art world, at large) can be. Opened from March 28 through April 20, 2019, hers is an egalitarian solo show. Alannah Farrell is more than just a visual artist — she is a vanguard for human emotion. And as for painting... it never died: only evolved.
Art is a visual medium — and you shouldn't have to be literate to enjoy it.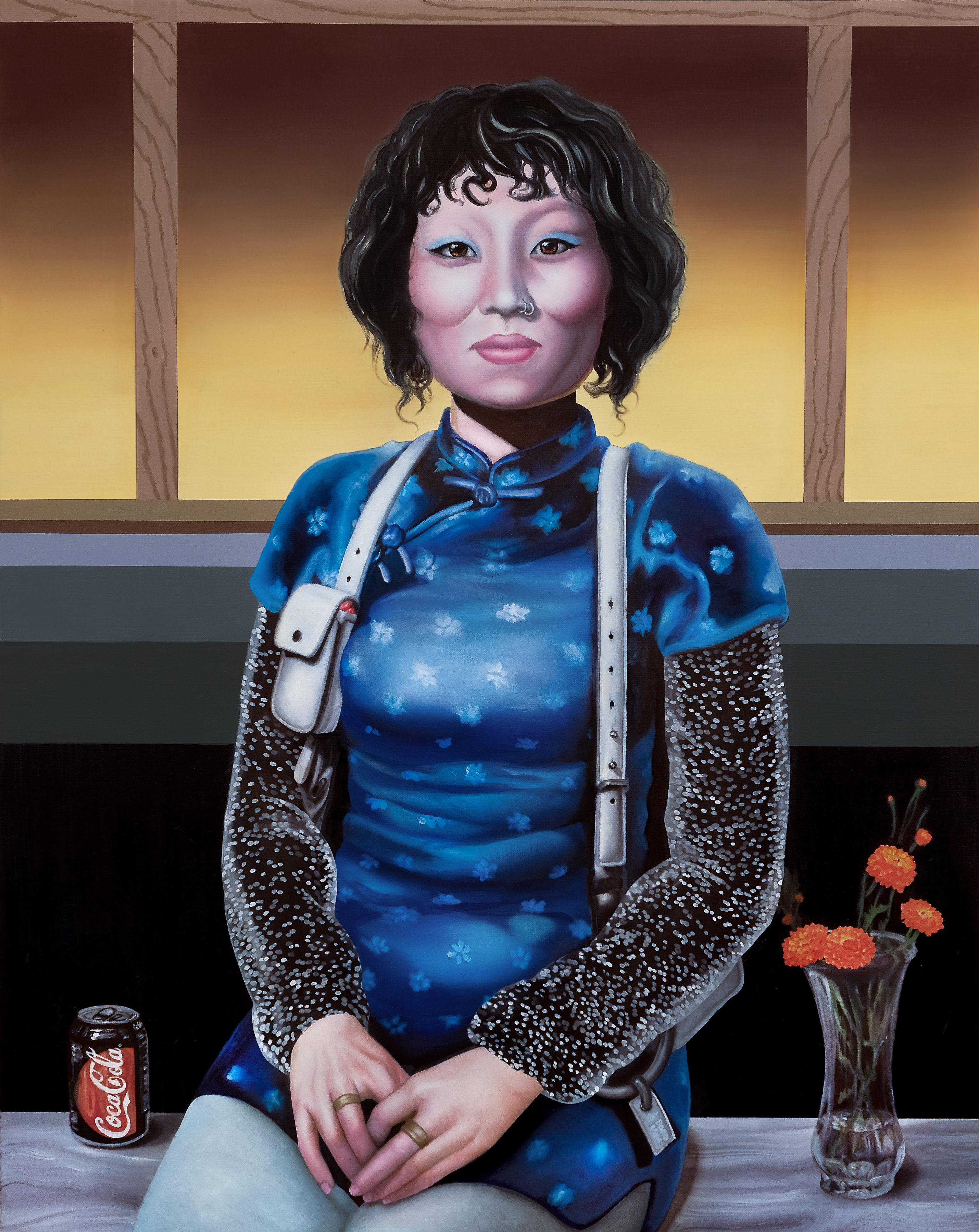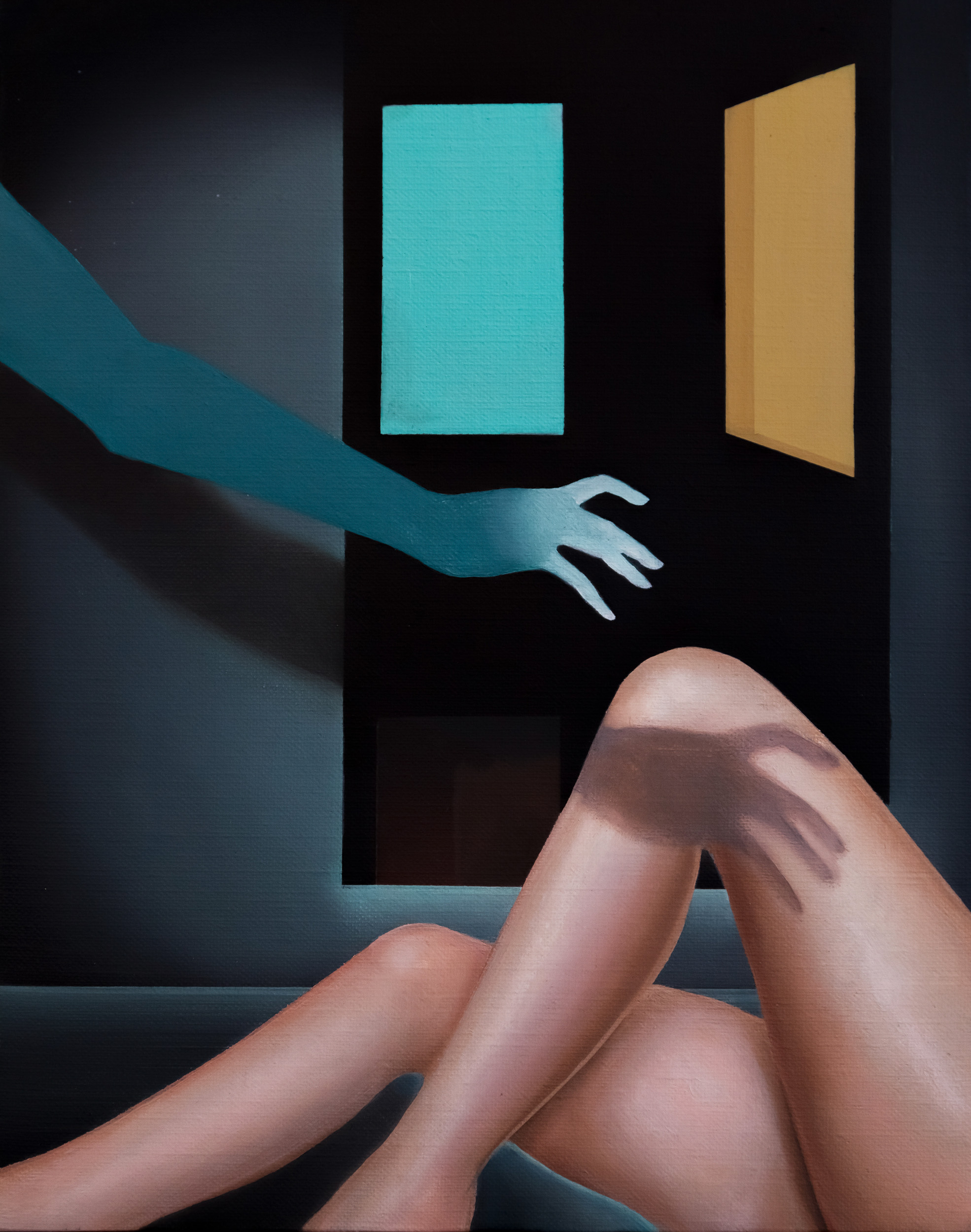 Worlds Without Rooms: Works by Alannah Farrell will be on view at The Painting Center through April 20, 2019. All images courtesy the gallery. Lead image: '2 Gold Steet.'