You Can't Buy Beauty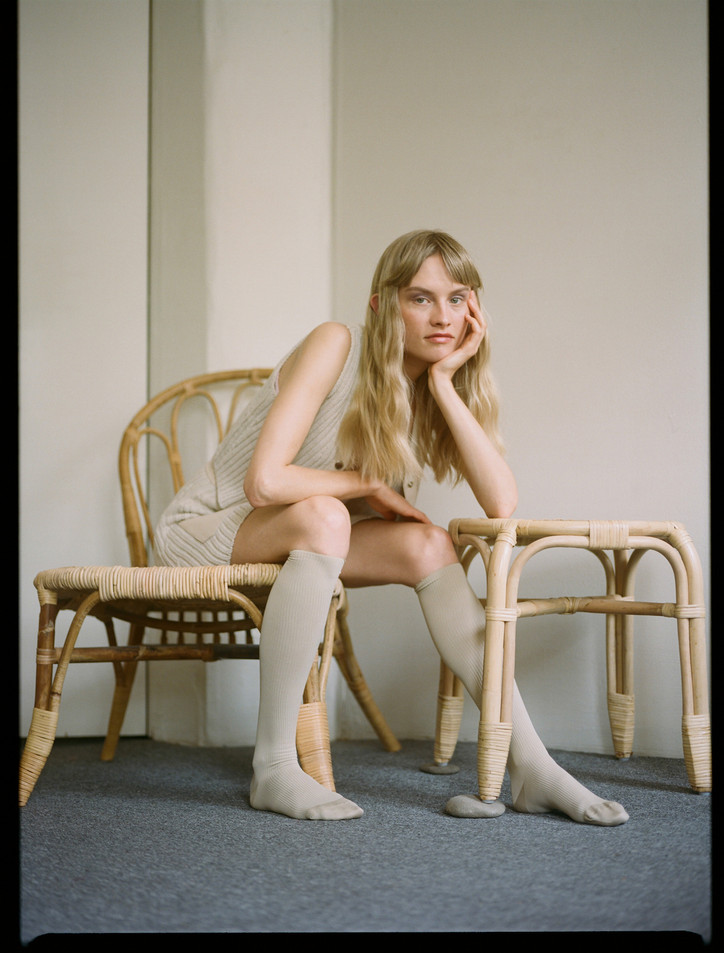 Vest by ALYX, Top by NINA RICCI, Skirt by ALYX, Socks & Shoes STYLIST OWN.
When do you remember first being interested in beauty? 
I remember very clearly my first experience consciously meeting my feminity. I was sitting in the classroom in 4th grade, the tables were placed like a horseshoe. I had bought this hairclip and I found myself shaking my hair like a typical L'Oreal commercial and tie it up again with grace and gentleness and I felt super beautiful. 
How would you describe your look?
Classic, chic and rock'n'roll? City girl that sometimes dresses like a farmer…in the city? 
Sweater by CALVIN KLEIN, Skirt by CALVIN KLEIN, Handbag by CALVIN KLEIN, Bag by CALVIN KLEIN, Sandals STYLIST OWN, Hooded dress by Thom Browne.
When do you feel most beautiful?
When I swim naked in the ocean.
How would you say your upbringing affected your relationship to beauty?
I spent my upbringing in the suburbs of Copenhagen (Denmark). Surrounded by boys scootering around in track suits, and girls wearing too-tight-extremely-low-waist jeans showing their navel like Britney Spears' album cover from 2000, heavy makeup and push-up bras (even before having breasts). Pretty cool style, but I did not fit in. Today I'm grateful to have gotten to know the mindset of these people, but back then I suppressed myself, because I was afraid to stick out. I remember that I was extremely embarassed about my navel, which goes out. Today I still get the feeling of shyness about it, but I try not to care too much and forget about it, because I don't want all this negative energy in me. Later I moved to the anarcistic commune freetown Christiania, located in Copenhagen. Here everybody sticks out, and I finally feel that people accept me for who I am. I think that's also why I love New York so much, it is really a city where people "dont give a fuck" and appreciate your personality coming out.
Jacket by ACNE STUDIOS, Top by MIU MIU, Underwear by MIU MIU, Skirt by HELMUT LANG, Socks by MIU MIU, Heels by MIU MIU, Dress by SIMONE ROCHA.
What inspired your upcoming album?
I'm very inspired by vulnerable and honest artists. I have dealt with some tough things through my teenage years that have affected me in that way, and I often isolate myself from people or push them away in an attempt to protect myself from being rejected. All I want is to sing, act, express myself, and engage with people. Doing music is a good start for me to begin opening up.
If you could give your younger self advice — what would it be?
Stand up for yourself and speak up. Set down barriers for people who don't respect and treat you well. Dare to be vulnerable and honest to people, so that you can receive love, respect, and real friendships.
Top by MIU MIU, Underwear by MIU MIU, Vest by ALYX, Body Suit by Nina Ricci.
What was one thing your parents taught you about beauty?
You are beautiful as you are.
When you hear the word "feminism" what is the first thought that comes to your head?
Break free.
What do you think is the biggest misconception people have about beauty or fashion?
That you can buy authenticity.
Bra by VAQUERA, Hat by VAQUERA, Shorts by VAQUERA. Jacket by NINA RICCI, Shorts by NINA RICCI, Top by MIU MIU, Socks STYLIST OWN, Shoes by CHRISTOPHER KANE. 
What would you say that you are most passionate about?
Right now I'm super passionate about modeling — I care a lot about the aesthetic and who I shoot with and for. I find the collaboration in the team super important. There's no one who isn't important. I have learned that it's super subtle things that can make things work, or the opposite. What I bring is feeling, curiosity, and a will to get out of my comfort zone. Another big passion with all my traveling and thousands of hours on the go, is that I have become very passionate about discovering new music. I have some instagram friends where our friendship is mostly about exchanging music, and it inspires me. I usually look up the lyrics and it makes me happy to discover musicians writing about the same insecurities and thoughts that I have. It inspires me to write down what I feel, experience, or have had experienced.
In an ideal world, how would you mesh those passions?
I want to do more songs and get better at video editing so I can make my own music videos. I like that I can mix my visual aesthetic passion with the music. Lately I have been holding back because I have been convinced that I couldn't do the videos myself. I'm like…Klara Kristin, come on! Believe in yourself! Go for it!