You make me wanna puke flowers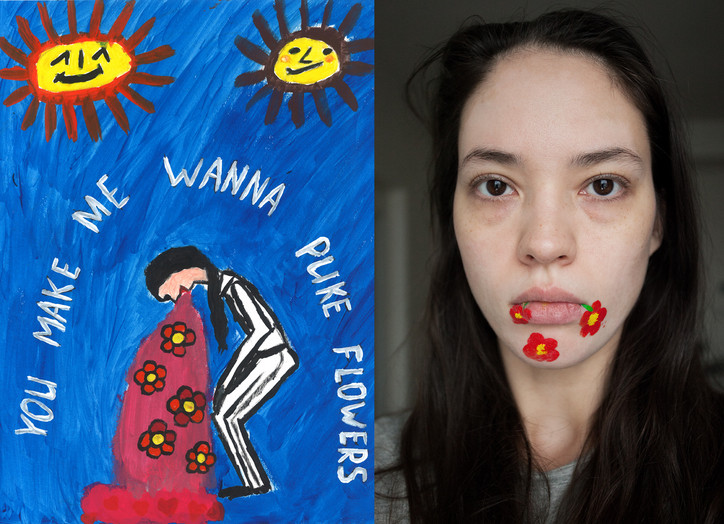 Anyways, all that lead to the "Romantic Novel" series, including "You make me wanna puke flowers," which numbers around 40 drawings (all numbered and dated). It's pretty much a visual diary of my 2015. At the end of 2016, I realized I was still haunted by the idea of feeling that intense, so I decided to bring the series full circle, and make photo self-portraits inspired by self-portrait drawings. I see it as a cleanse, and I needed that final touch to know it was complete. Images are not exact copies for a reason; in emotions everything is so chaotic (at least for me) so it didn't feel right to make organized material and copy a painting in photograph. 
Working on the series was an emotional roller-coaster. It was an incredibly sensitive feeling to share those first drawings with the world (let alone that I had never painted before, and there's a whole other layer when it comes feeling shy in starting new creative things). These are really close to my heart.
Drain your feelings into art, people.
I shared the most intimate thoughts with "faceless" followers, and I hoped to not be judged on the technique. I still relate the most to "You make me wanna puke flowers" and "Hosting feelings," where a dinosaur party takes control of my insides—that's exactly how it felt.
Emotions are a beautiful thing, and putting this project out there taught me a lot—that it takes balls to share your personal life with the public, but also that it's so encouraging. You open the door to conversations, and through your art you become more human in an internet-obsessed world. I want to share my personality, moods, and sense of humor through my work. Right now I'm working on series inspired by the internet, actually, but I'm very curious to see if and/or when it's time for another chapter of "Romantic Novel," and how it's going to be different because I'm not involved with the same person. Drain your feelings into art, people. That's the most powerful circle of energy.
Check out our previous piece on Ira here.