10Soul at Opening Ceremony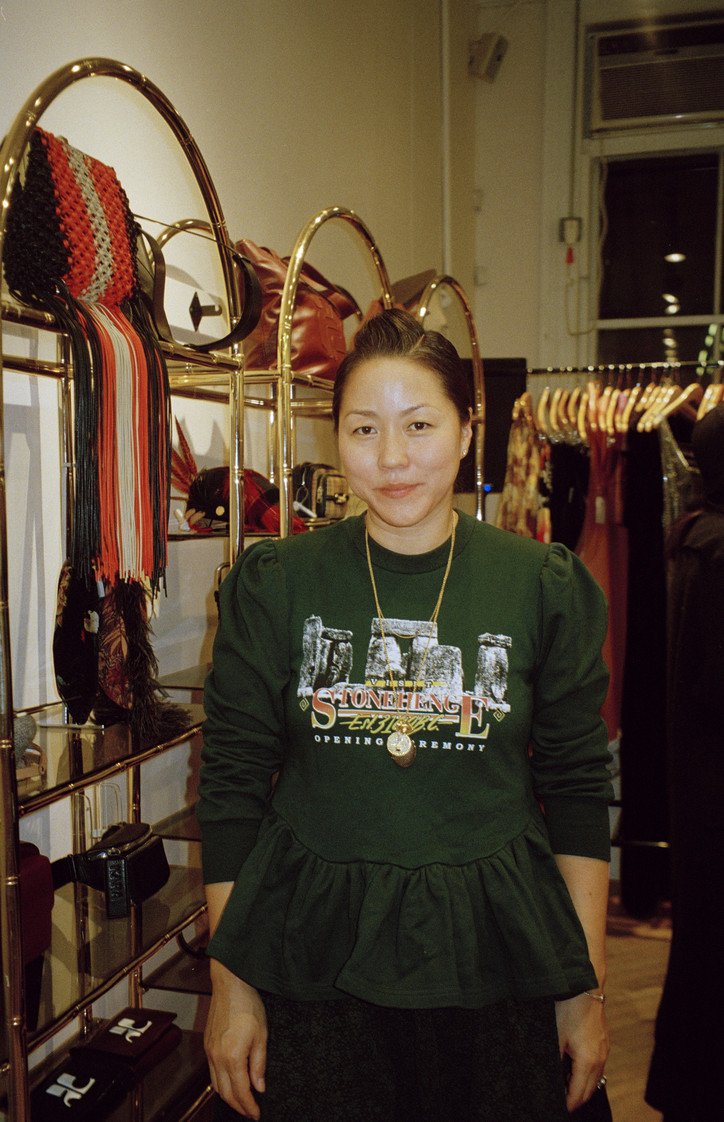 Given the current political and social climate in South Korea and its buzzing capital, the ten selected designers have a well of raw inspiration with which to draw from—unsurprisingly resulting in completely original products that mainstream fashion has yet to explore.
Walking around the event, office got to know the designers behind five of the selected labels: Blindness, Bourie, D-Antidote, Münn and Youser. We also had the chance to chat with Carol Lim about the importance of supporting Korean designers and identity within the realm of fashion.
Tell me a bit about this event.
Carol Lim: We have been attending Seoul Fashion Week since we began—2012 was our ten year anniversary, so for the last six and a half years, we've been partnering with Seoul Fashion Week. They started this platform called 10Soul, where they ask different people, including us, to select the ten greatest designers from Seoul Fashion Week. This year, they asked us if we would host the actual activation, which brings the hosts to NYC, giving them a larger global platform.
Why Seoul?
Carol Lim: I think so much is happening in Seoul on a cultural level—its music, K-Pop, film, dramas, food. So, the arts is just something that the government supports, which I think is really amazing. There's a lot of momentum and I don't think that's going to stop any time soon.
Opening Ceremony has produced so many incredible collaborations. What makes this one different?
Carol Lim: Being Korean myself, I find it very personal to be able to put on an event like this one. Supporting designers from where I'm from is extra exciting, because we share a lot of values together. But I think supporting young talent has always been a part of Opening Ceremony's DNA. And when all of the talent is from your country, it brings it all home. Myself and Soo Joo Park are hosting, Yaeji is doing the music and all of the food is by chef Deuki Hong. So, this particular event was really about supporting Korean people in all aspects of the arts.
As the creative director of an LVMH brand yourself, what does it mean to you to be able to aid fellow LVMH designers?
Carol Lim: It's part of what we do. We've always said we're like a retailer's retailer—astore that's friends with other stores. It's funny because when we opened the doors in 2002, other stores came to us saying, 'We want to buy your Opening Ceremony line,' and we were like, 'You do?' But soon we realized, 'Why shouldn't we sell it in Japan? Why shouldn't we sell it in Europe?' We try to be as inclusive as possible, so it means a lot to help others who are now in that same position.
What do you hope aspiring designers can take away from the 10Soul installation?

Carol Lim: First, I think you have to be persistent and determined—you have to try and don't give up. I've had people follow me off the subway to give me their lookbooks and honestly, I commend them. I mean, don't be crazy about it—but I look at every e-mail I get. You never know what could happen when you're working hard. Love it with all your heart and soul.
Above: Lee Mooyeol (Youser) and Eun-hye Jo (Bourie)
How would you describe the concept behind your brand?
 
Youser: The concept is deconstruction. I really wanted to create something new. I take a lot of my inspiration from specific architecture that I see, whether it's buildings or workspaces.
Bourie: It's all based on detail. We really like to add an avant-garde detail to all of our pieces. This particular line, however, is focused around the idea of the difference between men and boys.
How has Seoul influenced your work?
Youser: I have lived in Seoul my entire life. It has been overdeveloped in a short amount of time, so it's very busy as a result. The constant new buildings serve as a very big inspiration to me.
Bourie: Right now, streetwear is very popular in Seoul, but we're definitely pushing away from that. We are taking fashion back to a more classic aesthetic.
In which element of your pieces—color, texture or style—is your favorite to experiment with right now?
Youser: Of course, every element is very important to me, but the most important is always the silhouette.
If you could relate Bourie's style to that of a famous painter, who would it be?
 
Bourie: I think it would be Joan Miró, the Spanish painter. I really like his paintings and in some way, I think we can see a related sense of kitsch in both his works and this collection.
Above: Hyun-min Han (Münn), Park Hwan-sung (D-Antidote) and Shin Kyu Yong and Ji Sun (Blindness).
How would you describe the concept behind your brand?
Münn: The whole concept of the brand is reformulating. I look at things from a very unusual perspective to make my clothing. It may be different for most people, but it's normal for me.
D-Antidote: The entire concept of my brand comes from my inspiration with the current youth culture. We also try to always combine the inspiration from two different types of cities—in this particular case, Seoul and London—in terms of trends and culture. That's why a lot of our clothing has this label with the combination of the two: 'SEOULONDON.'
Blindness: It's genderless—there is no men's and women's clothes. But the collection you're viewing now, within the construct of genderlessness, is titled, 'Peace Within The War.'
How has Seoul influenced your work?
Münn: Seoul is a fast-paced city—things change quickly and recently, there has been a huge K-Pop influence. I have a collaboration with the whole K-entertainment industry which helps propel me to work at a similar speed in relation to how things are being digested by the public.
D-Antidote: Seoul is a trendy city, but is still very up-and-coming. So, we focus on the trends that are specific to the city and when mixing that with some of the traditions in London, we get something unique.
Blindness: Korea is still within a war of its own. They are in a truce, but there was never really resolution. Every man eligible, or above 21, has to go to the military for two years. Most would say that war is a very masculine word, but we are trying to make this entire idea more genderless.
Your line mixes '60s-inspired details with a modern sort of minimalism. What's the thought process behind that?
Münn: Lately, streetwear is on trend, but what I strive to practice is this sort of classic tailoring technique which was used throughout the '60s. That's where I've found my niche—creating modern style with a retro technique.
What's the story behind the name D-Antidote?  
D-Antidote: It quite literally means 'the antidote'—we are trying to detoxify members of this generation who may be poisoned by societal factors. We'd like to think of ourselves as a sort of solution.
Can you explain how your line reflects current culture and society?
Blindness: The whole genderless movement is not mainstream right now in Seoul, but we are on the frontier of trying to make it more and more common.
You can shop looks from the 10Soul designers at Opening Ceremony in NYC now.