Accessorize with Aggression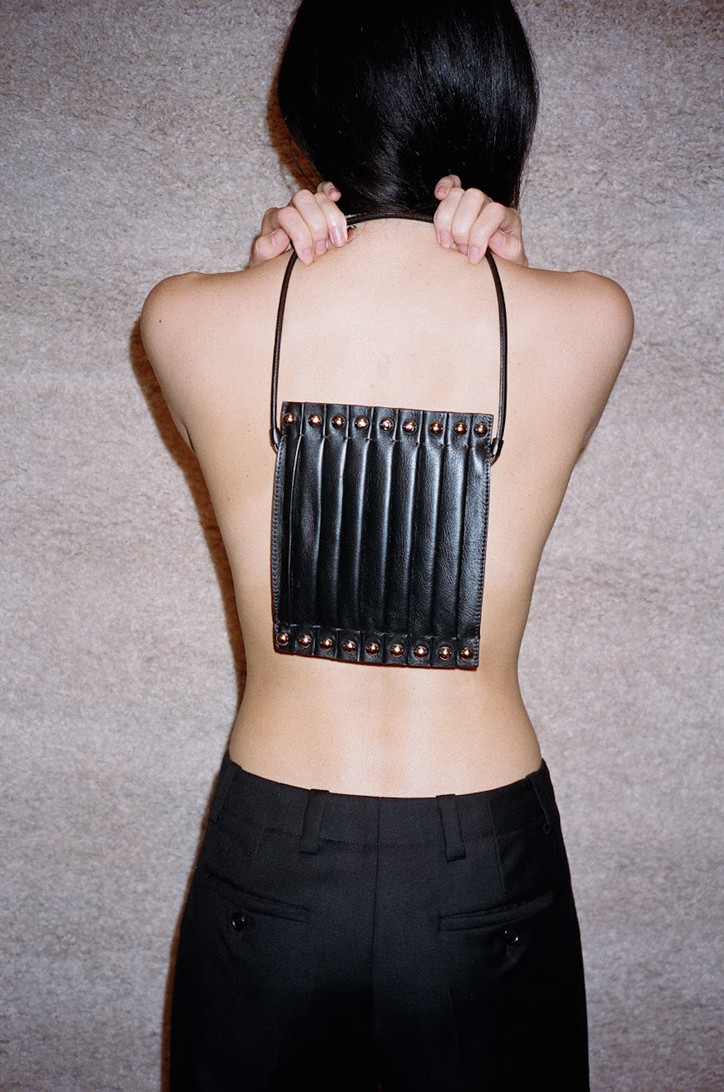 Their nonseasonal accessories collection, including belts, jewelry, and (most importantly) bags, will be exclusive to Linder's new e-commerce store. The site re-launching will be a place for the brand to offer exclusives as well as their seasonal collections. 
Having recently entered the womenswear market, where do the bags fall in terms of 'Men's' or 'Women's' fashion?
There are the sling styles, that are traditionally women's— a classic style that a bit of throwback to the early 2000s mini hobo.
But you know these days, who is to say who it's for? The messenger is more of a 'unisex' bag, and that seems to be really getting asked about a lot. The heavy hardware, almost 'too-heavy', makes them feel a little more aggressive. We are always happy to have people wear our items as they please. There are really no rules of dressing at this point, especially in urban landscapes. 
What was the deciding factor in wanting to do accessories?
Accessories are more like designing 'objects' than ready-to-wear. They're a lot of fun because you're not constrained so closely to body structure... They're like little sculptures.
They can really take any shape— for example, the Impact Bag, which is a bucket bag shaped like a helmet. Or the Frequency Earring, which extends as an antenna. It's an area of creative play for us that I think makes it a natural interest.
What do you think a bag says about someone? Who are you making these for?
Our bags are kind of fetishy, but in luxurious leathers. They feel a little sexy and a little dangerous, with heavy hardware and shiny leathers. I imagine the wearer will take our items, with their beat-up jeans, to a warehouse party. Or, in a gown at to a gala, a cafe, etc... It doesn't matter the person's lifestyle. There's a certain kind of attitude I imagine the wearer having, transcendent of category— more about a certain appetite for life. 
What do you carry in your bag? 
Sam doesn't wear bags typically. Pretty classic guy: wallet, phone, keys and a lighter in pocket, unless he has his nylon camera bag.
I'm usually carrying a bag with my laptop and a book floating around, an assortment of old business cards, receipts, coins— anything I would never need. Really kind of a mess!
Do you think that your bags are more fashion accessories or utilitarian objects?
Bags can't really ever be purely fashion or utilitarian... There's style and usefulness communicated in the bags most people carry, even if it's communicating not caring. I don't think a wearer can separate their persona from the items they wear, which is what's ever fascinating about designing fashion.