Ajani Russell in High Gear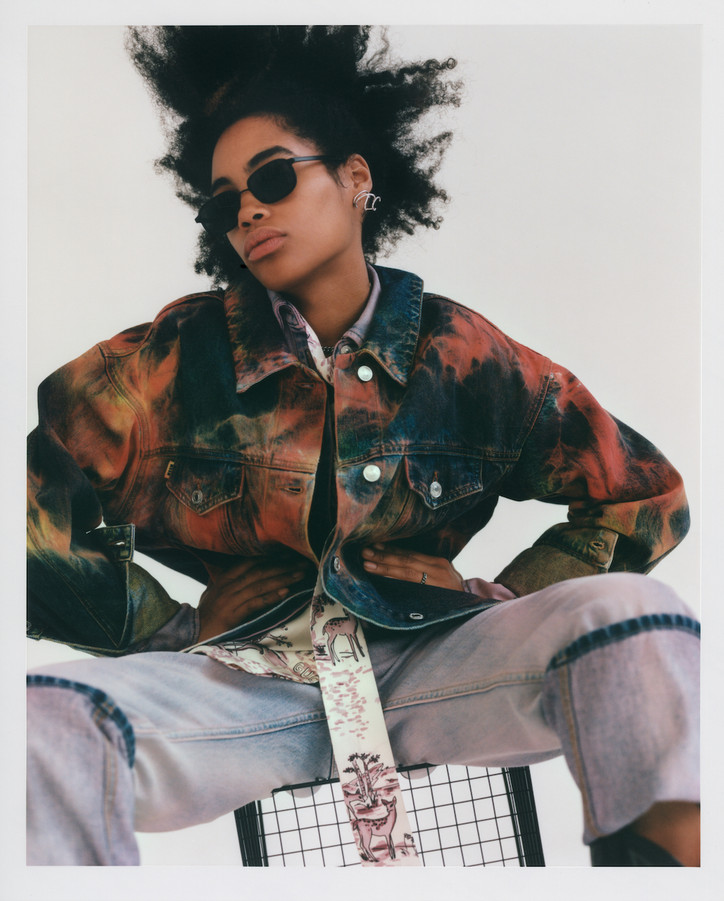 On top of all these major moves over the last couple of years, Russell just wrapped up her final year as a student of fine arts, sculpture, and ceramics at CalArts. All we can say is sis has a lot goin on, so we were happy to catch her in between ollies to ask her some questions about female empowerment in a largely male-dominated scene, turn-ons, and friendship. Check out the interview and editorial below. 
Best recipe for a shitty day?
1. Anime
2. Good food and snacks (usually involving cake or cheese)
3. Friends that make you feel like life is worth living
4. Good memes
5. Mix all of these in your favorite cozy place.
What initially sparked your interest in skateboarding?
I used to watch this tv show called Rocket Power and there was only one girl shredding with the other boys named Reggie. I thought she was so cool so I started watching the X Games. Those skateboarders looked so free flying through the air.
Movie title that perfectly encapsulates your life thus far?
Labyrinth with David Bowie. Both magical and tragic, confusing and enlightening, it's a story about overcoming oneself to jump the hurdles obstructing your path with friends to help you along the way.
(left) dress by Sies Marjan, shoes by Pierre Hardy, earrings by Vita Fede, necklaces, bracelet, and rings by Nora Kogan
(right) dress by Kenzo, shoes by AREA, earrings by Vita Fede
One thing you can't live with, can't live without?
I can't live without good hugs. I can't live with unresolved conflicts.
Invent a new ice cream flavor and name and explain why it matches your personality.
Pastel Firework, it would be soft and melt in your mouth and then explode with flavor the deeper you got into it.
As a women in a largely male-dominated realm, what is one stigma that you initially faced that has come to be a major source of empowerment for you?
The ridicule and contempt people have for female skaters has fueled me to keep improving my skjlls and to spread my love for skateboarding to as many people as I can reach. When I am laughed at or catcalled, often both things at once, I'm now able to brush it off easily because I've gained the confidence to. These things used to scare me but now I have a great support system, and I want to provide the girls who are in the shoes I used to walk in with the same thing-the physical pain of falling off a ramp hurts way more than the emotional pain of an insult.
(left) coat, dress, shoes, and earrings by Balenciaga
(right) jacket, top, and pants by MSGM, top (underneath) by Gucci, earrings by Lady Grey
How do you mend a broken heart?
You can't repair a broken heart. You can rearrange the pieces like a broken piece of art that's been repurposed. it becomes more beautiful and love takes on a whole new meaning and new form every time.
One hope you have for the next generation of children?
I hope they can overcome the hatred and boundaries set by previous generations and be more accepting of one another.  I want them to focus on the love and light in a world filled with darkness and fear. I hope that they will not be ruled by fear. 
Biggest turn-on, biggest turn-off. 
When someone calls me intelligent I instantly fall in love. Biggest turn-off is any individual who is sexist, racist, xenophobic, homophobic, or downright judgmental towards another person or group of people because of a part of their existence that can't be changed.
(left) coat and shoes by Salvatore Ferragamo, suit jacket and pants by ACNE Studios, top by Kwaidan Editions
(right) coat and boots by Raf Simons, dress by Saint Laurent by Anthony Vaccarello, earrings by Vita Fede
What does heaven smell like?
Heaven smells like clouds and sparkles.
If you were about to get into a fight, what song would come on as your ultimate  ass-kicking soundtrack?
Gasolina by Daddy Yankee followed by Takyon by Death Grips.
What's something your friends have the power to do that no one else does?
They have the power to make me laugh, scream, and take chances that I normally wouldn't.