All Curated Content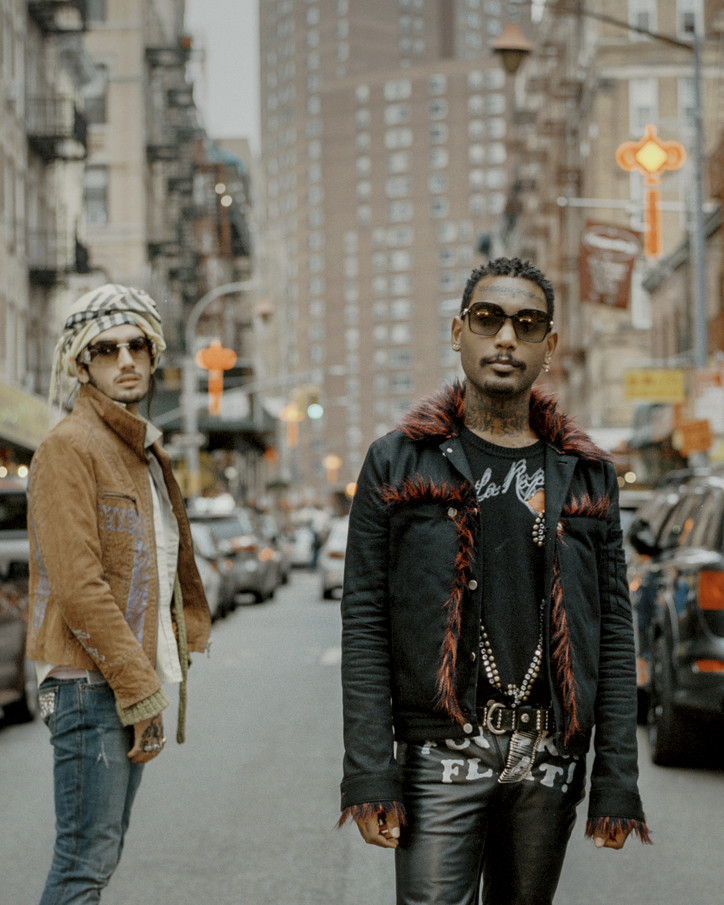 With the brand, Sanchez and Williams outline most clearly what they stand for: style—style that transcends culture and references but doesn't get stuck in any past decade. For them, it's more than an aesthetic—it's a commitment to style. A lifestyle.
As designers, reflection and awareness are of utmost importance to the duo, something they have no problem articulating as we sit in their Lower East Side workspace. Inside, their clothes hang on the walls, leaving them constantly surrounded by their own work and energy. As Jimbo rolls up a joint and Ari screenprints graphics in the background, we talk about energy and what it means to be a "life-design" brand.
What is ACC STUDIO?
Jimbo Williams: A creative counsel. It's a creative company that specializes in fashion. But we are life-designers first and foremost—we design lives. The first way we do that is through clothing. 'La ropa' literally means clothing in Spanish, so you can take it as literal or as conceptual as you want. You can also buy our clothes anytime, off of our bodies. Like, if you see me or Ari and you like what we're wearing, you can buy it right then and there—I'll go home in my drawers. But the main thing about LaRopa is that every piece means something.
What does it mean when you say you're life-designers?
Jimbo Williams: Besides fashion, life-design entails, food, frequency (meditation), music, film photography, overall life organization and order. Life-design is about living your life to the truest of your ability and having no limits except for ones you set for yourself. The perfect example would be the ancient Egyptians—they used all of their brain power to achieve magical things, and that's what a life-designer"does.
So, ACC STUDIO is an all around creative force?
Jimbo Williams: Yes, we also produced two editions of ASS Mag, or American Street Style Magazine, which is a curated catalogue of the best outfits worn in the spring through winter of 2016. It was all 35MM film photographs taken in NYC, along with features from Paris and London by Bill Taylor. Bill also photographed Walter Pearce and Sarah Brown's wedding in the Catskills—we essentially curated the layout of his wedding book and printed it.
'Pussy Builds Strong Bones' is one of your most popular graphics. What does it mean?
Jimbo Williams: Female superiority. Women are number one in the world. We only wear women's clothes—it looks better, it feels better. But really, there shouldn't be women's and men's clothing—it should just be clothes.
Where's your favorite place to people watch?
Jimbo Williams: Here, in this studio. Just come watch me work. And of course, on the street—it's so important to look at the people on the street when you're a life-designer. Every detail of the universe is important.
Aristotle Sanchez: Ideas are flowing—we are just the vessels.
Jimbo Williams:  Energy is such a real thing!
I often hear you say 'they're into something,' when referring to someone with style. What does that mean?
Jimbo Williams: The way one dresses is often a representation of their lifestyle/culture. LaRopa is the embodiment of cultural appropriation. We are aware of the vast cultures on the planet and endorse individuality—when we see someone wearing something funky it shows that person must be into something funky. When people show their individuality through clothing, it's a breath of fresh air, because people may not always want to speak their truth, especially when iit can get you into trouble. But wearing your truth should never. Clothing is an extension of one's brain.
What would be your dream collaboration?
Jimbo Williams: Laborgini, Kanye and all of the Kardashians—they're the American royal family. And Ralph—I love him.
Why?
Jimbo Williams: Because it's not about the clothes. You don't go into a Ralph Lauren store for just the clothing—it's a lifestyle. It's Polo. They took a sport and made it fashion. That's what we're trying to do with LaRopa and ACC STUDIO.
How would you describe your aesthetic?
Jimbo Williams: It's the way fly cats used to dress in the '70s—we look like that, but it's 2018 and we're not afraid. We're Canadian appropriators of American culture and we understand culture because both of our parents our immigrants. We know what matters—because style transcends culture. It's more about commitment; it's awareness—that's why we don't believe in institutions. A school can't teach you to make clothes or have style—you just have to get with the right people and love what you're doing.
It's so obvious that you both love what you do. Did that come naturally or was fashion something you had to find?
Jimbo Williams: It's always what I've done—I'm literally just living my life. And now, I'm just trying to take advantage of myself and reap my own benefits. It's just about knowing how to wield strong energy.
What's the most important thing to tell yourself when you're feeling like shit?
Jimbo Williams: Let's get this money! More seriously, our dream is to enlighten the world with truth, and let the world know everyone's truth is different. You have to question everything until you can come up with an answer that you truly believe in your heart.  Our dream is to show children they can become successful doing whatever it is they want to do, by channeling it through any medium of art—writing, painting, designing, directing, etc. As long as one is constantly growing closer to themselves and loves themselves, they can express it in a pure way.
What's the most exciting thing you've done with ACC STUDIO?
Aristotle Sanchez: What we're doing right now.
Jimbo Williams: Every second gets better—that's always how it is. No matter what happens, how could it be worse? That's just how we think.
Tell me about your new collection, KISS MY A** ?
Jimbo Williams: We're gonna drop it this holiday season. I love Christmas—it's consumer capitalism at its finest. That's what we're into. I mean, we're all consumers.
Is there an ethical way to consume?
Jimbo Williams: However you want to. I mean, what is ethics? Follow your own ethics. Fuck set ones. It all comes back to just being aware and being yourself. No matter where we are we're going to do us—fuck toning it down. A friend of ours recently went to Cambodia and said he didn't want to wear too much flashy shit—he didn't want to stand out. But no matter where we go, we're going to dress. It's what makes us us.
What's next for ACC STUDIO?
Jimbo Williams: Everyone is going to be wearing our Pussy Builds Strong Bones shirts. It doesn't matter what you believe. I mean, why wouldn't you wear that? Even if you're confused, buy it and figure it out! That's what it's there for. It's all happening.
Shop ACC STUDIO's LaRopa here.