Black History Month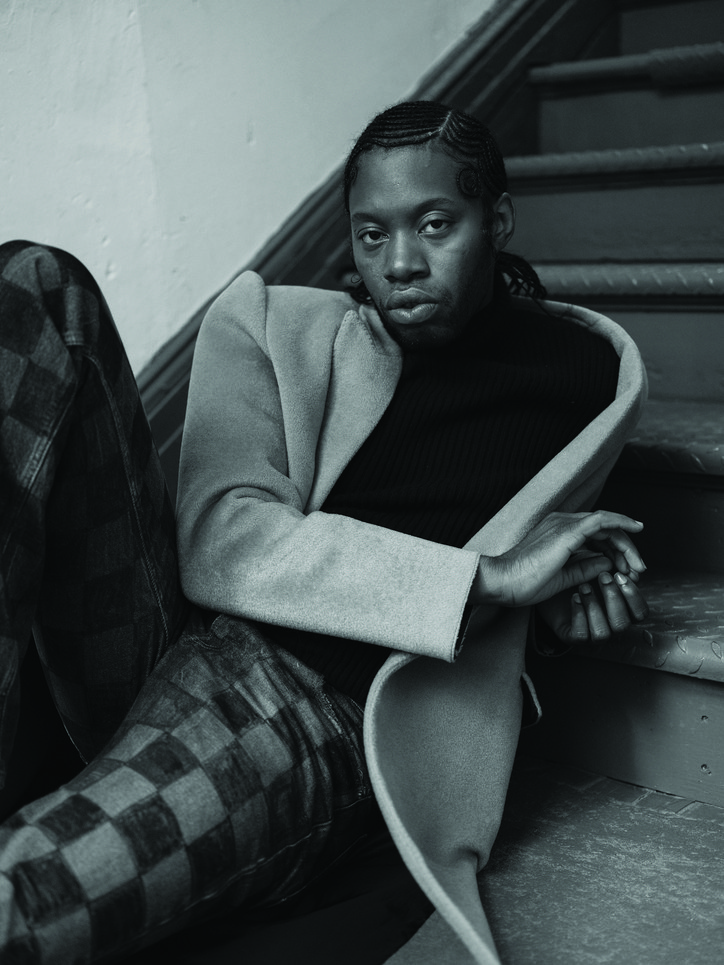 (Above) Coat, sweater, denim and boots by BALENCIAGA.
"Many of you don't know this, but each of the African-Americans on this board," my teacher lilted in a soft Southern twang, "invented the everyday object you see beside them." 
"A spook invented the peanut? You lyin' Mrs. Hairston!" a voice rang out from the back. Everyone laughed, myself included. 
Demetrius was always the funniest in our class. Black and poor like me, Demetrius had learned the language of our peers and their parents, then filtered it through a Chris Tucker affect that made his humor undeniable—a much better armor in the fourth grade than that of the contentious know-it-all. I envied him then. 
"No Demetrius, George Washington Carver didn't invent the peanut, but he did invent over 200 uses for it, something you might be capable of if you cared as much about listening as you do about making a fool of yourself. This is Black History Month, you of all people should have some respect for yourself, our people, what we've contributed. Look at this room right now!" 

Mrs. Hairston crossed over to the wall and turned on the lights, blinding all of us. 
"You, me and Jeremy! We the only ones in here. If we don't hold on to our history who else will?" Mrs. Hairston was my first Black teacher and she was a substitute. I admired her. She was tall and imposing and funny without trying to be. "If this history isn't held, if this history isn't shared, then it's gone. It disappears."
And if our history has disappeared, did we ever exist? 
In the theater, for many, we haven't existed. So disappeared is our history that, in the wake of identity politics and the works that have been wildly and dynamically birthed from them, many have espoused that this is the moment when the Black writer has finally arrived at the theater. As a part of this generation of writers benefitting from that amnesia and erasure, I've made a personal decision to focus on those who came before, to hold this history so that perhaps others too will know that we have not just appeared—some have just attempted to disappear us. This is my Black history, a history of the works that have shaped me, my friends, my mentors and my idols. It is not exhaustive—it is the work that has made it to one space of theatrical expression, a space that is historically and systemically exclusionary to Black bodies, a space that has profited off our bodies while rarely giving them the stage to be fully embodied: Broadway.
Jeremy O. Harris is a playwright living in New York City. His work Slave Play made its official Broadway debut at the Golden Theater on October 6, 2019.
(Above) Coat, shirt, pants, tie, socks and heels by THOM BROWNE.
Oriental America (1896)
A Trip to Coontown (1898)
Clorindy: The Origin of the Cakewalk (1898)
The Policy Players (1899)
Sons of Ham (1900)
Jes Lak White Folks (1900)
In Dahomey: A Negro Musical Comedy (1903)
The Southerners (1904)
Abyssinia (1906)
The Shoo-Fly Regiment (1907)
Bandanna Land (1908)
The Red Moon (1909)
Mr. Lode of Koal (1909)
His Honor: The Barber (1911)
Three Showers (1920)
Shuffle Along (1921)
Put and Take (1921)
Strut, Miss Lizzie (1922)
Liza (1922)
The Chip Woman's Fortune (1923)
Elsie (1923)
How Come? (1923)
Dew Drop Inn (1923)
Runnin' Wild (1923)
The Chocolate Dandies (1924)
Andre Charlot's Revue of 1924 (1924)
Lucky Sambo (1925)
The Fool's Errand (1927)
Meek Mose (1928)
Keep Shufflin' (1928)
Harlem (1929)
Hot Chocolates (1929)
Lew Leslie's Blackbirds (1930)
The Green Pastures (1930)
Chamberlain Brown's Scrap Book (1932)
Shuffle Along (1932, revival)
Run, Little Chillun (1933)
Mulatto (1935)
Swing It (1937)
The Trial of Dr. Beck (1937)
Big White Fog (1938)
Swingin' The Dream (1939)
Native Son (1941)
Early to Bed (1943)
Blue Holiday (1945)
Beggar's Holiday (1946)
Street Scene (1946)
Our Lan' (1947)
Troubled Island (1949) 
The Barrier (1950)
Katherine Dunham and Her Company (1950)
Shuffle Along (1952, revival)
Katherine Dunham and Her Company (1955, revival)
Simply Heavenly (1957)
A Raisin in the Sun (1959)
Tambourines to Glory (1963)
The Sign in Sidney Brustein's Window (1964)
No Place to Be Somebody (1969)
Les Blancs (1970)
The Sign in Sidney Brustein's Window (1972, revival) 
Don't Play Us Cheap! (1972) 
Purlie (1972, revival)
The River Niger (1973) 
Raisin (1973)
What the Wine-Sellers Buy (1974)
My Sister, My Sister (1974)
Sizwe Banzi is Dead & The Island (1974)
Black Picture Show (1974)
The Wiz (1975)
Treemonisha (1975) 
Bubbling Brown Sugar (1976)
for colored girls who have considered suicide / when the rainbow is enuf (1976) 
Your Arms Too Short to Box With God (1976)
Ain't Misbehavin' (1978)
Eubie! (1978)
But Never Jam Today (1979)
Home (1980)
Reggae (1980)
Dance Theater of Harlem (1980)
Your Arms Too Short to Box With God (1980, a return engagement of the 1976–78 production, which had been on tour)
It's So Nice To Be Civilized (1980)
Lena Horne: The Lady and Her Music (1981) 
Inacent Black (1981)
Your Arms Too Short to Box With God (1982, revival)
Blues in the Night (1982) 
Amen Corner (1983)
The Wiz (1984, revival)
Andre De Shields' Haarlem Nocturne (1984)
Whoopi Goldberg! Direct From Broadway (1984)
Ma Rainey's Black Bottom (1984)
Uptown … It's Hot! (1986) 
Death and the King's Horseman (1987) 
Fences (1987)
Asinamali! (1987)
Truly Blessed (1990)
The Piano Lesson (1990)
Mule Bone (1991)
Jelly's Last Jam (1992)
Song of Jacob Zulu (1993) 
Twilight: Los Angeles, 1992 (1994)
Seven Guitars (1996)
Bring in 'Da Noise, Bring in 'Da Funk (1996)
Play On! (1997)
Patti LaBelle on Broadway (1998)
It Ain't Nothin' But the Blues (1999)
Kat and the Kings (1999)
Rollin' on the T.O.B.A. (1999)
Topdog / Underdog (2002)
One Mo' Time (2002)
Ma Rainey's Black Bottom (2003, revival)
A Raisin in the Sun (2004, revival) 
Drowning Crow (2004) 
Whoopi (2004)
Gem of the Ocean (2004)
Bridge & Tunnel (2006)
Hot Feet (2006)
Radio Golf (2007)
Passing Strange (2008)
Fela! (2009)
Joe Turner's Come and Gone (2009, revival)
Fences (2010, revival)
The Mountaintop (2011)
Stick Fly (2011)
The Gershwin's Porgy and Bess (2012: revival, adaptation)
Motown: The Musical (2013)
After Midnight (2013)
A Raisin in the Sun (2014, revival)
Shuffle Along, Or, The Making of the Musical Sensation of 1921 and All That Followed (2016)
Eclipsed (2016)
Jitney (2017)
Sweat (2017)
Summer: The Donna Summer Musical (2018)
Ain't Too Proud: The Life and Times of The Temptations (2019)
Choir Boy (2019)
TINA: The Tina Turner Musical (2020)