Can You Cheer?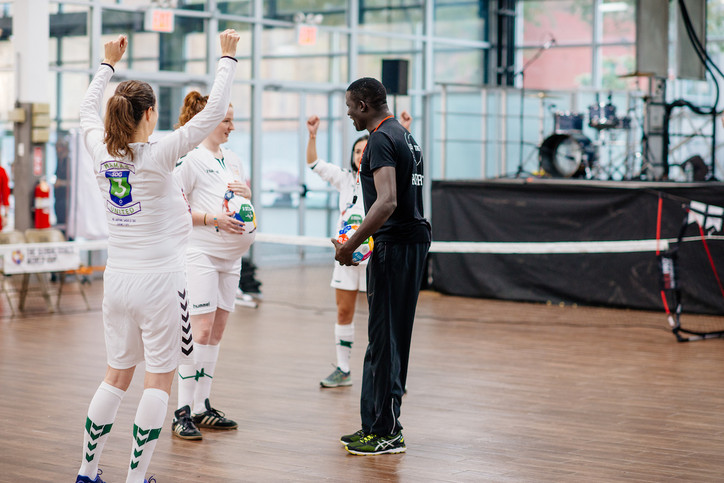 Brooklyn's GGWC event really raised the dedication and excitement for teams and fans— sending out the spirited referees Nikolaj Coster-Waldeau, star of Game of Thrones, Nicolaj Reffstrup, CEO of Danish designer brand Ganni, and Victor Ochen, Nobel Peace Prize Nominee and activist from Uganda. Teams sent social media icons, political figures, fashion brands... Each group carried through their unique efforts to secure the general goal of a future with equality. The energy provided by the games, press, influencers, and an appearance by Crown Princess of Denmark offered a universally accessible atmosphere--a ground for communication, and community, regardless of origin, or identity. 
Even office got to get on board, joining the "Ganni Girls," who came to play for Gender Equality. And just before the game got started, office spoke to one of the Referees, Victor Ochen. Nominated for a Nobel Peace Prize for the AYINET, he is now seeking the same sustainability globally. He is intimidatingly strong and insightful, but warm and welcoming— he went in for a hug immediately, and followed up with the ultimate pre-game pep-talk.
How did you become involved with this event?
I became involved because I was invested in the promotion of sustainable global goals. Above all we each do a lot of work for women's rights in the community, as well as promoting peace, security, and enhancing education, this is all inclusive in the SDG. And in 2013, I raised the flag for peace and justice in Africa, and in 2016 we played the football cup, the SDG cup in NY.
Why do you think the organization chose football… or "soccer"?
I think it is because the concept behind soccer is that you need a global goal to sustain it. In football, you need team players. You cannot do it alone. You need a defender, supplier, financer, someone to buy a uniform and support the process. Above all, it is looking into mobilizing society. Right now the most popular game on earth is soccer, or football. It communicates to everyone. You don't have to be educated, don't have to be a lawyer, black or white. You see from this global space, soccer is played by everybody. So that is representative enough. And soccer was predominantly for men, and now women, too ,are engaged in leading the community.
Are you good at football?
I wish. The last time I played football was when I was in Africa and I had made a football.
What did you make it out of?
Rags. I wrapped them up, and about 80 of us were kicking it around— and then it unfolded, and when one of the players came to open it— it was a bomb.
What?! You hadn't seen that?
No. But it didn't explode.
Crazy. Wow. 
So, what would you say to a team to get them ready to go into a game? 
We represent hope!
What do you think about the fact that one team wins?
It is not about who wins, it is about the opportunity to play. And be on a team. Respect. We represent a community and opportunity. We all win.
What do you have to say to someone who doesn't really play sports? I am definitely not sporty, that's why I am not on that team.
You can cheer right?