Downtown with Dr. Dieter Buchhart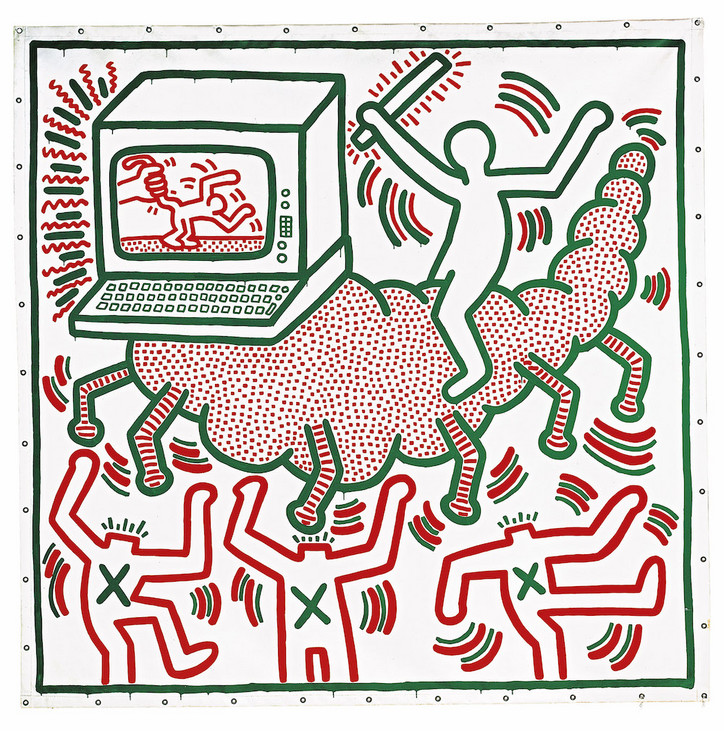 Keith Haring and Jean-Michel Basquiat at the opening reception for Julian Schnabel at the Whitney Museum of American Art, New York, 1987 © George Hirose.
Buchhart points out that being part of the "Downtown" scene in the '70s and '80s meant working in a variety of performative disciplines—both Basquiat and Haring worked as DJs, videographers and photographers, and in a variety of mediums as artists, especially collage work.  "The overcoming of traditional lines separating individual disciplines and cultural realms created a structural openness that led many of the artists of the Downtown scene, including Haring and Basquiat, to partake in artistic collaborations," Buchhart says. 
Left - Jean-Michel Basquiat. "Self portrait" (1984); Acrylic and oilstick on paper mounted on canvas, 98.7 x 71.1 cm. Private collection © Estate of Jean-Michel Basquiat. Licensed by Artestar, New York.
Right - Keith Haring. "Untitled" (1982); Synthetic polymer paint on vinyl tarpaulin with aluminium eyelets, 213.5 x 220.0 cm. J W Power Collection, University of Sydney, managed by Museum of Contemporary Art. Purchased 1982 © Keith Haring Foundation.
You've connected artists before that don't usually hang side by side. But the Keith Haring and Basquiat pairing is more of a no-brainer; they had shown together in their own lifetimes. What's new in the NGV exhibition?
As the exhibition title implies, we focused on the crossing paths of these two exceptional artists: the intersections in their lives, practices and ideas. Thanks to the generous support of The Keith Haring Foundation and The Estate of Jean-Michel Basquiat, we had access to an immense pool of archival materials that allowed us to document both their private and working relationship to an unprecedented extent. Interviews with their contemporaries—Patti Astor, George Condo, Diego Cortez, and Jenny Holzer—also gave us invaluable and previously unpublished insight.
Haring/Basquiat: Crossing Lines demonstrates how, despite having very distinct languages, the idiosyncratic imagery, radical ideas, and complex sociopolitical commentary of both artists created an indelible legacy that continues to influence contemporary visual and popular culture today. And while, as you say, it should be a "no-brainer" to explore this friendship (and rivalry!), Haring/Basquiat: Crossing Lines is a world premiere exhibition, the first large scale museum exhibition dedicated to these two outstanding figures of 20th century art.
What's the value of these connections in a time where both the works of both Basquiat and Haring are achieving popular success among younger generations? Is there anything people overlook about these artists now?
Interesting question. Today, both are considered among the most influential artists of not only the 1980s but more broadly of our time. Both are relevant to global youth culture today; in fact, they have never been more relevant. While Basquiat anticipated today's "always-on" culture of communication and contemporary knowledge spaces, Haring foreshadowed emojis with his image-word. This universal system of communication remains a positive, humanistic meme in the collective struggle against ignorance, fear, and silence.
An aspect that is perhaps overlooked is the importance and decisive nature of their artistic collaborations with other artists and performers from various backgrounds.
Left - Jean-Michel Basquiat. "Museum security (Broadway meltdown)" (1983); Acrylic, oilstick, and collage on canvas, 213.0 x 213.0 cm. Private collection © Estate of Jean-Michel Basquiat. Licensed by Artestar, New York.
Right - Keith Haring. "Prophets of rage" (1988); Acrylic on canvas, 304.8 x 457.2 cm. The Keith Haring Foundation, New York © Keith Haring Foundation.
Their works are like codes and keys to yesterday, today, and tomorrow.
What legacy have these artists left in the NYC art world?
Their legacy is not limited to the art world of New York City, but an integral part of art history as a whole. They were both visionaries that not only inspired subsequent generations of artists, but also anticipated the present. Their works are like codes and keys to yesterday, today, and tomorrow.
Is there any significance of the show's location in Melbourne? 
Keith Haring's visit to Melbourne in 1984 is well-documented, as is Basquiat's sampling from Aboriginal iconography. But these ties are not what speak so clearly for Melbourne as the ideal location for our ambitious presentation. We live in a global village, and Melbourne is an incredibly dynamic city and cultural hub.
What made both these artists so successful, even within their own lifetimes, and what draws you personally to their work?
I was first drawn to the works of Basquiat, because I saw the same energy in his works from the 1980s that I saw in the works of Edvard Munch from the 1880s. Munch was radical. He would scrape off all the paint from his canvases. He was like no other artist before him. I saw this same energy in Basquiat and started researching his work. Very soon, it was clear to me that he was not a neo-expressionist or expressionist at all. He was a very intellectual, conceptual artist. And that's what got me really interested. I became aware of Haring's oeuvre through my work on Basquiat and my research into the art of the 1980s. What especially caught my attention in Haring's work was his unique political line.
I believe that the key to the continued interest in Haring and Basquiat's art is the relevance of it. Their work is of our time.
Basquiat was one of the first Black American artists to gain a sort of superstar status. Haring's existence and production, on the other hand, was in some ways backed by the establishment. How does the exhibition engage with these themes?
Both Haring and Basquiat were most definitely considered superstars. While it is true that Basquiat, unlike Haring, did not have any formal art training, it is important to note that he was equally backed by the art world "establishment." The genius of both was noticed very quickly by the establishment, something that is reflected, for example, in the astounding number of international group and solo exhibitions that both participated in during their lifetimes.
Both artists received critical attention early on in their careers, although some projects they worked on were perhaps not fully appreciated by all of their contemporaries—Haring's progressive Pop Shop, for example, or Basquiat's collaborations with Andy Warhol and Francesco Clemente. The show includes many works which were first shown in some of the artist's most decisive early shows, works from the New York/New Wave exhibition, for example, or from their seminal presentations at the Fun Gallery.
You can see Crossing Lines at the National Gallery until April 13.