The Future Is Sexy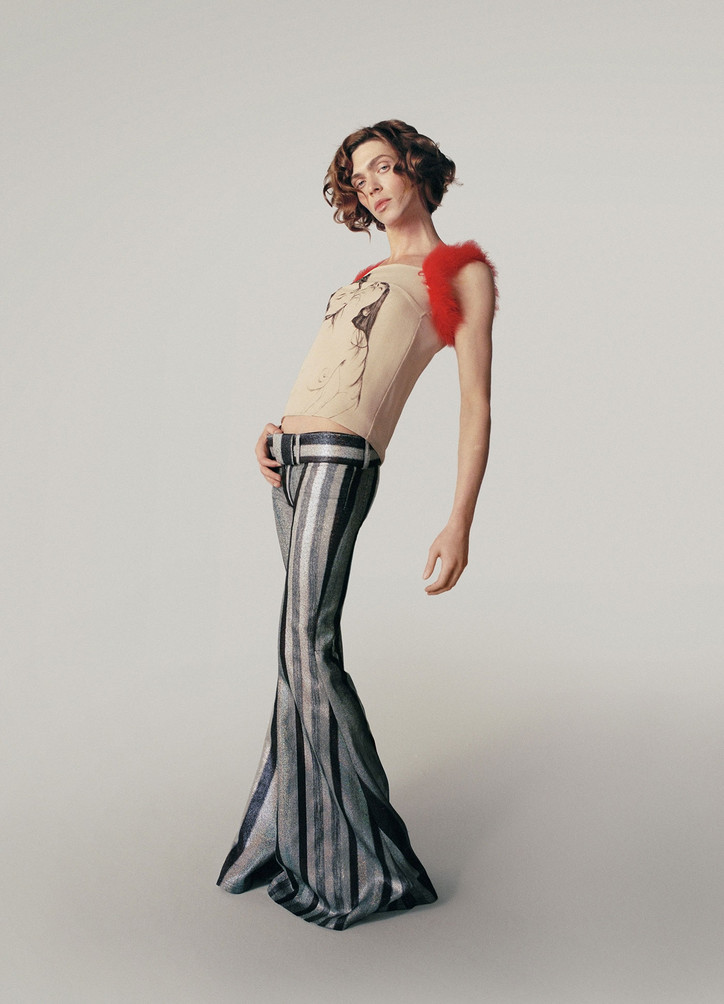 As a visual, I tell the pop producer, 'octopus brains' reminds me of the album's title—Oil of Every Pearl's Un-Insides—and I ask her to unpack the name a bit more. Suddenly, she goes from describing her work as a multifaceted referential project to something more off-the-cuff. "I was just stoned and thought it sounded cool," she says. "Then I told it to other people and they were like, 'That's annoying and really pretentious sounding,' and I thought, everyone hates it. I'll use it." SOPHIE knows how to push our buttons.
But sometimes, she tells me, her point gets lost in translation. Having emerged alongside London-based label PC Music, whose roster of artists and producers have become known for their progressive play on pop tropes against glossy, futuristic, often dense instrumentals, SOPHIE soon spearheaded a fresh pop sound of her own, unlike anything music listeners and critics had ever heard before. Whether the "PC" in PC music stood for "pop culture," "politically correct," or referenced the personal computer was unclear, and wasn't the only vague aspect of the producer's aura.
Her early music, like 2013's "Hard" and the 2014 hit "Lemonade", felt more like plastic toys—bent and sculpted versions of mainstream pop's most pleasurable elements— than songs. Back then she never fully revealed her face in public, remaining only partly illuminated by the dim stage lights that reached behind the DJ booth during live shows. Her first compilation of singles, entitled PRODUCT, was sold in "silicon bubble cases" and coincided with the launch of a naughty-looking black rubbery device, like some sort of gift set from a high-end sex shop. In 2015, "Lemonade" was used in a nationwide McDonald's commercial pushing the restaurant's new iterations of the beverage—"Get together with the refreshing real lemonades from McCafé, made with no artificial flavors." It all seemed too perfect.
In response to the high-profile sync, a headline in The Guardian wondered aloud: "SOPHIE's Lemonade ad for McDonald's: flagrant consumerism or the future of pop?" Other articles, in Vice and elsewhere, went so far as to propose the potential abandonment of PC Music and its associated acts, arguing that the whole movement, SOPHIE's corporate partnership included, could be an elaborate ruse, intended only to instigate, and might not be worth fans' time. Post-internet and mystery-fueled, SOPHIE and the PC Music collective— the producer is not actually in PC Music, merely a friend whose work runs parallel—ruffled feathers by making people question what was real, and what was advertising. But the artist is no contrarian, she assures me—she's simply putting out work that expresses her truth, without much heed for how many critics can relate.
Musically and philosophically, SOPHIE's brand of pop is strikingly similar, in that she's pushing it into the mind- boggling, ultra-saccharine, once-distant future that NSYNC advertised. She never set out to make a pretentious art-school statement, only to utilize the genre's universality to inject her twisted musical creations into the public consciousness and see what sticks. "Basically, the most fun I can have is being with a synthesizer with my brother, smoke some weed and literally just go deep into sound." She seems to light up when describing the wonderment of sonic exploration.
"We'll just sit there designing little music instruments, essentially. And we'll just listen. We'll just use our ears and be like, whoa, that's making me feel something new. What happens if we do this now? Or, let's try to make this more clicky. It's like if you're with your best friend, and there's a bunch of clay there in the middle. And you're like, oh, imagine if we twist it a bit here, imagine if we put this edge on it, imagine if we colored it this color. It's not related to the real world, you know? You're just using your ears, and the sounds are directly speaking to your emotions."
The past isn't sexy, the future is sexy.
On Oil of Every Pearl's Un-Insides she shares this intimate, corporeal experience with us, navigating surreal, often hard-hitting soundscapes like some sort of industrial imp. Contrasting frenetic bass lines with a schoolgirlish vocal, SOPHIE dips her toes in waters not often touched by her contemporaries on "Faceshopping", an ear-blast of a song that questions identity in the Instagram age. "Immaterial" is the high-frequency anthem that meets somewhere between Blues Clues sing-along and a Red Bull-fueled underground UK voguing house. An obvious nod to Madonna's "Material Girl", the track is an album highlight that bounces around with a pointed pep in its step, calling listeners to chant along: "I can be anything I want / Anyhow, anywhere, any place, anyone that I want!" On "Is It Cold In The Water?", SOPHIE overwhelms you with a grand synth buildup that never quite drops—but the exaggerated sounds make you feel that perhaps they represent those deep, swirling thoughts in SOPHIE's brain, ones that gain traction with each new idea and that finally come to the forefront when she's behind the studio deck.
I ask her how she first got into music production. "Basically, something unfortunate and traumatic happened to me when I was young," she remembers, candidly yet cautiously. "Then my dad played me a rave tape and I was like, that's what I wanna do. I filtered a lot of my energy into music to process stuff, and to have a place where I could be alone with my thoughts—whether that's anger, disappointment..." In listening to her body of work, this energy can be felt, but sometimes hard to pinpoint—does it come from a happy place? Sad? Hopeful?
"Confused," she tells me. "The main feeling for me is just being overwhelmed at the ridiculousness and complexity of the world we live in and how difficult it is to comprehend. The amount of knowledge available to us, and the fact that we don't know what the fuck we're doing here as beings... That's confusing. We're all walking around like everything is amazing and normal. So that was the main feeling." For SOPHIE, making music is more than just a day job. It's necessity, a personal commitment to exalt her feelings through sound and to move pop intrepidly into the future.
This devotion is reflected in her fanbase. In a private Facebook group called PC Music Shitposting, fans subject SOPHIE and other similar musical wunderkinder to the meme treatment to satiate the collective anticipation between releases. They compare her music to pots and pans clinking and clanking and gush over news like they've discovered hidden treasure. SOPHIE's fans make this new musical movement feel exciting and cult-like, and at her DJ set the night after our shoot in Brooklyn, the audience seemed thirsty to surrender their eardrums to their queen's turntable surprises. At one point, the speakers shook so furiously that you couldn't help but find solace within the chaos, her commanding bass pushing you to the limits of what is natural versus manufactured. The crowd was a collective of forward-thinking young people, many of them queer, eager to hop on the spaceship SOPHIE and launch to the moon.  
Although she's wary to clock her own impact, it's no doubt that SOPHIE is one of the most influential pop trailblazers in recent memory. The proof is in the pudding—she splits her time half-and-half between making her own music and producing for other artists, and with a roster including Madonna, Vince Staples, Charli XCX, and MØ—and, she reveals, soon to include Lady Gaga—there's plenty of proof. She plans to release three more albums this year, she says, a feat that seems difficult especially considering the nature of record labels in today's day-and-age. What if the label doesn't let her? "If it's not possible for any reason, then I'll just leak them." It's not like SOPHIE hasn't broken boundaries before.  
When I first heard "Lemonade" in high school, I felt the same sensation as when I was a kid being exposed to the pop wonder of NSYNC. It was a new wave of sound for me, a sort of hyperkinetic ASMR that took a couple listens to fully appreciate. SOPHIE's music helps make sense of the world's overwhelming complexity, streamlining a contagious "poptimism" for its listeners with a sort of bubblegum, childlike playfulness. Curious, I ask her what she was like as a student in primary school. Eager to learn? Class clown? Perfectionist? "The past isn't sexy, the future is sexy," she tells me. "That's all I have to say about that."
office Issue 09 is out now. Buy it here.
Photo assistant: Danny Lim; Fashion assistant: Shay Gallagher; Production interns: Derek Koffi-Ziter & Grace Lee.