Gosha x Adidas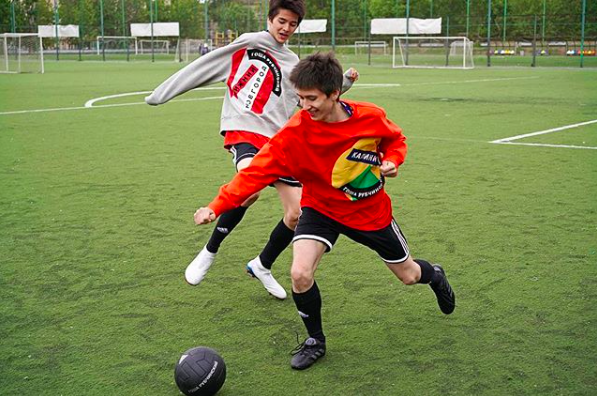 After three seasons of collaborations between Rubchinskiy and Adidas, this collection seems to be a bit more personal— paying homage to Rubchinskiy's homeland, Russia. The bi-color designs are simple and recognizibly his own. While the collection is the familiar soccor inspired sportwear Gosha is known for, including the designers's signature Cyrillic designs with blue accents, it doesn't feel tired or repetitive.
Encompassing over a dozen wearable designs, the collab includes windbreakers, jerseys, socks and pants that come in red, white, blue and black – traditional Russian colors that truely illuminate a bit of his own patriotism. Considering that Russia will be hosting the World Cup for the first time this year, the celebratory collaboration is more than well deserved. Each of the jerseys represent one of the 11 cities hosting this year's World Cup events and numbered in a 4-5-1 soccor formation, reimagining Russia as a soccer field.
With a tournament ready regulation ball as part of the collection, Rubchinksy is ready to deck his team out. If you're interested in being a part of the team, you better act fast. Like most things Rubchinskiy touches, this collection is sure to sell out in an instant.
Launching June 14th at all Dover street Markets and online, Gosha x Adidas is a cutting edge take on a universal sport.