Him & Her: Wendy Jim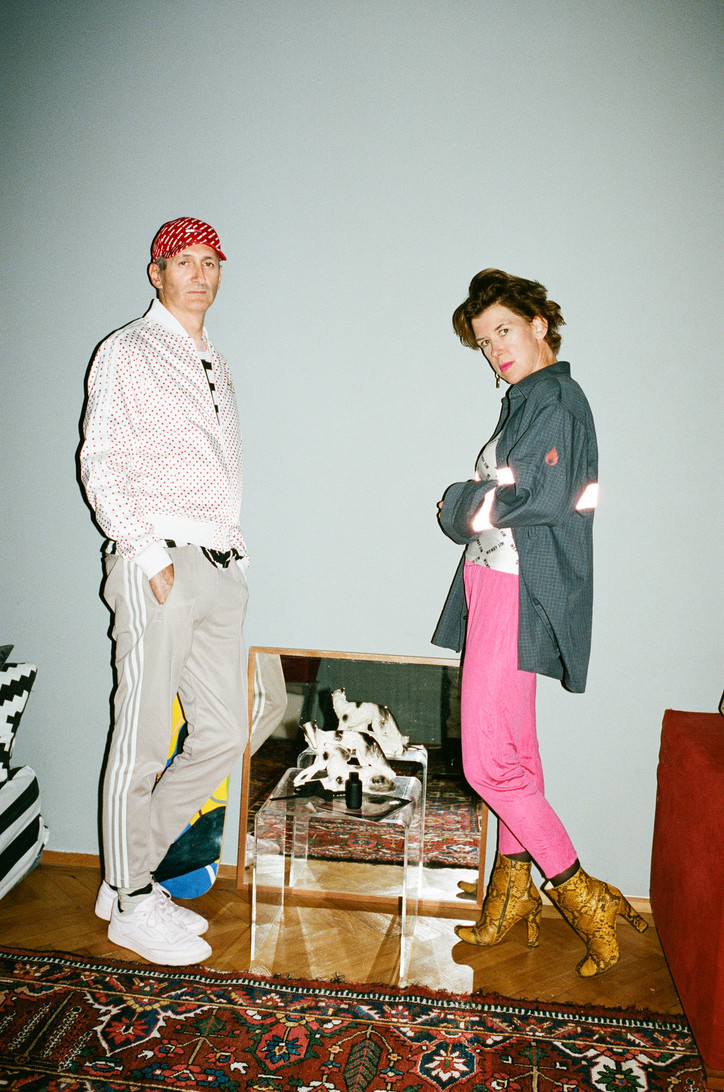 Not limited to clothing construction, Wendy Jim have made their foray into other forms of design and art. They designed a perfume bottle in the shape of a fox skull, manufactured by one of Austria's oldest porcelain houses. Working on it for three years, the designers were "thinking about someone who had sex in a fresh bed," they said. "We wanted something very sexual and animalistic, and also very fresh." Infusing their work with references that know no boundaries, Wendy Jim's avant-garde persona mirrors the work of the Delaunays they were inspired by many moons ago, blending life into art and vice versa.
On the name Wendy Jim:
When we started, everyone was using their own name [for their line], and we found it super boring to be called Helga & Hermann, because nobody could ever spell it. Our idea was to find a name that was nothing more than him and her. Before we could like or hate the name, people had strong reactions. In school, people we knew started telling us about this "new interesting brand from London or Antwerp," but they were actually talking about Wendy & Jim.
On how their shows have changed since the beginning:
At the time we started, it was not so much about the perfect product. It was about showing and seeing what happened. But it's not so easy when you come with a totally different look—people didn't understand [us] so quickly.
On famous fans of Wendy Jim:
It's rappers, actually—Playboi Carti, A$AP Rocky, Migos. We are very European, very much the school of Helmut Lang, very '90s, and that is very much a big interest for these guys.
On studying under Helmut Lang:
[We learned to] stay close to ourselves and do what [we] want. It's not so much about selling clothes, it's more about building an image. And we are still very much in that phase! But you have to "afford" play. Having an underground [is important], because it's missing now.
On how Vienna has influenced their work:
It's comfortable here. You can drink the water from the tap. It's a typical Viennese tradition to hate Vienna. It comes from Sigmund Freud, and even he was part of a tradition that was already there. It's easy to make things here, but it's hard to get attention here. Information has a direction and it goes from London to Paris to here, not the other way around. It's nice to stay here and live here, but extremely important to move around. For the amount of people that are living here, the density of cultural life is really high. It's more international now than 10 years ago. The inspiration here is much higher.
Read more about office's trip to Vienna here. Next stop: Stefan Sagmeister's studio.