I AM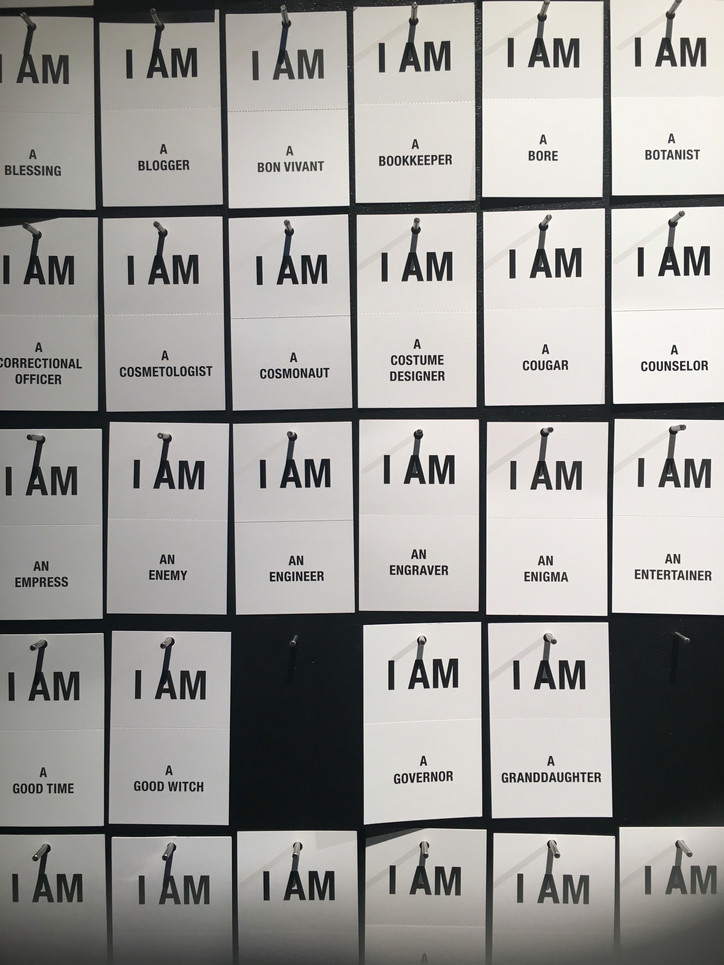 Like the caterpillar cajoling Alice with his smoke rings and nonsense verse, Derek DelGaudio weaves a small wonderland of circular stories that are part Donnie Darko dreamscape, part personal family drama — the various interlocking narratives sprinkled with current political tropes rooted in identity. I AM…. listening.
The show is a slow-burning meta seduction that self-consciously defies genre — at one point, you realize this isn't really theatre, isn't really performance art, isn't really a magic show: but is all of these at the same time, and none of them whatsoever. It is intended to become more interesting after the show itself occurs (the finale would leave even the most stalwart skeptic full of childlike wonder — DelGaudio personally interacts with every member of the audience, if they so choose, in a way that leaves the mind reeling).
A giant book leaves the stage with a voluntary audience member, where they must write the next night's ending — the contents of the book stemming to the very first show. A gold brick is (spoiler alert) buried under a house of cards, DelGaudio asks for cross streets from the audience, and vanishes the brick to that location in the city (a detail I was made aware of from my friend who had been to the show before, and who, along with a gaggle of audience members, had gone to the cross streets after the show to find the gold brick, which he of course took home with him).
The idea is that the show keeps going after the curtain falls, IRL. Nevermind that DelGaudio is recognized as the greatest living slight-of-hand magician — he has tapped into the basic premise of the chore of an illusionist: to make the audience question the very fabric of their reality. DelGaudio has attempted to take that a few layers further — could he have done more? could it have been more cohesive? Sure. But what he's created is a delightfully modern mindfuck — brilliant for its off-kilter blend of magic trick with high concept. I AM…. still wrapping my mind around it.
'In & Of Itself' is now playing at the Daryl Roth Theatre.