I, I, I, I, I, I, I, Kathy Acker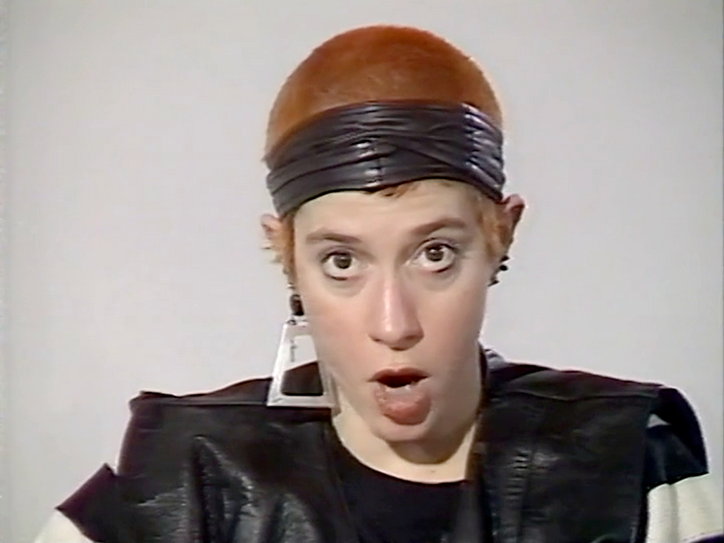 Acker was no stranger to the ICA, having developed a longstanding relationship with the institution throughout the course of her career. She appeared there regularly, in talks, interviews, and performances—so it only feels natural that her legacy returns there once more. Opening its doors to a multi-vocal milieu of varying artists and mediums, London's Institute of Contemporary Arts will host what is set to be the largest exhibition centered around Acker's work to date. The show comes at a time when her relationship to the art world has become increasingly documented and appreciated, as her influence as a cultural force trickles down into all corners of culture, continuing to amplify as the years go on.
Before the exploration of taboos and counterculture became millennial marketing material, they were topics which sat at the vanguard of postmodernism, and the heart of Acker's legacy. Hers drew much of its inspiration from that of the great—now, considerably sexist—William Burroughs; and of course others like Jack Kerouac and Marguerite Duras. A student of poetry, Acker studied the prose of American greats to propel herself into the American literary canon as a great in her own right. She was borne out of the point at which plagiarism, autobiography, and "porn" intersect, but today, would perhaps be better recognized for some of the greater feminist and transgressive fiction of the 20th century.
With that in mind, you would think that a show of this scale would be difficult to fuck up. But, in fact, there was a part of me which expected the walls of the ICA to be cluttered with nostalgic of-the-moment nods to yesteryear as a means of getting bodies through the door. Naturally, as you would be when you see a name of Acker's ilk appear everywhere over the course of twelve months, you become skeptical. In ways which echo the way Sally Rooney's overloaded, oversaturated press appearances have sprawled the internet far and wide; too much, can in fact be, just too much.
Above: Kathy Acker and The Mekons Live at Freedom, London, 29 March 1996; and Atalia ten Brink, 'Empire of the Senseless', film still, 1988.
However, with I, I, I, I, I, I, I, Kathy Acker, the ICA has nailed the brief—and with panache at that. Boasting a program so loaded you mightn't know where to start, I, I, I, I, I, I, I, Kathy Acker, is the gift that just keeps on giving. Upon entering the show, we're offered semi-chronological guidance through the sex-positive blurred identities and dismantled social constructs that made up a large portion of her career. Everything from The Childlike Life of the Black Tarantula (1973) and her encounters with Semiotext(e)—the journal-cum-publisher which later went on to publish Chris Kraus' literary biography of Acker in 2017—all the way through to her breakout title, Blood and Guts in High School (1984), and the birth of her legacy which followed, up until her premature death in 1997.
It really is a lot. But the show's strengths lie in its ability to cohesively align Acker's legacy with the lives and topics explored by contemporary artists today, and the ways in which her work continues to permeate across the world. Appearances are made by everyone from David Wojnarowicz—whose work was revamped by Every Ocean Hughes—to writer and dominatrix Reba Maybury, and Jamie Crewe, whose animated exploration of Eurydice nods to the interests in the myth held by Acker herself.
And if all of this isn't enough, the ICA has a series of events to accompany the show (which alone, really is worth the visit), due to unfold throughout the rest of the month. Last Saturday, writer and activist Sarah Schulman discussed the ways in which she shares overlap with Acker, in conversation with artist and writer Matias Viegener. And there are others, which include a Kathy Acker Reading Group (fun!), hosted by the show's very own Reba Maybury. Which I'm sure will give you your lifetime fix of all things Acker—and more.